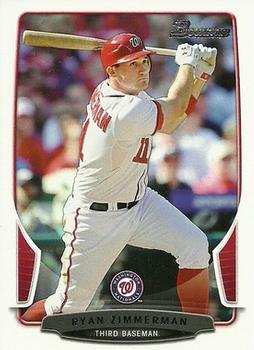 July 26, 2013: Ohlendorf's pitching, Zimmerman's walk-off homer lift Nationals over Mets
---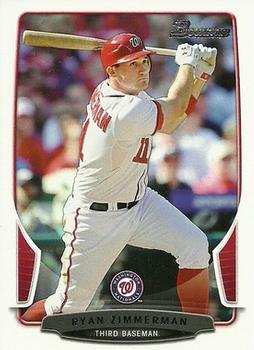 The Washington Nationals, and their fans, could well be described as "down in the dumps." After a surprising 2012 season in which they won the NL East Division, expectations were high for 2013.1 Now with the team sitting at 49-54, 8½ games back of the Atlanta Braves, those expectations were going unfulfilled. In the first game of a day-night doubleheader, they had been trounced 11-0 by the Mets. At 46-53, 10½ games back, the New York Mets were not exactly a powerhouse.2 The evening game of the doubleheader was a makeup of a June 6 rainout.
Ross Ohlendorf (2-0, 2.02 ERA) took the mound for the Nationals. His first appearance for the team had been on June 12 after he spent the first two months of the season with the Nationals' Triple-A affiliate in Syracuse. He had switched to an unusual full windup which allowed him to resuscitate his career.3 This was only his second start for the Nationals, although he had several relief appearances between the two starts. Juan Lagares opened with a single. After Daniel Murphy was out on a foul pop, David Wright drew a walk. The early indications were that the second game of the day was beginning to look as bad as the first, but Ohlendorf struck out Marlon Byrd and Josh Satin to keep the Mets in check.
Matt Harvey (8-2, 2.23 ERA), fresh off his first All-Star Game appearance4 and on the first anniversary of his major-league debut, was pitching for the Mets. By any measure he was the ace of the Mets staff. He made short work of the top third of the Nationals' order: six pitches to get a pop fly and two groundouts and he was back in the dugout. There was some collateral damage, however: Shortstop Justin Turner and left fielder Andrew Brown collided catching the pop fly. Turner ended up leaving the game later with a sore shoulder.
Ohlendorf nearly matched Harvey in the top of the second, although it took him nine pitches to get a fly out and two groundouts. Harvey continued his efficient performance in the bottom of the second with a strikeout of Adam LaRoche. Jayson Werth singled for the Nationals' first hit but was was erased when Ian Desmond grounded into a double play.
Harvey opened the top of the third by striking out on three pitches. After Lagares flied out, Murphy singled into center. But that was all the Mets got: Wright grounded to second on the next pitch to end the half-inning. Harvey faced the bottom of the Nationals' order with little trouble. Although Wilson Ramos doubled after Steve Lombardozzi's fly out, Harvey struck out Ohlendorf and Denard Span to end the inning.
The Mets got on the board in the top of the fourth. After Byrd struck out, Satin doubled to right. After Turner struck out, John Buck doubled to left, scoring Satin. Brown was Ohlendorf's third swinging strikeout of the inning. The Nationals were not able to respond in the bottom of the inning: Anthony Rendon struck out, Ryan Zimmerman flied out, and LaRoche grounded out. Harvey had thrown only 44 pitches, so it looked as if he might go the distance5 given the lack of Nationals offense. They had now gone 13 innings without scoring: They last scored on a walk-off home run by Bryce Harper two days before, on the 24th.
Ohlendorf held the Mets in check in the top of the fifth, allowing only a single to Murphy. The Nationals finally got a run in the bottom of the frame although it was unearned. Werth singled, then Desmond walked. Lombardozzi struck out, so there were two on with one out. Ramos grounded up the middle. Turner grabbed the ball and flipped it to second baseman Murphy, who got the force at second. Murphy tried to turn two, but his throw to first was so wide that it hit Ramos, allowing Werth to score from second.6 Ohlendorf grounded out to end the inning7 with the score tied, 1-1.
Ohlendorf's sixth inning mirrored the fifth: All he allowed was a single to Turner. He collected his eighth strikeout, thereby exceeding Harvey's strikeouts by one.8 Harvey allowed a single to Zimmerman, but nothing else, in the bottom of the frame.
Brown opened the seventh by reaching on Zimmerman's 15th error.9 Harvey successfully sacrificed him to second, where he held when Lagares flied out. Murphy walked but the Mets couldn't capitalize on the opportunity: Wright fouled out to first on the next pitch for the third out. With Ohlendorf at a career-high 114 pitches, his day was clearly over.10 Harvey allowed a single to Werth in the home half of the seventh, but he was erased when Desmond grounded into a double play. Lombardozzi flied out to end the inning with Harvey still at a comfortable 84 pitches.
Tyler Clippard relieved Ohlendorf in the top of the eighth. Byrd singled but was erased when Satin grounded into a double play. Omar Quintanilla, who had replaced Turner in the seventh, grounded out to end the half-inning. Harvey continued his effective outing against the Nationals: He worked a 1-2-3 inning including his seventh strikeout. With his pitch total at 99, coming back for the ninth seemed unlikely.
With the game tied, Nationals manager Davey Johnson called on his closer, Rafael Soriano, for the top of the ninth. The Mets threatened but did not manage to score. Buck was out on a pop fly, but Brown doubled and moved to third on a wild pitch to Ike Davis. Soriano walked Davis on four pitches, putting runners on first and third with one out. But Lagares was out on a foul pop to first, and Murphy flied out to center to end the threat.
Mets manager Terry Collins chose LaTroy Hawkins rather than his usual closer, Bobby Parnell, for the bottom of the ninth.11 Rendon grounded out to second. Zimmerman took three balls and a called strike, then hit the fifth pitch over the right-field scoreboard into the hands of a fan wearing a Zimmerman shirt. The usual enthusiastic crowd of teammates met him at home plate, dousing him and nearly pulling off his shirt. Final score, 2-1 Nationals.
This was Zimmerman's ninth walk-off home run, giving him more walk-off home runs before turning 30 than any other player in major-league history.12 It may have been a disappointing season for the Nationals and their fans, but this game was definitely one to celebrate.
In the excitement of the walk-off, Ohlendorf's contribution should not be overlooked. The Nationals won six of his seven starts and he finished the year with a 3.28 ERA. Not bad for a pitcher whose two previous years' ERAs were 7.77 and 8.15.
Sources
baseball-reference.com/boxes/WAS/WAS201307262.shtml.
retrosheet.org/boxesetc/2013/B07262WAS2013.htm.
youtube.com/watch?v=3vmeoq1U84E.
Notes
1 Dan Kolko, "What's Left to Accomplish in Florida,"MASNSports, March 26, 2013, masnsports.com/nationals-pastime/2013/03/whats-left-to-accomplish-in-florida.html. Accessed January 28, 2019.
2 The three teams mentioned finished the year in the same order in the NL East as they stood on July 26: Atlanta won the division, Washington 10 games back, New York 22 games back.
3 Dan Kolko, "Nats Win 5-1 in Ohlendorf's Dazzling Debut," MASNSports, June 12, 2013, masnsports.com/nationals-pastime/2013/06/nats-win-5-1-in-ohlendorfs-dazzling-debut.html, accessed January 28, 2019. For video of his windup, see youtube.com/watch?v=FL8dw7PPTEc.
4 2013 was his best career year and only All-Star Game appearance as of 2018.
5 Although he had no complete games in 2013, he had thrown over 100 pitches in 15 of his 19 previous starts in 2013.
6 Marc Carig, "Pitching Strong, but DH Split," Hartford Courant, July 27, 2013: C5.
7 At least he made contact. Eleven of his 19 plate appearances in 2013 resulted in a strikeout. His batting average was, and remained, .000 for the year.
8 This was Ohlendorf's second-best strikeout game: He'd struck out 11 on September 5, 2009, and eight on July 2, 2010.
9 Zimmerman's throwing woes precipitated his move from third to first base over the next two years.
10 Dan Kolko, "Ohlendorf Continues to Come Up Big," MASNSports, July 26, 2013, masnsports.com/nationals-pastime/2013/07/ohlendorf-continues-to-come-up-big.html, accessed January 28, 2019. Ohlendorf had also thrown 114 pitches on May 23, 2009.
11 Parnell had thrown 21 pitches closing the previous day's game.
12 Dan Kolko, "Hearing from Zimmerman, Ohlendorf and Johnson After 2-1 Walk-Off Win," MASNSports, July 26, 2013, masnsports.com/nationals-pastime/2013/07/hearing-from-zimmerman-ohlendorf-and-johnson-after-2-1-walk-off-win.html. Accessed January 28, 2019.
Additional Stats
Washington Nationals 2
New York Mets 1
---
Nationals Park
Washington, DC
Box Score + PBP:
Corrections? Additions?
If you can help us improve this game story, contact us.
Tags
https://sabr.org/sites/default/files/Zimmerman-Ryan-2013.jpg
600
800
admin
/wp-content/uploads/2020/02/sabr_logo.png
admin
2019-03-04 13:06:33
2020-04-17 10:23:38
July 26, 2013: Ohlendorf's pitching, Zimmerman's walk-off homer lift Nationals over Mets