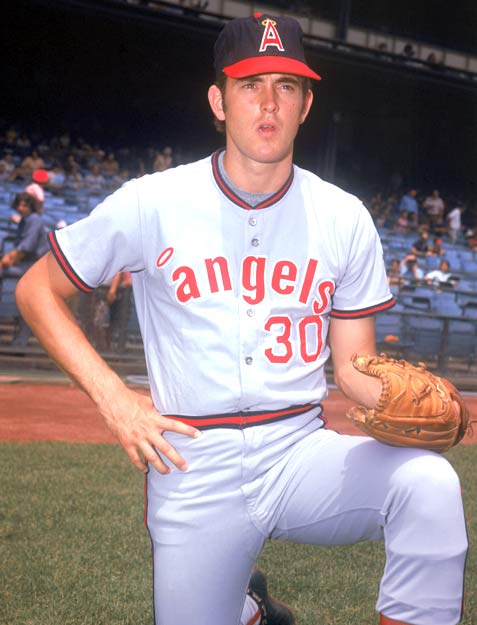 July 27, 1972: Nolan Ryan overcomes 107-degree heat and fatigue to shut out Rangers with 14 strikeouts
---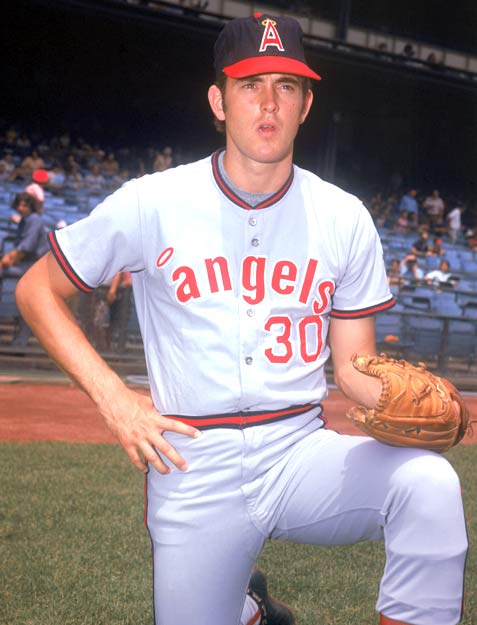 "It was nothing," wrote Randy Galloway of the Dallas Morning News, about the record 107-degree temperature at Anaheim Stadium for the matchup between the Texas Rangers and California Angels, "compared to the heat generated by Nolan Ryan."1 A Texas native who was accustomed to the blaring sun, Ryan held the Rangers hitless for 7⅔ innings, and finished with a sparkling two-hit shutout while striking out 14 despite "feeling awful" before the game.2
"I felt tired and sluggish when I got to the ballpark," admitted Ryan. "I hadn't done anything for a few days."3 The hard-throwing 25-year-old, acquired from the New York Mets in the offseason in what proved to be one of the most lopsided trades in major-league history,4 seemed fatigued in his first season as a full-time starter after serving as a swingman and reliever for most of the previous four seasons. In his three last starts, all losses on the road, Ryan had been clobbered for 19 hits and 18 runs in just 18⅓ innings, dropping his record to 11-8 and raising his ERA to 3.14. But pitching at home in Southern California was a different story. In his 11 starts at Anaheim Stadium, the Ryan Express had spun five shutouts, thrown a one-hitter, a three-hitter, and two four-hitters, and had fanned 16 twice. Facing "one of the least distinguished batting orders in baseball," opined Ron Rapoport of the Los Angeles Times, was just what the doctor ordered to get Ryan back on track.5
A crowd of just 8,715 spectators braved the sweltering heat for an intradivision contest between two sub-.500 teams on Tuesday, July 27, at the ballpark affectionately called the "Big A" because of its gigantic, 230-foot A-frame scoreboard adorned with a halo. Playing their first game since concluding a 12-game road swing on July 23, rookie skipper Del Rice's Angels were reeling, having lost 10 of their last 14 games to fall to 40-52, fifth place in the AL West. The Rangers, led by the immortal Ted Williams in his fourth and final campaign as skipper, matched California's record in its last 14 games. The cellar-dwellers were 37-53, 18½ games behind the eventual world champion Oakland A's.
Ryan started the game by fanning Dave Nelson before running into trouble. He walked the next two batters, Joe Lovitto, who promptly stole second, and Larry Biittner, both of whom moved up on a wild pitch. With "perhaps the liveliest fastball in the majors," according to Randy Galloway, Ryan fanned Dick Billings and Ted Ford to escape what proved to be his biggest jam of the game.6
California loaded the bases with one out in the first against starter Mike Paul when Leo Cardenas and Andy Kosco singled and Bob Oliver walked. Paul, a 27-year-old southpaw acquired in the offseason from Cleveland, was arguably the Rangers' best hurler thus far in '72 with a 3-2 record and 1.94 ERA as a spot starter and reliever. He punched out Ken McMullen before Billy Parker, playing in his first game since being recalled from Triple-A Salt Lake City, singled to right to drive in Cardenas and Kosco.
Ryan, who had walked almost as many batters as hits he surrendered thus far in his career, issued a free pass to Bill Fahey, who was making his first plate appearance of the season since his call-up from Texas's Triple-A affiliate, the Denver Bears. Undeterred, Ryan fanned the next three hitters.
The Angels added a run in the bottom of the third when left fielder Billings misplayed Cardenas's fly ball, enabling the five-time All-Star from Cuba to reach second. After Bob Oliver was intentionally walked with one out, California native Ken McMullen derailed Paul's plan to play for an inning-ending twin killing by driving in Cardenas on a single to left. It was déjà vu all over again as Billings fumbled the fly for his second error of the frame, permitting Oliver to advance to third, where he was stranded.
While Ryan mowed down the Rangers with 11 strikeouts without surrendering a hard-hit ball through five innings, the Angels nicked reliever Bill Gogolewski for another run in the fifth, though it could have been worse. Oliver led off with a walk, moved to third on McMullen's single, and subsequently scored on Ken Berry's one-out force-play grounder. With Berry on second via a stolen base and John Stephenson reaching on a hit by pitch, Ryan grounded out.
The Angels held their collective breath in the top of the seventh when Ryan grabbed his elbow after retiring Fahey on a fly to left with Ford on first via a walk. Racing to the mound, manager Rice and trainer Freddie Federico inspected Ryan, who shook his arm and seemed to shrug off the pain. "I can't say I lost anything due to it," said Ryan after the game. "It popped like that before, maybe three or four times a year. It bothered me on three or four pitches after that."7 Ryan fanned the next batter, Jim Mason, and dispatched Vic Harris on a grounder to first.
In the bottom of the seventh inning, Berry's two-out double down the left-field foul line led to the Angels' fifth and final run. Gogolewski intentionally walked Stephenson to face Ryan, among the worst-hitting pitchers in baseball history.8The mild-mannered Texan slapped a fastball down the right-field line, driving in Berry, for his second of 10 career doubles.
Following Ryan's two-out walk to Lovitto in the eighth, Biittner broke up Ryan's no-hitter on a clean double just out of the reach of right fielder Andy Kosco, who fired a bullet to home plate to keep Lovitto from advancing and thus preserving the shutout. Ryan ended the inning by fielding Billings' tapper back to the mound and firing to first baseman Oliver.
Ryan's league-leading sixth shutout of the season was not without another tense moment in the ninth. After punching out leadoff batter Ford and retiring Fahey on a grounder, Ryan yielded a single to Mason. To the plate stepped pinch-hitter Frank Howard, a two-time home run champion and once one of the most feared sluggers in the AL. According to Randy Galloway, Howard sent Ryan's offering into the gap in deep right-center field. Center fielder Ken Berry made a spectacular "diving catch" to end the game in 2 hours and 37 minutes.9
The Angels scored five runs or more in a game for only the sixth time in their last 35 games by victimizing Rangers pitchers for 11 hits and eking out five walks, but also leaving 12 runners on base in their 5-0 victory. The story of the game, however, was the club's star pitcher. Overcoming the elbow scare in the seventh inning, Ryan finished with a two-hitter and fanned 14, the seventh time in 23 starts thus far in '72 that he whiffed at least 10 in a game; he also walked six batters. "I was able to stay away from them with my fastball all night," Ryan told the Los Angeles Times.10 Dick Miller of the Los Angeles Herald Examiner wrote excitedly that Ryan made the Rangers, whose .217 team batting average in 1972 was the second lowest in the live-ball era, look like "Execution Row."11
"I feel comfortable here," said Ryan about pitching in Anaheim Stadium, where the victory improved his record there to 9-2 with a sub-1.00 ERA and six shutouts. "This was a big game after the way I pitched in my last three innings."12 An All-Star for the first of eight times in 1972 (he did not pitch in the game), Ryan surpassed his career-high innings set the previous year with the Mets, with more than two months of the season remaining. "I never have been a good second-half pitcher," he told the Times. "And I didn't want to have another lapse."13 And he didn't. Over his last 17 starts of the campaign, Ryan posted a 1.41 ERA in 140⅔ innings and held opponents to a .156 batting average, yet split his 16 decisions. He concluded the season with a 19-16 record and a 2.28 ERA, and led the AL in strikeouts (329), shutouts (9), hits per nine innings (5.3), and strikeouts per nine innings (10.4), but also paced the circuit in walks (157) and wild pitches (18).
"That's the first time I ever had a shot at a no-hitter," said Ryan of his victory over the Rangers. "I've never gotten that close before."14 His skipper, Del Rice, a former big-league catcher who played on World Series winners in St. Louis (1946) and Milwaukee (1957), knew it was just a matter of time before the speedballer would achieve the feat. "He'll get more than one no-hitter when he's consistent with his control and has his curveball," Rice said.15 The following spring, on May 15, Ryan held the Kansas City Royals hitless at Royals Stadium to notch his first of a big-league record seven no-hitters.
This article was published in "The Team that Couldn't Hit: The 1972 Texas Rangers" (SABR, 2019), edited by Steve West and Bill Nowlin. To read more articles from this book at the SABR Games Project, click here.
Sources
In addition to the sources cited in the Notes, the author also accessed Retrosheet.org, Baseball-Reference.com, SABR.org, and The Sporting News archive via Paper of Record.
https://www.baseball-reference.com/boxes/CAL/CAL197207270.shtml
https://www.retrosheet.org/boxesetc/1972/B07270CAL1972.htm
Notes
1 Randy Galloway, "Ryan Blanks Texas," Dallas Morning News, July 28, 1972: 4B.
2 Dick Miller, "Aches 'n Pains. Ryan Rockets Back to Top," Los Angeles Herald Examiner, July 28, 1972: C1.
4 On December 10, 1971, the Mets shipped Ryan, catcher Frank Estrada, pitcher Don Rose, and right fielder Leroy Stanton to the Angels for aging, six-time All-Star shortstop Jim Fregosi. While Fregosi played in only 146 games in two years, Ryan developed into a Hall of Famer and Stanton served as a dependable outfielder, often in a platoon role, for the next five seasons.
5 Ron Rapoport, "Ryan Loses No-Hitter in 8th, Then Wins, 5-0," Los Angeles Times, July 28, 1972: III, 1.
8 Leading up to this game, Ryan had batted .137 (27-for-197) and finished with a .110 average on 94 hits in his big-league career.
12 Miller. In his last outing, Ryan lasted just 3⅓ innings in the second game of a doubleheader against New York at Yankee Stadium, yielding six hits and seven runs.
Additional Stats
California Angels 5
Texas Rangers 0
---
Anaheim Stadium
Anaheim, CA
Box Score + PBP:
Corrections? Additions?
If you can help us improve this game story, contact us.
Tags
http://bioproj.sabr.org/bp_ftp/images4/RyanNolan.jpg
600
800
admin
/wp-content/uploads/2020/02/sabr_logo.png
admin
2020-03-24 12:53:33
2020-08-25 01:12:32
July 27, 1972: Nolan Ryan overcomes 107-degree heat and fatigue to shut out Rangers with 14 strikeouts