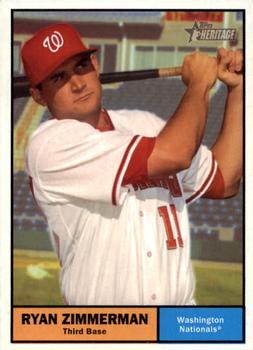 July 31, 2010: Twice in a month: 'Mr. Walk-Off' Ryan Zimmerman sends Nationals fans home happy
---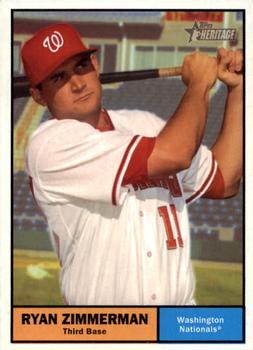 For the end of July in Washington, 84 degrees and a light breeze was pleasant baseball weather for the 38,049 fans attending the evening game at Nationals Park. Given that it was a summer weekend, there were a substantial number of Phillies fans on hand1 as well as Nationals fans. The Phillies (56-47) were 3½ games behind Atlanta, second in the NL East and within hailing distance of a wild-card berth. The Nationals (45-58) were in their familiar last place, 14½ games back.2
Ross Detwiler arrived on the mound with an 0-1 record and an ERA of 0.00. This statistical oddity occurred thanks to two errors allowing five unearned runs in his previous start, on July 25. That had been his first major-league appearance in 2010.3 Jimmy Rollins opened with a single to left. Plácido Polanco and Raúl Ibañez were out on a fly and a foul popup. While Jayson Werth was working one of his well-known long at-bats, Rollins stole second. Jayson finally hit one to center, but the park was big enough to hold it.
Joe Blanton (4-6, 5.85 ERA) took the mound for the Phillies. Nyjer Morgan opened the home half of the first with a single as well, then Adam Kennedy flied out on the first pitch. Ryan Zimmerman singled, then Adam Dunn flied out — after he received a standing ovation from the Nationals fans who were glad to see him still with the team after the trade deadline.4 Blanton had difficulty getting that elusive third out: Three consecutive singles — each to a different field — by Josh Willingham, Roger Bernadina, and Ivan "Pudge" Rodríguez each scored one run. Blanton finally got Ian Desmond to fly out to end the inning with the score 3-0, Nationals, and his pitch count at 27.
Detwiler had little trouble with the Phillies in the second. Cody Ransom walked but never advanced beyond first base. Blanton's second inning went better than the first. First up was Detweiler and his.050 career batting average.5 After fouling off a couple of pitches he grounded back to Blanton. At least he made contact: His teammates Morgan and Kennedy struck out swinging.
In the top of the third, Detwiler collected two more strikeouts. He allowed a one-out single to Rollins, but that was all. Blanton was even more efficient: Zimmerman flied out, and Dunn and Willingham struck out.
The Phillies got on the board in the fourth. Werth walked, then Ransom popped out to the catcher behind home plate. Domonic Brown grounded out to second: Werth was out and Brown was on first. Carlos Ruiz singled, moving Brown to second: He then came home on a single by Wilson Valdéz. One run was all the Phillies could muster, though: It was Blanton's turn to ground back to Detwiler.6 All the Nationals got in the bottom of the fourth was Desmond's single with two down.
The Phillies threatened again in the top of the fifth. After Rollins grounded out, Polanco walked. After Ibañez struck out, Werth singled to put two on, but Detwiler got Ransom to pop out to second to end that threat. The Nationals also got two on in the bottom of the frame: With two outs, Zimmerman walked and Dunn was hit by a pitch. Willingham struck out looking to end the inning.
Detwiler faced only Brown in the top of the sixth. With his pitch count at 97, Nationals managerJim Riggleman replaced him with Joel Peralta. Peralta immediately gave up a home run to Ruiz, bringing the score to 3-2, Nationals. He recovered to get Valdéz on a fly out and Blanton on a foul pop off third.
The Nationals answered in the bottom of the sixth. Bernadina doubled, then took third on Rodríguez's single. Desmond was able to hit a sacrifice fly far enough down the right-field line to score Bernadina. Willie Harris singled, so the Nationals had two on again with only one out. Morgan killed the rally by grounding into a 6-4-3 double play, leaving the score at 4-2, Nationals.
Riggleman called on Tyler Clippard, the Nationals' usually dependable set-up man, to pitch the seventh. His ERA had been below 2 for most of the year, but after a 43-pitch outing on June 25, his ERA had climbed steadily and was now 3.18. He got Rollins out on a foul pop near third, but then walked Polanco on four pitches. Ibañez hit Clippard's second offering out of the park, tying the game. It was Clippard's ninth blown save of the year. Riggleman didn't pull him then, but he did after Clippard gave up a single to Werth on the next pitch. The next pitcher, Doug Slaten, also gave up a single to Ross Gload, putting runners on first and third with one out. But he got Brown to strike out on three pitches, so the third pitcher of the inning, Miguel Batista, only needed to get one more out. He got Ruiz to fly out, holding the score tied at 4-4.
José Contreras, the Phillies set-up man and occasional closer, pitched the bottom of the seventh. Kennedy singled to start the inning, but then was erased on a "strike-'em-out, throw-'em-out" double play when Zimmerman struck out. Dunn walked on four pitches, but Willingham once again was caught looking to end the inning, with the score still tied.
Batista continued pitching the top of the eighth. He got two groundouts, then walked Rollins. After Batista allowed a single to Polanco, Riggleman called on Sean Burnett to face Ibañez, perhaps for a lefty-lefty matchup. Whatever the reason, it worked: Ibañez grounded out to first to end the half-inning. Ryan Madson pitched the eighth for the Phillies. He had been their closer while Brad Lidge was on the DL, but then spent several weeks on the DL himself: He kicked a chair after blowing a save, and broke his toe.7 He was in fine form this night: A groundout and two strikeouts set the Nationals down in order.
The Phillies took the lead in the top of the ninth. Burnett walked Werth on four pitches. He advanced to second on Gload's sacrifice bunt, to third on Brown's groundout, and scored on Ruiz's single off Drew Storen. Storen got Valdéz to pop out to second to end the Phillies half of the inning with only the one run scoring.
Phillies manager Charlie Manuel expressed his continued confidence in his closer,8 Lidge, by sending him in for the save despite his 4.35 ERA and 1.548 WHIP. Lidge, possibly suffering from decreased velocity,9 was not able to deliver the victory. Michael Morse singled, then Nyjer Morgan bunted him to second. Kennedy worked a walk on six pitches. Zimmerman took the first pitch for a ball, fouled off the second one, took the third one for a ball, then hit the fourth pitch, a not-that-fast-fastball, well into the batter's eye beyond center field to give the Nationals and their fans a welcome victory against their division rivals. The fireworks went off as Zimmerman circled the bases, jumping into the arms of his waiting teammates at home plate. Final score: 7-5, Nationals.
This was "Mr. Walk-off's"10 second walk-off homer in the same month: he'd hit a solo homer against the Padres on July 6. It was the seventh walk-off homer of his five-year career. It was Lidge's fourth blown save of the year.11
Sources
baseball-reference.com/boxes/WAS/WAS201007310.shtml.
retrosheet.org/boxesetc/2010/B07310WAS2010.htm.
youtube.com/watch?v=ywcmWxE5uzw.
Notes
1 Dennis Gonzalez, "Nats Park Philled Up With Wrong Fans," NBC Washington, April 7, 2010. nbcwashington.com/news/sports/Nats-Park-Philled-Up-90092847.html . Accessed January 11, 2019.
2 The Phillies pulled ahead of Atlanta in September to win the division, finishing at 97-65, six up over Atlanta. The Nationals stayed in last place, finishing at 69-93, 28 games back.
3 He had been rehabbing from February surgery, pitching in the Nationals minor-league system. Adam Kilgore, "Ross Detweiler Recovering with Harrisburg Senators," Washington Post, June 28, 2010, voices.washingtonpost.com/nationalsjournal/2010/06/ross_detwiler_recovering_danny.html, accessed January 12, 2019.
4 Scott Allen, "Ryan Zimmerman's 11 Career Walk-Off Home Runs, Ranked," Washington Post, August 23, 2018, washingtonpost.com/news/dc-sports-bog/wp/2018/08/23/ryan-zimmermans-11-career-walk-off-home-runs-ranked/?utm_term=.5ae0507e3e3a . Retrieved January 12, 2019.
5 He did not improve with age. As of the end of the 2018 season, his career BA was.060.
6 At least Blanton's BA didn't begin with a zero: It was.147.
7 David Murphy, "Madson a Bit Wild in Return From the Disabled List," Philadelphia Daily News, July 9, 2010: 80.
8 Matt Gelb, "Phils Fall on Walk-Off Homer, Philadelphia Inquirer, August 1, 2010: C1.
9 Gelb.
10 Dan Steinberg, "How Ryan Zimmerman Got His 'Mr. Walk-Off' Nickname," Washington Post, May 20, 2015, washingtonpost.com/news/dc-sports-bog/wp/2015/05/20/how-ryan-zimmerman-got-his-mr-walk-off-nickname/?utm_term=.78f07238fd13 . Retrieved January 7, 2019.
11 Lidge did repay his manager's faith in him: Although he had 10 saves and four blown saves as of the end of this game, he accumulated 17 saves and only one more blown save in the rest of the season, as well as two postseason saves.
Additional Stats
Washington Nationals 7
Philadelphia Phillies 5
---
Nationals Park
Washington, DC
Box Score + PBP:
Corrections? Additions?
If you can help us improve this game story, contact us.
Tags
https://sabr.org/sites/default/files/Zimmerman-Ryan-2010.jpg
600
800
admin
/wp-content/uploads/2020/02/sabr_logo.png
admin
2019-03-19 10:04:53
2020-04-17 10:23:37
July 31, 2010: Twice in a month: 'Mr. Walk-Off' Ryan Zimmerman sends Nationals fans home happy