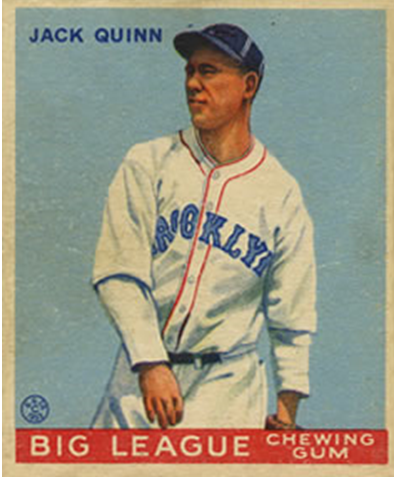 July 7, 1933: Ageless spitballer Jack Quinn finally runs dry at 50
---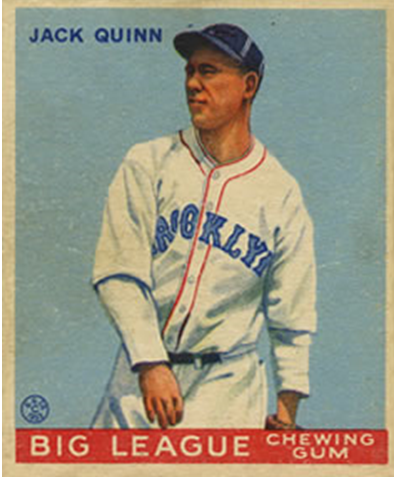 Jack Quinn was ageless in more ways than one. First, for decades he seemed impervious to the ravages of time. Second, nobody — probably including Quinn himself1 — knew precisely how old he was.
Quinn's major league career spanned 25 years. He won 26 games in 1914. He also won 18 games twice — first in 1910 and again 18 years later. As the years passed he became increasingly coy about his age, creating a mystery that remained unsolved for more than 60 years after his death.
Hy Turkin and S.C. Thompson's 1951 Official Baseball Encyclopedia, relying on information from baseball historian Lee Allen, listed John Picus Quinn, born July 5, 1884, in Jeansville, Pennsylvania.2 Other sources over the years offered birthdates of July 5, 1883, 1884 or 1885, in Jeansville, Janesville or Hazleton, Pennsylvania. In a 1933 Sporting News column, J.G. Taylor Spink asserted — without supporting evidence — that Quinn "was born in New York, near the Battery, in 1881."3
Quinn once promised to reveal the truth when he retired, but he died in 1946 without ever doing so.4 Only years of digging by generations of family members ultimately produced a convincing answer to the puzzle. In 2008 E. Michael D. Scott, a distant relative by marriage, published an article concluding that Quinn was born Janos Pajkos on July 1, 1883, in the village of Štefurov, now part of Slovakia. Scott determined that Janos was not yet a year old when his family emigrated to the United States, where his name was Anglicized to John Picus. "Quinn" was apparently adopted as a baseball name, probably around the time he started pitching semipro ball in his teens.5
Even in the absence of verifiable facts, it was clear to baseball people that Quinn was getting up in years by the time he was released by Brooklyn and signed by the Cincinnati Reds early in the 1933 season. One of the major leagues' last three authorized spitball pitchers, he had already loaded up the last legal wet ones for the Boston Red Sox (1925), Philadelphia Athletics (1930), and Brooklyn Dodgers (1932), and now he would add Cincinnati to his collection.6
"Quinn … gives his age as 43," the United Press reported at the time, "but it is generally believed he is only a year or so less than 50."7
Quinn was acknowledged as a remarkable physical specimen who always kept himself in shape,8 but by now he was getting by "on his noodle" as much as his arm.9 With an eye to his job prospects, Quinn didn't brag about his age — whatever it was. He insisted he wasn't even the oldest player in the major leagues, contending that honor rightfully belonged to Brooklyn's Dazzy Vance.10In fact, Quinn was nearly eight years older than Vance, who was born March 4, 1891.
The old man was effective in his early outings with the Reds. On June 3 in Pittsburgh, after the Pirates opened the bottom of the ninth with a home run and two triples, he relieved Ray Kolp with a runner on third base and the potential tying run at the plate. The runner scored on a sacrifice fly, but Quinn got the final three outs to save a 5-4 victory. As of June 21, he'd allowed just one earned run in eight innings.
Quinn was roughed up in his next three games. He took a loss on June 28, when Brooklyn rocked him for six hits and three runs in three innings. He passed his 50th birthday, unbeknownst to himself or anybody else, on July 1 and three days later, he was nicked for two singles and a run in a 4-0 loss in Chicago. But he wasn't quite finished. Quinn and "his famous spitball"11would come to the rescue one more time.
On July 7, Reds starter Larry Benton cruised through six innings and had a 7-2 lead over Boston. Then the Braves erupted for a single, two doubles and a triple and suddenly with one out in the top of the seventh the lead was cut to 7-5. Quinn came in and stifled the rally, stranding the runner on third as he retired Pinkey Whitney on a pop foul and, after walking Hal Lee, got Joe Mowry on a grounder back to the mound.
The Reds added a run on back-to-back doubles by Jim Bottomley and Ernie Lombardi. Quinn pitched around Billy Urbanski's two-out single and got through the top of the eighth without trouble.
Ironically, Quinn's big league career ended not on the pitcher's mound but in the batter's box. Leading off the Reds' half of the eighth inning against Boston's Huck Betts, Quinn twisted a knee12and had to be replaced by pinch-hitter Johnny Moore. Ray Kolp pitched the ninth for Cincinnati and wrapped up the 8-5 win.
A week later, the Reds handed Quinn his walking papers. In 14 relief appearances, he had lost his only decision and posted a 4.02 earned-run average — hardly earth-shaking numbers but not a disgrace, either, in a year when six of the 16 major-league teams had ERAs north of 4.30.
In Depression-bound 1933, his release was framed as part of the team's "economic reconstruction." The Reds were heading for eighth place and fighting to avoid bankruptcy. As the season progressed, they jettisoned several veteran players and saved a few additional bucks by firing their trainer.13 Lee Allen remembered seeing the pitcher on the day of his release "looking very dapper in street clothes as he stood at a concession stand and munched on a hot dog lavishly smeared with mustard."14
Today, Quinn stands as one of six men who played in the major leagues after age 50,15 and the only one to hold a place on a major league roster, in Scott's phrase, "on merit."16
Even after being let out by the Reds, Quinn wasn't convinced he was finished. He caught on with Hollywood at the start of the 1934 season but was released in May after being batted around in six Pacific Coast League games. He reportedly joined a touring House of David team in 193517 but returned to organized ball in July when offered a chance to manage Johnstown in the Class C Middle Atlantic League.
Quinn hoped to pitch again and immediately petitioned for permission to use the spitball.18 That request was still under consideration on July 30, when the Johnnies found themselves on the receiving end of a barrage of hits in Zanesville, Ohio. By the seventh inning the hometown Greys had worn out four Johnstown pitchers and it was time for Quinn to try to save further wear and tear on his staff. Though he was not on the active roster, he received the opposing manager's permission to enter the game, and to use the spitball.19
A month past his 52nd birthday, Quinn "displayed the same cunning that kept him active in the big show for more than 25 years."20 He secured the last six outs without giving up a run, allowing only two infield hits. The final score was 18-0.
Quinn did not pitch again. He managed Johnstown to a 35-21 record and had the club tied for the second-half lead when he resigned abruptly on September 2, citing "urgent business" in Chicago. Press reports also noted rumblings that he was "at odds with a number of players on the club."21
Sources
http://www.retrosheet.org/boxesetc/1933/B07070CIN1933.htm
https://www.baseball-reference.com/boxes/CIN/CIN193307070.shtml
Notes
1 E. Michael D. Scott, "John 'Jack Quinn' Picus: Not Polish, not Welsh, and not Born in America at All," Nine: A Journal of Baseball History & Culture, Vol. 16, No. 2 (spring 2008): 94.
2 Lee Allen, "Baseball Methuselah — Jack Quinn Big Leaguer at 49," The Sporting News, September 9, 1967: 6.
3 J.G. Taylor Spink, "Three and One," The Sporting News, May 11, 1933: 4.
4 Associated Press, "Jack Quinn is Dead; 25 Years in Majors," New York Times, April 19, 1946: 30.
5 Scott: 94-104.
6 The two who outlasted Quinn were Red Faber and Burleigh Grimes.
7 United Press, "Cincinnati Reds Give Jack Quinn Pitching Contract," Syracuse Herald, May 7, 1933: 9.
8 See "Quaker Series to End Today; Quinn Let Out," Cincinnati Enquirer, July 14, 1933: 14; John H. Whoric, "Death Claims Jack Quinn, Former Dunbar Baseball Pitcher," Connellsville (Pennsylvania) Daily Courier, April 19, 1946: 7; and "Necrology," The Sporting News, April 25, 1946: 20.
9 John H. Whoric, "Bits Here and There," Connellsville (Pennsylvania) Daily Courier, April 23, 1946: 5.
10 "Golfing Dust," Cincinnati Enquirer, July 30, 1933: 32.
11 Jack Ryder, "Reds Slam Ball to Beat Braves to Celebrate Return to Own Lot," Cincinnati Enquirer, July 8, 1933: 9.
12 "Benton is Knocked Out; Given Credit for Game," Cincinnati Enquirer, July 8, 1933: 9. Play-by-play at Retrosheet.org says Quinn left the game "with [an] injured foot."
13 Tom Swope, "Further Cut Made in Payroll of Reds," The Sporting News, Aug. 17, 1933: 2.
14 Allen.
15 The other five are Jim O'Rourke (1904), Nick Altrock (1933), Charley O'Leary (1934), Satchel Paige (1965) and Minnie Miñoso (1980). Unlike Quinn, none had played regularly in the major leagues in the previous decade.
16 Scott: 104.
17 "Jack Quinn Spurns Orndorff's Offer to Join House of David," Lima (Ohio) News, April 14, 1935: 13.
18 Associated Press, "Jack Quinn, Johnstown Manager, Seeks to Use Spitball; Owners in Mid-Atlantic to Vote," Uniontown (Pennsylvania) Morning Herald, July 17, 1935: 10.
19 "Lefty Heise, Veteran Hurler, May Sign with Local Club," Zanesville (Ohio) Signal, July 31, 1935: 8.
20 "Lefty Heise."
21 United Press, "Jack Quinn Out at Johnstown," Piqua (Ohio) Daily Call, Sept. 4, 1935: 7. Leo Mackey replaced Quinn. The Johnnies finished the second half of the season two games behind the Dayton Ducks, who lost a post-season playoff to the first-half champion Huntington Red Birds.
Additional Stats
Cincinnati Reds 8
Boston Braves 5
---
Redland Field
Cincinnati, OH
Box Score + PBP:
Corrections? Additions?
If you can help us improve this game story, contact us.
Tags
https://sabr.org/sites/default/files/QuinnJack.png
600
800
admin
/wp-content/uploads/2020/02/sabr_logo.png
admin
2018-02-22 14:24:21
2020-04-17 10:24:54
July 7, 1933: Ageless spitballer Jack Quinn finally runs dry at 50