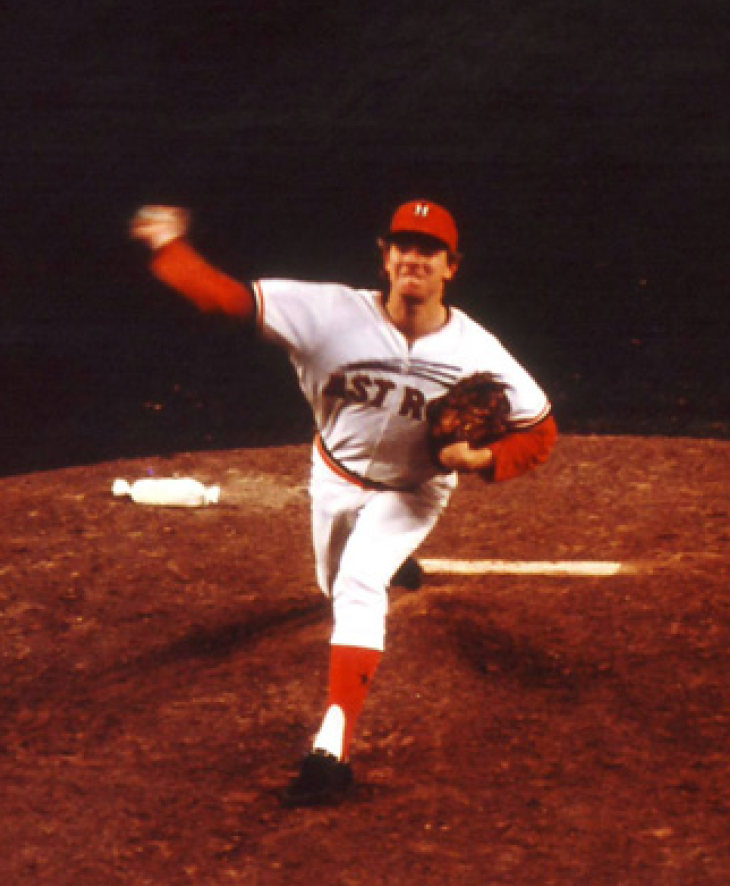 July 9, 1976: Houston's Larry Dierker tosses a no-hitter at the Astrodome
---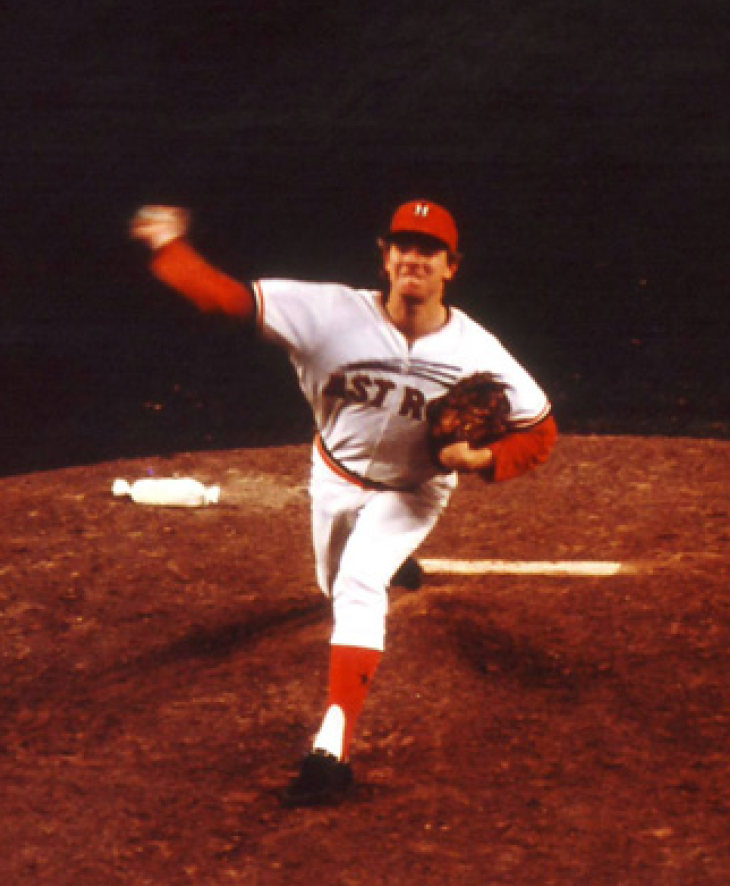 "I knew I had a no-hitter after the first inning," said Larry Dierker with an air of seriousness before breaking into a chuckle. "Walking back to the dugout, I wondered, 'When was the last time I got through the first inning without giving up a hit?'"1
Dierker had come close to a no-hitter before. As a 22-year-old in 1966, he had tossed eight hitless innings only to yield two safeties to begin the ninth and then lose to the New York Mets, 1-0. Three years later, he held the Atlanta Braves hitless for 8⅔ innings in a pitchers' duel with Phil Niekro, and ultimately hurled 12 scoreless frames, but picked up a no-decision. Dierker also had two one-hit shutouts, holding the San Diego Padres hitless for 6⅔ frames in 1971, and yielding just a single to the Mets in the third inning in 1972.
A no-hitter seemed unlikely at this point in Dierker's career. Just 29 years old, Dierker was in his 13th big-league season, all with Houston. A two-time All-Star, the 6-foot-4, 215-pound right-hander owned a 131-111 record, including a career-best 20 wins in 1969, and had logged in excess of 2,200 innings; however, he had been bothered by injuries in the previous three seasons. He missed much of the 1973 campaign with a hand injury followed by a shoulder injury, which caused him chronic pain. "Dierker was the consummate major-league pitcher," said Tal Smith, who served as Astros GM in '76. "Larry was big, strong, durable, competitive, and obviously talented. He had the complete repertoire — a good fastball, a good breaking ball and a good changeup. As such he was able to keep batters off stride and to affect their timing — the essence of getting hitters out."2
The Astrodome was sprinkled with a sparse crowd of just 12,511 on Friday, July 9, to see a matchup between two sub-.500 clubs. Manager Bill Virdon's fourth-place Astros (39-44), a distant 12½ games behind the Cincinnati Reds in the NL West, hoped to cure their ills by playing the worst team in baseball, the Montreal Expos (25-49), who were a whopping 25½ games behind the Philadelphia Phillies.
Dierker set down the first three Expos in order. "People worried that my arm was shot that year," said Dierker, who entered the game with a dismal 4.43 ERA. "So I'd often overthrow, but I made up my mind before that game to just make good pitches and not try to throw the ball by anyone. Just mix it up and move it around. Pitch craftily, not powerfully." In the second Dierker issued a leadoff walk to Andre Thornton, who promptly stole second. In the first sequence of events that foretold a special night, Dierker first fanned Larry Parrish. Then he caught what Dick Peebles of the Houston Chronicle called a "sizzling liner" from Pete Mackanin and doubled Thornton off second.3
José Cruz put Houston on the board in the second by doubling off Montreal starter Don Stanhouse to drive in Bob Watson, who had reached first via a walk. Stanhouse, a 25-year-old right-hander who had entered the season with an abysmal 4-17 career record, was one of the surprises of the '76 season to this point (6-3, 2.18 ERA). A wild pitch and two more walks loaded the bases with one out for Dierker, who lofted a deep fly to right field to drive in Cruz for a 2-0 lead. Stanhouse's fourth walk of the frame, to Greg Gross, loaded the bases again, but Rob Andrews grounded out.
Dierker set down the Expos in order in the third and fourth, aided by two stellar defensive plays. "Enos Cabell had to charge in from third base," recalled Dierker, "and made a barehanded play but he got the runner [Pepe Mangual] easily" for the first out of the fourth. In what the Chronicle considered the toughest play of the game, second baseman Andrews backhanded Jim Lyttle's sharp grounder, "whirled and while in the air" made an off-balance throw to first for the second out.4
Ed Herrmann, Dierker's veteran batterymate, who had been acquired a month earlier from the California Angels in a trade, extended Houston's lead to 3-0 with his first NL home run to lead off the fourth. Roger Metzger followed with a single and later scored on Andrews' two-out single to end Stanhouse's night.
Dierker's bout of wildness caused a few tense moments in the fifth. After issuing consecutive one-out walks to Parrish and Mackanin, he ended the frame by retiring Larry Johnson on a fly ball and striking out Pepe Frias, stranding Parrish on third.
The bottom of Houston's lineup added two more insurance runs in the fifth off reliever Don Carrithers. Herrmann laced a one-out single to drive in Watson, who had led off with a single and had stolen second. Metzger followed with another single, plating Cliff Johnson, who was on base via third baseman Parrish's error.
"I got an adrenaline rush in the seventh inning," recalled Dierker with the same enthusiasm he had as a player. "I thought, 'Here I am in the 'Dome and my fastball is rising like it did when I was 18.'" The Astrodome crowd collectively held its breath when Mike Jorgensen led off the seventh with the Expos' first hard-hit ball of the game, but center fielder Jose Cruz, subbing for the injured four-time All-Star Cesar Cedeño, went to the warning track to make a routine catch.
"In the last two innings I threw nothing but high fastballs, trying to blow hitters away or get fly balls," said Dierker. "Just the opposite of my original game plan." He recalled how pitching in the cavernous Astrodome with its 406-foot center-field wall and deep power alleys helped him on this night, although he did get one more scare in the eighth. "[Pinch-hitter] José Morales hit one to deep center field that would have been out in many parks," said Dierker, "but José Cruz drifted back and caught it on the warning track."
The Astrodome crowd, which had been cheering loudly after every out since the seventh inning, gave Dierker a raucous round of applause when he came to the plate in the eighth inning. A longtime fan favorite, Dierker struck out against right-handed reliever Joe Kerrigan, making his first big-league appearance, but that did not matter to the Astros faithful, who gave Dierker a standing ovation.
Dierker took the mound in the ninth for a date with destiny, aiming for the fifth no-hitter in franchise history. Don Wilson, who had tragically died on January 5, 1975, under mysterious circumstances, had authored the last no-hitter, on May 1, 1969, at Crosley Field, when he turned the trick against Cincinnati one day after Reds hard thrower Jim Maloney did the same to the Astros. Wilson also fired the first no-hitter in the Astrodome, on June 18, 1967, against Atlanta. The other two no-hitters occurred in Colt Stadium, when the team was known as the Colt .45s. Both were peculiar: A two-base error led to a run in Don Nottebart's 4-1 no-hitter versus the Philadelphia Phillies on May 17, 1963, and Ken Johnson achieved the dubious distinction of becoming the first big-league pitcher to toss a no-hitter and lose the game on April 23, 1964, against Cincinnati when two errors in the ninth led to the only run of the game.
Dierker whiffed Mangual on four pitches to lead off the ninth. He fell behind Lyttle 2-and-0, before firing three straight strikes for his eighth punchout. "[Dierker] was really throwing smoke," Ed Herrmann remarked after the game. "His fastball was hissing and he challenged every hitter."5 With Montreal down to its final out, Jorgensen nicked Dierker's fastball meekly about 10 feet left of first base. Dierker sprinted to the bag in anticipation of a short lob from Watson for the final out, but the two-time All-Star had a different idea. "I knew Jorgensen was going to hit the ball to me," said Watson. "I grabbed the ball and raced to the bag. There was no way I was going to risk throwing the ball to Larry."6 Watson stepped on the bag to end the game in 2 hours and 26 minutes.
Dierker jumped wildly at first base, where Watson was waiting with a hug as his teammates mobbed him. In the clubhouse after the game, Dierker soaked his sore elbow in ice while basking in the glow of one the few personal pitching achievements that had thus far eluded him. The no-hitter also inaugurated an unexpected rejuvenation from the tanned Californian. Three starts later, he tossed his fourth and final two-hitter, and his first since 1969, by blanking San Diego at the Astrodome on July 26. In an emphatic statement that he was not washed up, Dierker posted a robust 3.03 ERA in his last 14 starts before his season was prematurely ended by arm pain. In the offseason he was traded to the St. Louis Cardinals, for whom he pitched his final 11 games in an injury-plagued 1977 season before retiring.
"I never expected to throw a no-hitter at that point in my career, especially after the injuries and arm problems," said Dierker about his special night against the Expos. "It really was a gift from God."
This article appears in "Dome Sweet Dome: History and Highlights from 35 Years of the Houston Astrodome" (SABR, 2017), edited by Gregory H. Wolf. To read more articles from this book at the SABR Games Project, click here.
Sources
In addition to the sources cited in the Notes, the author also accessed Retrosheet.org, Baseball-Reference.com, the SABR Minor Leagues Database, accessed online at Baseball-Reference.com, SABR.org, and The Sporting News archive via Paper of Record.
https://www.baseball-reference.com/boxes/HOU/HOU197607090.shtml
http://www.retrosheet.org/boxesetc/1976/B07090HOU1976.htm
Notes
1 All quotations from Larry Dierker are from the author's interview with him on February 10, 2016.
2 From author's correspondence with Tal Smith on January 13, 2016.
3 Dick Peebles, "Long-Suffering Dierker Pitches No-Hitter," Houston Chronicle, July 10, 1976: section 3, 1.
4 Ibid.
5 Ibid.
6 Ibid.
Additional Stats
Houston Astros 6
Montreal Expos 0
---
Astrodome
Houston, TX
Box Score + PBP:
Corrections? Additions?
If you can help us improve this game story, contact us.
Tags
https://sabr.org/sites/default/files/DierkerLarry_1.png
600
800
admin
/wp-content/uploads/2020/02/sabr_logo.png
admin
2018-09-18 12:05:45
2020-04-17 10:24:39
July 9, 1976: Houston's Larry Dierker tosses a no-hitter at the Astrodome