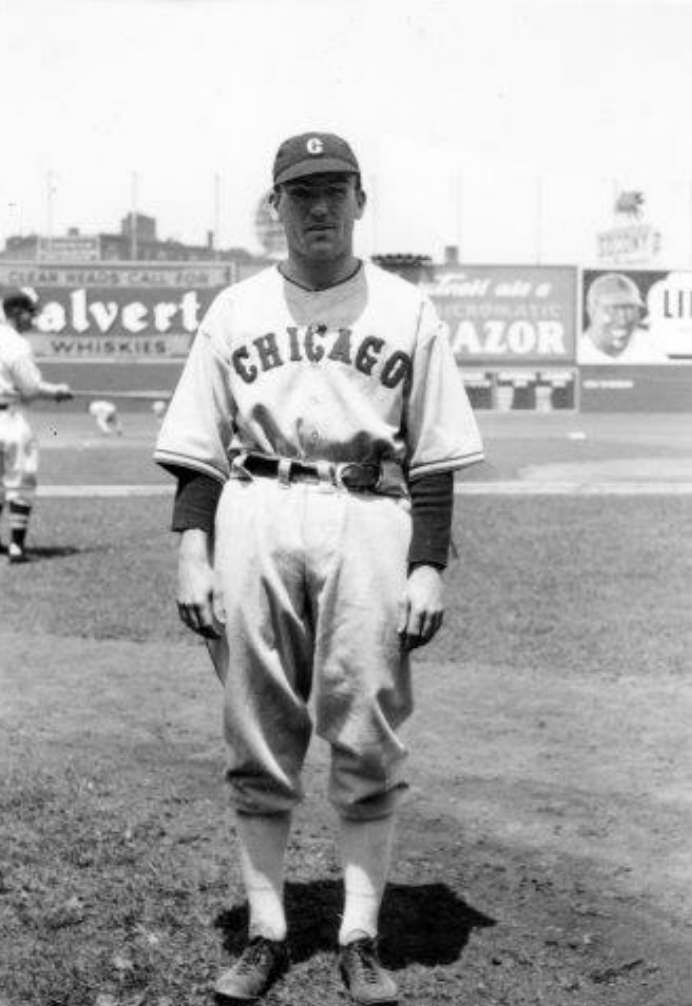 June 1, 1937: Bill Dietrich resuscitates career with a no-hitter
---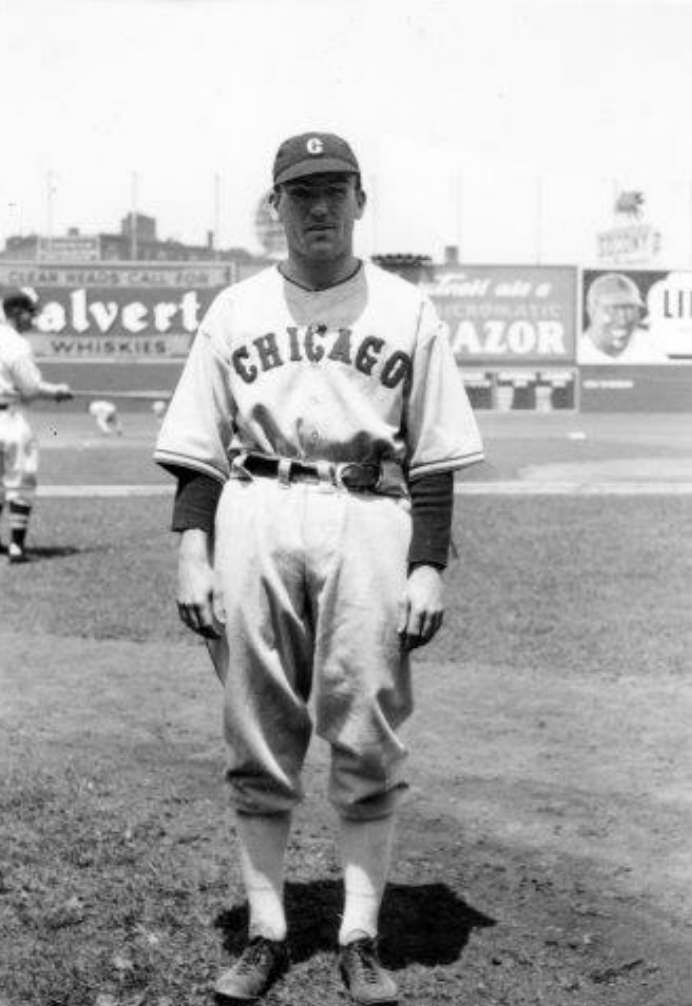 The Chicago White Sox' bespectacled 27-year-old right-hander Bill Dietrich's five-year big-league career was at a crossroads when he took the mound against the St. Louis Browns on June 1, 1937, in the Windy City. In his last start, just two days earlier, Dietrich was "battered almost beyond recognition," opined Chicago Tribune sportswriter Irving Vaughn, surrendering 10 runs in just 3⅓ innings to the Cleveland Indians.1 With an ERA of 10.12, Dietrich probably recognized that his days on skipper Jimmy Dykes' staff were numbered. 
The last year had been a trying one for Dietrich. The previous June Philadelphia Athletics owner Connie Mack, who had signed the local phenom out of high school in 1929, finally gave up on the erratic hard-thrower and sold him to the Washington Senators in a waiver transaction. When Washington attempted to send Dietrich outright to Albany in the International League after five relief appearances and just three weeks, Chicago blocked the move. Dykes and his trusted coach, former big-league catcher Muddy Ruel, were known to take chances on pitching reclamation projects, and acquired Dietrich despite his 22-33 career record and ERA well in excess of 5.00. Dietrich, whom coaches and teammates called "Bullfrog" because of his round face and slightly protruding eyes magnified by his glasses, split his eight decisions for the White Sox in '36, but had thus far struggled in '37 while battling the flu and sinus problems.
Undoubtedly suppressing the memories of his last start, Dietrich enjoyed a 1-2-3 inning against manager Rogers Hornsby's Browns on a warm Tuesday in Comiskey Park. Chicago had kicked off a 14-game homestand the day before by sweeping last-place St. Louis (10-24) in a doubleheader to increase its winning streak to three games and move a game over .500 (18-17). The White Sox wasted no time pummeling 33-year-old left-hander Chief Hogsett, owner of a 53-66 record in his nine-year career, including 1-4 with a 5.79 ERA thus far in '37. Leadoff hitter Rip Radcliff drew a walk and scampered to third on "Iron Mike" Kreevich's double to left; both scored on Dixie Walker's double to right. After retiring Zeke Bonura and Luke Appling, Hogsett walked Jackie Hayes and Tony Piet to load the bases. His third consecutive walk, to Luke Sewell, resulted in the third run of the game. Hogsett dispatched Dietrich to end the frame.
Following another three-up-three-down inning by Dietrich, Hogsett returned to the mound, still smarting from his rude welcome in the first inning. Hogsett "started to work himself into another spasm of wildness," wrote Irving Vaughn, and walked Radcliff again. A seemingly perpetually perturbed Hornsby yanked Hogsett in favor of swingman Russ Van Atta, who had led the AL in pitching appearances in each of the previous two campaigns. The 31-year-old left-hander with a 28-32 record in five seasons induced Kreevich to hit a grounder that forced Radcliff at second, before he "was bitten by the control bug." Van Atta walked Walker, then received a boost from shortstop Bill Knickerbocker, who fielded Bonura's lazy grounder to initiate an inning-ending 6-4-3 double play.
After Dietrich retired his 12th straight batter, Chicago's leadoff hitter reached base for the fourth consecutive time when Sewell drew a walk in the fifth. [Appling had singled to start the third but was erased in a failed stolen-base attempt]. Sewell took off on contact as Dietrich attempted a sacrifice bunt. Third baseman Harlond Clift fielded the ball and "foolishly attempted a force play at second," opined Vaughn. Both runners were safe and subsequently advanced on Radcliff's sacrifice bunt. Kreevich, who had gone 26-for-73 in his previous 17 games to raise his batting average from .176 to .322, singled to drive in Sewell and Dietrich, and advanced to second when left fielder Joe Vosmik fumbled the ball. Bonura drew a two-out walk, but Appling failed to pad Chicago's 5-0 lead, flying out to right.
Dietrich's perfect game ended in the sixth inning when he walked the leadoff batter, Rollie Hemsley, on four pitches. The slow-footed catcher was retired one batter later when Tom Carey hit a bouncer to shortstop Luke Appling, who started a 6-4-3 twin killing. Dietrich committed a cardinal sin by walking his mound counterpart, Van Atta, then ended the inning by inducing Harry Davis to ground out to first baseman Zeke Bonura.
Sam West led off the top of the seventh with what Vaughn called the "most treacherous" hit of the game, a screeching liner to first base. But fourth-year veteran Bonura, who had led AL first sackers in fielding percentage in two of his first three seasons, made a leaping catch to keep the no-hitter intact. It was his second spectacular defensive play of the game. In the fifth inning he snared Knickerbocker's slashing liner. Hot-hitting Beau Bell, who eventually led the AL in hits (218) and doubles (51) while batting .340 in 1937, smashed a two-out liner to third baseman Tony Piet, who juggled the ball just long enough to permit Bell to reach first safely. Piet was charged with an error. Unshaken by Bell's presence on the basepaths, Dietrich fanned Clift to close out the seventh.
The White Sox battered Van Atta for three more runs in the eighth. Sewell led off with a double. Kreevich connected for his third hit, a two-out single to left field, to drive in Sewell. The fleet-footed, 5-foot-7, 165-pound Kreevich stole second and moved to third on Hemsley's errant throw. Dixie Walker took advantage of the situation by singling Kreevich home. After Bonura singled, Appling slapped Chicago's fourth consecutive two-out single, driving in Walker and increasing Chicago's lead to 8-0.
Known throughout his career as a hothead whose temper often got the better of him, Dietrich took the mound in the ninth just three outs from becoming the first big-league pitcher since his Chicago teammate Vern Kennedy held Cleveland hitless on August 31, 1935, at Comiskey Park.  An unusually calm Dietrich revealed to Irving Vaughn after the game that he was not nervous in the last two-plus innings because he had a feeling that the error charged to Piet in the seventh would be overturned and Bell credited with a hit. Nonetheless, Dietrich knew the pressure of a no-hitter. In just his fourth professional start, in 1931, the Bullfrog spun a no-hitter against Wilkes-Barre in the Class-B New York-Pennsylvania League as a member of the Harrisburg Senators.
Dietrich began the ninth by retiring Sunny Jim Bottomley, in the final campaign of a 16-year Hall of Fame career, on a routine fly to center fielder Kreevich. Given his recent struggles, Dietrich was in unusual terrain. He had not hurled a nine-inning complete game since defeating the Browns at Sportsman's Park on August 6 of the previous year. The knock against Dietrich was his lack of command and his frustrating inconsistency. But when the stout, 6-foot, 185-pound hurler could harness his fastball, he enjoyed moments of brilliance, and had tossed six shutouts, including two two-hitters, in just 54 career starts entering the '37 campaign. Dietrich retired Harry Davis on an "easy bounder" to second baseman Jackie Hayes for the second out. As the White Sox faithful stood cheering, Dietrich threw a fastball by Sam West, who swung and missed to end the game in one hour and 48 minutes.
Mobbed by teammates, Dietrich finished with five punchouts. "His fastball was on the inside corner for both right- and left-hand hitters," said batterymate Luke Sewell, who caught his third no-hitter. "As a result, they were hitting the ball with the handle of their bats and easy fly balls followed."2 Undoubtedly aided by Dykes and Ruel, Dietrich pitched consistently enough to maintain his spot in the rotation, and concluded the campaign with an 8-10 record and 4.90 ERA in 143⅓ innings. Plagued by myriad injuries throughout his 16-year career (1933-1948), Dietrich enjoyed his greatest success in the war years with the White Sox, retiring with a 108-128 record.
Dietrich's gem was the White Sox' fourth of 10 consecutive victories that catapulted the club from sixth place on May 29 into a tie with the New York Yankees for first place on June 8. It was the first time Chicago had been at the top of the AL standings that late in the season since August 31, 1920, just four weeks before former White Sox players Eddie Cicotte and Shoeless Joe Jackson confessed their participation in a scheme to fix the 1919 World Series to a grand jury. Manager Jimmy Dykes' '37 club ultimately finished in third place with an 86-68 record, their best marks since their fateful and history-altering 1920 season.
Sources
In addition to the sources cited in the Notes, the author also accessed Retrosheet.org, Baseball-Reference.com, SABR.org, and The Sporting News archive via Paper of Record.
Notes
1 All quotations are from Irving Vaughn, "Dietrich Hurls No-Hit Game; Sox Win, 8-0," Chicago Tribune, June 2, 1937: 23.
2 Joe Wancho, "Luke Sewell," SABR BioProject; sabr.org/bioproj/person/3fcde47d. In addition to Dietrich's no-hitter, Sewell also caught Vern Kennedy's in 1935 and Wes Ferrell's as a member of the Cleveland Indians on April 29, 1931.
Additional Stats
Chicago White Sox 8 
St. Louis Browns 0
---
Comiskey Park
Chicago, IL
Box Score + PBP:
Corrections? Additions?
If you can help us improve this game story, contact us.
Tags
https://sabr.org/sites/default/files/Screen%20Shot%202018-10-16%20at%203.45.14%20PM.png
600
800
admin
/wp-content/uploads/2020/02/sabr_logo.png
admin
2018-10-16 15:46:26
2020-11-23 13:08:55
June 1, 1937: Bill Dietrich resuscitates career with a no-hitter