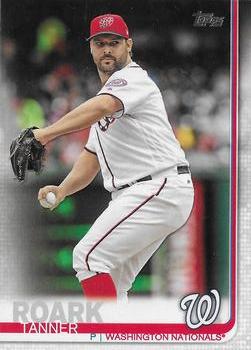 June 1, 2019: Tanner Rainey wins, Tanner Roark loses, homers as Reds top Nationals
---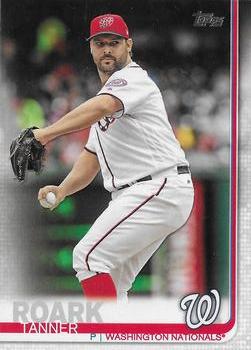 Reds pitcher Tanner Roark was facing his former team for the first time. He was coming off a strong month: He had the best ERA (2.28) and the most wins (three) among the Reds' pitchers in May, and hadn't allowed a home run in May. In his pregame interview he said he would make eye contact with the batters, unlike his usual approach. He had been a key player for the Nationals in 2013 through 2018, but now he was pitching for the Reds, wearing their 150th-anniversary patch along with his teammates. The Nationals (24-33) were fourth in the NL East, nine games back of Philadelphia. The Reds, at 27-30, were last in the NL Central but only five games behind the Cubs.
Roark started June where he'd left off in May. He handled a comebacker from Adam Eaton with a barehanded pickup and throw to first. He struck out Trea Turner on three pitches. Juan Soto lined out to left, and Roark was back in the dugout on 11 pitches.
Erick Fedde (1-0, 2.18 ERA) was pitching for the Nationals. This was his eighth appearance in 2019 but only his third start: He had been used mostly in long relief in April and May. Setting the tone for this outing, rookie Nick Senzel1 greeted him with a double off the fence in center, giving him a 20-game on-base streak. As Joey Votto came to the plate, he and Nationals catcher Yan Gomes had a few words, leading to home-plate umpire Joe West taking Votto's bat and marking a line in the dirt between Votto and home plate.2 Votto fouled off several pitches but looked at strike three on the outside corner. Eugenio Suárez grounded to shortstop Turner, who bobbled the ball while looking at Senzel heading to third. Both runners were safe. Derek Dietrich walked, loading the bases. With three on and one out it looked promising for the Reds, but Jesse Winker grounded into a double play to get Fedde out of his jam without a runner scoring.
The second inning did not go as well for Roark. Anthony Rendon rolled one into left between the shortstop and third baseman. After Matt Adams was out on a foul tip, Brian Dozier lined a single into left. Gerardo Parra then spoiled Roark's day with a three-run blast into the walkway located halfway up the right-field bleachers. That was the first home run he had given up since April 24. That was all for the Nationals: Gomes flied out to center and Fedde preserved his pristine .000 BA by grounding to second.
Yasiel Puig was rung up on strike three that just touched the outside corner: His expression clearly indicated that he thought he had walked to start the bottom of the second. José Iglesias actually walked then advanced to third on Tucker Barnhart's liner to left. Roark got down a perfect squeeze bunt to score the Reds' first run: 3-1, Nationals. Senzel grounded to Adams near first, but Adams bobbled the ball, allowing Senzel to reach safely. Votto walked on a pitch way outside, loading the bases again, but this time with two out. Fedde escaped his second consecutive jam when Suárez flied out to left, but he'd thrown 55 pitches.
Roark needed only nine pitches to get the Nationals out in order in the third. The Reds threatened again in the bottom of the third. Singles by Dietrich and Winkler put runners on first and third with no outs. But Puig struck out again, and Iglesias grounded into another Reds double play to end the inning.
The Nationals padded their lead in the fourth with a one-out Adams home run that hit the stands above the same walkway and bounced up to the back row of the stands. Parra hit a two-out single but was left on when Gomes struck out.
Fedde came out for the bottom of the fourth having thrown 70 pitches. Barnhart grounded out to first. Roark hit Fedde's first offering onto the top of the bullpen in center-left for his first career home run,3 joyously circling the bases, then accepting the congratulations and high fives in the dugout. With the home run, he had both of the Reds' RBIs. Senzel grounded out and Votto fouled out with Reds having pulled a little closer.
Fedde struck out on three pitches to open the fifth. After Eaton walked, Turner and Soto struck out to leave him on base. In the bottom of the frame, Suárez grounded to Rendon, who threw off-balance, pulling Adams off the bag, so Suárez was safe. Nationals manager Davey Martinez pulled Fedde for lefty Matt Grace, perhaps to face left-handed-batting Dietrich. If that was the intention it didn't work, as Dietrich singled on Grace's first pitch. However, he was erased when Winker grounded into the Reds' third double play of the day. So Grace allowed no net baserunners: Martinez called on Tanner Rainey with Suárez on third and two outs to face Puig. Rainey, the former Red,4 struck out Puig swinging at a 99 MPH fastball.
At this point the pitchers were both Tanners. Given the scarcity of Tanners in major-league history,5 this was the first time two appeared in a game, let alone as opposing pitchers. The two Tanners had been traded for each other on December 12, 2018, so this was their first season with their new teams. Yes, that was the first Tanner-for-Tanner trade in major-league history. Rainey had played with several of the Reds in this game, but they still swung at 98-99 MPH pitches well out of the zone. Since Fedde had not pitched a full five innings, he could not qualify for the win. The official scorer awarded the win to Rainey as the most effective reliever, perhaps impressed by his three strikeouts.
All Roark allowed the Nationals in the top of the sixth was a Rendon single. In the bottom, Rainey got Iglesias to pop up, walked Barnhart, then struck out pinch-hitter Josh VanMeter and Senzel.
Michael Lorenzen pitched an efficient top of seventh: nine pitches for three quick outs. Martinez sent in Wander Suero to pitch, choosing from among what was clearly the worst bullpen in the majors.6 Votto flied out to the wall. Suárez hit a liner to left. Dietrich popped out for the second out. Winker grounded toward second: He did not hit into his third double play of the day only because there were already two outs.
Lorenzen continued pitching in the top of the eighth. Turner grounded toward Iglesias at short, who made a beautiful spinning play and throw to beat Turner to first. Reds manager David Bell called on Amir Garrett, who struck out Soto, walked Rendon, and got Adams to pop out for the third out. In the home half of the eighth, Puig swung at Suero's 2-and-0 pitch and popped up into foul territory where right fielder Parra caught it — while almost running over the ball girl next to the tarp. Iglesias grounded out and Barnhart struck out.
Reds fourth pitcher Matt Bowman gave up a homer to Dozier: As usual, the fans threw the ball back from the left-field stands. That was the first home run given up by Bowman in 2019. Parra bunted just inside the third-base line, beating the throw by Bowman. After Gomes popped out, Parra stole second, but he was left there when Robles and Kendrick both grounded out. Sean Doolittle worked a one-two-three bottom of the ninth, holding the score at 5-2, Nationals.
This win was part of the Nationals' gradual comeback from their dismal 19-31 start, bottoming out on May 23 in fourth place in the NL East. They finished the regular season at 93-69 to earn a wild-card berth and went on to win the World Series, with Rainey pitching 2⅔ innings in the fall classic.7 The Reds finished in fourth place, 16 games back of St. Louis.
As for Roark, he finished the year at 10-10 with a 4.35 ERA — and one home run.
Sources
The author consulted Baseball-Reference.com and Retrosheet.org, and viewed the recorded game at MLB.com.
baseball-reference.com/boxes/CIN/CIN201906010.shtml
retrosheet.org/boxesetc/2019/B06010CIN2019.htm
Notes
1 Senzel debuted May 3, 2019.
2 This was never explained, but the Reds' television broadcasters speculated that Gomes may have been complaining about Votto tapping home plate blocking Fedde's view of Gomes' pitch calling.
3 This was the 294th at-bat of his career. His BA was .176, in line with his career average.
4 His 2018 ERA was an eye-watering 24.43.
5 There have been five players with the first name Tanner in the major leagues: Roark, Rainey, Tanner Scott, Tanner Anderson, and Tanner Scheppers. All of them were pitchers. Bruce Tanner (also a pitcher) played in 1985 and Chuck Tanner, Bruce's father, both played and managed. This game was the first time more than one Tanner appeared in the same game.
6 Mark Zuckerman, "Nationals Sign Veteran Reliever Kontos to Minor League Deal," masn.com, May 26, 2019, masnsports.com/nationals-pastime/2019/05/nationals-sign-veteran-reliever-kontos-to-minor-league-deal.html.
7 Rainey allowed only one hit, but four walks, resulting in a 10.13 ERA in his four World Series appearances.
Additional Stats
Washington Nationals 5
Cincinnati Reds 2
---
Great American Ball Park
Cincinnati, OH
Box Score + PBP:
Corrections? Additions?
If you can help us improve this game story, contact us.
Tags
https://sabr.org/sites/default/files/RoarkTanner-2019.jpg
600
800
admin
/wp-content/uploads/2020/02/sabr_logo.png
admin
2020-05-19 17:37:30
2020-05-28 15:31:32
June 1, 2019: Tanner Rainey wins, Tanner Roark loses, homers as Reds top Nationals