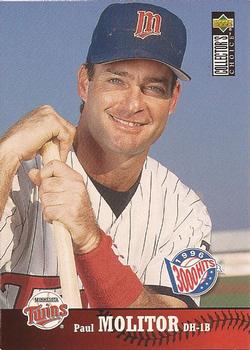 June 13, 1997: Minnesota Twins win first interleague game in the Astrodome
---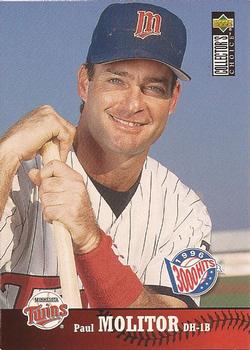 After decades of attempts to get the American and National Leagues to play interleague games during the regular season, the idea finally came to fruition during the 1997 season, as baseball tried whatever it could to bring back fans after the 1994 strike. The initial plan was for each division to play its counterpart, so the AL East would play the NL East, and so on. The schedule in 1997 had each team playing one three-game series against each team in the other division; for the Houston Astros that meant they would get a slight advantage by playing three of those series at home and two away. On the other hand, adjusting the schedule to accommodate interleague play meant teams had a lot of two-game series to play. "I think baseball should change. But it needs some work. The two-game series aren't good," said Minnesota Twins pitcher Bob Tewksbury.1
For their first series, the Astros were scheduled to play at home against the Twins. Although they had played American League teams in the Astrodome before, all those had been exhibitions, so this would be the Astros' first game played for keeps against an AL team.
Even though one of the primary reasons for interleague play was the expected attendance boost, the first interleague game in the Astrodome did not fulfill the hype. While the attendance of 30,956 was the fifth largest crowd in 29 home games to that point in the season, it was about average for Friday night crowds the Astros drew all season long.
Still, the idea that interleague play would be a big draw was there. Astros president Tal Smith said, "Fans in a one-team city like Houston should have the opportunity to see star players from American League teams. If fans like it, that's what we have to do."2 Astros infielder Bill Spiers wasn't so sure. "Maybe we'll see added fans because of it. We'll see what happens," he said.3
There may have been a different reason for the big crowd for this game, though. "If the Twins didn't have Chuck Knoblauch, nobody would really care," said Kenny Hand, former Houston Post columnist.4 Knoblauch, the Twins second baseman and a three-time All-Star, grew up in Bellaire, a Houston suburb 15 minutes from the Astrodome. "It's a place where I saw my first major-league game and went to many, many Astro games as a kid," said Knoblauch.5
Like other players, Knoblauch was a little confused by interleague play. "You had to fight through telling yourself it was a real game," he said.6 His teammate Paul Molitor agreed. "You had to keep reminding yourself that this was a real game. … You have to say, 'We're playing in Houston.' But as hard as it was to realize, you have to understand it's going to show up in the standings."7
Meanwhile, the Twins had to make some adjustments, coming into a National League park. With no designated hitter available, Molitor started at first base, playing in the field for just the second time all season. Pitchers had to bat, which made Brad Radke the first Twins starting pitcher to bat since 1972, the year before the DH came into effect. "I haven't hit since high school," he said.8
The two teams were headed in different directions in the standings. The Astros came into the game in a virtual tie with Pittsburgh for first place in the NL Central, albeit with a record of 32-33; the Twins' 28-35 record put them in fifth place in the AL Central, six games off the lead. Houston started Donne Wall, 2-2 with a 5.27 ERA in five starts, and Minnesota countered with Radke, who was 5-5 with a 4.60 ERA in 14 starts.
Leading off the game for the Twins, Knoblauch hit the first pitch for a single. That was just the start of an exciting day for Knoblauch, who was the star of the game in more ways than one. With the next batter, Rich Becker, at the plate, Knoblauch was out on a strike-him-out-throw-him-out double play. Knoblauch singled in the third, and was again caught stealing, but he also hit a two-run triple in the fourth and an RBI double in the eighth to complete a four-hit day in front of a hometown crowd.
In the top of the second Ron Coomer reached on an error and scored on a triple by Roberto Kelly, who scored himself when Pat Meares singled, giving the Twins a 2-0 lead. Jeff Bagwell hit his 20th home run of the season to cut it to 2-1 in the bottom of the third, but after Knoblauch's fourth-inning triple made it 4-1, Molitor extended the lead with a two-run homer off reliever Jose Lima in the seventh. After Knoblauch's RBI double in the eighth, Molitor reached on an error by Spiers, bringing home Knoblauch for the final run in the 8-1 Twins victory.
The final word on the potential of interleague play went to Tal Smith. He looked at the large and early-arriving crowd as a good thing, but cautioned that "as far as the long-range picture, we've got to give it some time."9
This article appears in "Dome Sweet Dome: History and Highlights from 35 Years of the Houston Astrodome" (SABR, 2017), edited by Gregory H. Wolf. To read more articles from this book at the SABR Games Project, click here.

Notes
1 "Twins' Knoblauch Eager for Trip Home to Houston," Galveston Daily News, June 13, 1997.
2 Adam King, "Interleague Play Gets Mixed Reviews," Brazosport (Texas) Facts, June 14, 1997.
3 Ibid.
4 Ibid.
5 "Twins' Knoblauch."
6 "Cubs Still Can't Beat AL Team," Syracuse Herald-Journal, June 14, 1997.
7 Ibid.
8 "Twins' Knoblauch."
9 King.
Additional Stats
Minnesota Twins 8
Houston Astros 1
---
Astrodome
Houston, TX
Box Score + PBP:
Corrections? Additions?
If you can help us improve this game story, contact us.
Tags
https://sabr.org/sites/default/files/MolitorPaul-MIN.jpg
600
800
admin
/wp-content/uploads/2020/02/sabr_logo.png
admin
2018-09-26 13:25:30
2020-04-17 10:23:55
June 13, 1997: Minnesota Twins win first interleague game in the Astrodome