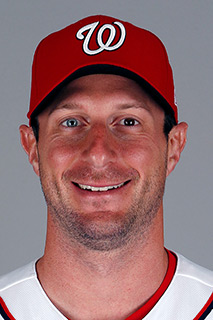 June 14, 2015: Max Scherzer scores 100 in shutout of Brewers
---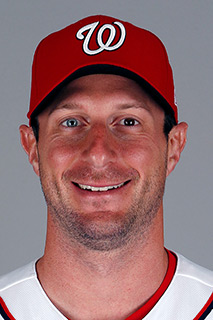 The crowd of 34,964 filing into Miller Park for this Sunday afternoon game probably expected a good pitching performance from
Max Scherzer
. Although his record was only 6-5, his ERA was an attractive 2.13 with a WHIP of .949. The Nationals (32-30) had lost the first two games of the four-game series but won the night before, so they were hoping to salvage a split against the Brewers, although they would be playing without their star hitter,
Bryce Harper
(.343 BA), who had been hit by a pitch the previous night. The Nationals were only a half-game behind the Mets in the National League East Division. At 24-39, the Brewers were last in the National League Central.
Brewers pitcher Taylor Jungmann (1-0) was appearing in only his second major-league game. His debut five days earlier was an unqualified success: He pitched seven innings, allowing only three hits and one run, although he did hit one batter. After an eight-pitch battle with Jungmann, Denard Span singled. The next batter, Danny Espinosa, was originally called safe on a grounder to first base, but Brewers manager Craig Counsell successfully challenged the ruling so Espinosa was out. Anthony Rendon walked. Yunel Escobar singled: Rendon was originally called safe at second, but Counsell again successfully challenged the ruling so Rendon was the second out. Clint Robinson then grounded to first to end the inning. Thanks to the replays, Jungmann escaped the inning unscathed despite the baserunners. Scherzer took the mound and needed only 11 pitches to set down the Brewers in order: a strikeout of Carlos Gómez and two groundouts.
Although it took him a few more pitches, Jungmann was almost as efficient as Scherzer in the top of the second. He gave up a two-out single to Michael A. Taylor, but struck out Scherzer to end his half-inning. Scherzer, back on the mound, quickly induced a groundout and two more strikeouts (Jean Segura and Scooter Gennett), both swinging.
The Nationals got something going in the top of the third. Span battled again, singled on the fifth pitch, and then stole second while Espinosa was batting. Espinosa singled, moving Span to third. Span scored on Rendon's sacrifice fly. Escobar popped out to the catcher. Then, with Robinson batting, Espinosa was caught stealing to end the half-inning with the score 1-0, Nationals. For his part, Scherzer had another 11-pitch inning with two more strikeouts. The only player who made contact was Jungmann, who grounded out.
In the top of the fourth, the Nationals sent seven men to the plate, but managed to score only one run. Robinson singled on the first pitch, then took second on a wild pitch to Ian Desmond (who struck out). Jungmann then threw another wild pitch to José Lobaton, allowing Robinson to take third. He then scored when Lobaton singled. Taylor popped out to the catcher for the second out of the inning, bringing up Scherzer. Scherzer (.222 BA) singled into center, moving Lobaton to second. Brewers catcher Martín Maldonado attempted to pick off Lobaton at second, but the ball went into center field, allowing Lobaton and Scherzer to advance. (Maldonado was charged with the error.) When Span worked a walk, the bases were loaded for Espinosa. Jungmann struck him out swinging to escape the bases-loaded jam, with the score only 2-0, Nationals. Scherzer (briefly) retook the mound: Nine pitches later, he had two pop flies and a strikeout of Ryan Braun to complete the Nationals' half of the inning.
The fifth inning went better for Jungmann. Although he did hit Escobar with a pitch, he worked a groundout, a fielder's choice, and a strikeout, which allowed him to finish his outing at 105 pitches, having given up only two runs. Scherzer worked another quick half-inning on 10 pitches: two more strikeouts (Adam Lind and Segura, again) and a fly out.
For the sixth inning, the Brewers brought in Corey Knebel to relieve Jungmann. He made quick work of the bottom of the Nationals order, also needing only 10 pitches to induce a fly out, a groundout and a strikeout of Scherzer. Scherzer returned the favor by striking out the side (including Shane Peterson, who was pinch-hitting for Knebel). As usual after each strikeout, Scherzer would stalk off the mound for a few seconds while the infielders threw the ball around.1 Those three strikeouts brought him to double-digit strikeouts for the fourth time that year.
The Brewers went with Jeremy Jeffress to pitch the seventh inning. He started off well enough with a groundout of Span and a strikeout of Espinosa. He then allowed singles to Rendon and Escobar. Robinson doubled down the left-field line, scoring both Rendon and Escobar, which brought the score to the final 4-0, Nationals. A groundout by Desmond ended the half-inning.
Scherzer took the mound for the seventh inning without having allowed a baserunner. By now, anxiety was high among the Nationals fans and broadcasters. But Gómez spoiled this attempt at history with a single into right, just over the outstretched glove of a running Anthony Rendon. But he advanced no farther than first: Scherzer picked up a popout, a fly out, and his second strikeout of Lind to complete the inning.
Jonathan Broxton pitched the eighth for the Brewers, working a 1-2-3 inning, finishing with a groundout of Scherzer. In the bottom of the inning, Scherzer opened with a groundout of Segura, then walked Gennett on the ninth pitch of the at-bat. But Héctor Gómez and Martín Maldonado each struck out for the third time, bringing Scherzer's strikeout count to 14 for the game. That tied the Nationals' record for strikeouts, which had stood since Stephen Strasburg's debut game five years earlier.2
Francisco Rodriguez pitched an effective top half of the ninth for the Brewers: a flyout and two strikeouts (including Espinosa's third strikeout of the day).
Scherzer took the mound for the bottom of the ninth, hoping to complete only the second complete-game shutout of his career.3 His 15th and 16th strikeout victims were Jason Rogers and Carlos Gómez, which set a new Nationals record for strikeouts. When Gerardo Parra grounded out to first base, Scherzer had achieved something that had happened only 11 times before in the history of baseball: a 100 game score on the Bill James' Game Score metric for a nine-inning game.4
During the post-game interview, Scherzer credited his catcher, Lobaton, for calling a great game. Drew Storen did the honors, dousing Max with Hershey's Chocolate sauce,5 a Nationals celebration tradition that had been started by Scherzer when the Nationals came back from an eight-run deficit to beat the Braves on April 28, 2015.6
Perhaps the best quote of the day, and certainly the most prescient, was from Nationals manager Matt Williams. When asked about the one hit Scherzer allowed, he responded, "It's unfortunate that it fell in. If you ask Max, he's concerned with the win, as we all are. I wouldn't imagine that that's gonna be the last opportunity that he has to do something special."7
That opportunity arose sooner than anyone could imagine: Scherzer pitched the first of his two 2015 no-hitters the next time he took the mound.8
Sources
baseball-reference.com/boxes/MIL/MIL201506140.shtml.
retrosheet.org/boxesetc/2015/B06140MIL2015.htm.
Notes
1 Video of the 16 strikeouts, only hit and final out: youtube.com/watch?v=_ikLnTMuwRU.
2 Strasburg debuted on June 8, 2010.
3 His previous complete-game shutout was a three-hit performance on June 12, 2014. baseball-reference.com/players/gl.fcgi?id=scherma01&t=p&year=2014.
4 Chris Johnson, "Max Scherzer Wasn't Perfect, but Still Scored 100," masnsports.com, June 14, 2015, masnsports.com/nationals-pastime/2015/06/max-scherzer-wasnt-perfect-but-still-scored-100.html.
5 Ibid.
6 Scott Allen, "Max Scherzer Explains the Nats' Chocolate Syrup Celebration," washingtopost.com, May 14, 2015, washingtonpost.com/news/dc-sports-bog/wp/2015/05/14/max-scherzer-explains-the-nats-chocolate-syrup-celebration/?utm_term=.91c088b316bd#comments.
7 Johnson.
8 baseball-reference.com/players/gl.fcgi?id=scherma01&t=p&year=2015.
Additional Stats
Washington Nationals 4
Milwaukee Brewers 0
---
Miller Park
Milwaukee, WI
Box Score + PBP:
Corrections? Additions?
If you can help us improve this game story, contact us.
Tags
https://sabr.org/sites/default/files/ScherzerMax.jpg
600
800
admin
/wp-content/uploads/2020/02/sabr_logo.png
admin
2018-05-08 13:32:06
2020-04-17 10:24:47
June 14, 2015: Max Scherzer scores 100 in shutout of Brewers