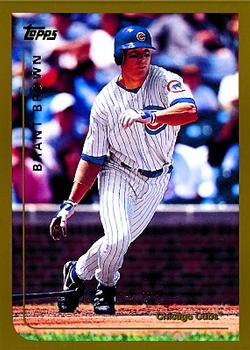 June 18, 1998: Brant Brown blasts three home runs for Cubs
---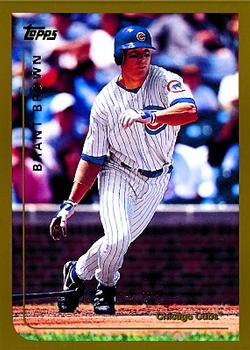 "We had the makings of being a little flat, but Brownie took care of that for us," quipped Jim Riggleman, manager of the Chicago Cubs, after Cubs leadoff hitter Brant Brown's unexpected three-home-run outburst against the Philadelphia Phillies.1 Not known as a slugger, Brant had only 17 major-league home runs, but had an inkling that June 18 might offer something special. On that date two years earlier, he belted three round-trippers as a rookie in a doubleheader against the Los Angeles Dodgers at Wrigley Field in just his third and fourth big-league games. When asked what made June 18 so special for him, Brown replied "I don't know, but I'm going to have to mark this one down in my calendar."2
The Cubs certainly needed Brown's offensive heroics. Since a 10-game winning streak ended on June 9, the Cubs (40-30) had slumped, winning just twice in eight games, yet still occupied third place in the NL Central, just three games behind the Houston Astros. Skipper Terry Francona's Phillies were playing well and had won six of their last eight games to even their record, 34-34, good for third place, 13½ games behind the Atlanta Braves in the NL East.
The temperature might have been only 80 at the 1:21 start time on Tuesday afternoon, but the swamp like humidity of a Chicago summer was getting to the players. "I broke a sweat during the national anthem," complained Phillies third baseman Scott Rolen.3 The breeze might have comforted some of the sluggers and the modest crowd of 21,267 at Wrigley Field though, as the winds were headed straight to the outfield and beyond.
The Phillies began the game by whacking the Cubs starter, Venezuela-born Geremi Gonzalez, who had struggled thus far in '98 (5-5, 5.58) after a productive rookie campaign with 11 victories. Despite his sweat, Rolen got the first hit of the game, a solo homer, his 14th of the season, which sailed over the left-field bleachers and onto Waveland Avenue. Rico Brogna and Mike Lieberthal singled and scored on a double by Bobby Abreu, who then tallied the Phillies' fourth run on Kevin Jordan's single.
A four-run lead seemed to be the perfect medicine for Phillies starter Mark Portugal (2-1), winless in his last five starts with a 6.75 ERA. The 13-year veteran with a 94-79 record was still trying to get on track after logging just 13 innings the previous season because of an elbow injury. First to the plate for the North Siders was Brown, who was wearing his socks up high, reminiscent of the style of yesteryear. While his teammates might have teased him for his sense of style, Brown changed their jeers to cheers when, with a full count, he hit a line-drive home run to center field. He had sat out the last two games facing southpaw starters, but was back in the lineup facing a right-hander. "Right there we said, 'Hey, we ain't dying,'" said first baseman Mark Grace. "Let's go out there and follow that up. We just kept pecking away."4
Trailing 4-1 in the second, the Cubs continued to swing for the fences. Jose Hernandez sent one over the left-center-field fence, his 11th home run of the season and his third Waveland Avenue shot in two days. The Cubs tacked on another run when Brown singled with two outs, driving in Jeff Blauser, who had walked, and cut the Phillies' lead to 4-3.
After Gonzalez's second straight 1-2-3 inning, the Cubs took the lead in the third and never looked back. Henry Rodriguez connected for his 11th home run, driving in Grace, on first via a single, to put the Cubs in front, 5-4. The offseason free-agent acquisition from the Montreal Expos had hit 62 home runs in the previous two seasons, but had been mired in a terrible slump, with just four hits in his last 38 at-bats. The bleacher fans showed their appreciation with a bowing act that announcer Harry Caray popularly referred to as the "salami" treatment.5 "It gave me an unbelievable boost," said slugger Rodriguez, who hadn't homered since June 1. "I have a lot of respect for the fans here. No matter how you are doing, they still treat you great. It's unbelievable."6
The Cubs extended their lead to 6-4 in the fourth when Brown blasted his second homer,a solo shot into the right-field bleachers.
After his rough initial inning, Gonzalez set down 13 straight batters until Rolen led off the sixth with a double and scored on Rico Brogna's single to pull the Phillies to within one run. The Cubs answered in their half of the inning when Gonzalez hit a two-out double off the green door near the 368-foot sign in left field, plating Blauser and sending Portugal to the showers. It was Gonzo's third hit of the game, a feat no Cubs hurler had accomplished since Greg Maddux eight years earlier.7 It was a forgettable day for Portugal, who was charged with loss, surrendering seven earned runs and10 hits. "The wind blowing out and his being a changeup pitcher didn't make for a great matchup," said Francona.8
While two Cubs relievers, Marc Pisciotta and Terry Mulholland, pitched three scoreless frames in relief of Gonzalez, who was lifted after surrendering two leadoff singles in the seventh, the Cubs clobbered four Phillies relievers (Yorkis Perez, Jerry Spradlin, Darrin Winston, and Toby Borland) for five more runs. In the bottom of the seventh, Rodriguez's sacrifice fly brought Grace in for the Cubs' eighth run.
With the wind in the batters' favor, a Cubs legend, former second baseman, Ryne Sandberg, who sang "Take Me Out to the Ball Game" during the seventh-inning stretch, probably wanted to don his old number 23 and take a few swings.9 An inning later, Brown hit his third home run, deep into left field, driving Mulholland home and extending the Cubs' lead to 10-5. Sportswriter Paul Sullivan of the Chicago Tribune noted that some bleacher fans saluted Brown's accomplishments by tossing their caps on the field (much like they throw opponents' home-run balls back), as they did three days earlier when Sammy Sosa hit three home runs against the Milwaukee Brewers.
"It feels good, but Sammy still has a little bit more pop than I do," Brown said of the new tradition,which caused a short delay to clean up the hats in the outfield. "He's still quite a few home runs and RBIs ahead of me. I'll just keep hitting singles and getting on and he can keep hitting home runs and driving me in."10 A run-producing single from Grace driving home Mickey Morandini and a double by Terrell Lowery to plate Sosa rounded out the scoring to make it 12-5. Mulholland's 1-2-3 ninth mercifully ended the game after 2 hours and 38 minutes.
After hitting just .202 in their previous eight games, the Cubs exploded for 16 hits, including five home runs. Interestingly, none of the round-trippers were by Sosa, who was in the middle of one of hottest streaks in baseball history with 16 home runs and 33 RBIs in his last 18 games beginning May 25. [Sosa would set a major-league record for home runs in a month with 20 in June].The Phillies' Doug Glanville saw his 17-game hitting streak come to an end.
The star of the game was the good-natured Brown, whose home-run hat trick marked the 29th time in Cubs history that a player had hit three round-trippers in a game. His 4-for-5 performance raised his batting average to .308 and his five RBIs were a career high. "Let's make sure he's in the lineup every June 18," joked Grace. "What a game. He hit a homer to right, center, and left. Obviously the biggest one was the last one because that broke the game open. Man, he's a great athlete. He has added a lot of value to this club."11
When teammates joked about Brown's socks as a good-luck talisman, Brant quipped, "You'll see them up tomorrow."12 Maybe his socks were fortuity after all. He hit a home run and a triple in the Cubs' 9-8 loss to the Phillies the following day and then collected four hits in the next two games to conclude a four-game series against the Phillies by going 10-for16 with four home runs and eight RBIs, scoring seven times and slugging 1.500.
This game summary was the product of Prof. Wolf's seminar "Lying, Cheating and Stealing: America through the Lens of Baseball," taught during the spring term 2017 at North Central College, Naperville, Illinois.
Sources
In addition to the sources cited in the Notes, the authors also accessed Retrosheet.org, Baseball-Reference.com, and SABR.org.
https://www.baseball-reference.com/boxes/CHN/CHN199806180.shtml
http://www.retrosheet.org/boxesetc/1998/B06180CHN1998.htm
Notes
Additional Stats
Chicago Cubs 12
Philadelphia Phillies 5
---
Wrigley Field
Chicago, IL
Box Score + PBP:
Corrections? Additions?
If you can help us improve this game story, contact us.
Tags
https://sabr.org/sites/default/files/BrownBrant.jpg
600
800
admin
/wp-content/uploads/2020/02/sabr_logo.png
admin
2017-08-04 14:56:24
2020-04-17 10:25:46
June 18, 1998: Brant Brown blasts three home runs for Cubs