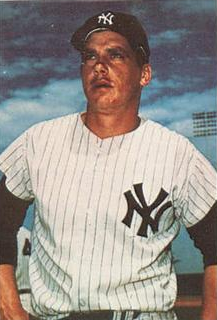 June 22, 1969: Len Boehmer's first hit wins it for Yanks
---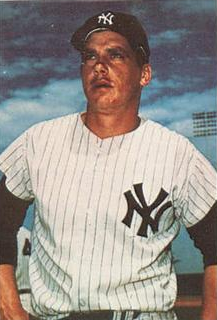 Len Boehmer spent most of this Sunday afternoon in the New York Yankees' bullpen, just hoping for the opportunity to play. The 27-year-old infielder had spent nearly eight years in the minor leagues, save for three at-bats for the 1967 Reds, before surprisingly making the Yankees in the spring of 1969. For the season's first ten weeks, he had played parts of 16 more games, and was still looking (after 29 at-bats) for his first major-league hit.
The day's two combatants, the Yankees and the host Red Sox, were playing the rubber match of a three-game series, having split a long day-night doubleheader on Saturday after a rainout on Friday night. Friday's game actually started briefly, with the Yankees building a 4-0 lead in the top of the first on first baseman Joe Pepitone's grand slam. When the game was called (by crew chief Hank Soar) it did not sit well with the Yankees. "Terrific. I remember a game last year when he made us play in rain," complained Pepitone. "We lost that stinking game. And it was raining worse than this."[1]
The Red Sox (39-25) had started the season hot, but had lost 7 of 11 and, though in second place, had already fallen 8½ games behind the seemingly unstoppable Baltimore Orioles (49-18). The rebuilding Yankees (33-36) were 17 games behind and still trying to find their way back to the top.
The starting pitchers in the contest were both rookies: Boston's Ray Jarvis (3-3), a recent addition to the depleted Red Sox rotation; and New York's Bill Burbach (4-4), the fourth member of a solid Yankee starting group. The Yankees broke through early with run-scoring hits by left fielder Roy White in the first and second baseman Horace Clarke in the second, before Red Sox catcher Russ Gibson's second-inning single made the score 2-1. In the meantime, Jarvis settled down, pitching six scoreless innings after the early runs. "[Pitching coach] Darrell Johnson went out there in the second inning," said catcher Gibson, "and told him not to be cute with the Yankees because they are a bunch of slop hitters."[2]
The Red Sox took the lead in the fourth, on back-to-back home runs by Rico Petrocelli (his 22nd) and Tony Conigliaro (his 11th). For Petrocelli, the home run was the continuation of his amazing season — his 22 home runs trailed only Reggie Jackson in the AL, while his .325 batting average was third behind Rod Carew and Frank Robinson. For Conigliaro, it was part of his miraculous comeback, having returned in April after missing all of the 1968 season following a horrific beaning in August 1967.
A key moment in this game occurred in the top of the eighth inning, while the Yankees were again going out meekly against Jarvis. With two out and Pepitone batting, Yankee third-base coach Elston Howard fielded a foul ball, thought it had a smudge on it and asked home-plate umpire Art Frantz to replace it. Frantz disagreed, and returned the ball to Jarvis. After Pepitone grounded out to end the inning, manager Ralph Houk came out to yell at Frantz, and was soon ejected. When second-base umpire Soar came in to try to break up the ensuing wild argument, Pepitone cut him off and began his own screaming — he had not forgiven Soar for costing him a grand slam on Friday night (and, presumably, for his 15 hitless at-bats in the series). Pepitone, too, was tossed out of the game. Taking his place at first base was Len Boehmer, he of the 0-for-26 season and 0-for-29 career.
So the Red Sox entered the ninth with a 3-2 lead, and Jarvis was three outs away from his first career complete-game victory. He did not get it. After a leadoff single to Roy White, a one-out single by shortstop Gene Michael put runners at the corners. Red Sox manager Dick Williams brought in left-hander Bill Landis to face Jake Gibbs, but the Yankees countered with pinch-hitter Bobby Cox, who hit a soft fly ball to left fielder Carl Yastrzemski. White beat Yaz's throw home, and the game was tied. The Red Sox got two runners on in the ninth against Yankee reliever Jack Aker, but did not score.
In the tenth the Red Sox brought in Gary Roggenburk, who had pitched just six times so far in the season and not particularly well (7.27 ERA). He quickly walked Clarke, who was sacrificed to second by Jerry Kenney. When Bobby Murcer struck out, it brought up Boehmer, batting for the first time after entering in the eighth. Boehmer promptly hit a sharp single on the ground between third baseman George Scott and Rico Petrocelli. Yastrzemski raced in and came up firing, but catcher Tom Satriano could not handle the short hop and Clarke slid in safely. Boehmer hustled to second on the throw home, and quickly scored on Roy White's single to left. When the Red Sox went down quickly against Steve Hamilton in the tenth, the Yankees had prevailed, 5-3.
When Boehmer entered the clubhouse after the game, his teammates cheered. "I've been waiting three years for this," he said. "Right now I'm the happiest man in the world. I feel like I got about a 100-pound weight off my back." Soar wanted to take some credit for his ejection of Pepitone. "Tell them," he said of the Yankees, "that I won the game for them."[3] Pepitone, in a similar vein, wanted his own thanks. "I got kicked out just so you could win the game," he told his replacement.[4]
"I knew it was a hit as soon as I hit it," said the day's hero. "I think it a slider. … I think it was a bad pitch."
Why had he swung at a bad pitch?
"That," he admitted, "is why I was 0-26."[5]
Author's Note
This was the first game I ever attended. I was 8 years old and sitting with my father and brother in the grandstand above first base. I was an enormous fan by this point—I knew all the Red Sox players, and most of the opposition because of my extensive baseball-card collection. Had I heard of Len Boehmer when he entered the game in the bottom of the eighth inning? I might have—his one and only Topps baseball card came out that year, so if I had it by June I would have known about him.
I do not recall the feeling of walking into the park for the first time, though I am sure it was an enormous thrill. I had the good fortune of going with a father who liked to get to the game early, to see batting practice if possible, and to stay, always, until the final pitch. For my first game, that meant extra innings. I am sure the Red Sox loss was disappointing, but I had high hopes that there would be other games for me in the years ahead
Sources
Thanks to Bill Nowlin for help finding digital copies of several newspaper articles.
Notes
1 George Vescey, "Rain Washes Out Pepitone's Homer," New York Times, June 21, 1969, 19.
Additional Stats
New York Yankees 5
Boston Red Sox 3
10 innings
---
Fenway Park
Boston, MA
Box Score + PBP:
Corrections? Additions?
If you can help us improve this game story, contact us.
Tags
http://sabr.org/sites/default/files/BoehmerLen.png
600
800
admin
/wp-content/uploads/2020/02/sabr_logo.png
admin
2014-07-18 00:16:02
2020-04-17 10:26:58
June 22, 1969: Len Boehmer's first hit wins it for Yanks