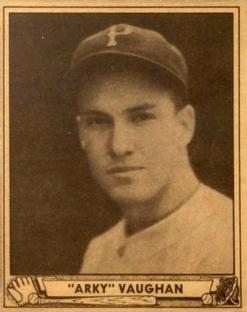 June 24, 1933: Arky Vaughan hits for the cycle in Pirates' blowout win in Brooklyn
---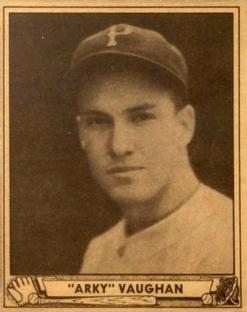 The Pittsburgh Pirates were nursing a four-game losing streak heading into a Saturday afternoon contest against the Brooklyn Dodgers on June 24, 1933. Pittsburgh had finished in second place in 1932, just four games behind the pennant-winning Chicago Cubs, and had high hopes for a pennant in 1933. The team had shot out of the gate by winning seven out of eight and was in first place almost continually through the end of May before faltering and losing 14 of 23 thus far in June. With their current losing streak, the Pirates had slipped to third place with a 33-29 record and had fallen to a season-high five games off the pace. The Dodgers, coming off a third-place finish in 1932, were in fifth place, six percentage points ahead of the sixth-place Cincinnati Reds, and were four games below .500 for the year.
Prospects for a Pirates win looked pretty good considering right-hander Bill Swift was toeing the rubber for Pittsburgh. Swift, who had just turned 25 and was in his second year in the big leagues, already had eight wins for the season and sported an outstanding 2.91 earned-run average. He was opposed by 34-year-old Sloppy Thurston, who was on the downside of a nine-year big-league career. As a spot starter and reliever, the right-handed Thurston was 4-2.1
Both hurlers retired the side in order in the first inning, giving promise of a pitchers' duel. In the top of the second, Pirates shortstop Arky Vaughan hit his sixth home run of the year when he "pasted a drive into the right field chicken wire" with one out and no one on to break the brief scoring drought.2After Swift retired the Dodgers in their half of the second on three fly balls, the Pirates extended their lead to 2-0 on a one-out double to left field by Adam Comorosky that drove in Freddy Lindstrom, who had reached on a bunt single.3 Paul Waner hit a comebacker to Thurston, who caught Comorosky in a rundown for the second out as Waner reached on the fielder's choice. Pie Traynor singled to left to put runners on first and second and Vaughn loaded the bases with an infield single to first. But Thurston induced Gus Suhr to ground out to second baseman Tony Cuccinello on a 3-and-0 pitch to avert further damage.4
The Dodgers closed the gap to 2-1 in the bottom of the third on singles to left field by Al Lopez and Danny Taylor followed by a two-out single to center by Johnny Frederick to score Lopez and send Taylor to third. Swift regrouped to retire Joe Stripp on a fly ball to Waner in right to end the threat. After a scoreless, hitless fourth, the Pirates extended their lead to 4-1 in the top of the fifth, all with two outs and no one on. Paul Waner worked what seemed like a harmless walk, but Traynor made Thurston pay with a ringing double to left that plated Waner from first. The lefty-swinging Vaughan followed with his third hit of the game, a single to right to drive in Waner with the Pirates' fourth run of the day.
Neither team threatened for the next inning and a half, heading into the top of the seventh. Through six innings Swift had allowed only three singles, all in the third inning, and showed no signs of weakening. After the Pirates batted in the seventh, however, it was largely academic, as they scored four runs to extend their lead to 8-1. Comorosky tagged Thurston for a one-out solo home run, his first of the season, and after Waner grounded out to Jimmy Jordan at shortstop for out number two, Traynor kept the inning alive with a bloop single behind second base. That brought up the firecracker-hot Vaughan, who promptly laced his fourth hit of the day, a double to right to score Traynor from first.
With that, Dodgers manager Max Carey came out to get Thurston and waved in veteran southpaw Fred Heimach. As things turned out, Carey should have reconsidered. Heimach immediately gave up run-scoring singles to Suhr and Tommy Thevenow before retiring the side on a comebacker from Hal Finney. Cuccinello reached Swift for a solo home run, his team-leading eighth round-tripper of the season, in the bottom of the seventh to bring the score to 8-2 heading into the eighth.
Heimach's shaky performance in the seventh presaged a complete pounding by Pirates bats in the eighth as they scored seven more runs from a total of three triples and five singles. Seven of the hits were consecutive with two outs and included Vaughan's cycle-completing two-run triple, his fifth hit of the game in five at-bats. Manager Carey left Heimach in to finish the inning and take one for the team. His ugly totals were 10 hits and eight runs allowed, all earned, in 1⅓ innings.5Heimach's earned-run average from the outing jumped more than three runs, to 8.69.6
In the bottom of the eighth, Swift, after retiring pinch-hitter Chink Outen on a popup to second baseman Thevenow, was touched for another solo home run, this time by Taylor, to bring the score to 15-3. In the top of the ninth Vaughan batted with two out against reliever Rosy Ryan with a chance for his sixth hit of the day, but settled for a walk. In the bottom half, Swift retired Hack Wilson on a foul pop to Finney behind the plate and got Sam Leslie on a fly ball to Lindstrom in center field before allowing a double to Cuccinello. But Lopez flied harmlessly to center to seal Swift's complete-game victory in a brisk hour and 55 minutes.
Swift, in running his record to 9-5, allowed six hits and did not walk a batter. For the afternoon, the Pirates manufactured 21 hits and 36 total bases, which included eight extra-base hits. The 21-year-old Vaughan was in just his second big-league season. In addition to going 5-for-5 and hitting for the cycle, he reached base all six times, drove in five runs, and scored three. After batting .318 as a 20-year-old rookie in 1932, he finished the 1933 season with a .314 batting average and was well on his way to a Hall of Fame career. He again hit for the cycle on July 19, 1939, again going 5-for-5, this time against the New York Giants in the Polo Grounds.
Vaughan's best season was with the Pirates in 1935 when he was batting .401 in mid-September before tailing off slightly to .385 to lead the league. He also led in walks (97), on-base percentage (.491), and slugging percentage (.607) while reaching career highs in home runs (19) and runs batted in (99). In 14 major-league seasons, Vaughan compiled a .318 batting average, making the National League All-Star team nine times. Tragically, he was killed in a boating accident in Northern California in 1952 when he was just 40 years old.7
The 1933 Pirates, despite having five future Hall of Famers in their lineup including Vaughan,8again finished in second place, this time five games behind the Giants. The excitement of a second consecutive pennant race must have been a nice diversion for the people of Pittsburgh from the depths of the Great Depression, but the team drew only 288,747 fans, fifth best in the National League.9
Notes
1Thurston had won 20 games with the Chicago White Sox as a 25-year-old in 1924 but had not come close to replicating that success. His career record was a respectable 89-86.
2Harold Parrott, "Pirates Beat Dodgers 15-3," Brooklyn Daily Eagle, June 25, 1933: D1.
3According to the Brooklyn Eagle, Comorosky was playing left field because Lloyd Waner had come down "with a spell of the grippe." Parrott: 36.
4Not surprisingly, Suhr's swinging on a 3-and-0 pitch with the bases loaded resulted in "a call down" from Pirates manager George Gibson. Parrott: 36.
5One news report called Heimach "a good, game chap by standing up under 10 hits in pitching only one and one-third innings." "Pirates Stop Losing Streak, Win 15-3," Pittsburgh Press, June 25, 1933: Sports Section 1.The Brooklyn Eagle was not so charitable. Its subheading for the game read, "Heimach, Massacred in Relief Role, Gives Up Eight Hits in One Inning." A subheading in the middle of the game story read, "Heimach Luckily Escapes With Life," Brooklyn Daily Eagle, June 25, 1933: D1.
6Heimach's next outing, on July 17 also against the Pirates, was even worse. Relieving in the eighth inning of a game the Dodgers were losing 5-2, he gave up nine earned runs in one-third of an inning. At 32 he was at the end of the line of a journeyman career that spanned 13 seasons. Pitching for four teams, he finished with a lifetime record of 62-69 and an earned-run average of 4.46.
7Ralph Moses, "Arky Vaughan," SABR Bioproject: https://sabr.org/bioproj/person/4e00be9b.
8The others were Pie Traynor, Freddie Lindstrom, Paul Waner, and Lloyd Waner.
9That figure means that the Pirates averaged about 3,750 fans a game without taking into account doubleheaders for which the Pirates charged only one admission. The Pirates had drawn almost the exact same number of fans (287,262) to their second-place finish in 1932.
Additional Stats
Pittsburgh Pirates 15
Brooklyn Dodgers 3
---
Ebbets Field
Brooklyn, NY
Box Score + PBP:
Corrections? Additions?
If you can help us improve this game story, contact us.
Tags
https://sabr.org/sites/default/files/images/VaughanArky.jpg
600
800
admin
/wp-content/uploads/2020/02/sabr_logo.png
admin
2019-02-12 11:20:09
2020-04-17 10:23:39
June 24, 1933: Arky Vaughan hits for the cycle in Pirates' blowout win in Brooklyn