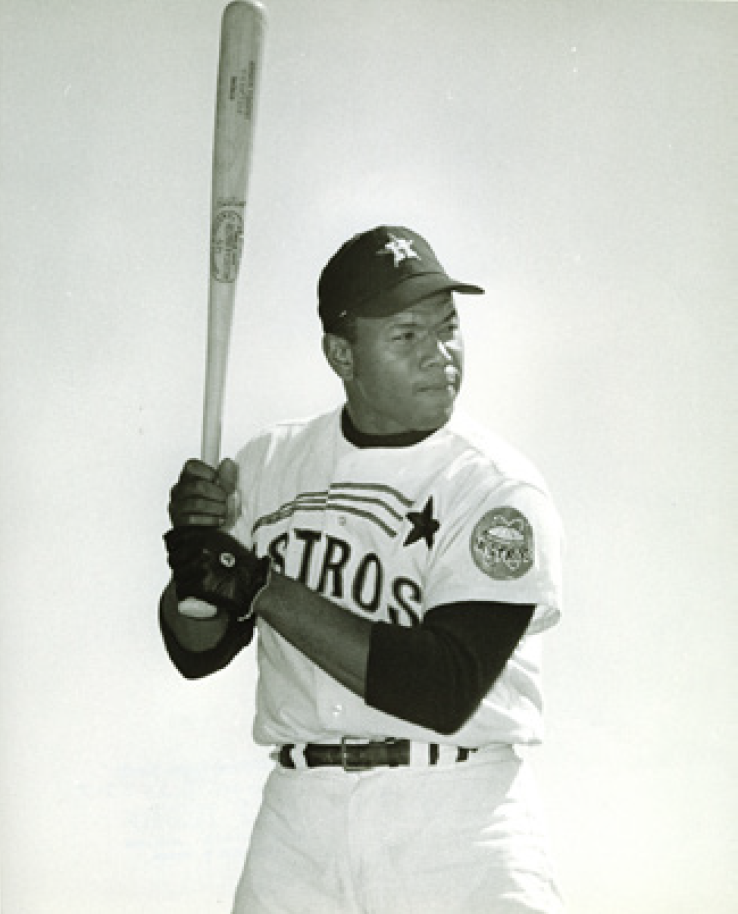 June 24, 1977: Bob Watson hits for cycle; Jose Cruz belts walk-off double in 11th
---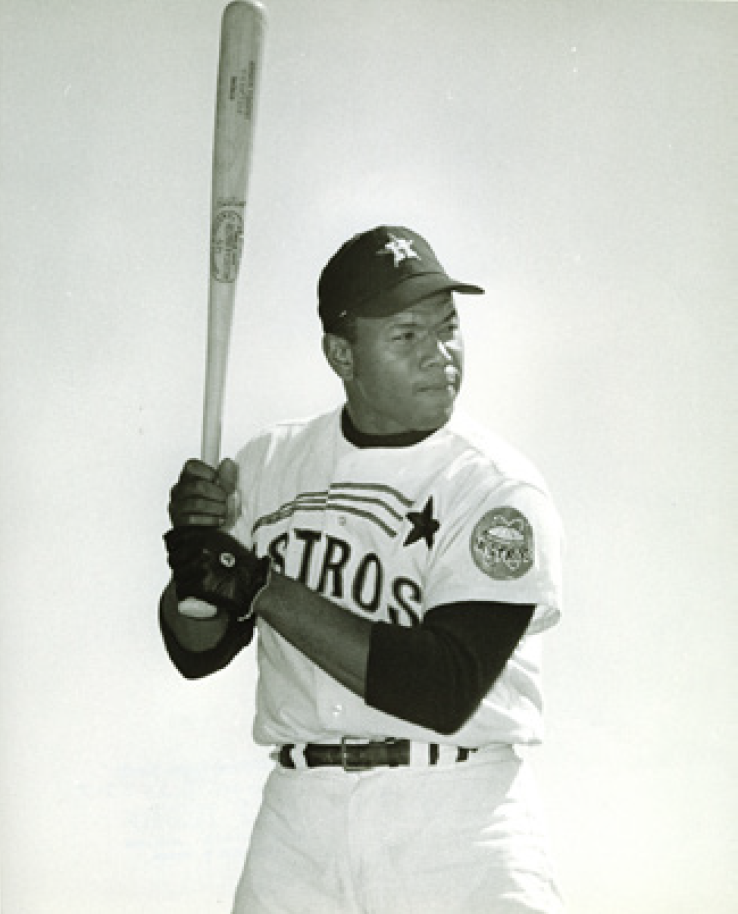 Bob Watson's situation before the Houston Astros' game on June 24, 1977, was desperate, he told reporters crowded around his locker at the end of the game. "I've had a lot of problems lately, and, seriously, I got with my wife today and we said a prayer."1
Watson had been seeing a doctor weekly to correct a chemical imbalance in his blood and had been put on a salt-free diet to which Watson's body was reacting with frequent and painful leg cramps, limiting him to one at-bat over the past three games.
As if that weren't problem enough, both of Watson's thumbs had been injured in recent weeks and were wrapped in tape.
But Watson wanted to play. He had told manager Bill Virdon just that in the afternoon, and the Astros skipper penciled the big first baseman into the fifth spot in the batting order for that night's game against the San Francisco Giants.
The Astros badly needed Watson in the lineup. Languishing in fifth place at 29-40, 16½ games out of first less than halfway into the season, the Astros could ill afford to be without Watson's bat for too long. Although he was fourth on the club with a batting average of .268, Watson's eight home runs were one behind catcher Joe Ferguson for the team lead and his 36 RBIs paced the light-hitting lineup.
Dan Larson (0-2, 5.96), making his first start of the season after 16 games in relief, took the mound for the Astros and retired the Giants in order on three fly balls in the top of the first.
Starting that night for the Giants was Bob Knepper, a lanky rookie left-hander called up in May after a promising four-game look-see the previous season. Virdon inserted Knepper directly into the regular rotation and his initial starts had been up and down, but a five-hit, 8-0 shutout of the Pirates his last time out had evened his record at 1-1 and lowered his ERA to 3.82.
Tonight, though, Knepper was in trouble from the outset. A single by Wilbur Howard, starting in center field in place of a slumping Cesar Cedeno (.179), and another by Enos Cabell put runners on first and second with none out in the first. With Jose Cruz at the plate, Howard took a long lead at second base, drawing a throw by Knepper that had him picked off, but in the ensuing rundown Howard advanced to third when receiver Marc Hill dropped the ball. Cruz struck out, but Ferguson walked, loading the bases. Watson followed with a triple to stake the Astros to a 3-0 lead. The Astros stranded Watson at third as groundouts by Jim Fuller and Art Howe ended the inning.
In the Houston third inning, Watson doubled with one out and made it to third on a single by Howe, but the inning ended without any scoring.
San Francisco finally got on the scoreboard in the fourth, when Darrell Evans followed a walk to Derrel Thomas with his seventh home run of the season. Gary Thomasson singled and slugging first baseman Willie McCovey, back with the Giants after a three-year exile in San Diego and Oakland, did the same. A shortstop-to-second force erased McCovey, advanced Thomas to third, and put Jack Clark on at first. After Rob Andrews went down swinging, Hill singled home Thomasson to tie the game at 3-3.
The Giants took a one-run lead in the top of the fifth inning on a leadoff home run by Bill Madlock, but Gene Pentz, taking the mound in relief of Larson after a one-out walk to Evans, set the Giants down without any further threat.
A two-out, bases-empty homer by Watson in the bottom of the fifth knotted the score again.
In the Giants' half of the seventh, a walk to Thomas, a single by Evans, and a sacrifice fly by Thomasson put San Francisco back on top, 5-4. An intentional walk to McCovey and a walk by Clark loaded the bases, but Rob Andrews flied out to right field to shut down any additional scoring.
Ferguson reached first on an error by second baseman Andrews to open the bottom of the eighth inning for Houston. San Francisco manager Joe Altobelli pulled Knepper in favor of right-handed reliever Randy Moffitt. Virdon then lifted Ferguson for pinch-runner Cedeno, who stole second. With first base open, Altobelli might have elected to walk Watson, who had three extra-base hits in three at-bats, but instead he permitted Moffitt to pitch to the Houston slugger and Watson made him pay, smacking a single that scored Cedeno and tied the game at 5-5.
With the single, Watson had hit for the cycle, only the second Astro to accomplish this feat. (Cedeno did it twice, in 1972 and 1976.) The RBI was Watson's fifth of the game, accounting for all of Houston's runs to that point.
Virdon, taking no chances with Watson's sore legs, sent backup outfielder Art Gardner in to run for him. Watson returned to the dugout to tumultuous cheers and applause.
Fuller sacrificed Gardner to second, Howe walked, and Julio Gonzalez did likewise, loading the bases. Virdon then sent up veteran Ken Boswell, a left-handed batter, to hit for Pentz, and Altobelli countered by replacing Moffitt with his left-handed relief ace, Gary Lavelle. Lavelle, whose ERA was under 1.00 as recently as June 11and was now 1.49, would be the Giants' sole representative in the 1977 All-Star Game.
Virdon returned Boswell to the bench and sent in right-handed hitting Craig Cacek, making only his fifth appearance in a major-league game. The gambit failed to pay off. Cacek bounced to third baseman Madlock, who made a fine grab and quickly fired home to start an inning-ending 5-2-3 double play.
Still knotted at 5-5, the game proceeded to extra innings. The Giants made three quick outs in the 10th, and the Astros frustrated the 13,119 in attendance by failing to capitalize on a single by Ed Hermann (who was caught stealing), an error by shortstop Johnnie LeMaster that allowed Fuller to make it to second, and an intentional walk to Howe.
Gary Alexander, hitting for Lavelle, opened the 11th inning by striking out, Madlock grounded out to shortstop, and LeMaster flied out to right.
Right-hander Tommy Toms, making his first appearance of the season and the 15th in an 18-game career, took over the pitching duty for the Giants for the bottom of the 11th. After one out, Howard walked, advanced to second on a single by Cabell, and sprinted home with the game-winning run when. Cruz, hitless so far, came through with a double to deep left field.
The victory went to Joe Sambito, who pitched the final three innings and allowed just one baserunner, but the star of the game – and the center of postgame attention – was Bob Watson, who had twice tied the game with clutch hits and had hit for the cycle.
"This is the first time I've hit for the cycle in my entire baseball career," said Watson. "I never even got one in the little league."2
The cycle, though, was of little importance, Watson said. "You don't think about things like that, you just try to hit the ball."3 More important to the team, he stressed, was the hard-fought victory. "We've experienced a lot of bad luck this year," he said. "This is a great opportunity for us to gain some ground."4
The Astros did gain some ground, going 51-41 from that point, although they still finished a distant third behind the eventual world champion Los Angeles Dodgers. Watson wound up having arguably his finest season, with career highs in home runs (22), doubles (38), triples (6), runs batted in (110), stolen bases (5), and slugging percentage (.498).
It would not be the last time Watson hit for the cycle; he accomplished the feat for the Boston Red Sox on September 15, 1979, making him the first major-league player to hit for the cycle in both the National and American Leagues.
This article appears in "Dome Sweet Dome: History and Highlights from 35 Years of the Houston Astrodome" (SABR, 2017), edited by Gregory H. Wolf. To read more articles from this book at the SABR Games Project, click here.
Other sources:
Galveston Daily News
Houston Chronicle
New York Times
The Sporting News
https://www.baseball-reference.com/boxes/HOU/HOU197706240.shtml
http://www.retrosheet.org/boxesetc/1977/B06240HOU1977.htm

Notes
1 "Ailing Watson Finds Cure – Giants Pitching," San Rafael (California) Independent Journal, June 25, 1977: 32.
2 Ibid.
3 Ibid.
4 "Houston Jelling? Giants Give Astros a Lift," San Mateo (California) Times, June 25, 1977: 10.
Additional Stats
Houston Astros 6
San Francisco Giants 5
11 innings
---
Astrodome
Houston, TX
Box Score + PBP:
Corrections? Additions?
If you can help us improve this game story, contact us.
Tags
https://sabr.org/sites/default/files/WatsonBob.png
600
800
admin
/wp-content/uploads/2020/02/sabr_logo.png
admin
2018-09-18 12:13:36
2020-04-17 10:24:39
June 24, 1977: Bob Watson hits for cycle; Jose Cruz belts walk-off double in 11th