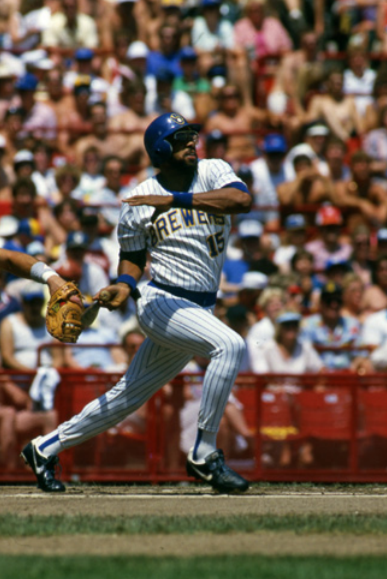 June 26, 1977: Cecil Cooper's walk-off grand slam propels Brewers
---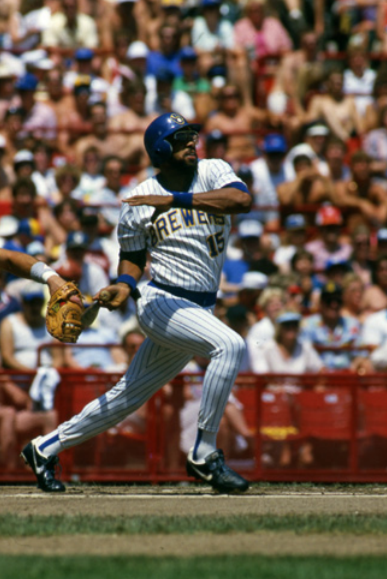 Cecil Cooper was counting on the next pitch being a good one.
"I had the advantage," he told reporters after the game. "Now he has got to give me something to hit."1
The struggling Brewers, mired in fifth place in the American League Eastern Division with a 33-35 record under second-year manager Alex Grammas, were hoping to gain some ground in a weekend homestand against the woeful Seattle Mariners, in last place in the Western Division at 32-41. It was the first-ever matchup between the Milwaukee Brewers, who had fled Seattle after one season –as the Pilots in 1969 — and the first-year Mariners, born out of the subsequent litigation between the City of Seattle and the American League.
After taking the Friday night game handily, 7-1, Milwaukee had been embarrassed by an 8-3 hammering the following afternoon. Now, in the Sunday-afternoon rubber match, the Brewers pitted Jim Slaton, at 6-6 with a 2.67 ERA, the most reliable starter on a poor staff (and, along with second baseman Don Money, the Brewers' only All-Star selections), against the Mariners' Glenn Abbott (3-7, 4.89).
The Mariners jumped on Slaton for four runs in the first inning on singles by Steve Braun and Dan Meyer, a walk to Ruppert Jones, a bases-clearing double by Juan Bernhardt, and a base hit by Carlos Lopez.
The Brewers battled back with a run in the second inning, another in the third and another in the fifth, but the Mariners scored twice off a wild Eduardo Rodriguez in the sixth to take a 6-3 lead. A solo home run by Milwaukee's Jamie Quirk in the bottom of the sixth off Diego Segui, an original Pilot brought in to relieve Abbott in the fifth, narrowed the gap to 6-4.
Mike Caldwell, pitching his third game in relief for Milwaukee after being acquired from the Cincinnati Reds for two minor leaguers on June 15, held Seattle scoreless in the seventh, eighth, and ninth innings.
Quirk, on a hitting tear that saw him hoist his batting average up from .138 on June 7 to .230, led off the ninth inning for the Brewers with his fourth hit of the afternoon, a single to center field. After Mike Hegan, a former Pilot and Brewer who had returned to Milwaukee after stints with the Athletics and Yankees, flied out to left field, Charlie Moore singled to left, with Quirk advancing to second base. Mariners manager Darrell Johnson pulled Segui in favor of Enrique Romo, a 29-year-old rookie with a lively screwball who was leading the Mariners with four saves and a 1.93 earned-run average.
Romo walked Robin Yount, emerging in his fourth season as a solid hitter at .303, to load the bases. Money, Milwaukee's leading batter at .318, was set down on strikes, bringing Cooper to the plate with the bases loaded and two out.
Cooper, in his first season with the Brewers after being traded from the Boston Red Sox for George Scott and Bernie Carbo, was hitting .281 coming into the game but had been struggling of late with just 6 hits in his last 37 at-bats. While Scott, with a league-leading 21 homers and headed for the All-Star Game, and Carbo were thriving for first-place Boston, Cooper, with only 8 home runs and 36 RBIs, had been a mild disappointment so far in Milwaukee.
Johnson, a former Red Sox skipper who had managed Cooper in Boston, brought in the left-handed Mike Kekich to replace the right-handed Romo. Cooper, for his part, was not unhappy about the switch.
"I think I stay in there a little bit better against left-handers," said the left-handed Cooper. "I think my average is better against left-handers than against right-handers. At least it was earlier."
"I never faced Kekich before," he added, "and Romo can be a little funky. He gives it that funny little kick."2
Kekich got Cooper to foul the first pitch off, then threw two more wide of the plate.
Cooper, believing that Kekich would have to put his next pitch over the plate, waited on a fat pitch. Kekich delivered.
"It was in, belt high," said Cooper. "I wasn't trying to hit it out of the park."3
The ball sailed over the right-field fence for a grand slam, lifting the Brewers to a walk-off 8-6 victory. It was Cooper's first career grand slam.
The winning pitcher was Caldwell, who earned the first of his 102 victories as a Brewer. A former starter for the Padres and Giants who had won as many as 14 games in 1974 before a prolonged slump saw him traded twice during the 1976-77 offseason, Caldwell would be rewarded with a promotion to the Brewers' starting rotation.
Johnson was bitter afterward, calling it his "worst day in a Seattle uniform" and blaming the loss on a "fundamental mistake" by Kekich and catcher Skip Jutze.4
"I was boiling inside," said Johnson of the defeat, which stunned the Mariners into silence on their flight to Chicago that evening. "We know how to pitch Cecil Cooper. He's a great off-speed hitter. I told my pitchers and catchers in Milwaukee for three days that when we get in trouble with him, we throw him fastballs inside-out. What's he hit? A hanging slider. … I bring in the guy who can throw fastballs, but he doesn't. That's a mistake."5
Cooper, for his part, was humble about the clout that brought 19,669 in attendance to their feet. "I was just lucky enough to hit it out of the park. … This was probably the biggest game-winning hit I've ever had."6
This article appears in "From the Braves to the Brewers: Great Games and Exciting History at Milwaukee's County Stadium" (SABR, 2016), edited by Gregory H. Wolf. To read more stories from this book at the SABR Games Project, click here.
Sources
Newspapers
Centralia (Washington) Daily Chronicle.
Port Washington (Washington) Daily News.
Fond Du Lac (Wisconsin) Commonwealth Reporter.
La Crosse (Wisconsin) Tribune.
Milwaukee Journal.
Milwaukee Sentinel.
The Sporting News.
Waukesha (Wisconsin) Daily Freeman.
Websites
Baseball-reference.com
Notes
1 "Cecil Cooper Had It Coming," La Crosse (Wisconsin) Tribune, June 27, 1977, 1.
2 "Cooper Slams Seattle," Fond Du Lac (Wisconsin) Commonwealth Reporter, June 27, 1977, 17.
3 "Cecil Cooper Had It Coming," La Crosse Tribune, June 27, 1977, 1.
4 "Salts Chief Boils," Centralia (Washington) Daily Chronicle, June 28, 1977, 9.
5 Ibid.
6 "Grand Slam Sinks Mariners," Centralia Daily Chronicle, June 27, 1977, 9.
Additional Stats
Milwaukee Brewers 8
Seattle Mariners 6
---
County Stadium
Milwaukee, WI
Box Score + PBP:
Corrections? Additions?
If you can help us improve this game story, contact us.
Tags
https://sabr.org/sites/default/files/CooperCecil.png
600
800
admin
/wp-content/uploads/2020/02/sabr_logo.png
admin
2018-04-05 15:29:49
2020-04-17 10:24:50
June 26, 1977: Cecil Cooper's walk-off grand slam propels Brewers