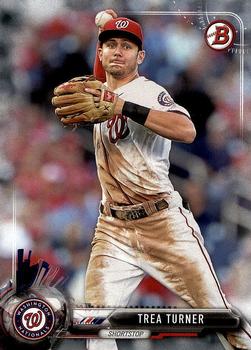 June 27, 2017: Nationals' Trea Turner steals four bases against Cubs
---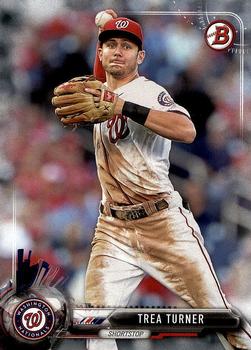 The 31,202 fans in attendance on this Tuesday night in the nation's capital were probably expecting another exciting game between the division-leading Washington Nationals (45-31, 8½ games up on the Atlanta Braves in the National League East) and the visiting reigning World Series champion Chicago Cubs (39-37, one game behind the Milwaukee Brewers in the National League Central). The previous night, a four-run, ninth-inning rally by the homestanding Nationals had fallen just short as the Cubs won, 5-4.
Max Scherzer (8-5, 2.09 ERA) opened by hitting the first batter, Anthony Rizzo, on the arm. That was Rizzo's 13th HBP in 2017, second in the league.1 The next batter was Tommy La Stella, who thought he had earned a walk on a full count: He was 10 feet down the line before the umpire's "out" call registered. Ian Happ flied out. Next up was Kris Bryant, who bounced one off the scoreboard in right field and ended up on third, scoring Rizzo. Nationals' center fielder Michael Taylor tried for a catch against the scoreboard, but either didn't get a good read, or the wind swirling in the park affected the ball. Miguel Montero hit a high popup that Scherzer caught to the left of the mound, waving off his infielders. That left it 1-0 Cubs.
Trea Turner beat out an infield hit leading off the bottom of the first against Jake Arrieta (7-5, 4.36). Both sets of broadcasters opined that second baseman La Stella should have charged the ground ball to have any chance of throwing out Turner, known for his speed. He put that speed to immediate use; stealing second on Arrieta's first pitch to Brian Goodwin. Not content with that, Turner swiped third on the 3-and-0 pitch to Goodwin — without drawing a throw. Entering the game, would-be base thieves were 24-for-242 against Montero, the Cubs' catcher, a statistic likely to have been noticed, and passed on, by Nationals' first-base coach Davey Lopes.3 The theft of third was Turner's 30th steal of the year, making him the first National to steal 30 twice.4 On the next pitch, Goodwin hit a groundball toward short right field. Arietta hesitated before running to cover first, and Goodwin won the footrace. Turner scored to tie the game at 1-1. Arrieta then settled down to retire Bryce Harper and Ryan Zimmerman. Daniel Murphy walked, but Anthony Rendon grounded to Chicago third baseman Jeimer Candelario, who forced Goodwin for the third out.
Both Scherzer and Arrieta pitched 1-2-3 second innings without strikeouts. Scherzer had entered the game with a streak of six games of double-digit strikeouts. He was trying to match Randy Johnson's streak of seven consecutive games with 10 or more strikeouts.5
Scherzer got two strikeouts in the third (Candelario and Happ). In between, La Stella doubled off the scoreboard, at almost the same spot Bryant had in the first. But Happ's swinging strikeout ended the half-inning, leaving La Stella on second.
In the bottom of the third, Arrieta walked Turner, again leading off. A bad pickoff throw hit Turner's backside as he dived back to first, but the ball then bounced off the umpire, Tim Timmons, keeping Turner at first. He wasn't there for long, though; he took off for second as Goodwin fouled one off, came back, and then executed a delayed steal with Goodwin still batting. With Harper up after Goodwin struck out, Turner had superior jumps to steal third twice but Harper fouled off the pitches. During Harper's eight-pitch at-bat, Turner was constantly dancing off second, hopping out to a sizable lead. Arrieta finally tried a pickoff, but Turner dived in under the tag. After Harper flied out to Jon Jay, who made a sliding catch in short left field, Turner stole third without a slide or a throw from Montero. Zimmerman, batting during the steal, drew a four-pitch walk. Murphy hit a ground ball between first and second; Rizzo caught LaStella's throw and relayed to third. Zimmerman was out there, but Murphy was ruled safe at first because LaStella's throw had pulled Rizzo off the bag. The Cubs challenged the safe call at first base, but the call was upheld, giving the Nationals a 2-1 lead at the end of three since Turner had scored well before the out at third. La Stella was charged with an error on the throw.
Scherzer pitched a 1-2-3 top of the fourth, getting his fourth strikeout. Rendon opened the bottom of the fourth by singling into left, then stole second when Matt Wieters swung at a 1-and-0 pitch well out of the zone. Wieters struck out, but Taylor hit another single to left that moved Rendon to third. Bob Henley, the third-base coach, presciently put up a stop sign as the throw from left field was accurate to the cutoff man. Taylor stole second with Scherzer batting — Washington's sixth steal of the game. Rendon scored when Scherzer chopped the ball up the middle. Shortstop Javier Báez couldn't make a play after the ball glanced off Arrieta's glove. Taylor then pilfered third for the Nats' seventh steal. This time, Montero tried a throw, but it sailed into left field; Taylor scored. Scherzer also moved up on Montero's errant throw. All of this brought the score to 4-1 Nationals, with a runner on second.
Seven stolen bases matched the Nationals' single-game record back to their days as the Montreal Expos.6 But there was one piece of good news for the frustrated visitors from Chicago: Arrieta finally retired Turner on a strikeout, the 1,000th of his career. Failing to capitalize on this achievement, Arrieta walked Goodwin, bringing up Harper with two on, two out. A four-pitch walk to Harper brought up Zimmerman with the bases loaded. Arrieta avoided further damage by getting a force out at second.
Scherzer's half of the fifth inning was another 1-2-3, but without strikeouts. Murphy opened the home half of the inning with a bloop to short right to extend a hitting streak to 11 games.
When Arrieta yielded a single and then issued his sixth walk to open the bottom of the fifth, manager Joe Maddon pulled him at 98 pitches, bringing in Felix Peña. He induced a pop out by Wieters, but a double by Taylor scored two more runs, with all six Nationals' runs charged to Arrieta. Scherzer hit his second single, but only moved Taylor to third. Turner flied out to left, then Goodwin walked to load the bases for Harper. Peña struck him out swinging to leave the bases loaded again.
In the top of the sixth with a cozy 6-1 lead, Scherzer collected two more strikeouts. But this was it for him–although Scherzer had been averaging eight innings over his past six starts, Nationals' manager Dusty Baker pulled Scherzer after six innings and only 93 pitches, bringing in Enny Romero. Scherzer had had an extra day of rest before this start, but had thrown 121 and 118 pitches in his last two starts. He got only six strikeouts in this game, ending his pursuit of Randy Johnson's record.
Romero got Bryant to fly out to open the seventh, but walked Wilson Contreras, Chicago's primary catcher, pinch-hitting for the beleaguered Montero. Jay then hit into a double play, ending the top of the inning. Peña got another two pop outs and a fly ball out in a 10-pitch bottom of the seventh to keep it 6-1, Washington.
Baker tabbed Blake Treinen to pitch the eighth for Washington. Named the Nationals' closer on Opening Day, he had not been successful in the role.7 He was trying to redeem himself in a setup role,8 gradually lowering his ERA from 9.00 at the end of April to 5.67 entering this game. He started with a strikeout of Báez. Next up was pinch-hitter Addison Russell, who helicoptered a bat into newly extended protective netting, and then lined out. Candelario flied out. In the bottom of the inning, with Héctor Rondon pitching for Chicago and Contreras now catching, Turner singled, did not attempt a steal, and was erased when Harper grounded into an inning-ending 6-4-3 double play.
Lefty Oliver "Ollie" Pérez came in to open the ninth for Washington. He got Rizzo on a grounder he handled himself. Baker then used right-hander Matt Albers to get the last two outs on a groundout and a lineout to left. The fans expecting another exciting game between top National League contenders got it, along with some hope for the future. Not only did the Washington hitters pack offensive fireworks into the middle innings, but the Nationals' bullpen didn't yield a hit to the explosive Cubs over the final three frames. This rare bullpen success was a remarkable turnaround, given the woeful record of the Nationals' relief pitchers to that point in the season.9
Epilogue
Possibly the most interesting twist from this game was something that happened quickly afterward. Montero complained that Arrieta's lack of attention to his delivery time gave Montero no chance to throw out baserunners.10 The Cubs decided they didn't like criticism of their 2015 National League Cy Young-winning pitcher from a backup catcher, albeit one being paid $14,000,000, and designated Montero for assignment the next day. He was traded to Toronto the next week.11 Hitting .286 for the Cubs at the time, he tailed off to .138 in 101 plate appearances for Toronto.12
Sources
MLB-TV recording.
Baseball-Reference.com
https://www.baseball-reference.com/boxes/WAS/WAS201706270.shtml
Retrosheet.org.
http://www.retrosheet.org/boxesetc/2017/B06270WAS2017.htm
Notes
Additional Stats
Washington Nationals 6
Chicago Cubs 1
---
Nationals Park
Washington, DC
Box Score + PBP:
Corrections? Additions?
If you can help us improve this game story, contact us.
Tags
https://sabr.org/sites/default/files/TurnerTrea.jpg
600
800
admin
/wp-content/uploads/2020/02/sabr_logo.png
admin
2017-12-12 17:08:10
2020-04-17 10:24:59
June 27, 2017: Nationals' Trea Turner steals four bases against Cubs