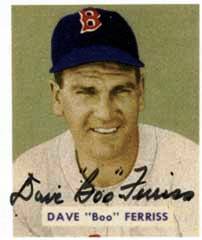 June 6, 1945: Boo Ferriss wins record 8th straight game to start career
---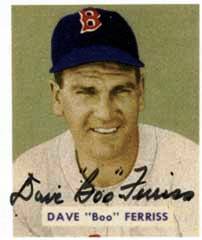 Dave "Boo" Ferriss began his major-league career with an astonishing eight consecutive wins in 1945. The start of his career was unprecedented, because Ferriss had minimal time as a professional player before his major-league debut with the Boston Red Sox. His eight victories were all complete games, and four of them were shutouts. In that stretch he pitched a record 22⅓ consecutive scoreless innings.
In addition to his seven gems as a starting pitcher, Ferriss showed versatility in helping out the Red Sox through multiple roles. As of June 6 he had been used as a pinch-hitter eight times, and on June 3 he pitched a scoreless ninth inning as the Red Sox defeated the Tigers, 4-3.
Ferriss returned to his normal starting-pitcher duty when he drew the hill assignment for the eighth time, facing the Philadelphia A's in the first game of a doubleheader on June 6. He had defeated the Athletics in his major-league debut, on April 29. Coming into the game, Philadelphia was in last place in the American League. Lou Knerr (1-2) was the Athletics' starting pitcher.
In his quest for his eighth consecutive win, Ferriss had his worst outing so far in the season. He gave up 14 hits and three walks, but the A's batters weren't able to capitalize on the flock of baserunners, leaving 14 stranded. Despite allowing 17 baserunners, Ferriss gave up only two runs in the complete-game win.
Ferris gave up two hits in the top of the first inning, then yielded four hits in each of the third and seventh innings, when Philadelphia scored its only two runs, one in each inning. Charlie Metro, Dick Siebert, Irv Hall, and Bobby Wilkins accounted for 10 of the A's 14 hits, but collectively scored only one run. Ferriss struck out three.
The Red Sox got only seven hits but, unlike the A's, made the most of their opportunities. They scored three runs, two of them unearned, in the first inning, and got single runs in the second and eighth. Eddie Lake led the Red Sox with three hits and two runs scored, while Ben Steiner collected two hits and scored one run.
Ferriss put the icing on the cake for the Red Sox win with an RBI double in the eighth inning. It was his 11th hit in the eight games he had started thus far.
The Red Sox also won the second game of the doubleheader, exceeding .500 for the first time in the season with a 21-20 record. Only one percentage point separated the Red Sox, White Sox, and Browns for third place. Clearly Ferriss's eight wins had a big impact on their league standing.
Ferriss's streak was broken in his next start as he lost 3-2 to the Yankees on June 10.That was a complete game, as was his next start, a 6-5 victory over the Washington Senators in which he pitched all 14 innings.
At midseason Ferriss was on pace for a 30-win season, but he struggled with asthma during the last two months and had to settle for a 21-10 record. The Red Sox ended the season in seventh place.
Many observers surmised that Ferriss's success in 1945 was due in large part to having faced lineups weakened by the loss of players to World War II service. But Red Sox manager Joe Cronin said of Ferriss, "That boy is no wartime ballplayer. He'd be outstanding in any era."1 Ted Williams told reporters after hitting against Ferriss in spring training in 1946, "Ferriss will win. Don't worry about him."2
Indeed, in 1946 when all of the soldiers had returned from the war and team rosters were largely restored to prewar status, Ferriss proved he was no fluke, winning 25 games. He led the American League with a winning percentage of .806 as the Red Sox won their first pennant since 1918. He won Game Three of the 1946 World Series against the St. Louis Cardinals.
Many years later, Ferriss's record was still being recalled by sportswriters. In 1981 Los Angeles Dodgers rookie Fernando Valenzuela's eight straight victories brought back recollections of Ferriss's streak and the associated headlines he was garnering, similar to the way "Fernandomania" was overtaking the baseball world at that time.3 When Red Sox pitcher Josh Beckett was closing in on Ferriss's streak of eight consecutive wins to start the 2007 season, Ferriss was quoted by the Red Sox' Metro Game Day magazine as rooting for Beckett to eclipse his record.4
Ferriss's career was cut short by an arm injury suffered during the 1947 season. He made only nine major league starts from 1948 to 1950. He was the pitching coach for the Red Sox from 1955 to 1959. Despite his shortened career, he was elected to the Red Sox Hall of Fame in 2002.
Sources
In addition to the sources cited in the Notes, the author used the Baseball-Reference.com and Retrosheet.org websites for material pertinent to this article. The author also consulted:
Aaron, Marc Z., and Bill Nowlin, eds. Who's on First: Replacement Players in World War II (Phoenix: Society for American Baseball Research, 2015).
Cleveland, Rick. Boo: A Life in Baseball, Well-Lived (Battle Ground, Washington: Pediment Publishing, 2008).
Pietrusza, David, Matthew Silverman, and Michael Gershman, eds.Baseball: The Biographical Encyclopedia (New York: Total/Sports Illustrated, 2000).
Notes
Additional Stats
Boston Red Sox 5
Philadelphia A's 2
---
Fenway Park
Boston, MA
Box Score + PBP:
Corrections? Additions?
If you can help us improve this game story, contact us.
Tags
http://bioproj.sabr.org/bp_ftp/images3/FerrissBoo.jpg
600
800
admin
/wp-content/uploads/2020/02/sabr_logo.png
admin
2016-09-20 18:14:36
2020-04-17 10:26:01
June 6, 1945: Boo Ferriss wins record 8th straight game to start career