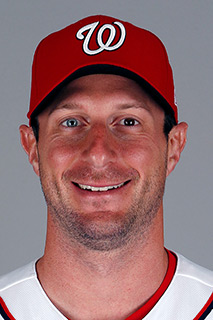 June 6, 2017: Max Scherzer strikes out 14 in tense pitchers' duel
---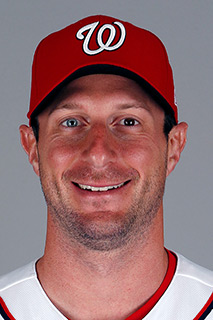 The game was an eagerly awaited rematch of the previous year's NLDS, which the Dodgers had won 3 games to 2. The Nationals (36-20) had taken the first game of the three-game set from the Dodgers (35-24). The Nationals were coming in hot: This was the third stop on their West Coast road trip, having won six of seven on the trip so far. The Dodgers were 3-4 over the same week. The Nationals were leading the National League East by 11½ games: The Dodgers were only one game behind the National League West leader Colorado.
The Dodgers sent Brandon McCarthy (5-2, 3.38 ERA) to the mound. Trea Turner singled on his second pitch and within three more pitches had stolen second and third base. Although Brian Goodwin popped out in foul territory, Turner was able to score the first Nationals run on Bryce Harper's sacrifice fly. Ryan Zimmerman grounded out to end the inning with the score 1-0, Nationals.
Max Scherzer (6-3, 2.56 ERA) took the mound. The reigning National League Cy Young Award winner had been solid so far in 2017, averaging just under 7 innings on 106 pitches in his first 11 games. His previous game had been a complete game on 100 pitches. Chase Utley opened with a single, then moved to second when Daniel Murphy missed the force out at second on Corey Seager's hit, incurring an error. Yasmani Grandal struck out but the Dodgers plated their first run when Adrián González singled to right. Utley just beat the throw to the plate from Harper in right. The unearned run tied the score, 1-1. Scherzer needed only the minimum six pitches to strike out Cody Bellinger and Chris Taylor and end the inning.
In the top of the second Murphy grounded out and Anthony Rendon singled. But Matt Wieters lined out to first, allowing González to step on the bag for an unassisted double play. In the bottom, Scherzer nearly had an immaculate inning: He struck out Logan Forsythe on three pitches, needed one additional pitch to strike out Yasiel Puig, and fanned McCarthy with only three.
McCarthy started the third inning as efficiently as Scherzer with strikeouts of Michael A. Taylor and Scherzer on four pitches each. But Turner worked a walk and took second on a passed ball with Goodwin at the plate. All that was to no avail: Goodwin popped out to end the half-inning. Scherzer had a bit more trouble with the top of the order. First, he walked Utley. Seager flied out, but with Grandal batting, Utley took second on an errant pickoff throw by Scherzer. He got Grandal to strike out but then walked González. With runners on first and second, Bellinger struck out, but made it to first on a passed ball to load the bases. Scherzer struck out Taylor to end the threat. For those counting, Scherzer had nine strikeouts through three innings, facilitated by having to get four outs in the third inning.
Harper opened the top of the fourth with a ground-rule double that just touched the right-field foul line and bounced into the stands.1 He took third on Zimmerman's groundout and scored on Murphy's fly ball, bringing the score to 2-1, Nationals. Rendon flied out. In the bottom of the fourth Scherzer collected two more strikeouts: Puig doubled, but that was the only hit of the inning.
In the fifth and sixth, both teams went 1-2-3 with each pitcher collecting two more strikeouts.
The seventh inning provided little more drama: Rendon reached base on a walk, but Wieters popped out in foul territory to leave him there. In the bottom of the frame Scherzer collected his 14th strikeout (Austin Barnes, pinch-hitting for McCarthy). The inning ended on Utley's foul pop out to Wieters.
Both starting pitchers were out after seven innings: Each had allowed only three hits and two walks. The Nationals' two runs were charged to McCarthy, but the Dodgers' run was unearned. Both pitchers lowered their ERA: Scherzer to 2.35, McCarthy to 3.28. Oddly enough, both pitchers threw their year-to-date average number of pitches: 87 for McCarthy, 105 for Scherzer. Scherzer's average number of innings per start was just under seven so this was well within his typical range. McCarthy, on the other hand, had averaged only 5⅔ innings per start so this was a very efficient outing for him.
Pedro Báez took the mound in relief of McCarthy for the top of the eighth. Although he needed seven pitches for each batter, he worked a 1-2-3 inning. In the bottom of the frame, Oliver "Ollie" Pérez relieved Scherzer and also worked a 1-2-3 inning, throwing 16 pitches.
Grant Dayton relieved Báez in the ninth. He started by walking Goodwin, but struck out Harper and got Zimmerman to pop out. But when Murphy singled, advancing Goodwin to second, Dodgers manager Dave Roberts replaced Dayton with Chris Hatcher. His strategy was successful: Rendon popped out to second to end the threat. Defending a one-run lead, Dusty Baker called on rookie Koda Glover to close the game. Bellinger popped out but Taylor singled. Forsythe flied out, bringing up Puig as the last hope for the Dodgers. With Puig batting, Taylor stole second. On the sixth pitch of the at-bat, Puig struck out swinging at a pitch low and outside to end the game.
But that did not end the drama. Glover thought Puig was staring at him, and yelled something to the effect of "get back in your dugout."2 Puig took exception to that and headed for the mound, where the Nationals were assembling to celebrate. The umpires herded Puig back toward the dugout and Zimmerman grabbed Glover. Although the dugouts emptied onto the field, the conflict didn't even reach the pushing-and-shoving stage. The potential combatants were shepherded safely back to their respective dugouts.
With the 14 strikeouts, Max Scherzer achieved his fifth game with no earned runs and 14 or more strikeouts. Only Nolan Ryan (16), Roger Clemens (8), and Pedro Martínez (8) had more such games.3 Although 14 was his highest strikeout total in 2017, he had 14 other games with 10 or more strikeouts on his way to his third Cy Young Award for 2017.
Sources
baseball-reference.com/boxes/LAN/LAN201706060.shtml.
retrosheet.org/boxesetc/2017/B06060LAN2017.htm.
Game summary: youtube.com/watch?v=HIX12UCVAWo.
Postgame incident video: youtube.com/watch?v=pmNnTBDRqds.
Notes
1 Eric Stephen, "Max Scherzer Proves Too Much for Dodgers to Overcome, June 6, 2017," truebluela.com/2017/6/6/15751836/max-scherzer-strikeouts-dodgers-nationals-recap. Accessed August 29, 2018.
2 Chelsea Janes, "Why Koda Glover and Yasiel Puig Nearly Came to Blows After the Final Out Tuesday Night," Washington Post, June 7, 2017, washingtonpost.com/news/nationals-journal/wp/2017/06/07/why-koda-glover-and-yasiel-puig-nearly-came-to-blows-after-the-final-out-tuesday-night/?utm_term=.2656efbeda32. Accessed August 29, 2018.
3 Chelsea Janes, "Maximum Dominance: Nationals' Max Scherzer Strikes Out 14 in Win Over Dodgers," Washington Post, June 7, 2017. washingtonpost.com/sports/nationals/maximum-dominance-nationals-max-scherzer-whiffs-14-in-win-over-dodgers/2017/06/07/35c40b92-4b02-11e7-9669-250d0b15f83b_story.html?utm_term=.904f7109beb1. Accessed August 29, 2018.
Additional Stats
Washington Nationals 2
Los Angeles Dodgers 1
---
Dodger Stadium
Los Angeles, CA
Box Score + PBP:
Corrections? Additions?
If you can help us improve this game story, contact us.
Tags
https://sabr.org/sites/default/files/ScherzerMax.jpg
600
800
admin
/wp-content/uploads/2020/02/sabr_logo.png
admin
2018-10-02 11:51:38
2020-04-17 10:23:54
June 6, 2017: Max Scherzer strikes out 14 in tense pitchers' duel