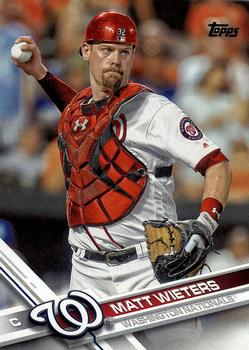 May 10, 2017: Nationals' Matt Wieters walks off his former team
---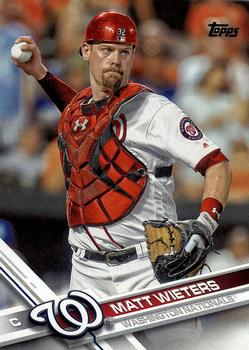 The 32,984 fans in Nationals Park were a blend of red and orange the evening of May 10, even though it was a Wednesday night game. Plenty of Orioles fans had made the trip down I-95 to see the third game1 of the 2017 Battle of the Beltways series. The O's were coming in hot: at 22-10 they had the best record in baseball, with a half-game lead in the American League East. They had worked their way to a six-game winning streak the night before by walking off the Nationals in the 12th inning to wrap up the Baltimore half of the Series (four-game series, two played in each park). The Orioles had dominated the Beltways Series; since 2012 they had won 19 games to the Nationals seven. The Nationals (21-12, five games2 up over the Mets in the National League East) were hoping that a return to their home park would help assuage the prior night's loss: Max Scherzer had pitched a four-hit, eight-inning gem, but the bullpen lost the lead, and then the game. The Nationals bullpen had the worst ERA in the major leagues.3
Stephen Strasburg (3-1, 2.66 ERA) took the mound for the Nationals. He was coming off a 119-pitch, 5⅔-inning start on May 5, although all his other 2017 starts had been exactly seven innings. As noted, the Nationals bullpen was problematic,4 so manager Dusty Baker had been pushing his starters to go deep into games.
This night, Seth Smith greeted Strasburg with a double over Michael Taylor's head in center; a walk to Adam Jones followed. That wasn't a good start for the Nationals, but Strasburg suddenly recovered his ability to get outs. Manny Machado, who had been 3-for-3 against Strasburg, was out swinging at a pitch almost in the dirt; that was followed by a fly out and a strikeout. That continued Strasburg's streak of no first-inning runs allowed this year. In the bottom of the first, Wade Miley (1-1, 2.27 ERA) pitched for the Orioles. Trea Turner had been 3-for-3 against Miley, but struck out looking. Jayson Werth walked on nine pitches, but Miley got out of the inning on a Bryce Harper groundout and a leaping grab by J.J. Hardy of Ryan Zimmerman's line drive.
Strasburg opened the second inning by hitting Jonathan Schoop's fingers with his first pitch when Schoop took his hand off the bat. Hardy singled into right, and Caleb Joseph followed with a bloop hit over Zimmerman at first to score Schoop. Zimmerman's "throw" to the plate was a slow roller – it had no chance to catch the runner.5 Miley bunted in front of the plate. Although Anthony Rendon charged in from third to corral the ball, he didn't throw to first: the runner at third would have scored because Strasburg didn't cover third. Strasburg was lucky to escape the bases-loaded, no-outs jam with only three runs scoring–a Smith sacrifice fly and Jones's single scored two more runs, but then Machado grounded into a 4-3 double play.
In the bottom of the second, Daniel Murphy grounded out, then Rendon walked. Matt Wieters, batting right-handed against the left-handed Miley, punched one into the gap in center, advancing Rendon to third. Wieters may have had some familiarity with Miley, since they both were with Baltimore the previous year.6 Rendon was left on third when Taylor struck out and Strasburg grounded out.
Strasburg started the third with two strikeouts on changeups, then gave up a double down the left-field line to Schoop. But Hardy flied out to center to end the half inning. Miley needed only nine pitches to dispose of the three Nationals he faced in the bottom of the frame.
Strasburg struck out the side in the top of the fourth. In the bottom of the inning Miley got two quick outs, then walked Rendon. Wieters hit another single into left center, moving Rendon to third. Taylor's base hit scored Rendon to put the Nationals on the board, but Strasburg grounded out, leaving the score 3-1, Orioles.
After a flyout and his eighth strikeout, Strasburg gave up a single to Chris Davis. Mark Trumbo then knocked Strasburg's first pitch almost onto the outfield plaza: 461 feet, close to the "Michael Morse hit one here" plaque at 465 feet. The home run, the third surrendered by Strasburg this year, brought the score to 5-1, Orioles. Schoop then lined out.
In the bottom of the inning, Turner got a base hit into left on the first pitch. Miley walked Werth and Harper singled, loading the bases with no outs. That prompted the Orioles manager, Buck Showalter, to get Mychal Givens up in the bullpen. There was a long conference on the mound, finally broken up by the umpire. With the crowd on its feet, Zimmerman worked the count full, but Miley got him to swing and miss at a changeup well off the plate. Turner scored on a fielder's choice when Murphy beat the relay to Miley covering first: Miley rolled his ankle and fell over the bag. But he finished the inning with a Rendon fly out, leaving with a season-high 119 pitches and in line for the win with the score 5-2, Orioles.
Strasburg walked Hardy to open the sixth, but then erased him on a double play. Hyun Soo Kim, pinch-hitting for Miley, struck out. Givens took the mound for Baltimore, showing off his half-turn, side-arm delivery. Wieters grounded out. Taylor struck out. Wilmer Difo pinch-hit for Strasburg, gone after 100 pitches. Difo singled on the infield, and Schoop's throwing error allowed him to take second–he threw the ball into the dugout trying to beat the speedy Difo to first. No harm done; Turner grounded out to first base.
The Nationals fans could be forgiven some trepidation as Blake Trienen (and his 8.59 ERA) pitched the seventh. He started well enough with a strikeout of Smith. After Jones flied out to Taylor on the warning track, Machado collected just his second hit of the Beltway series: his ninth homer, just into the stands in left. That was the 20th homer given up by the Nationals bullpen, bringing the score to 6-2, Orioles. Davis flied out to end the half-inning. In the bottom of the inning, Werth collected a single against Givens when three Orioles tried to corral the ball in the infield, but no one covered first. Showalter switched in Donnie Hart, the side-arming left-handed reliever, to face Harper. His strategy was successful, as Harper popped up to short right, then Zimmerman grounded into a 6-4-3 double play. Zimmerman had entered the game with a league-leading .410 batting average, but was 1-for-14 in this series.
Trienen gave up a single to open the eighth when Turner's throw pulled Zimmerman off the bag, but he got the next three batters. Facing Hart in the bottom of the eighth, Murphy singled past the diving first baseman Davis. Showalter replaced Hart with Alec Asher, who got two quick outs painting the edges of the zone, catching Rendon and Wieters looking. But then Taylor, apparently deciding not to wait around, hit Asher's next pitch for his first homer of the year, pulling the Nationals within two at 6-4, Orioles. After Brian Goodwin walked, Turner struck out swinging, throwing away his helmet and gloves in frustration.
Skipper Dusty Baker chose Matt Albers (0.75 ERA, a rarity in the Nationals' beleaguered bullpen) to pitch the ninth. Albers was effective with three straight strikeouts. With the Orioles' regular closer, Zach Britton, on the disabled list,7 Brad Brach had been handling the closing duties fairly well–he had eight saves in nine chances thus far in the season. Facing Brach, Werth worked the count full, then homered on the 11th pitch to close the score to 6-5, Baltimore. Harper then fouled off a few pitches, doubled, and stood on second base cheering. Zimmerman grounded out to Brach. With the count 3-and-1, Showalter decided to intentionally walk Murphy, bringing up Rendon (0-for-5 against Brach). Rendon got a base hit, but the Nationals' third-base coach Bob Henley held Harper. The hit wasn't deep enough for Harper to score. Brach's first pitch to Wieters was a strike down the middle, and he served it into right for a walk-off single against his previous team. Harper and Murphy scored for a final score of 7-6, Washington. Wieters just made it to first base before his teammates mobbed him to celebrate the win. Rendon did the walk-off honors, pouring the Gatorade over Wieters during his postgame "player of the game" interview with Nationals' TV network on-field reporter Dan Kolko.
Sources
MLB.TV recordings and 106.7 FM radio broadcast.
https://www.baseball-reference.com/boxes/WAS/WAS201705100.shtml
http://www.retrosheet.org/boxesetc/2017/B05100WAS2017.htm
Author's Note
I attended the game. After the extra-innings loss the night before, our expectations for the bullpen were pretty low, especially when Dusty pulled Strasburg after six innings. So this walk-off was extra sweet.
Notes
1 The fourth game was played June 8 in Washington. The Nationals won, 6-1.
2 Baseball-Reference will show the Nationals up 4½ games as of the night before, but the second-place Mets had already lost their 1 p.m. game when this game started, adding a halfgame to Washington's lead.
3 "Bullpen owns the worst ERA in the league," Mark Zuckerman, masnsports.com, May 11, 2017, masnsports.com/nationals-pastime/2017/05/nats-take-advantage-of-last-at-bat-for-best-win-of-the-year.html.
4 "The bullpen is responsible for six of the Nationals' twelve losses to date." Mark Zuckerman, masnsports.com, May 10, 2017, masnsports.com/nationals-pastime/2017/05/relief-induced-losses-taking-emotional-toll-on-nationals.html.
5 Zimmerman had a history of shoulder problems leading to erratic throws as early as 2012, which had forced him to move from third to first base. Chelsea Janes, Ryan Zimmerman struggles throwing the ball but his first base defense is solid, washingtonpost.com, July 26, 2017, washingtonpost.com/news/nationals-journal/wp/2017/07/26/ryan-zimmerman-struggles-throwing-the-ball-but-his-first-base-defense-is-solid/?utm_term=.a9ec7caea3d0. Chris Lingebach, washington.cbslocal.com, March 7, 2014, Ryan Zimmerman Admits to Shoulder Problems During 2013 Season, washington.cbslocal.com/2014/03/07/ryan-zimmerman-admits-to-shoulder-problems-during-2013-season/.
6 Wieters' familiarity with the Orioles pitching may have helped. masnsports.com/school-of-roch/2017/05/wrapping-up-a-7-6-loss-1.html. Wieters was drafted by the Orioles in 2007, and was with them through 2016, but signed with the Nationals in free agency after the start of spring training in 2017. baseball-reference.com/players/w/wietema01.shtml.
7 "The Orioles won't have closer Zach Britton for an extended period," Roch Kubato, masnsports.com, May 10, 2017, masnsports.com/school-of-roch/2017/05/miley-on-the-mound-more-from-britton-roster-rumblings.html.
Additional Stats
Washington Nationals 7
Baltimore Orioles 6
---
Nationals Park
Washington, DC
Box Score + PBP:
Corrections? Additions?
If you can help us improve this game story, contact us.
Tags
https://sabr.org/sites/default/files/WietersMatt.jpg
600
800
admin
/wp-content/uploads/2020/02/sabr_logo.png
admin
2018-03-27 11:36:38
2020-04-17 10:24:52
May 10, 2017: Nationals' Matt Wieters walks off his former team