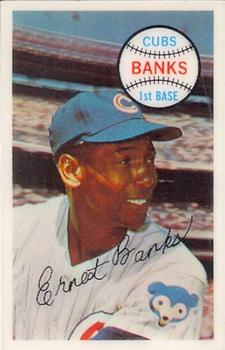 May 12, 1970: 'Mr. Cub' Ernie Banks reaches milestone with 500th homer
---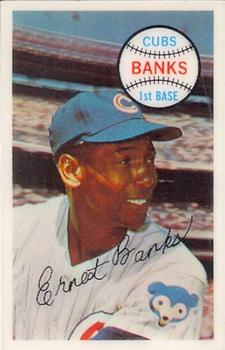 Reduced to a part-time role, 39-year-old Mr. Cub Ernie Banks responded to his daughter's request to please "get it over with" by smacking the 500th home run of his illustrious career against the Atlanta Braves at Wrigley Field on May 12, 1970.
For the Cubs and their fans, Banks' historic round-tripper took some of the sting off the previous season, when the team collapsed in September after holding onto first place for 156 days. The Cubs finished second in the National League Eastern Division that season — eight games behind the hard-charging New York Mets.
Entering his 18th season with the Cubs, Banks needed three home runs to become only the ninth major leaguer to reach the 500-homer plateau. He didn't hit his first homer of 1970 until April 25, when his high fly off Houston's Jim Bouton landed in the left-field bleachers at Wrigley Field. His 499th homer, which landed on Waveland Avenue outside Wrigley Field, came two weeks later on May 9 off Cincinnati's Don Gullett.
"It was exciting working up to that. I didn't think about it that much, but there was a lot of talk about it. People were pulling for me to do it," the most beloved player in Cub history said later. "My daughter was getting a little irritated that it was taking so long. She said, 'Dad, hit the home run so we can get the media off our backs.' I told her, 'All right, Jen, I'll get it over with.'"1
Chicagoans woke up to rain and fog on the morning of the historic event. By game time the clouds had broken and the rain had stopped. Nevertheless, only 5,264 fans turned out to see the first-place Cubs play.
Banks's son Joey was in school that day. "It was the usual people driving by the house slowly looking for a glimpse of dad. My sister told my dad to just get it over with. There was not a lot of hoopla," Joey said 48 years later. "He was such a humble guy. It wasn't a big deal other than more people driving by. I was in school when it happened. They brought a TV in to the class so we could watch it."2
The Braves took a 2-0 lead in the first inning as Cubs starter Ken Holtzman walked two batters, gave up one hit and threw a wild pitch. Braves starter Pat Jarvis retired the Cubs in order in their half of the inning.
A double play helped the Cubs get out of a potential jam in the top of the second inning. Then with two outs in the bottom of the second, Banks came up to the plate. On a 1-and-1 count, Mr. Cub walloped a chest-high fastball on the inside corner of the plate into the left-field bleachers, prompting Cubs broadcaster Jack Brickhouse to exclaim, "Hey, hey! He did it! Ernie Banks got number 500! Everybody on your feet. This is it! Wheeeeee!"3
"I thought the ball had a real good chance [of going into the bleachers]," Banks said after the game. "Then when I saw [Braves left fielder Rico] Carty turn and look into the seats, I knew it was in."4
"I was looking for an inside pitch because that's mostly what I've been getting this year — and I haven't been getting around on them," he told the Associated Press. "But I want to say I got some satisfaction of hitting it off such an established pitcher as Pat Jarvis. He is a real pro and has been around for a time — and hitting one off a fellow like that adds to the satisfaction and gives you a lift."5
As Banks rounded third base, he received a congratulatory handshake from third-base coach Peanuts Lowrey. Banks doffed his cap when he crossed home plate and shook hands with Andy Frain usher6 Rick Ferrari who took a new supply of baseballs to the umpire. Then he shook the hand of every teammate in sight.
As he trotted around the bases, he said, he was "thinking about my mother and dad, about all the people in the Cubs organization that helped me, and about the wonderful Chicago fans who have come out all these years to cheer me on."7
The 5,000-plus fans on hand gave Banks a standing ovation when he returned to the dugout, and he came out of the dugout again to acknowledge them.
His teammates were excited for him, too.
Future Hall of Fame pitcher Ferguson Jenkins said, "Everybody was pretty happy. The dugout was jumping around, patting everybody on the back, and happy for Ernie."8
Another future Hall of Famer, outfielder Billy Williams, added, "There was no way we were going to lose that game and spoil the day for Ernie."9
Williams's 430-foot homer over the right-field bleachers off 46-year-old Hoyt Wilhelm in the ninth inning tied the score at 3-3. Future Hall of Famer Ron Santo's single with the bases loaded in the 11th inning was the difference in the Cubs' 4-3 victory in 2 hours and 45 minutes. Despite pitching eight innings each, neither Holtzman nor Jarvis figured in the decision.
During the postgame celebration in the clubhouse, Banks jumped onto a chair and said, "The riches of the game are in the thrills, not in the money."
"For many," Banks' SABR bio author Joseph Wancho wrote, "a statement like that might come across as lip service. But coming from Ernie Banks, those words rang truer than the Bell Tower at the Merchandise Mart."
As it happened, the 39-year-old Banks hit number 500 and the 46-year-old Wilhelm surrendered the game-tying home run on Senior Citizens Day at Wrigley Field. Banks's homer in the second and sacrifice fly in the seventh inning gave him 1,601 RBIs for his career.10
Cubs fans and Banks's teammates weren't the only ones in on Mr. Cub's history-making clout. When the home run bounced out of the bleachers and onto the field, publicist Chuck Shriver grabbed the microphone and announced that the ball would be given to the National Baseball Hall of Fame and Museum in Cooperstown, New York, and that the team would give an autographed ball, two box-seat tickets, and a $250 check to the fan who returned the prized piece of baseball history. However, Braves left fielder Carty had picked up the ball after it had fallen out of the bleachers and had thrown it to the Cubs bullpen down the left-field line. Reserve Willie Smith then ran to the Cubs dugout and presented the ball to Banks. So the Cubs gave $250 to the Purple Heart Cruise, an annual Chicago outing for disabled war veterans conducted by Chicago Sun-Times columnist Irv Kupcinet.
Years later, Banks addressed the impact the home run had on fans around Chicago.
"I went around the city and lots of places, and everyone was happy for me," he said. "I learned from that. Sports and the Cubs are just one thing that make people very happy, not just for a moment. People still come up and tell me, 'I was at that game.'"11
Chicago sportswriter Richard Dozer summed up the historic day nicely when he wrote, "Thus was written another memorable chapter in Wrigley Field, the stately ballpark rich in history — a field that later this year will stand amid new stadiums, coast to coast, as the National League's only link with the past."12
Banks hit his first major-league homer off Gerry Staley at old Sportsman's Park in St. Louis on September 20, 1953, when he was 22 years old. He spent most of that season playing for the Kansas City Monarchs in the Negro Leagues as a skinny, 150-pound shortstop. Umpire Frank Secory was on duty for Mr. Cub's first and 500th home runs.
Sources
1970 Chicago Cubs Official Roster Book Press Radio TV, 5-6.
1971 Chicago Cubs Official Roster Book Press Radio TV, 4.
Chicago Tribune. Ernie (Chicago: Triumph Books, 2015), 70-77.
Online
https://baseball-reference.com/boxes/CHN/CHN197005120.shtml
https://retrosheet.org/boxesetc/1970/B05120CHN1970.htm.
https://sabr.org/bioproj/person/b8afee6e.
Notes
1 Bob Vorwald, Cubs Forever: Memories from the Men Who Lived Them (Chicago: Triumph Books, 2000), 91.
2 Joey Banks, email, October 23, 2018.
3 Phil Rogers, Ernie Banks Mr. Cub and the Summer of '69 (Chicago: Triumph Books, 2011), 5.
4 Richard Dozer, "Banks Hits No. 500, Joins Exclusive Club," Chicago Tribune, May 13, 1970.
5 Associated Press, "500th Home Run Ended Pressure, Says Ernie Banks," Bridgeport (Connecticut) Telegram, May 13, 1970: 20.
6 Formed in 1924, the Andy Frain ushers provided crowd control at many events around Chicago, including sports events. The company was bought out in about 1982; now its main job is to provide security. Ron Grossman, "Andy Frain Ushers Were Once a Ubiquitous Part of Chicago Events," Chicago Tribune, September 1, 2015, https://chicagotribune.com/news/ct-andy-frain-ushers-flashback-per-0830-jm-20150828-story.html. Accessed December 21, 2018.
7 Edgar Munzel, "Banks on 500th, Thought of Mom and Dad," The Sporting News, May 30, 1970: 5.
8 Vorwald.
9 Munzel.
10 Banks's final career numbers were 1,636 RBIs and 512 home runs when he retired the following year.
11 Vorwald, 91.
12 Dozer.
Additional Stats
Chicago Cubs 4
Atlanta Braves 3
11 innings
---
Wrigley Field
Chicago, IL
Box Score + PBP:
Corrections? Additions?
If you can help us improve this game story, contact us.
Tags
https://sabr.org/sites/default/files/BanksErnie-1970.jpg
600
800
admin
/wp-content/uploads/2020/02/sabr_logo.png
admin
2019-01-03 12:52:36
2020-04-17 10:23:42
May 12, 1970: 'Mr. Cub' Ernie Banks reaches milestone with 500th homer