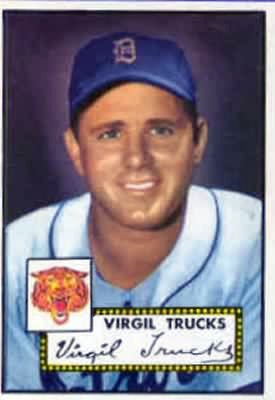 May 15, 1952: Virgil Trucks's first no-hitter ends with Tigers walk-off
---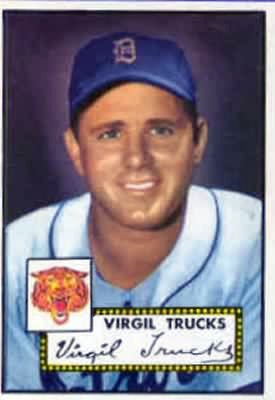 "If manager Red Rolfe had written the script, the Tigers could not have arranged a more dramatic finish," wrote the AP's Jack Handy.1 With two outs in the bottom of the ninth inning in a scoreless game, outfielder Vic Wertz blasted a dramatic home run to give the Detroit Tigers a 1-0 victory over the Washington Senators and preserve Virgil "Fire" Trucks' masterful no-hitter. It was the second and last no-hitter thrown by a Tigers pitcher in their Corktown neighborhood ballpark located at the intersection of Michigan and Trumbull Avenues. George Mullin tossed the first gem, on July 4, 1912, in the inaugural year of Navin Field, against the St. Louis Browns.
Two years removed from a 95-win season and a second-place finish, the Tigers arrived at venerable Briggs Stadium on May 15, 1952, for the rubber match of a three-game set in last place in the AL with a miserable 6-18 record, 10½ games behind the league-leading Cleveland Indians. Skipper Bucky Harris's Senators were one of the early-season surprises in the AL. In second place, just two games off the lead, the Nationals, as they were affectionately called, had won 10 of their last 14 games and were 14-9.
Tigers coach Rick Ferrell, a former backstop who caught more than 1,800 games, but never a no-hitter in his 18-year big-league career, was concerned about Trucks as the 35-year-old right-hander prepared for the game. "He didn't warm up long enough," said Farrell after the game. "He didn't look loose to me at all."2 Farrell's observations were justified. Trucks was once considered one of the hardest-throwing pitchers in baseball. He struck out 420 batters with the Class D Andalusia (Alabama) Bulldogs in his first year of Organized Baseball (1938), and had compiled a 103-74 record since his debut with the Tigers in 1941. But the affable Alabaman suffered a serious arm injury in 1950, missed almost the entire season, and struggled in 1951 to regain the heater that helped him lead the AL in strikeouts and shutouts in 1949. In his first four starts of 1952, Trucks was pummeled for 30 hits and 16 earned runs in just 15⅔ innings. The Senators sent 28-year-old righty Bob Porterfield to the mound. A midseason acquisition from the Yankees in 1951, the Virginia native sported a career record of 20-20 and was making just his 47th start.
The Thursday afternoon game attracted a sparse crowd of just 2,215 paid customers, but they were joined by what the Detroit News called 3,000 "screaming children" on a school outing, perched in the left-field pavilion.3 They were treated to a classic pitchers' duel and a double-no-hitter through five innings during which both teams had managed just two baserunners; Porterfield had issued his only two walks of the contest, and Trucks nicked Eddie Yost with a curve in the third. An inning earlier, the Senators' Gil Coan scampered to second when Tigers second baseman Jerry Priddy fumbled his sure-out grounder and threw over first baseman Bud Souchock's head.
With two outs in the bottom of the sixth, Tigers third sacker George Kell singled to right for the first hit of the game. Detroit finally managed to get a man in scoring position when Wertz led off the seventh with a double, but he was promptly picked off second base. Trucks hit a "bouncing single" with two outs in the eighth, but was forced out at second when shortstop Johnny Lipon, with just six hits in his previous 37 at-bats, hit a soft grounder.4
While the Tigers were looking for chinks in Porterfield's armor, Trucks used a "baffling assortment of fastballs and sliders" to keep the Senators off balance.5 Trucks hit his second batter, Jim Busby, with two outs the sixth. The fleet-footed center fielder who had finished second with 26 steals the previous season, attempted to swipe second. According to the Detroit News, Busby was trapped between bases, but Priddy committed his third error of the game, a low throw in the rundown permitting Busby to move into scoring position. Trucks issued his first and only walk in the eighth inning, and then ended the frame by striking out Yost looking on a "hotly disputed" call.6
With palpable tension in the air and spectators in the ballpark silent, Trucks set down the first two batters in the ninth inning. Less than three weeks earlier, his teammate, right-hander Art Houtteman, was just one out away from a no-hitter before yielding a hit to Cleveland's Harry Simpson in the Tigers' 13-0 shutout at Briggs Stadium. Trucks stared down the Senators cleanup hitter, Mickey Vernon, and struck him out swinging for his seventh and final punchout of the contest to complete the nine-inning no-hitter, but there was no celebration. Trucks had a feeling of déjà vu. He was in a similar position as a member of the Buffalo Bisons of the International League in 1941, when he had a no-hitter through nine innings, yet lost the game in the 10th inning, 1-0. "I was thinking about that after I struck out Vernon and we had to bat in the ninth," he told Tigers beat writer Watson Spoelstra.7
After Kell grounded weakly to shortstop to lead off the bottom of the ninth inning, left fielder Pat Mullin smashed what looked like a home run to deep right-center field, but Busby snared the ball "just five feet short" of the stands.8 Slugger Vic Wertz, who had led the club in home runs each of the previous three seasons, hoped to repeat his heroics from the day before when he clouted the game-winning home run in the bottom of the eighth inning in the Tigers' 3-2 victory. He took a mighty swing at one of Porterfield's few mistakes of the game, a "knee-high fastball."9 As the ball soared inside the right-field foul pole, right fielder Jackie Jensen "took one fast look," wrote Lyall Smith of the Detroit Free Press, and "started for the dugout."10 As the lumbering slugger rounded the bases, his teammates mobbed Trucks in the dugout. Wertz' blast was the first game-ending home-run with two outs in the ninth inning to preserve a no-hitter in big-league history.
"Control, that was the story," said Trucks ecstatically.11 "I could put my fastball where I wanted it," he told the Detroit News. "I must have thrown 30 fastballs and I believe I was as fast as I have ever been with this club."12 Larry Staples of the AP wrote that Trucks "didn't give up a hint of a hit."13
The Tigers celebration in the clubhouse after the game belied their last-place standing. An ebullient Trucks, sporting a two-day beard, joked about his lucky baseball shoes. "Mine were pinching my feet, so Art [Houtteman] gave me his shoes right before the game," he told Lyall Smith.14 Wertz, who had been nursing a heel injury, exclaimed excitedly, "I've got to get married more often."15 Since marrying Lucille Caleel three days earlier, the Pennsylvania native had smashed game-winning home runs in his first two games back with the club.
While the Tigers suffered through their worst season in franchise history in 1952, Virgil Trucks had one of the most incongruous and surprising seasons imaginable. On May 25 at Briggs Stadium, his next start after the no-hitter, he held the Philadelphia Athletics hitless for the first 6⅓ innings. On August 25 he tossed his second no-hitter of the season, defeating the New York Yankees, 1-0 in the Bronx, striking out eight and walking one. He finished the season with a dismal 5-19 record, yet his wins included two no-hitters, a one-hitter, a two-hitter over 7⅔ innings (the Philadelphia game), and a six-hitter.
This article appeared in "Tigers By The Tale: Great Games at Michigan and Trumbull" (SABR, 2016), edited by Scott Ferkovich. To read more articles from this book, click here.
Sources

In addition to the sources cited in the Notes, Retrosheet.org and Baseball-Reference.com were also accessed.
https://www.baseball-reference.com/boxes/DET/DET195205150.shtml
http://www.retrosheet.org/boxesetc/1952/B05150DET1952.htm
Notes
1 Jack Handy (AP), "Trucks No Run, No Hit Job Tops Shutout Day," The Fresno (California) Bee The Republican, May 16, 1952, 29.
2 UP, "Wertz' Homer Clinches 1-0 No-Hitter For Trucks," Traverse City (Michigan) Record-Eagle, May 16, 1952, 12.
3 Watson Spoelstra, "No-Hitter Trucks' Fourth in Four Leagues," Detroit News, May 16, 1952, 45.
4 Sam Greene, "140 on Record – Second for Tigers," Detroit News, May 16, 1952, 45.
5 UP, "Wertz' Homer Clinches 1-0 No-Hitter For Trucks."
6 Spoelstra.
7 Ibid.
8 Larry Staples (AP), "Virgil Trucks Hurls No-Hitter As Tigers Nip Nats, 1-0," Oneonta (New York) Star, May 16, 1952, 11.
9 Lloyd Northard (UP), "V (for Virgil and Vic) Spells No-Hit Win for Tigers," Salt Lake City Tribune, May 16, 1952, 48.
10 Lyall Smith, "Virgil's Feat Tigers' 1st in 40 Years," Detroit Free Press, May 16, 1952, 16.
11 Staples.
12 Spoelstra.
13 Staples.
14 Smith.
15 AP, "Tigers' Trucks Pitches 1-0 No-Hit Game," Chicago Tribune, May 16, 1952, C1.
Additional Stats
Detroit Tigers 1
Washington Senators 0
---
Briggs Stadium
Detroit, MI
Box Score + PBP:
Corrections? Additions?
If you can help us improve this game story, contact us.
Tags
https://sabr.org/sites/default/files/images/TrucksVirgil.jpg
600
800
admin
/wp-content/uploads/2020/02/sabr_logo.png
admin
2018-01-31 16:29:11
2020-04-17 10:24:56
May 15, 1952: Virgil Trucks's first no-hitter ends with Tigers walk-off