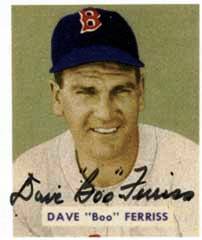 May 18, 1945: Boo Ferriss shuts out White Sox for fourth straight win
---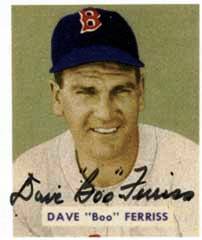 Dave "Boo" Ferriss, an ex-GI discharged from the Army Air Corps in February 1945, began his major-league career with an astonishing eight consecutive wins in 1945. The start of his career was unprecedented, since Ferriss had minimal time as a professional player prior to his debut.1 In his first three starts for the Boston Red Sox, Ferriss hurled two shutouts and another complete game, including a record 22⅓ consecutive scoreless innings.
With each new start, the 23-year-old rookie from the town of Shaw, Mississippi, was being watched closely to see if he was just another flash in the pan. In any case, he was gaining a reputation as one of the league's promising upstarts.
Part of the Ferriss hoopla that had built up through his first three games was based on a report that he had pitched ambidextrously in semipro leagues, having once pitched the first five innings of a game right-handed, then switched gloves to pitch the last four as a left-hander. Furthermore, while playing at Mississippi State College, he played first base left-handed and pitched right-handed.2
An article by The Sporting News editor J.G. Taylor Spink published May 17, 1945, suggested that Ferriss's success hinged on his fastball. Spink, wrote, "He has two kinds of fast balls. The first he lets go off the outside of his first two fingers. This pitch breaks sharply into a right-handed hitter, like an old-fashioned 'inshoot.' The second Ferriss fastball is delivered over the inside of the ends of his fingers and it shoots the other way, inside to left-handed hitters." Spink wrote that Ferriss threw the two pitches at varying speeds, giving the effect of a changeup. Ferriss credited his Air Corps team manager, former major-leaguer Bibb Falk, with teaching him how to throw the two types of fastballs and how to use the change of pace effectively.3
The Red Sox were in seventh place in the American League entering the game on May 18. The game against the White Sox, essentially tied for first place with the New York Yankees, ended a four-day layoff for the Red Sox, caused by postponements in St. Louis due to poor field conditions. In his fourth start of the season, Ferriss was pitching for the first time in his major league career on four days of rest.
That wasn't a factor. Manager Joe Cronin's prized rookie pitched his most effective game to date, a complete-game, 2-0 win over the White Sox. The 6-foot-2-inch righty allowed five baserunners. He walked the leadoff batter in the first inning and gave up a single in the fourth, two singles in the seventh, and a single in the eighth. Ferriss was in control of the entire game; only once was a White Sox runner in scoring position. Ferriss had now pitched 36 innings for the season (four complete games), and allowed only two runs.
White Sox starting pitcher Joe Haynes kept the Red Sox in check for most of the game as well, holding them scoreless until the eighth inning, when Boston got its two runs on a single by Ferriss, a safe bunt by Skeeter Newsome, and a double by Bob Johnson. Ferriss's hit was his seventh of the young season.
Despite the White Sox' being practically tied for first-place in the league standings, only 1,423 spectators attended the Friday afternoon game at Comiskey Park. The Red Sox's victory put their record at 9-12 for the season and lifted them to a tie for sixth place in the American League.
At midseason Ferriss was on pace for a 30-win season, but he struggled with asthma and still made 35 starts en route to a 21-10 record. Many observers downgraded Ferriss's success because of the weak wartime lineups he faced in 1945. However, Ferriss proved he was no fluke by winning 25 games in his second season—1946, when most ballplayers had returned from the war and team rosters were largely restored to their prewar status. That season he was 25-6 and led the American League with a winning percentage of .806 as the Red Sox won their first pennant since 1918.
Ferriss's career was cut short by an arm injury suffered during the 1947 season, and he made only nine major-league starts in 1948 and pitched only 7 2/3 innings in relief during 1949 and 1950. He was the pitching coach for the Red Sox from 1955 to 1959. Despite his shortened career, he was elected to the Red Sox Hall of Fame in 2002.
Sources
In addition to the sources mentioned in the Notes, the author also consulted the Baseball-Reference.com and Retrosheet.org websites; Marc Z. Aaron's and Bill Nowlin's Who's on First: Replacement Players in World War II (Phoenix: Society for American Baseball Research, 2015); Rick Cleveland's Boo: A Life in Baseball, Well-Lived (Battle Ground, Washington: Pediment Publishing, 2008); David Pietrusza's, Matthew Silverman's, and Michael Gershman'sBaseball: The Biographical Encyclopedia (New York: Total/Sports Illustrated, 2000) and Melville Webb's "3rd Shutout for Ferriss: Also Scores Winning Run as Chisox Are Beaten, 2-0," Boston Globe, May 19, 1945: 2.
Notes
1Prior to his major league debut, Ferriss's minor-league career consisted solely of 130 innings with Greensboro of the Class B Piedmont League in 1942, when Ferriss was age 20. He was in military service in 1943 and 1944, then got off to his remarkable start in 1945 as a major-league rookie.
2 J.G. Taylor Spink, "Looping the Loops," The Sporting News, May 17, 1945: 2.
Additional Stats
Boston Red Sox 2
Chicago White Sox 0
---
Comiskey Park
Chicago, IL
Box Score + PBP:
Corrections? Additions?
If you can help us improve this game story, contact us.
Tags
http://bioproj.sabr.org/bp_ftp/images3/FerrissBoo.jpg
600
800
admin
/wp-content/uploads/2020/02/sabr_logo.png
admin
2016-09-20 18:22:29
2020-04-17 10:26:01
May 18, 1945: Boo Ferriss shuts out White Sox for fourth straight win