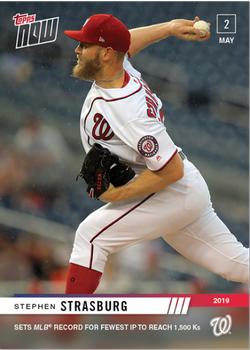 May 2, 2019: Stephen Strasburg reaches 1,500 strikeouts in fewest innings
---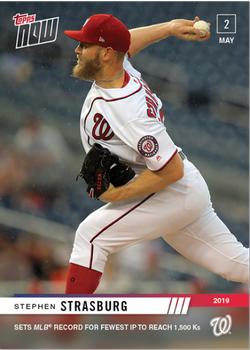 It was supposed to be a getaway game for both teams, scheduled for 4:05. Mother Nature had other ideas: The game started at 6:37 due to rain. Those of the announced crowd of 24,338 who stayed were treated to a tense, well-pitched game and some baseball history. The visiting Cardinals (20-10) were leading the NL Central, three games ahead of the Cubs. They had won the first three of the four-game series. The Nationals (12-17) were fourth in the NL East, 4½ games back of Philadelphia.
Stephen Strasburg (2-1, 3.82 ERA) started the game in typical Strasburg fashion:1 He struck out Kolten Wong and Jedd Gyorko. Matt Carpenter flied out to center for a quick top of the first. Dakota Hudson (2-1, 5.62 ERA) was equally efficient in the bottom of the frame: A popout by Victor Robles was sandwiched between strikeouts of Adam Eaton and Howie Kendrick.
The second inning was almost identical to the first. Strasburg collected two more strikeouts and one fly out. Hudson struck out the side. There was more action in the stands than on the field as the fans who weren't already wearing rain gear wrestled with and wriggled into their rain ponchos when a trailing shower hit the ballpark.
The scoreboard finally had something other than zeros in the top of the third. Matt Wieters singled on Strasburg's first pitch. Yairo Muñoz singled into right on the next pitch, past first baseman Matt Adams, who slipped on the muddy infield dirt. (In addition to the current shower, it had rained for 15 minutes before the game after they uncovered the infield.) That brought Hudson to the plate in an obvious bunting situation. Although he didn't yet have his first major-league hit,2 he did have two sacrifice bunts in 2019. Anticipating the bunt, Wieters took a lead off second — to his detriment since Yan Gomes threw him out when Hudson missed his second bunt attempt. Hudson bunted on the third try, advancing Muñoz to second, and he scored when Wong singled. Wong stole second but Gyorko struck out to leave him there with the score 1-0, Cardinals.
It looked as if Hudson would have an easy bottom of the third when both Wilmer Difo and Michael A. Taylor grounded out. But he walked Strasburg on five pitches and Eaton on four, triggering a mound visit from pitching coach Mike Maddux. Whatever Maddux said worked: Robles grounded to short to end the inning.
Strasburg continued his strikeout pace in the fourth. His 1,498th strikeout was the slumping Carpenter: This was his 10th strikeout of the series, pushing his average below the Mendoza line.3 After Marcell Ozuna grounded out, Tyler O'Neill was number 1,499.
The 1,500th strikeout would have to wait: The Nationals strung some hits together in the fourth, taking the lead with help from a Cardinals error. Kendrick rolled one into right for the Nationals' first hit. Adams followed with another single. Kendrick could only advance to second: Although the ball got away from center fielder Harrison Bader, it didn't go far enough to let Kendrick take third. Gomes hit what looked like a double-play ball, but Muñoz had trouble corralling the ball, then threw it past first so everyone was safe — including Kendrick at home and Adams at third. (The amount of Diamond Dry on the infield may have affected the bounce in front of Muñoz.) Brian Dozier grounded into a 6-4-3 double play, but Adams was able to score the Nationals' second run. Difo flied out to end the inning with the score 2-1, Nationals.
The Cardinals' Bader opened the fifth with a base hit into center. After Wieters lined out, Muñoz popped out. Fans were holding their phones to capture the 1,500th strikeout. They were rewarded when Hudson was called out looking at a curveball for strike three. Gomes corralled the ball and handed it to the authenticator as they returned to the dugout.
Strasburg's achievement was displayed on the video board: "Fewest innings to 1500 strikeouts!" He reached that milestone in 1,272⅓ innings, less than nine years from his June 8, 2010, debut.4
Again, Hudson looked as if he'd have an easy inning when Taylor and Strasburg struck out. But Eaton singled into left, thought about second, put on the brakes, and dove back into first just ahead of the throw. He attempted in vain to brush off the infield mud when he stood up. He made it to second when Robles grounded to short but Gyorko booted the ball for the Cardinals' second error. The Nationals were unable to capitalize since Kendrick grounded to second for the force out.
The Cardinals threatened in the top of the sixth. Gyorko singled after Wong flied out. Strasburg issued his first walk of the game, to Carpenter. St. Louis had a chance to score, or at least load the bases, when Ozuna hit a pop fly into shallow right. Adams got turned around and clearly wasn't going to make the catch, but Dozier ran over from second between Adams and Robles and snagged the ball. With O'Neill at the plate, Gyorko stole third, but O'Neill struck out to leave him there.
Hudson finished the longest outing to date in his career with two foul popouts and a groundout. He had been used solely as a reliever in his debut year of 2018. This was the first time he'd finished the sixth inning, improving his ERA to 4.80.5
Bader bunted the first pitch of the seventh but Strasburg threw him out at first. After Wieters grounded out, Muñoz got a hit off Strasburg — literally off Strasburg, as the ball caromed off him over the third-base line. After he walked pinch-hitter José Martínez, Nationals manager Davey Martinez called for Tony Sipp. Strasburg received a standing ovation as he returned to the dugout. Wong hit a long foul ball that Robles caught in the right-field corner, stranding the baserunners.
Dominic Leone pitched a 1-2-3 bottom of the seventh for the Cardinals, including striking out Carter Kieboom in his first pinch-hitting appearance. Half of the Nationals' Opening Day position players were on the IL (Juan Soto, Anthony Rendon, Trea Turner, Ryan Zimmerman), explaining some of the replacement players and players out of position.6
Martinez tried Kyle Barraclough for the eighth, hoping he could bridge to closer Sean Doolittle in the ninth. Barraclough had trouble with his grip in the humidity: He tried dirt, then the rosin bag, then back to dirt. Gyorko singled. Carpenter struck out again. Ozuna singled: Kendrick dove to keep the ball from getting into left field, but had no play when he got up. Although Barraclough struck out O'Neill, Martinez called on Doolittle for a four-out save. It took eight pitches and a broken bat, but Bader worked a walk to load the bases. Paul Goldschmidt was the pinch-hitter. He was called out on a not-checked swing by first-base umpire Quinn Wolcott. Cardinals manager Mike Shildt and the Cardinals' dugout had a few things to say about that: to no avail, of course.
Leone continued pitching the bottom of the eighth, striking out Eaton and Robles. But after Kendrick singled up the middle, Schildt called in Tyler Webb to face Adams, who grounded out.
Doolittle started the top of the ninth by giving up a base hit to Muñoz. Pinch-hitter Paul DeJong struck out. Wong hit a long fly to Eaton on the warning track. With Gyorko up, the fans stood chanting "Dooooo" in encouragement of their closer. Gyorko hit an easy fly ball to Robles in right to give the Nationals a 2-1 victory.
Given Strasburg's reputation as a strikeout pitcher, it seems fitting that his milestone was achieved in a pitchers' duel: just two earned runs, 24 strikeouts, and the 13 hits were all singles. Although Strasburg finished fifth in the Cy Young Award voting, he did earn some 2019 hardware: He was named World Series MVP.
The Nationals recovered from their difficult start to win the World Series. The Cardinals won the NL Central by two games over Milwaukee. The next time the Cardinals played in Nationals Park would be the final two games of the NLCS: They lost both to the Nationals, ending their season.
Sources
The author consulted Baseball-Reference.com and Retrosheet.org and viewed the recorded game at MLB.com.
https://www.baseball-reference.com/boxes/WAS/WAS201905020.shtml
https://www.retrosheet.org/boxesetc/2019/B05020WAS2019.htm
Notes
1 On both a career-to-date and a year-to-date basis, Strasburg averaged more than one strikeout per inning.
2 By the end of 2019 he had four hits, seven sacrifice bunts, and a .078 BA.
3 He was 9-for-54 (.167) over the previous two weeks. He recovered somewhat, finishing the year at .226.
4 Just for the record, Randy Johnson reached 1,500 strikeouts in his 203rd game, but at 1365⅔ innings. This was Strasburg's 213th game.
5 He went on to have a solid year, making 32 starts, finishing with a 16-7 record and a 3.35 ERA.
6 For example, Robles usually played center field: This was one of his 15 appearances in right in 2019. This was one of only seven appearances in left for Eaton.
Additional Stats
Washington Nationals 2
St. Louis Cardinals 1
---
Nationals Park
Washington, DC
Box Score + PBP:
Corrections? Additions?
If you can help us improve this game story, contact us.
Tags
https://sabr.org/sites/default/files/Strasburg-Stephen-2019.jpg
600
800
admin
/wp-content/uploads/2020/02/sabr_logo.png
admin
2020-02-18 15:15:00
2020-04-17 10:22:18
May 2, 2019: Stephen Strasburg reaches 1,500 strikeouts in fewest innings