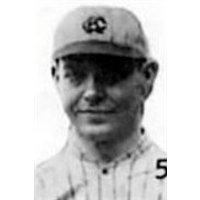 May 22, 1913: Browns' Dwight Stone strands 15 runners to shut out the Yankees
---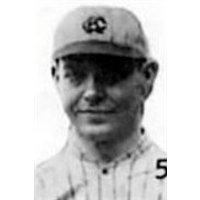 It is not surprising attendance was only 600 when the St. Louis Browns hosted the New York Yankees on May 22, 1913. There was not much to recommend the game. The visiting Yankees entered the contest with a 9-22 record, and could be found at the bottom of the American League. The hometown Browns were 15-21 and in sixth place. They had not fielded a winning team since 1908, and had lost more than 100 games in each of the last three seasons, so the game was not an intriguing matchup.
Nor would the starting pitchers lure someone to the park. It is unlikely anyone but the most ardent baseball follower knew the Yankees' Ed Klepfer, who was making his first major-league start, or Browns starter Dwight Stone, a rookie who was 0-3. Fans could not even enjoy a pleasant afternoon in the sun: A cold snap was "making things decidedly unpleasant."1 The few shivering souls in attendance watched as Stone placed his team in jeopardy all afternoon but pitched a shutout and chalked up his first major-league win.
Stone had spent 1912 pitching for Ogden, Utah, in the Class D Union Association. He jumped up to St. Louis in 1913 because of his showing during spring training in Waco, Texas, where he "burnt them over," and "showed a fair assortment of benders."2 Three solid relief appearances on the Browns' season-opening road trip led to a start in Chicago on April 26. Stone lost 1-0 when the White Sox scored in the bottom of the ninth.3 His performances impressed manager George Stovall, who said when the team returned to St. Louis, "During the 20 innings I used him, he allowed but two runs to be scored, which is remarkable work for a youngster, considering his lack of experience in the big leagues."4 Stovall planned to pitch Stone regularly, believing the right-hander would win his fair share of games.5
Stone's first two starts in St. Louis did not go well. He lost to Cleveland, 9-2,6 and Philadelphia, 8-6.7 Stovall had not called on him to pitch since May 10, and if not for the cold weather Stone would not have started this game. It was Roy Mitchell's turn on the mound, but he was better suited for warm weather, so Stovall decided to rest Mitchell "until the sun shines again."8
This was the final game of a four-game series with the Yankees. New York had won the first two, 8-6 and 6-3, but on May 21 Earl Hamilton of the Browns pitched a one-hitter to win 5-0. The Browns evened the series as Stone shut out the Yankees 7-0, "even though he was in trouble a great many times."9 As the St. Louis Globe-Democrat reported, "Just how he accomplished the trick is indeed a mystery."10
Stone surrendered only six hits, but because of "extreme wildness"11 he walked seven batters and hit three more, resulting in 16 Yankees making it at least as far as first base. One runner was eliminated on a double play, but the other 15 were left on base. As the New York Times reported, "New York was able to fairly clog the base lines with runners in the fifth, seventh, and ninth innings, but all this went for nothing."12
Stone was nearly pulled in the fifth inning, when left-hander Walt Leverenz was sent to warm up.13 Bill McKechnie walked, Klepfer was hit by a pitch, and they advanced when Bert Daniels grounded out to the first baseman.14 Stone also hit Harry Wolter, filling the bases with just one out, but he survived unscathed. Roy Hartzell's grounder forced McKechnie at home plate, and Birdie Cree flied out, keeping the Yankees scoreless.15
St. Louis tallied the first run in the third inning. Burt Shotton walked, was sacrificed to second, and scored when Gus Williams lined a single to left.16 The Browns scored three more in the fifth after the first batter was retired. Shotton singled and went to third on Jimmy Johnston's double.17 Williams took a called strike for the second out, but Klepfer had trouble getting the third out.18 Shotton scored and Johnston went to third19 when Del Pratt hit a grounder to deep short.20 Yankees shortstop McKechnie made a great stop of the ball, but everyone was safe.21 With runners at the corners, Bunny Brief tripled, scoring two.22 Jimmy Austin popped out, but the Browns led 4-0.23
St. Louis scored again in the sixth. The inning started with Bobby Wallace's single and Bill McAllester's walk.24 Stone struck out, but Shotton doubled to send Wallace home, McAllester to third, and Klepfer to the dugout.25 George Clark came in to pitch to Johnston, who flied out to Wolter in center field. Wolter tallied an assist by making "a lightning throw" to the catcher, who tagged McAllester for a double play.26
The Browns scored two runs in the eighth. Austin walked and went to third when Clark fielded Wallace's bunt but hit Wallace in the back with his throw.27 Wallace stole second base, and when no one covered the bag, the catcher's throw went into center field, allowing Austin to score the Browns' sixth run and Wallace to claim third base.28 Wallace scored when Stone beat out a grounder that glanced off Clark's glove, and the Browns led 7-0.29
Stone struggled to close out the game. With two outs and runners on second and third, Hal Chase, the Yankees player-manager, hit a foul popup that should have been caught for the final out, but McAllester dropped the ball. Given a reprieve, Chase walked to load the bases. That brought up Ed Sweeney, the Yankees' catcher, who had already reached base twice – once when hit by a pitch and once with a single. This time, however, he popped out to end the game. Stone's remarkable shutout was preserved. The Browns had won 7-0.
As the Globe-Democrat noted, Stone did not pitch a brilliant game as Hamilton did a day earlier, but both pitchers shut out the Yankees.30 "Stone had trouble, and plenty of it, but nevertheless he always managed to sneak through," the paper wrote.31
Stone's major-league career consisted of 57 games over two years – 29 starts and 28 games in relief. This was his only shutout. He won just once more for the Browns – finishing 2-6 – winning in relief on June 11 when the visiting Browns rallied past the pennant-winning Philadelphia Athletics, 5-2.32 His last appearance for St. Louis came on August 24 when he pitched the final 8⅓ innings of a 9-1 home loss to the Athletics.33 On September 18 the Pacific Coast League's Oakland Oaks announced the purchase of Stone and another pitcher from the Browns.34
In February 1914 Stone signed with the Federal League's Kansas City Packers.35 With the Packers that year, he threw 186⅔ innings and logged an 8-14 record. It was his last major-league season.
Sources
retrosheet.org/boxesetc/1913/B05220SLA1913.htm
baseball-reference.com/boxes/SLA/SLA191305220.shtm
Notes
1 "Stone's Freak Work Beats Yankees, 7-0," St. Louis Globe-Democrat, May 23, 1913: 10.
2 Gus Klemme, "Two Brownies Missing," St. Louis Star and Times, March 13, 1913: 10.
3 https://retrosheet.org/boxesetc/1913/B04260CHA1913.htm.
4 "Browns Home for Cleveland Series," St. Louis Star and Times, April 28, 1913: 9.
5 "Browns Home for Cleveland Series."
6 https://retrosheet.org/boxesetc/1913/B05020SLA1913.htm.
7 https://retrosheet.org/boxesetc/1913/B05100SLA1913.htm.
8 "Dwight Stone to Work for Browns in Yankee Final," St. Louis Star and Times, May 22, 1913: 12.
9 Gus Klemme, "Collated by Klemme," St. Louis Star and Times, May 23, 1913: 10.
10 "Stone's Freak Work Beats Yankees, 7-0."
11 "Stone's Freak Work."
12 "Fifteen Yankees Stranded on Bases." New York Times, May 23, 1913: 11.
13"Fifteen Yankees Stranded on Bases." According to the article, acting manager Lou Criger made that decision. Stovall had been suspended, and sat in the stands for the game. St. Louis Post-Dispatch, "Yanks Get 6 Hits and 7 Passes, but Are Shut Out by Dwight Stone," May 23, 1913: 16.
14 "Fifteen Yankees Stranded on Bases."
15 "Fifteen Yankees Stranded."
16"Stone's Freak Work Beats Yankees, 7-0."
17 "Stone's Freak Work."
18 "Stone's Freak Work."
19 "Another Basket of Goose Eggs for Yankees," New York Tribune, May 23, 1913: 8.
20 "Another Basket of Goose Eggs."
21 "Stone's Freak Work."
22"Stone's Freak Work."
23"Stone's Freak Work."
24 "Stone's Freak Work."
25 "Stone's Freak Work."
26 "Fifteen Yankees Stranded."
27"Stone's Freak Work."
28"Stone's Freak Work."
29 "Stone's Freak Work."
30 "Stone's Freak Work."
31 "Stone's Freak Work."
32 https://retrosheet.org/boxesetc/1913/B06110PHA1913.htm.
33 https://retrosheet.org/boxesetc/1913/B08240SLA1913.htm.
34 "St. Louis Pitchers Are En Route West to Join Oaks," Oakland Tribune, September 18, 1913: 12.
35 "Armour Predicts Success," St. Louis Globe-Democrat, February 5, 1914: 10.
Additional Stats
St. Louis Browns 7
New York Yankees 0
---
Sportsman's Park
St. Louis, MO
Box Score + PBP:
Corrections? Additions?
If you can help us improve this game story, contact us.
Tags
https://sabr.org/sites/default/files/StoneDwight.jpg
600
800
sabr
/wp-content/uploads/2020/02/sabr_logo.png
sabr
2020-05-01 16:06:06
2020-05-28 15:35:47
May 22, 1913: Browns' Dwight Stone strands 15 runners to shut out the Yankees