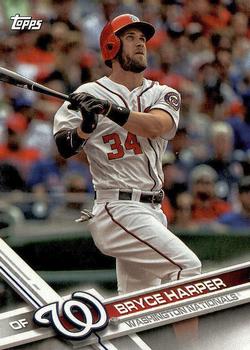 May 29, 2017: Hunter Strickland drills Bryce Harper three years after playoff home run
---
The Baseball Reference play-by-play, with two outs in the eighth inning:
Batter: Bryce Harper. Pitcher: Hunter Strickland. Play Description: Hit By Pitch.

George Kontos replaces Hunter Strickland pitching and batting ninth.

Brian Goodwin pinch runs for Bryce Harper (RF) batting third.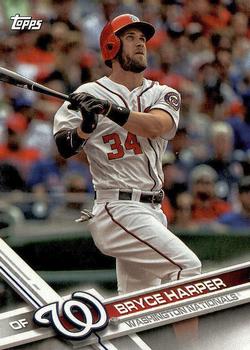 This game matters for what happened between the first and second lines of the play-by-play. The score could have been reversed and it would not have affected the outcome of the season for either team. To understand what happened in the eighth inning, look back three seasons to the 2014 National League Division Series, to the second game played in this ballpark. Harper hit two home runs in that series, both off Strickland. The second one landed in McCovey Cove, and tied that game. (The Giants went on to win the game, the series, and the World Series.) That was probably the homer that led to the HBP since Strickland had responded to Harper's first homer by insisting that he would continue to throw fastballs to him.1
Despite a certain amount of emotion displayed by both back in 2014, Harper thought it was over. In his words:2
"I don't want to go on a baseball field and try to fight somebody. Especially when it's somebody that it's in the past. It's so in the past that it's not even relevant anymore. They won the World Series that year. I don't even think he should be thinking about what happened in the first round. He should be thinking about wearing that ring home every single night. I don't know why he did it or what he did it for, but I guess it happens."
The Nationals came to San Francisco with a 30-19 record, leading the NL East by 8½ games. The Giants were fourth in the NL West, 11 games behind Colorado at 22-30.
Nationals right-hander Tanner Roark was looking to turn his season around by building on his recent success. Mike Maddux, the Nationals' pitching coach, had advised him before his previous start that he was gripping the ball too tightly so he wasn't getting the movement on his pitches.3 The results in the last outing were trending in the right direction: He went seven innings, lowering his ERA from 4.73 to 4.32. In this opening game of the three-game series against the Giants, he went seven innings again, giving up six hits, one walk, and no runs. He further lowered his ERA to 3.86. Left-hander Matt Moore (2-5), the starting pitcher for the Giants, was nearly as good, also going seven innings and giving up six hits. (Unfortunately for his team, those included a home run and a run-scoring double.) Coming into this game, his home ERA was a very respectable 2.57, but his road ERA was a less-than-impressive 7.80.
Since it was Memorial Day, the 41,969 in attendance enjoyed the pregame ceremonies, including the large flag presentation on the field and a Coast Guard helicopter flyover. The teams were wearing their camo uniforms: green and white for the home team, green and gray for the visitors. Even the umpires were sporting camo masks.
The Nationals went out one-two-three in the first. Ryan Zimmerman started the second inning by launching a 420-foot home run to left center. Daniel Murphy was out on a foul pop caught by Christian Arroyo reaching over the railing, but Anthony Rendon and Wieters both singled to shortstop Brandon Crawford. Michael Taylor hit another ball to Crawford, who committed only his second error of the year, letting the ball bounce between his legs. That loaded the bases with one out. Roark struck out on three pitches, followed by Trea Turner's second broken-bat groundout of the day, allowing Moore to escape the bases-loaded jam.
The bottom of the second started with a rare strikeout of Buster Posey: He had had 54 consecutive plate appearances without a . He lost his grip on the bat on the third strike, almost decapitating Crawford in the on-deck circle. Despite the bat bouncing off the netting and landing at his feet, Crawford couldn't have been too startled: he made a bid for a home run, but Werth robbed him with a leap at the left-field wall. Justin Ruggiano singled, but was caught stealing.
Rendon got a hit off Arroyo's glove in the fourth, but he misread the pitcher's move, and was picked off 1-3-4-3-6 to end the half-inning. In the Giants' half of the fourth, the fans came to life when Posey came to the plate with one on. But that "one on" was erased when Brandon Belt was caught stealing second. Posey walked, but was left at first after a flyout by Crawford.
In the top of the sixth, Moore struck out Harper on the 10th pitch of the at-bat. Zimmerman hit a two-out single just over Arroyo's glove, then Murphy bounced a double off the right-field wall, scoring Zimmerman from first. Ruggiano, making only his sixth start in right field at AT&T Park, missed the cutoff man, allowing Zimmerman to make it home safely. Rendon flied out to Span in center to end the top of the inning with the score 2-0.
With two out in the bottom of the sixth, Roark gave up singles to Belt and Posey, again bringing the crowd to life. But a groundout by Crawford ended the inning.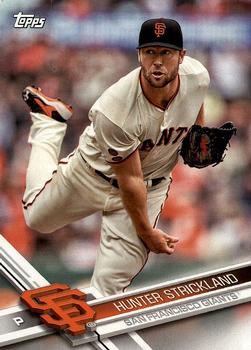 Moore used an efficient seven pitches to finish the top of the seventh, as Hunter Strickland started getting loose in the on-field bullpen. Seeing Strickland warming up, all the media announcers mentioned the history between Harper and Strickland. They had not faced each other since that 2014 postseason game that included the splash hit. Since then, Bruce Bochy had always brought in a left-handed pitcher to face the left-handed-hitting Harper.4
Roark hit Arroyo (the ball brushed his jersey), giving the Giants a baserunner in the seventh. Michael Morse struck out as a pinch-hitter, staying in to play first base. Aaron Hill followed as a pinch-hitter, but popped up to end the inning.
In the eighth, Strickland made quick work of the Nationals: a one-pitch flyout for Turner and a Werth groundout got the inning started. Strickland then plunked Harper squarely on the hip with the first pitch, the ball bouncing up the third-base line. Harper pointed the bat at him, dropped it, and charged the mound. Just before reaching it, he flung his helmet off to the right. Punches were thrown, although Harper's best-aimed punch got more of Strickland's cap than his face. The dugouts emptied (with the exception of Madison Bumgarner, who was on the DL and stayed in the dugout) with more punches thrown. This was not your semi-friendly pushing and shoving gathering at the mound — this was a full-on donnybrook. Because the bullpens at AT&T Park are on the field, the relief pitchers were in the scrum immediately, unlike other parks, where they have to run in across the field.
Michael Morse and Jeff Samardzija collided as Samardzija was swinging for Harper: Harper credited Morse for coming to his aid.5 Morse got the worst of it: Although he continued playing in this game, he had suffered a season-ending, and possibly career-ending, concussion.6 Often, when a batter charges the mound, the catcher will grab the batter from behind to try to protect his pitcher. Buster Posey stayed back, never really entering the fray. Perhaps he was concerned about his own previous injuries, perhaps he was telling Strickland, "You're on your own."7 Harper was corralled by Zimmerman and Baker: Zimmerman easily escorted Harper into the clubhouse. Strickland, however, did not go so quietly: He was still swinging away at everyone, including his own teammates, after Harper was off the field. It took three players (including Hunter Pence, who was also on the DL) and a coach a couple of minutes to wrestle him off the field and down the dugout steps. Needless to say, Harper and Strickland were ejected, but they were the only players punished, despite the multiplicity of combatants. Harper received a four-game suspension: He agreed to not appeal it when the league reduced it to three.8 Strickland received a six-game suspension, which was not reduced on appeal.9
Once the ejections had been announced and the substitutions made, the game resumed with Goodwin running for Bryce and Kontos pitching for Strickland. Zimmerman got a base hit against Kontos. That was followed by Goodwin scoring on Murphy single. But a popup by Rendon ended the top of the eighth, leaving two on and the score 3-0 Nationals.
Baker called on left-handed reliever Oliver "Ollie" Pérez for the bottom of the eighth. With one out, Ollie walked Joe Panik and struck out Belt. Baker brought in right-hander Shawn Kelley to face the right-handed Buster Posey, but that resulted in a base hit. With two on and two out, Crawford got an infield hit off Kelley's shoe, with the ball landing near Rendon, but not close enough to third base to allow him to force the runner. This put Kelley in a bases-loaded jam facing Justin Ruggiano. The crowd put on their rally caps, but a fly out to short left field left the bases loaded. The score remained 3-0 Nationals.
In the top of the ninth, Stephen Drew worked a walk on his first at-bat back from the DL after a hamstring injury. Baker brought in Joe Ross, one of his pitchers, as a pinch-runner for Drew. With two out and one on, Bochy went to his pen for the right-handed Cory Gearrin to face Turner. Gearrin got Turner on a high chopper to end the half-inning.
Baker called on Koda Glover to close. He got Arroyo swinging, Morse on a groundout, and Hundley on a foul tip to earn his save. The final score was 3-0 Nationals, but that seemed a footnote to the fracas and the potential long-term consequences to Morse. Also possibly overlooked were the pitching performances by the starters. Moore's full-year home stats were an ERA of 4.21 and a WHIP of 1.353, so this was one of his better performances. Roark's full-year away stats were comparable: ERA of 4.26 and WHIP of 1.338; again, this was one of his better road games.
Author's note
I attended this game with my brother, a volunteer chaplain in the Giants minor-league system. It was the first time in 47 years we got to see a game together, and we got a grudge match.
Sources
MLB.tv recorded game, 106.7 Washington radio broadcast, personal notes.
baseball-reference.com/boxes/SFN/SFN201705290.shtml.
http://www.retrosheet.org/boxesetc/2017/B05290SFN2017.htm
Notes
1 "Blueprint of the Rivalry," scout.com/mlb/rumors/Article/Blueprint-of-the-Rivalry-Hunter-Strickland-vs-Bryce-Harper-103102480.
2 "Three-year-old grudge fuels brawl," masnsports.com/nationals-pastime/2017/05/three-year-old-grudge-fuels-brawl-between-harper-strickland.html.
3 "With seven dominant innings, Roark finds himself," masnsports.com/nationals-pastime/2017/05/with-seven-dominant-innings-roark-finds-himself-again.html.
4 "Three-year-old grudge fuels brawl," masnsports.com/nationals-pastime/2017/05/three-year-old-grudge-fuels-brawl-between-harper-strickland.html.
5 "Morse-Samardzija collision saves Harper," thescore.com/mlb/news/1310645-harper-morse-samardzija-collision-in-brawl-saved-me-from-injury.
6 "Nats-Giants brawl likely ended Michael Morse's career," sports.yahoo.com/nats-giants-brawl-likely-ended-225416548.html.
7 "Five theories on why Posey avoided the brawl," cbssports.com/mlb/news/five-theories-on-why-buster-posey-avoided-the-bryce-harper-hunter-strickland-brawl/.
8 "Harper suspension reduced to three games," masnsports.com/nationals-pastime/2017/05/harpers-suspension-reduced-to-three-games-starts-tonight.html.
9 "Harper suspended four games, Strickland six, both appeal," masnsports.com/nationals-pastime/2017/05/harper-suspended-four-games-strickland-gets-six-both-appeal.html , "Strickland 6-game suspension upheld," usatoday.com/story/sports/mlb/2017/06/19/mlb-upholds-stricklands-6-game-suspension-for-harper-brawl/103022878/.
Additional Stats
Washington Nationals 3
San Francisco Giants 0
---
AT&T Park
San Francisco, CA
Box Score + PBP:
Corrections? Additions?
If you can help us improve this game story, contact us.
Tags
https://sabr.org/sites/default/files/HarperBryce-2017.jpg
600
800
admin
/wp-content/uploads/2020/02/sabr_logo.png
admin
2018-02-08 18:52:12
2020-04-17 10:24:56
May 29, 2017: Hunter Strickland drills Bryce Harper three years after playoff home run