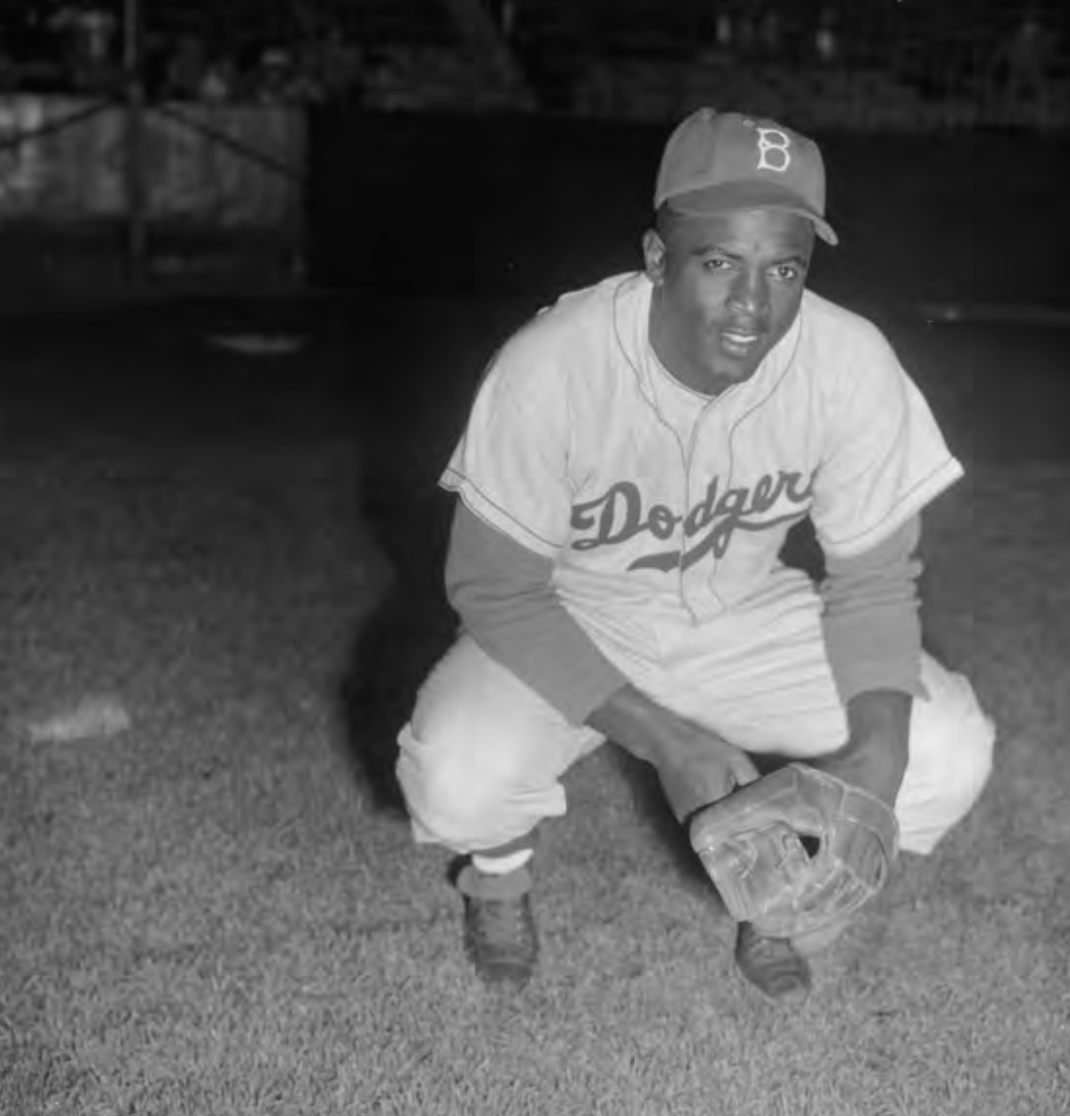 May 30, 1947: Braves' Memorial Day sweep spoils Jackie Robinson's Boston debut
---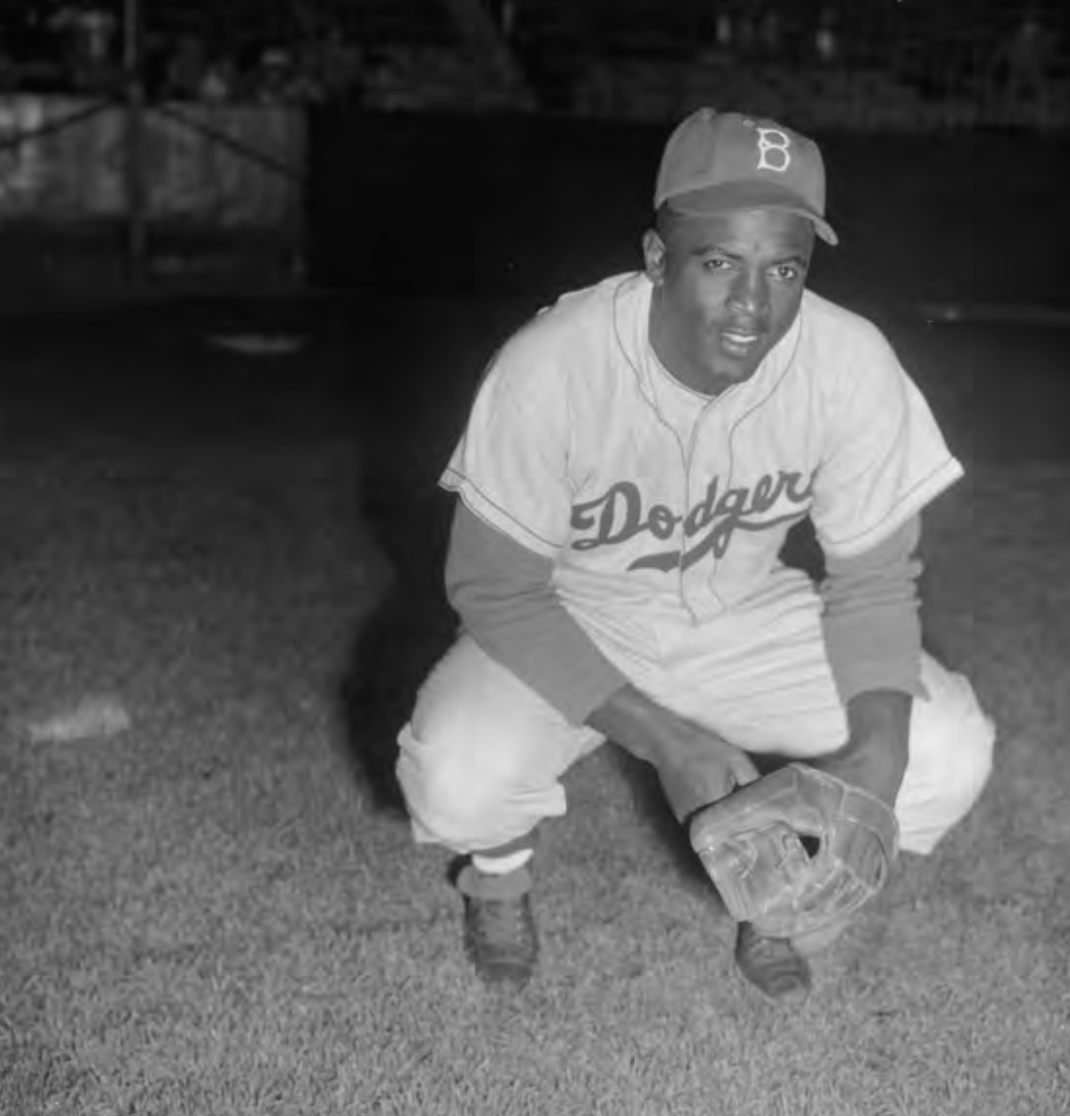 Jackie Robinson's debut at Braves Field was originally scheduled for April 22, 1947. But the Dodgers' three-game series in Boston was a total washout because of rain. Robinson's first game was in the opener of a Memorial Day doubleheader on May 30.
Before both scheduled series, Robinson wasn't the biggest story in the local news. In April the yearlong suspension of firebrand Brooklyn manager Leo Durocher overshadowed Robinson's debut. Durocher was considered to be a master strategist and motivator. There were many questions about whether Robinson's addition offset Leo the Lip's loss. Durocher's temporary replacement, Burt Shotton, was a relatively undistinguished baseball lifer. Durocher brought excitement to the long baseball season. Without him, Boston Globe baseball beat writer Harold Kaese complained, "the Dodgers are as quiet as a nightclub at 10 o'clock in the morning."1
In May Braves diehards were beginning to believe that a subway World Series with the Red Sox could happen. At Ebbets Field in the year's opening series, the Dodgers swept the two-game set from the Braves. On May 12 the Dodgers again defeated the Braves, 8-3. The only team the Braves had not yet defeated was the Dodgers. Brooklyn was now in first place, just one game ahead of Boston. Braves manager Billy Southworth juggled his rotation to start his best pitcher, Warren Spahn, in the twin bill's first game. Spahn was looking to win his eighth straight game without a loss. The Braves were powered by rookie first baseman Earl Torgeson and third baseman Bob Elliott, who went on to win the Most Valuable Player award that year. Batting seventh in the lineup, Torgeson was leading the National League in runs batted in at the time.2 Southworth was thinking about changing the Braves' starting lineup to move Torgeson up to third and provide more pop against their Brooklyn rivals.
While the media frenzy about Robinson had diminished, record-breaking crowds turned out for his games. He was the first African-American to play major-league baseball in Boston. For the first scheduled series at Braves Field, local African Americans, such as MIT grad Anselmo Krigger, bought blocks of tickets to see Robinson play.3 Members of churches and civic organizations celebrated the day.4
But the ultimate goal was to have each Robinson appearance treated as just another game. The challenge for African-Americans was, according to William G. Nunn of the Pittsburgh Courier, to take his "accomplishment in stride" and "let him prove he's major league caliber."5 The lack of hype for Robinson's appearance in Boston can perhaps be explained by the common practice of sportswriters of the era to stay away from social commentary. It may also be attributed to the initial success of the groundbreaking experiment. Robinson's play had already earned the respect of teammates and opponents alike.
The attendance on May 30 was 30,535 – a good crowd but not a sellout. Robinson started at first base and batted second in both games. In the opener Spahn faced Dodgers fireballer Rex Barney. With on out, Robinson walked in his first at-bat but was quickly picked off by Spahn, who was averaging about one pickoff a game.6 The next three batters, Pete Reiser, Carl Furillo, and Dixie Walker, reached base. The Braves escaped damage when third baseman Cookie Lavagetto grounded into a bases-loaded forceout.
The Dodgers scored two runs in the second. Torgeson made his ninth error of the season when he flubbed a grounder by the eighth-place batter, shortstop Pee Wee Reese. A long double by pitcher Barney scored Reese. Barney moved to third on a missed cutoff throw by center fielder Johnny Hopp. And a sacrifice fly by second baseman Eddie Stanky drove in Barney.
The Braves, behind 2-0, responded in the sixth. Leadoff hitter Torgeson made up for his defensive lapse and doubled. He eventually scored on a single by left fielder Bama Rowell. Then the Braves played some small ball. Catcher Phil Masi singled to center, sending Rowell to third. Rowell and Masi executed a double steal to tie the game.
The Braves sewed up the game in the seventh inning. With men on second and third and one out, Torgeson was intentionally walked. The move backfired. With the bases loaded, Elliott, the team's best hitter, singled to center, driving in two runs. Catcher Phil Masi's double to right gave the Braves two insurance runs. The Braves led, 6-2.
The Dodgers threatened in the ninth but Spahn hung tough and completed the game. Bobby Bragan walked and was replaced by pinch-runner Marv Rackley. Pinch-hitter Eddie Miksis struck out. Leadoff hitter Eddie Stanky singled. The Dodgers loaded the bases after Robinson dragged a bunt single down the third-base line. With one out, Reiser grounded into a force play at second. Rackley scored and Stanky moved to third. The last out of the game was a Furillo fly out. The Braves won, 6-3.
Spahn threw 150 pitches and walked six batters. The home team had two errors. Each team left 10 runners on base. The difference in the teams was clutch hitting. Every Boston batter except Spahn had a hit. Despite his uneven performance, Spahn finished the game with an 8-0 record and lowered his league-leading ERA to 1.34.
Braves right-hander Red Barrett (1-3) and Dodgers left-hander Vic Lombardi (1-4) were the starters in the nightcap. In four at-bats, Robinson was hitless. The Braves scored their first run in the bottom of the first. Earl Torgeson drew a walk with two out. Elliott singled to right, moving Torgeson to third. It must have shocked the Dodgers when two of the Braves' slowest runners executed a double steal and Torgeson scored.
The Braves tallied their second run in the third inning. With the bases loaded and one out, Lombardi threw a wild pitch while pitching to the Braves' left fielder Danny Litwhiler, and Johnny Hopp scored.
The Braves now had men on second and third, but Litwhiler and shortstop Sibby Sisti both grounded out. No further runs were scored. The Dodgers escaped, down just 2-0.
The Braves' final run was scored in the sixth. Litwhiler led off with a walk, advanced to second on a sacrifice by Sisti, and scored on a base hit by second baseman Connie Ryan.
Scattering just five hits, Barrett struck out six without any walks for a complete-game 3-0 victory, played in 1 hour and 46 minutes.
Earl Torgeson's play gave Braves fans a lot to talk about. Southworth's move of his rookie first baseman to third in the batting order worked. In the two games Torgeson had two hits, drew five walks, scored three runs, and stole home. But he made a couple of bad baserunning mistakes. Torgeson was caught stealing and almost thrown out at second on a double. After pulling the ball down the first-base line, Torgeson didn't run and instead "stood transfixed at the plate until coaxed to run."7 Torgeson's fielding was ugly. In each game, he made an error. After the Memorial Day doubleheader, the Braves first basemen already had made 10 errors in just 36 games. The strange but true part of the day was that Torgeson, due to his fielding, gained a permanent place in baseball's record book. In the first game of the doubleheader, he became one of the few major leaguers to play a nine-inning game at first base without recording a putout.
There was a reason for fans to be satisfied with the day's outcome. Braves fans were happy that their team swept the Dodgers. The sweep allowed them to jump from fourth to second, still one game behind the New York Giants. And Robinson had a successful debut. Mabray "Doc" Kountze of the African-American weekly Boston Guardian wrote: "Jackie Robinson made a fine, quiet, well-received debut in Boston. He did not 'steal the show,' he was just another player in the lineup who did his part. That is good."8
This article appeared in "Braves Field: Memorable Moments at Boston's Lost Diamond" (SABR, 2015), edited by Bill Nowlin and Bob Brady. To read more articles from this book, click here.
Sources
The author consulted with a variety of sources for this story. Retrosheet, with box scores and play-by-play accounts of the games, is a primary source. The Boston Globe, the Boston Herald, and the Boston Post had previews and firsthand accounts of the Memorial Day doubleheader. Boston's African-American newspaper, the Boston Chronicle, was also consulted. The author did a diligent search for African Americans' firsthand reaction to Robinson's visit to Boston. There was unfortunately very little information besides what was written in the Chronicle.
One of the most surprising things about researching this story is the lack of fanfare in newspapers regarding Jackie Robinson's first game in Boston. Writers focused their attention on action between the lines. This is consistent with how Jackie Robinson's games were covered by newspapers throughout the country.
The best available resource, in the author's opinion, to measure Robinson's major-league journey is The Sporting News. For many years, The Sporting News was considered to be the paper of record for baseball. The seemingly infinite statistics and tidbits provided ample information on Robinson. The Sporting News is still a great resource for understanding the tapestry of baseball information.
A native of West Medford, Massachusetts, Mabray "Doc" Kountze was a sportswriter for the Boston Chronicle, the Boston Guardian, and other black publications like the Pittsburgh Courier. In 1934 he was the first African American to receive a press pass to Fenway Park, to Braves games, and to the Boston Bruins. He opened doors by publicizing the accomplishments of great black athletes. He helped found an association of sports editors from African American newspapers who publicized black athletes by selecting All-America and All-Star teams. Doc believed that the spirit of abolitionism was an important part of Boston's heritage. For this reason, he believed that Boston would be the perfect place to desegregate baseball. With other African American sportswriters, he lobbied major-league baseball teams to give Negro League players tryouts. Doc met with officials of the Red Sox and Braves to argue that they should take a stand against discrimination. On the morning of April 16, 1945, the Red Sox gave a perfunctory tryout to Negro League stars Jackie Robinson, Sam Jethroe, and Marvin Williams.
Box scores for this game can be seen on baseball-reference.com and retrosheet.org at:
http://www.baseball-reference.com/boxes/BSN/BSN194705301.shtml
http://www.retrosheet.org/boxesetc/1947/B05301BSN1947.htm
Notes
1 Harold Kaese, "Not the Same Bums!: Robinson Will Help Dodgers But They Need Durocher More," Boston Globe, April 21, 1947, 14.
2 A local sports newspaper, the Boston Sport-Light, held a contest and nicknamed Torgeson the "Earl of Snohomish." Outfielder Earl Averill, a former six-time All-Star who finished his career with the Braves, was the first to be given this nickname. Both players were given the same moniker to recognize their Washington state hometown. See also The Sporting News, June 4, 1947, 16.
3 "Negroes to Give Jackie Robinson Welcome Sunday," Boston Globe, April 17, 1947, 26.
4 Very little detail, if any, of the reactions of African Americans to Jackie Robinson's first visit to Boston is available in the local newspapers. In newspaper accounts of Robinson's first game in Brooklyn, coverage was similar.
5 "Good Contact by Negro Fans Urged," The Sporting News, May 21, 1947, 4.
6 "BRAVES BUZZINGS," Boston Globe, May 31, 1947, 4.
8 Mabray Kountze, "Boston Baked," Boston Guardian, June 7, 1947, 4.
Additional Stats
Boston Braves 6
Brooklyn Dodgers 3
Boston Braves 3
Brooklyn Dodgers 0
---
Braves Field
Boston, MA
Box Score + PBP:
Game 1:
Game 2:
Corrections? Additions?
If you can help us improve this game story, contact us.
Tags
https://sabr.org/sites/default/files/Robinson-Jackie-1947-Boston.png
600
800
admin
/wp-content/uploads/2020/02/sabr_logo.png
admin
2017-04-25 00:33:38
2021-11-04 23:19:01
May 30, 1947: Braves' Memorial Day sweep spoils Jackie Robinson's Boston debut