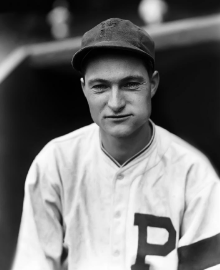 May 4, 1938: Lloyd Waner's big game with 4 hits, 5 RBIs lifts Pirates
---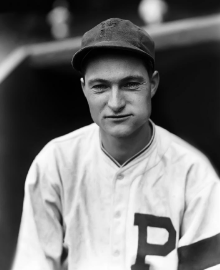 The 1938 season was a good one for the Pittsburgh Pirates: a second-place finish, just two games out. But it was the heartbreaking September collapse that made it a season Pirates fans don't enjoy talking about.1 The team featured four future Hall of Famers: manager Pie Traynor, shortstop Arky Vaughn, and outfielders Paul and Lloyd Waner. The Waner brothers were known as Big Poison and Little Poison, with the popular theory being they got their nicknames because they were "poison" to pitchers of their era. Another theory is someone misheard "person" as "poison" and the names stuck with the press.2
The Pirates started the season reeling off seven consecutive wins. A series-opening 7-2 loss to the Brooklyn Dodgers the previous day was their fifth straight loss. Just before the game on May 4, Lloyd Waner reportedly said to his brother Paul, "I think I'll do the hitting today for the Waner family."3 And with that Lloyd Waner had one of the most explosive days of his Hall of Fame career. He finished the day 4-for-4 with a home run, two triples, and a single. He scored three runs and drove in five.
Right-hander Russ Bauers was on the mound for the Bucs, facing righty Luke Hamlin for the Dodgers. Bauers was in his second full year in the majors, coming off an excellent 13-6 record with a 2.88 ERA.
The Dodgers took a 1-0 lead in the first inning, scoring on a bases-loaded fly by Gibby Brack. The lead didn't last long. Lloyd Waner, hitting second in the lineup, began his big day by smacking a triple over Brack's head in right-center field. The next hitter was his brother Paul, who drove him home with a fly ball to left, knotting the score.
After an uneventful second inning, the Dodgers went back up 3-1 in the third inning. Johnny Hudson and Ernie Koy led off with walks. Hudson scored on an error by third baseman Lee Handley and Koy came home on Leo Durocher's fly ball. But in the bottom half of the inning, Lloyd collected an RBI infield single.4 Now within one run, the Bucs tied it again at 3-3 in the fourth on Johnny Rizzo's triple and Vaughn's fly ball.
After an RBI triple by Dolph Camilli, Traynor pulled Bauers and called on reliever Joe Bowman with no outs. A spot starter in 1937, Bowman entered the game and got the next three outs, which included Durocher's fly ball to score Camilli from third. From then on Bowman pitched nearly flawless baseball.
With the Bucs down 5-3, Lloyd Waner was ready to do damage again. Following a bunt single by Bowman and two balls to Handley, an irritated Dodgers manager Burleigh Grimes brought in Bill Posedel to replace Hamlin. The walk to Handley was completed, and then Lloyd Waner laced his second triple of the day, down the right-field line, tying the game. Again his brother drove him in with a fly ball, and the Pirates had a lead they would not relinquish. It was reported that the sudden removal of Hamlin caused a bit of a stir in the Dodgers locker room. An angry Hamlin said a few unkind things about Grimes's managerial style.5 General manager Larry MacPhail came to Pittsburgh the next day to support Grimes and calm the team down.6
In the seventh, Lloyd followed Handley's double with a homer to deep right field for an 8-5 lead. It was Waner's first of the year, and only the second time he reached that deep right-field section in his career. It was such an anomaly for the slight player of only 145 pounds7 that he took some friendly ribbing from the Brooklyn bench as he rounded the bases. He responded with a smile and pointed to his arm muscle.8
Ray Berres capped the Pirates' scoring in the eighth with a single to score Gus Suhr, who had tripled. It was the fifth triple of the game. Forbes Field, with its spacious outfield, was known for triples.9
Joe Bowman shut Brooklyn out in the ninth, giving the Bucs a 9-5 win. Bowman got the win after yielding just one baserunner in five shutout innings. He retired his first 13 batters before Goody Rosen's pinch-single in the ninth. If Waner had to share a headline with any teammate that day, and he did, it was with Bowman.10
After a mediocre start of 20-20 as of June 6, the Pirates went on an impressive second-half run, winning 42 of 57 games (.737) through August 9. They held a seven-game lead on September 1. But on September 21 a hurricane raged up the East Coast, resulting in several postponed games, and Pittsburgh lost its momentum and swagger.
A collapse in the final week did them in. The Bucs won just one of their last seven games, which included a crucial three-game series in Chicago with the second-place Cubs. The Cubs won all three games. The backbreaker in many fans' eyes was of the second game of that series, in which Gabby Hartnett hit a clutch two-out ninth-inning home run as dusk fell at Wrigley Field. In Pirates and Cubs lore, it unaffectionately (for the Pirates, at least) became known as the "homer in the gloamin'."11
The second-place Pirates finish was a tremendous disappointment. So sure of a pennant was the club that in the late summer a special press stand was added to the roof of Forbes Field, and 1,000 press buttons were printed for the World Series.12 While team owner Bill Benswanger agreed that Hartnett's home run was a damaging blow, he felt the pennant was lost by the effect of the hurricane, observing, "As we sat around hotel lobbies during the storm, a hot team cooled off and never regained its winning momentum. The Hartnett homer was an anticlimax, but not the cause of our defeat."13
Lloyd Waner's monster day was part of the only season in which he was selected as an All-Star, though he didn't get into the game. He hit .313 and struck out only 11 times in 659 plate appearances. His career strikeout ratio of one every 44.9 at-bats ranks him third to Willie Keeler (63.2) and Joe Sewell (62.6) for batters with 3,000 plate appearances or more. Lloyd would finish in the Top 10 toughest batters to strike out 12 times, and led the National League five times, including 1938.
The 1938 was the last in which the Waner brothers played over 145 games. Their playing time began to diminish in the 1939 season, and by 1940 the brothers were spare parts. After 14 years of sharing the Pirate outfield, Paul was released by the Pirates after the 1940 season. Lloyd was traded to the Boston Braves in May 1941, and then sent to the Cincinnati Reds a month later. Both extended their careers as a result of the shortage of major-league players during World War II.14 Their combined hit total of 5,611 is first among major-league brother combinations.
Beyond his 2,459 hits, Lloyd was regarded as a fine outfielder. Bill James in his Historical Baseball Abstract would have awarded Waner eight gold gloves from 1927 through 1937.15 James's Win Shares analysis rated Lloyd an A+, the highest defensive rating, for his career.16 A gentleman on the field, he was never ejected from any of his 1,993 games.17
Paul was elected by the Baseball Writers Association of America to the Hall of Fame in 1952. Lloyd joined him in the Hall in 1967 after being selected by the Veterans Committee. Having retired in 1945, and after such a long wait Lloyd was surprised when he got the call. He did not know that he was still being considered.18 His selection made the Waner brothers the only playing brothers in the Hall of Fame. (Brothers George and Harry Wright are also in the Hall, but were selected as Executive/Pioneers.)
This article appears in "Moments of Joy and Heartbreak: 66 Significant Episodes in the History of the Pittsburgh Pirates" (SABR, 2018), edited by Jorge Iber and Bill Nowlin. To read more stories from this book at the SABR Games Project, click here.
Notes
1 Frederick G. Lieb, The Pittsburgh Pirates (New York: G.P. Putnam's Sons, 1948), 260.
2 Lieb, 229.
3 Lester Biederman, "Pirate Patter: Waner Act Revived!" Pittsburgh Press, May 5, 1938: 28.
4 Edward Balinger, "L. Waner Hits Two Triples, Homer, Single," Pittsburgh Post-Gazette, May 5, 1938, 20.
5 Roscoe McGowen, "Lucas, Pirates, Beats Dodgers 4-2; MacPhail Backs Action on Hamlin," New York Times, May 6, 1938: 28.
6 Chester L Smith, "Dodgers' Rebellion Quelled by MacPhail," Pittsburgh Press, May 6, 1938: 45.
7 Clifton Blue Parker, Big and Little Poison (Jefferson, North Carolina: McFarland & Company, Inc., 2003), 303.
8 Ronald T. Waldo, Pennant Hopes Dashed by the Homer in the Gloamin' (Jefferson, North Carolina: McFarland & Company, Inc., 2013), 92.
9 Parker, 112.
10 Biederman, "Bucs' Powerhouse Flashes Old Form to Shake Slump," Pittsburgh Press, May 6, 1938: 28.
11 Waldo, 202.
12 Parker, 198.
13 Lieb, 263.
14 Parker, 261.
15 Bill James, The New Bill James Historical Baseball Abstract (New York: Simon & Schuster, 2001), 755.
16 Bill James and Jim Henzler, Win Shares (Morton Grove, Illinois: STATS Publishing, 2002), 153.
17 Parker, 310.
18 Parker, 303.
Additional Stats
Pittsburgh Pirates 9
Brooklyn Dodgers 5
---
Forbes Field
Pittsburgh, PA
Box Score + PBP:
Corrections? Additions?
If you can help us improve this game story, contact us.
Tags
https://sabr.org/sites/default/files/Screen%20Shot%202019-02-08%20at%2010.29.49%20AM.png
600
800
admin
/wp-content/uploads/2020/02/sabr_logo.png
admin
2019-02-08 10:34:22
2020-04-17 10:23:39
May 4, 1938: Lloyd Waner's big game with 4 hits, 5 RBIs lifts Pirates