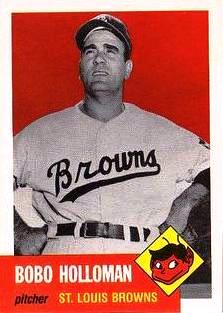 May 6, 1953: Bobo Holloman throws a no-hitter in his first major-league start
---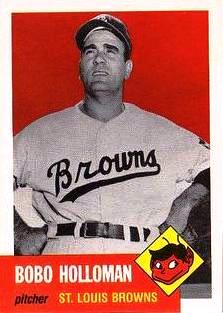 Before the 1953 season, pitcher Alva "Bobo" Holloman predicted great things for himself. Acquired by the St. Louis Browns from the Triple-A Syracuse Chiefs the previous October, he immediately started a campaign to assure himself a spot as a starter, telling team owner Bill Veeck that he would be his number-one pitcher and asking, "Am I going to be a regular starter?"1
Holloman continued pursuing a shot at starting throughout the early spring. "The guy's a real character," Veeck said. "Every night since the season's opened, he's come pounding on [manager] Marty Marion's door. 'When you gonna start me?' he'd ask."2
Holloman gave little evidence early on that he deserved to start. In his first four relief outings, covering 5⅓ innings, he allowed five earned runs on 10 hits.3 He justified his poor performance by claiming he was naturally a starter and insisting that if Marion did not accede to his wishes, he wanted a trade. Finally, largely to put an end to his wheedling, Marion gave in, a move many thought was a prelude to the Browns shedding the pitcher when the May 14 cutdown deadline required teams to reduce their rosters to 25: Holloman would prove no better a starter than reliever and the team would release him.4
Marion initially scheduled Holloman to start an April 28 home game against the New York Yankees, but with rain falling as Holloman finished his warm-up and Yankees leadoff hitter Phil Rizzuto stepping into the batter's box, home-plate umpire Bill Summers called the game, deferring Holloman's start.5
As it turned out, the delay likely kept him in the majors beyond the cutdown day, since in his eventual start, against the Philadelphia Athletics on May 6, Holloman threw an improbable no-hit, no-run game, the only one in the majors that season.
Opening the day, the Browns were 9-9, on their way to finishing last with their third 100-loss season in five years. The Athletics came in 10-8, bound for a seventh-place finish in the eight-team league. Opposing Holloman was southpaw Morrie Martin, in the fourth season of a 10-season major-league career, making his second start after missing a year of baseball when a line drive broke the index finger of his pitching hand the previous May.6 In Martin's first appearance, on May 1, he pitched a complete-game 4-1 victory over Detroit.
As with Holloman's earlier attempt to start, it was raining and chilly at game time. The weather kept the crowd down to 2,473, such a poor showing that in the fifth inning, Veeck told his public-relations director, Bob Fishel, to announce that, due to the "bad night," the team would honor the rain checks for the game, even though by then it was official.7
As the game started, Holloman went through his usual ritual, scratching the initials of his wife and son into the foul line, "N" for Nancy and "G" for Garry.8 The superstition seemed to pay immediate dividends. Relying primarily on his sinker and curve, with an occasional slider because his fastball lacked zip, he was perfect through the first two innings, although he needed a spectacular play by Browns left fielder Jim Dyck for the last out in the second, when A's slugger Gus Zernial hit a deep line drive. Dyck made what one writer described as a "circus performance" catch, leaping against the wall to make a one-handed grab.9
In the bottom of that inning, Browns catcher Les Moss hit a one-out double down the right-field line. After first baseman Roy Sievers struck out, Moss went to third when second baseman Bobby Young reached on an error, bringing up Holloman for his first major-league plate appearance. He singled, scoring Moss and giving the Browns a 1-0 lead. They added single runs in the third, fifth, and sixth innings before closing out the scoring with two in the seventh on Holloman's second and last major-league hit, also a single.
While game accounts describe most of the plays behind Holloman as routine, there were moments that challenged the eventual gem, including a few plays one writer characterized as "perils of Pauline fielding."10 In the fifth, with one down, A's right fielder Allie Clark hit a fly to deep left that cleared the wall, but foul by a few feet. After Clark grounded to short, Zernial again threatened to end the no-hitter, sending a high bouncer back up the middle, which Holloman leaped to snag but it got caught in his glove. When he shook it out, it hit the ground and Zernial was safe, but the official scorer ruled it an error.11
Leading off in the sixth, A's catcher Joe Astroth trickled a groundball down the third-base line. Knowing he would be unable to throw Astroth out, Browns third baseman Bob Elliott hovered over it, hoping it would go foul, which it did; Astroth walked on the next pitch.12 Astroth threatened the no-hitter again in the eighth, when he hit a hard grounder far to the left of shortstop Billy Hunter, who made what one reporter hyperbolically called "a 1000-yard dash," dropped to a knee to stop the ball and threw to first, nabbing Astroth.13
As Holloman went to the mound for the ninth, he was nervous and, for luck, touched his wife's and son's initials again in the foul line.14 This time, it seemed to fail him, as he hit a streak of wildness, walking the first two, pinch-hitter Elmo Valo and shortstop Eddie Joost. When center fielder Dave Philly hit into a 4-6-3 double play, sending pinch-runner Joe DeMaestri to third, Holloman was one out away from his no-hitter, but extended things by walking third baseman Loren Babe, bringing up first baseman Eddie Robinson, who watched a strike go by and then fouled the next pitch before smashing a Holloman curve down the first-base line, only inches foul.15
Holloman and Moss figured that Robinson would be looking for a fastball and decided to come back with the curve instead. It was wise: Robinson flied out to right fielder Vic Wertz.16 Holloman was in the record books as the first pitcher in the century to throw a no-hitter in his first start; the 6-0 victory was the first win of his major-league career.
After the game, Marion seemed to revise his opinion of Holloman, saying, "Some people would call him a screwball. … But I'm mighty happy that he pestered me into giving him his chance to start. … He proved to me that he's just about as good as he thinks he is."17
As it turned out, he wasn't. In Holloman's next start, on May 12, against the Athletics in Philadelphia, he lasted 1⅓ innings, walking the first three batters and giving up two runs and three hits before departing with a blister on his pitching hand.18 Over his next four starts, he managed a total of 14⅓ innings, allowing 14 runs on 18 hits and 15 walks. From early June until late July, Holloman bounced between starting and relieving, finding one more moment of small glory, when he went eight innings against the Boston Red Sox on June 21, surrendering just two hits and no runs, earning what was his last major-league victory, 2-0, when Satchel Paige came on to save it.
On July 23, with his record at 3-7 with a 5.23 ERA, Holloman was sold to Toronto of the International League. Characteristically, he at first refused to report, saying he would devote himself to a Nashville trucking company he co-owned, However, he relented and reported to Toronto.19 A bit more than a year later, after playing for five minor-league teams in the 1954 season, Holloman was out of baseball. By then the Browns were gone, too — moved to Baltimore, where they became the Orioles.
This article was published in SABR's "No-Hitters" (2017), edited by Bill Nowlin. To read more Games Project stories from this book, click here.
Sources
https://www.baseball-reference.com/boxes/SLA/SLA195305060.shtml
http://www.retrosheet.org/boxesetc/1953/B05060SLA1953.htm
Notes
1 "Veeck Limits Holloman Pitching in Puerto Rico," The Sporting News, January 14, 1953: 23.
2 Lowell Reidenbaugh, "Holloman, Facing Axe, Hurls No-Hitter," The Sporting News, May 13, 1953: 13.
3 Unless otherwise noted, all stats and game accounts come from Retrosheet or Baseball Reference.
4 Reidenbaugh.
5 Louis Effrat, "Rain Washes Out 'Bout' at St. Louis," New York Times, April 29, 1953: 45.
6 Stan Opdyke, "Morrie Martin," https://sabr.org/bioproj/person/08084fff, accessed December 23, 2015.
7 Reidenbaugh.
8 "Bobo Does Some Boasting But It's About His Hitting," St. Louis Post-Dispatch, May 7, 1953: 4B.
9 Dent McSkimming, "Holloman Hurls No Hitter in His First Start," St. Louis Post-Dispatch, May 7, 1953: 4B.
10 Jack Rice, "Holloman Throws No-Hitter," St. Louis Globe-Democrat, May 7, 1953: 2B.
11 Reidenbaugh.
12 Ibid.
13 Rice.
14 "Bobo Does Some Boasting."
15 Ibid.
16 McSkimming.
17 Ibid.
18 "Browns Trounce Athletics, 7-3," New York Times, May 13, 1953: 35.
19 "Great Bobo Gives In, Goes to Toronto – and is Routed." The Sporting News, August 5, 1953: 32.
Additional Stats
St. Louis Browns 6
Philadelphia Athletics 0
---
Busch Stadium
St. Louis, MO
Box Score + PBP:
Corrections? Additions?
If you can help us improve this game story, contact us.
Tags
http://bioproj.sabr.org/bp_ftp/images3/HollomanBobo.jpg
600
800
admin
/wp-content/uploads/2020/02/sabr_logo.png
admin
2018-10-16 15:47:21
2020-04-17 10:23:52
May 6, 1953: Bobo Holloman throws a no-hitter in his first major-league start