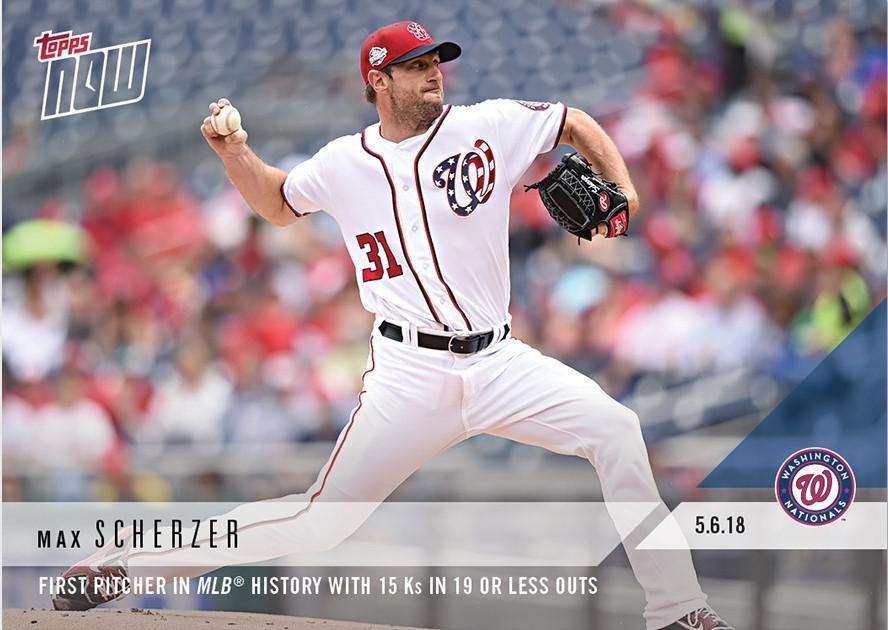 May 6, 2018: Max Scherzer sets another strikeout record as Nationals win on a walk-off
---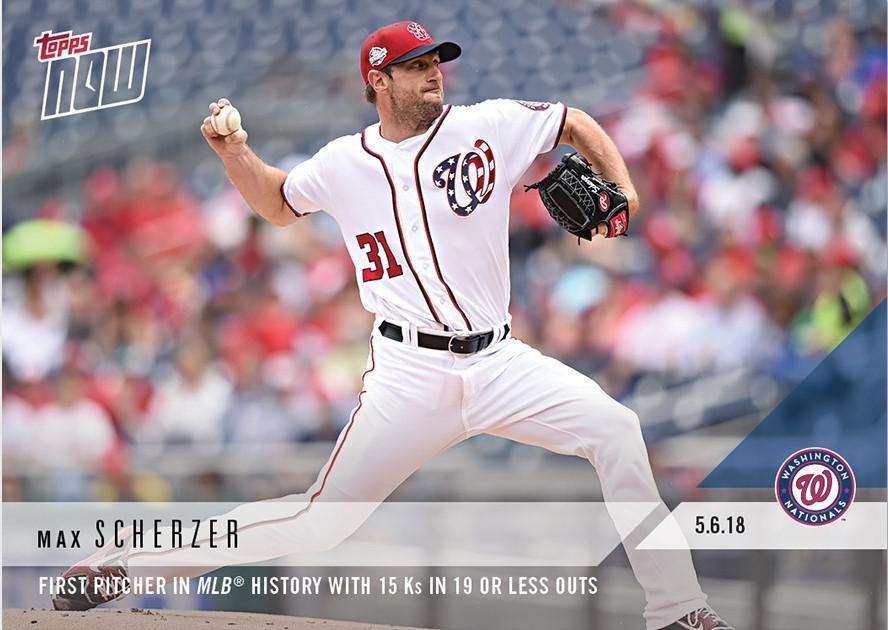 "The great [pitchers] are all competitors, they can hardly wait to get into the game. They fight you like hell when you try to take them off "— Sparky Anderson1
Max Scherzer versus Jake Arrieta. As baseball fans filed into Nationals Park, they knew that two fierce competitors would take the mound. They first pitched head-to-head five years earlier. Success, recognition and a few twists along the way followed for both pitchers.
On June 17, 2013, Arrieta's Baltimore Orioles played at Detroit's Comerica Park, facing Scherzer, who was in the midst of an outstanding season. Scherzer won the first battle, pitching six innings and striking out 10 to improve his record to 10-0. He was named an American League All-Star for the first time, finished the season at 21-3 and was recognized with his first Cy Young Award. Arrieta's outing lasted only 4⅔ innings and was his last in an Orioles uniform before he was traded to the Chicago Cubs.2 It was a trade that would dramatically change the direction of his career.
In 2015, Arrieta led the Cubs to the National League Championship Series against the New York Mets, a series they lost in four games. However, Arrieta (22-6, 1.77 ERA) won the Cy Young Award and led the National League with four complete games and three shutouts. In 2016 Arrieta won 18 games for the World Series-winning Cubs and will best be remembered for two wins in the seven-game battle against the Cleveland Indians. In that same 2016 season, Scherzer (20-7, 2.96 ERA), now in a Washington Nationals uniform, led the league with a career-high 284 strikeouts and won his first National League Cy Young Award.
Their second duel came on June 27, 2017, at Nationals Park and Scherzer won that one as well, 6-1, limiting the Cubs to two hits over six innings, on his way to another Cy Young Award. Both pitchers played important roles when their teams met in the National League Division Series but again the Nationals lost, suffering the ignominy of another failure to win an NLDS.
Arrieta signed a three-year, $75 million contract with the Phillies on March 12, 2018, well into the 2018 spring-training schedule. Speculation abounded during the offseason that the Nationals had an interest in Arrieta at the right price to meet a need for starting pitching. By the first week of March, they still hadn't completely ruled out such a signing.3 It never happened, and a third match-up was in store for this Sunday afternoon game, Scherzer (6-1, 1.79 ERA) versus Arrieta (3-1, 3.49 ERA).
For six innings the pitching duel was one of contrasting styles. Arrieta was pitching to contact, striking out only two batters, but yielding only two hits, both in the second inning. Matt Adams led off the inning with his eighth home run of the season for a 1-0 Nationals lead. Andrew Stevenson singled to center field with one out for the only other hit, but he was erased trying to steal second base.
Meanwhile, Scherzer was facing a Phillies lineup with six right-handed batters. In the first seven games of the season, Scherzer fanned 47.6 percent of the right-handed batters he faced.4 The strikeout parade was on. He struck out two batters in each of the first two innings and then proceeded to fan three batters in each of the next three innings. At one point, he fanned seven consecutive Phillies. The most serious Phillies threat came in the sixth inning. After Odubel Herrara doubled down the right-field line, Aaron Altherr was hit by a pitch with only one out. How did Scherzer get out of that jam? Carlos Santana struck out swinging and Maikel Franco hit into an inning-ending double play on Scherzer pitch number 104.
In top of the seventh inning, Phillies shortstop Pedro Florimon singled to right and stole second. With the last of his 111 pitches, Scherzer got Jorge Alfaro on a swinging strikeout. He was replaced by Sammy Solis, matched up against Nick Williams, who pinch-hit for Arrieta.
It was clear that the crowd had just seen Scherzer do something special. He became the first pitcher in major-league history to strike out 15 while recording 19 outs or fewer.5 Five times he had struck out 15 or more, most recently in May 2016 when he struck out 20 to match the major-league record.6 Arrieta on only 75 pitches was equally as effective in a different way in his six innings of work. Unfortunately for him, he trailed 1-0 and at this stage of the game, the Phillies needed to try to take advantage of a runner in scoring position.
With both starting pitchers done for the day, a different game was about to begin. Williams singled to center to tie the game at 1-1 and Solis was replaced by Brandon Kintzler. Kintzler got the second out, striking out Cesar Hernandez, before Rhys Hoskins doubled and Odubel Herrera singled for a 3-1 Phillies lead. Three Phillies pitchers, Edubray Ramos, Adam Morgan, and Luis Garcia, kept the Nationals off the board in the seventh inning. The Phillies added to their lead at 4-1 in the eighth when Maikel Franco hit a solo home run off reliever Carlos Torres.
Garcia returned to the mound and struck out Michael A. Taylor to start the eighth inning. However, after he walked pinch-hitter Moises Sierra, Garcia was replaced by Tommy Hunter, who promptly walked Wilmer Difo. Hunter struck out Bryce Harper for the second out, but consecutive singles by Trea Turner and Anthony Rendon cut the Phillies lead to 4-3 going to the ninth.
Sean Doolittle held the Phillies in check, so it was up to Hector Neris in a save situation for the Phillies. Neris had been the save leader for the Phillies in 2017 with 26. Thus far in 2018 he was pitching to a 1-1, 2.77 ERA record with six saves in seven opportunities, including the previous night's 3-1 Phillies victory. His errant arm led to his own undoing. Matt Wieters opened with a single and was replaced by pinch-runner Rafael Bautista. Neris threw wildly to try to pick off Bautista, who ended up at third base. Howie Kendrick was hit by a pitch, Taylor walked and suddenly the bases were loaded with the winning run in scoring position. Pedro Severino pinch-hit for Doolittle and was walked to tie the score at 4-4.
That brought Wilmer Difo to the plate. Phillies manager Gabe Kapler shifted his defense to use an outfielder as a fifth infielder, moving the two remaining outfielders to left-center and right-center. On a 1-and-0 count, Difo lined a single directly to center field, preserving a nine-game hitting streak and giving the Nationals their first walk-off victory of the season, 5-4. The celebration began.
As the season progressed, the strikeouts kept coming at a rapid pace for Scherzer and so did the records. Two weeks later, he struck out 13 Dodgers and became the quickest pitcher in the modern era to reach 100 strikeouts in a season. It took him 63 innings to accomplish the feat. Kerry Wood achieved that mark in 2001 in 65⅔ innings.7 In a late September game against the New York Mets, Scherzer struck out 13 to reach 290 and break his own Nationals record (284, set in 2016). Five days later, he struck out 10 Miami Marlins at Nationals Park to become only the 17th pitcher since 1900 to reach 300 strikeouts in a single season.
As the season was closing, MLB.com reporter Richard Justice opened his story, "We went in search of magic. That is, players rising up and doing something they may remember forever. Every team, all 30 of them, has moments like this."8 For the Nationals, Justice's moment belonged to Max Scherzer on this Sunday afternoon in May.
Author's note
From a seat in Section 208, the author watched the parade of strikeouts and kept thinking about Max Scherzer's performance two years earlier to match the major-league record of 20 strikeouts in a nine-inning game. Was there a chance that he could duplicate that feat on this day? It was unlikely. The keys to achieving that record are great control and low pitch count. Remarkably, not a single walk was yielded by any of the 20-strikeout pitchers.9 As Scherzer walked off the mound after the fifth inning, he had already thrown 93 pitches and pitched on three-ball counts to five batters. He struck out two of those batters, but yielded a single and two walks to the other three. In his 20-strikeout performance in 2016, Scherzer pitched only twice with a three-ball count, retiring one batter on a fly ball and one on a strikeout.
Sources
The author accessed Baseball-Reference.com for box scores/play-by-play information (baseball-reference.com/boxes/WAS/WAS201805060.shtml) and other data, as well as Retrosheet.org (retrosheet.org/boxesetc/2018/B05060WAS2018.htm). The baseball cards were purchased by the author from the Topps Company.
Notes
1 Louis D. Rubin Jr., The Quotable Baseball Fanatic (Guilford, Connecticut: Lyons Press, 2000), 65.
2 On July 2, 2013, the Baltimore Orioles traded Arrieta and pitcher Pedro Strop to the Chicago Cubs for catcher-first baseman Steve Clevenger and pitcher Scott Feldman.
3 Jorge Castillo, "Are the Nationals Waiting for Jake Arrieta's Contract Demands to Fall Before Making a Move?" Washington Post, March 2, 2018.
4 Jorge Castillo, "Scherzer Gets Historic, and Rally Nets Wild Win," Washington Post, May 7, 2018: D5.
5 Ibid.
6 Steven C. Weiner, "May 11, 2016: Nationals' Max Scherzer ties MLB record with 20 strikeouts," SABR Baseball Games Project.
7 Michael Bradburn, "Scherzer Strikes Out 13, Sets Record as Fastest to 100 Ks in Season," MSN.com, May 20, 2018, accessed August 21, 2018, msn.com/en-us/sports/mlb/scherzer-strikes-out-13-sets-record-as-fastest-to-100-ks-in-season/ar-AAxxc3f.
8 Richard Justice, "30 Best Games of '18 — 1 Player From Each Team," MLB.com, September 22, 2018, accessed September 24, 2018, mlb.com/nationals/news/each-mlb-teams-best-performance-of-2018/c-295511564.
9 Weiner.
Additional Stats
Washington Nationals 5
Philadelphia Phillies 4
---
Nationals Park
Washington, DC
Box Score + PBP:
Corrections? Additions?
If you can help us improve this game story, contact us.
Tags
https://sabr.org/sites/default/files/ScherzerMax-2018.jpg
600
800
admin
/wp-content/uploads/2020/02/sabr_logo.png
admin
2018-12-18 17:28:57
2020-04-17 10:23:43
May 6, 2018: Max Scherzer sets another strikeout record as Nationals win on a walk-off