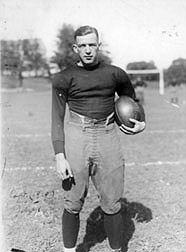 May 9, 1921: Collegians versus the Pros: BC's Jimmy Fitzpatrick stymies Boston Braves
---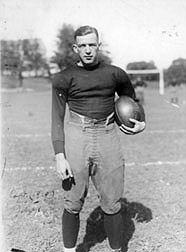 Jimmy "Fitz" Fitzpatrick was already known as one of the best athletes in the history of Boston College when he stepped onto the mound at Braves Field on May 9, 1921. His coach, Frank Cavanaugh, called Fitz "the greatest athlete Boston College has ever had," and added, "I doubt that any has ever done more for his college in athletics than Fitzy has done for Boston College."1 The Braves were playing the Boston College Eagles to benefit the $2 million BC Building Fund.2 While this exhibition game has been long forgotten, if you are traveling on Interstate 295 in Portland, Maine, you will pass Fitzpatrick Stadium, named in honor of the legendary football coach. Fitzpatrick's 45-year career at Portland High School as teacher, coach, and athletic director would begin later in 1921. On this day, the young left-hander showed the Boston Braves, "the old story of 'What a wonder that Fitz is!'" in the words of Burt Whitman of the Boston Herald.3
Fitzpatrick held the Braves to one hit through six innings, a feat made even more amazing by the fact that he was pitching on a Monday after a nine-inning start on Saturday against Fordham. Yet the Braves were "utterly helpless before the crafty fork slants of Boston College's sterling athlete," wrote the Boston College weekly paper, The Heights.4 That one hit was controversial: Billy Southworth hit a ball to deep shortstop that Ted Palmer played slowly, then made a wide throw. Nevertheless, it was scored a base hit.
In the seventh inning, however, the Braves scored all four of their runs. Al Nixon doubled to left field and scored on a single by Tony Boeckel, who made it to second base on a bobble in the outfield. Fitzpatrick quickly fielded a Walter Holke bunt, but his throw was wild, and the runners were safe. Hod Ford singled to left field, scoring Boeckel, and then both Ford and Holke scored on a double by Frank Gibson. Edward Mullowney pitched the ninth inning for the Eagles, retiring the Braves in order, with one strikeout.
Johnny Cooney started for the Braves and allowed two hits over five innings. Cy Morgan pitched the final four innings, allowing only one hit.
Fitzpatrick, a native of Meriden, Connecticut, was a remarkable athlete who lettered in four varsity sports at Boston College: baseball, football, basketball, and hockey. He played center and guard for the basketball team, and goalie for the hockey team. Fitzpatrick had a punting average of 65 yards per kick, and in his sophomore year he faced the legendary Jim Thorpe in a punting competition in Canton, Ohio. "I don't really remember if he beat me or I beat him. I know we got off some pretty good shots," Fitzpatrick recalled.5 Fitzpatrick's football career ended when he broke a shoulder in 1920.
After graduation from BC in 1921, Fitzpatrick joined the faculty at Portland High School, where he remained until he retired in 1966. He stayed active as a player in semipro baseball, and once faced Babe Ruth at Bayside Park in Portland. Ruth had come to Portland to do batting exhibitions. "I pitched the whole game," Fitzpatrick recalled. "Ruth popped twice to the infield and the other two times, I struck him out, and when Babe didn't speak to me after the game I knew he was mad and I was some shook up."6
Fitzpatrick coached the Portland High School football, baseball, basketball, and golf teams. In 1947 he became the athletic director, a post he held until he retired. He was inducted into the Boston College Hall of Fame in 1970. The Fitzpatrick Trophy, nicknamed the "Fitzy," recognizes the best high-school football players in Maine each year.7
"In the early years of the fast-moving 20th century, Jimmy Fitzpatrick put Boston College athletics on the map. His football exploits made headlines in the Boston papers. He was the Doug Flutie of his era," wrote Tom Chard of the Portland Press Herald.8
Boston College third baseman Luke Urban, from Fall River, Massachusetts, made some sparkling defensive plays in this game. Urban played 50 games for the Braves in 1927-1928. He compiled a .273 batting average in 128 at-bats. Frank "Squash" Wilson, from Malden, Massachusetts, was the Eagles' right fielder that day. Wilson played for the Braves from 1924 to 1926 and for the St. Louis Browns and Cleveland Indians in 1928. He batted .246 in 168 major-league games.
No specific information was found on how much money was raised for the fund. However, rain before the game began kept the crowd sparse. James C. O'Leary of the Boston Daily Globe reported an attendance of only 70 spectators.9
This article appeared in "Braves Field: Memorable Moments at Boston's Lost Diamond" (SABR, 2015), edited by Bill Nowlin and Bob Brady. To read more articles from this book, click here.
Sources
In addition to the sources cited in the text, the author was assisted by the following sources:
Barker, Matthew Jude, "Fitzpatrick Stadium," Maine Irish Heritage Trail. maineirishheritagetrail.org/fitzpatrickstadium_053.shtml. Accessed November 16, 2014.
"Doug Flutie," Boston College Eagles. bceagles.com/genrel/flutie_doug00.html. Accessed November 26, 2014.
Gilley, Chad (2005), "Fitzy," Gilley Media, gilleymedia.com/05/fitzpatrick/default.asp. Accessed November 16, 2014.
"Jim Fitzpatrick," Boston College Varsity Club Hall of Fame: bceagles.com/genrel/fitzpatrick_jim00.html. Accessed November 16, 2014.
Pro-football-reference.com
Sports-reference.com/cfb
Notes
Additional Stats
Boston Braves 4
Boston College 0
---
Braves Field
Boston, MA
Corrections? Additions?
If you can help us improve this game story, contact us.
Tags
https://sabr.org/sites/default/files/FitzpatrickJimmy.jpg
600
800
admin
/wp-content/uploads/2020/02/sabr_logo.png
admin
2017-04-14 00:06:50
2022-08-24 21:46:42
May 9, 1921: Collegians versus the Pros: BC's Jimmy Fitzpatrick stymies Boston Braves