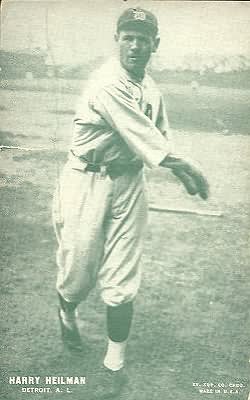 October 2, 1927: Heilmann takes batting title on season-ending spree
---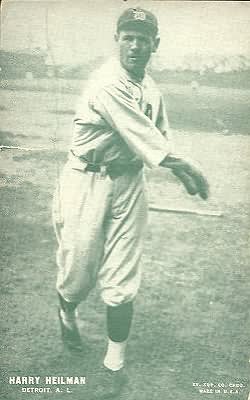 Harry Heilmann entered the final day of the 1927 regular season in a tight race for the AL batting championship. He had been in a similar situation just two years earlier.
In 1925 Heilmann surpassed veteran Cleveland Indians center fielder Tris Speaker with six hits in a season-ending doubleheader at Sportsman's Park in St. Louis to jump his average from .388 to .393. Speaker, who did not play the final day, finished second to Heilmann at .389.
On October 2, 1927, it was Al Simmons of the Philadelphia Athletics who was in the batting race with Tigers right fielder Heilmann, and the season-ending doubleheader was played against the Indians at Navin Field in Detroit. The Tigers were playing a doubleheader because the game the previous day had been rained out. Meanwhile, Simmons was closing out his season with a game against the Senators in Washington.
Simmons, in his fourth major-league season, had led the league in hitting for most of the year, but he missed six weeks from late July until early September with a groin tear. He was hitting .393 when he sustained the groin injury sliding into second base on July 24, and Heilmann was at .364 that day.
Heilmann, a 33-year-old right-handed hitter in his 13th big-league season, was known as "Slug." Heilmann was a notoriously slow runner, which made his batting averages all the more impressive, and that triggered the nickname.
Slug worked his way into the batting race with a torrid August while Simmons was out with the injury. Heilmann hit an eye-popping .505 (49-for-97) and had 19 walks and just one strikeout as he posted an unbelievable slugging percentage of .814 and an off-the-charts OPS of 1.401 in August. (The OPS figure is retrospective; OPS, the sum of a player's on-base percentage and slugging average, was not compiled at that time.)
Heilmann caught and passed Simmons on Sept. 17, but his lead lasted for just three days as Simmons regained the lead. Heilmann grabbed the lead again for three days in the final week, but Simmons took charge with five hits in a doubleheader the day before the season finales to boost his average to .392. Heilmann was a shade back at .391 going into the final day.
Simmons stayed at .392 on the final day by going 2-for-5 against the Senators. Meanwhile, Heilmann went 4-for-5 with six RBIs off Indians right-hander George Grant in the first game of the doubleheader. Grant, 24, had been used exclusively in relief for three months and had not started a game since July 1, when he lasted 2⅓ innings against the Tigers in a 10-5 Detroit victory.
Heilmann touched Grant quickly with an RBI double in the first inning and a three-run double in the third. He grounded out to third in the fifth, reached base on a bunt single in the sixth, and belted a two-run homer in the eighth to cap the Tigers' 11-5 victory.
The six RBIs established a career high for Heilmann. It also was the 53rd time he collected at least four hits in a game, and it was the eighth time he accomplished it in 1927. At the end of the first game, Heilmann's average, at .395,had surpassed Simmons's .392, making it possible for Harry to sit out the second game of the doubleheader and win the batting title.
Heilmann decided to play, and the Detroit fans loved the decision.
"Every man, woman, and child in the park cheered him as he went out to right field at the start of the game," Frederick G. Lieb wrote two decades later.1
The Indians had 29-year-old left-hander Garland Buckeye on the mound for the second game. Buckeye – there could be no better name for a player on a team in Ohio – had made five starts against the Tigers in 1927 before the season finale. He was 2-3 with a 4.25 ERA against Detroit, including a tough 1-0 loss to Rip Collins on May 31.
Heilmannhad enjoyed some success against Buckeye in 1927, and he came into the game hitting .432 (63-for-146) against left-handers in 1927. In five previous games against Buckeye in 1927, Heilmann had hit .375 (6-for-16), including a three-run homer in their most recent meeting, on July 3.
Buckeye, like George Grant in game one, was no match for Heilmann on this Sunday afternoon in Detroit.
Heilmann walked in the first, singled to left in the third, smacked a two-run homer in the fifth, and ripped an RBI double in the seventh. Still, the Indians held a 4-3 lead going into the bottom of the ninth inning.
The Tigers quickly tied it when second baseman Charlie Gehringer reached on an error by shortstop Joe Sewell and scored when Buckeye messed up a sacrifice bunt by Art Ruble. That brought Slug to the plate with the game on the line.
The stage was set for a final heroic act by Heilmann, who was a triple away from the cycle. Ruble was on first base as the potential winning run, and a home run would put an exclamation point on Heilmann's great final day of the season.
It was one of just two times in 10 plate appearances that day that Heilmann failed to come through.
Perhaps trying to hit the game-winning homer, Heilmann swung mightily at a pitch and lined a grounder back to Buckeye, who started a 1-4-3 double play. Meanwhile, Heilmann had fallen to his knees in pain; he had hurt himself while swinging. At first it was feared that he had broken his leg, but he managed to limp back to the dugout with assistance, and an examination after the game showed that the injury was not serious.
But the game wasn't over. It was still tied with two out and nobody on base. Now the Tigers had some magic of their own left. Bob Fothergill and third baseman Jack Warner hit consecutive doubles with Warner's hit giving Detroit a 5-4 victory.
The Tigers had used pitchers recently out of college to start both ends of the doubleheader. Josh Billings, 19, in his first pro season out of Brown University, had been called up in August, and he pitched a complete game in the opener of the doubleheader to bump his record to 5-4.
Left-hander Rufus Smith, 22, from Guilford College in Greensboro, North Carolina, made his major-league debut in the second game and hurled eight innings. He left the game after Al Wingo pinch-hit for him in the bottom of the eighth inning. Ownie Carroll, a 24-year-old right-hander in just his second major-league season out of Holy Cross, pitched a scoreless ninth inning for the Tigers and picked up the win to improve to 10-6.
The sweep, however, was secondary to the fans. It clearly was Heilmann's day.
"The crowd realized that victory or defeat meant nothing to the final standing and concentrated their cheering on behalf of Heilmann," The Sporting News wrote. "Whenever he came to the plate he was applauded, and when he responded with a base hit the applause became more general. Once the crowd rose to boo Garland Buckeye because they thought he was going to pass Heilmann purposely and then deprive him of the opportunity for a base hit."2
Heilmann had an amazing seven hits in the doubleheader and reached base eight times in 10 plate appearances as he won his fourth AL batting championship – and led both leagues – with a .398 average. One more hit during the season would have raised his average to.400 for the second time in his career. (Heilmann had hit .403 in 1923.)
Heilmann's batting title was the 16th in 21 years won by a member of the Tigers. Ty Cobb led the way with 11, while Heilmann had four and Heinie Manush one. Heilmann became the first right-handed hitter to win four batting championships, breaking a tie with Nap Lajoie.
Each of Heilmann's four batting titles came in successive odd-numbered years (1921, 1923, 1925, and 1927).
"(Tigers owner) Mr. (Frank) Navin gives me contracts on a two-year basis," Heilmann told a reporter who pointed out his habit of winning batting titles every other year. "I always bear down real hard when a new contract is coming up."3
It was fitting that Heilmann enjoyed his big day during a doubleheader sweep at Michigan and Trumbull. He hit .471 in games won by the Tigers and .434 at Navin Field in 1927.
This article appeared in "Tigers By The Tale: Great Games at Michigan and Trumbull" (SABR, 2016), edited by Scott Ferkovich. To read more articles from this book, click here.
Sources
In addition to the sources cited in the Notes, Retrosheet.org and Baseball-Reference.com were also accessed.
http://www.baseball-reference.com/boxes/DET/DET192710022.shtml
http://www.retrosheet.org/boxesetc/1927/B10022DET1927.htm
Alexander, Charles C., Ty Cobb (New York: Oxford University Press, 1984).
Lieb, Frederick G., Detroit Tigers (New York: G.P. Putnam's Sons, 1946).
Skipper, James K., Jr.,Baseball Nicknames: A Dictionary of Origins and Meanings (Jefferson, North Carolina: McFarland & Company, 2011).
Detroit Times
Notes
1 Frederick G. Lieb, Detroit Tigers (New York: G.P. Putnam's Sons, 1946), 186.
2 "Heilmann Upholds Detroit Tradition," The Sporting News, October 13, 1927, 7.
3 "HeilmannIs Dead; Baseball Star, 56," New York Times, July 10, 1951.
Additional Stats
Detroit Tigers 5
Cleveland Indians 4
Game 2, DH
---
Navin Field
Detroit, MI
Box Score + PBP:
Corrections? Additions?
If you can help us improve this game story, contact us.
Tags
http://bioproj.sabr.org/bp_ftp/images3/HeilmanHarry.jpg
600
800
admin
/wp-content/uploads/2020/02/sabr_logo.png
admin
2017-12-18 15:00:00
2020-04-17 10:24:58
October 2, 1927: Heilmann takes batting title on season-ending spree