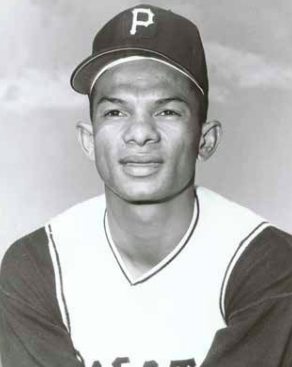 October 2, 1966: Pirates' Matty Alou claims the 1966 NL batting title
---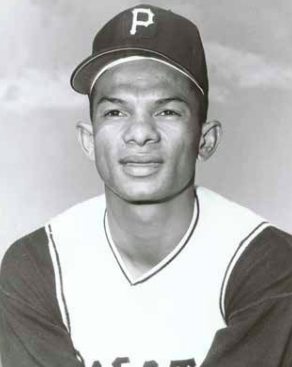 After the 1965 season Bill Virdon retired from the Pirates. Virdon was a solid contributor with a career batting average of .267 and nearly 1,600 safeties, as well as an excellent center fielder. In order to plug this chasm, manager Harry "The Hat" Walker and general manager Joe L. Brown traded pitcher Ozzie Virgil to the San Francisco Giants for outfielder and Dominican Republic native Matty Alou. The plan was to platoon the right-handed-hitting Manny Mota, who had split time in center during 1965 and hit .279, with his left-handed-hitting countryman. There was concern, however, since Alou hit a measly .231 in 1965 with San Francisco. Still, Walker saw potential, arguing, "[W]e feel we found a replacement who can run faster … (and) is capable of hitting .300. All he needs is a change of environment."1 In 1966, Walker would prove quite a prophet: While "The Hat" has been criticized for his dealings with Latino ball players,2 he connected with both Mota and Alou in terms of hitting. Three years later, Mota recalled that Walker convinced both players they should "hit the ball down and to all fields. He taught this old dog new tricks."3 Alou noted in his first spring training under Walker that "I never hit to left field before in my life, but now I like it."4 To the Pirates' benefit, Mota finished with a .332 batting average in 359 plate appearances while Alou claimed the National League crown with a .342 batting average.
One of the techniques Walker emphasized was to make better use of the bunt in order to take advantage of Alou's speed. By the middle of May, sportswriter Les Biederman put the National League on notice that the Buccos were making effective use of this weapon in their arsenal. "They're bringing the bunt back into the game and it's surprising what a few good bunts do to a player's morale and his batting average."5 By the end of the first six weeks of the campaign, Alou was hitting .329 and Mota was even more impressive at .370.6 By early July, the top four spots in the National League batting race were occupied by Pirates; in addition to Alou and Mota, Roberto Clemente and Willie Stargell were among the league leaders.7
The results Alou generated were quite surprising to many who followed the game and team. How did this come about? It can be credited to both the player's talent as well as Walker's coaching. "You're trying to pull everything to right field to take advantage of the wind that blows in San Francisco. Well, you won't find any of that wind at Forbes Field and you won't find it in other parks in the National League."8 The bunting and infield-hit trend continued to bolster Alou's average toward the end of the season as, by mid-September (through 135 games), he had amassed 20 safe bunts and 29 infield hits and had maintained an average around the .340 mark since the middle of July.9
One would think that this average would have allowed Alou to cruise toward a batting title, but he had some significant competition – from his brother Felipe, then playing with the Atlanta Braves. Since the All-Star break, Felipe Alou increased his average from .299 to as high as .331. While he did not catch his sibling, the eldest brother of the Alou trio finished second in the race with a .327 clip. Even more significantly, Felipe understood what this would mean to Latino ballplayers in general, as well as to fans of this background back in their native lands, as well as in the United States. "I love my country. That's the reason I would like for Matty or myself to win the batting championship. First, it would be good for the Alou family, and next it would be good for the Dominican Republic."10 The final aspect of this familial, batting, and Latino drama culminated on October 2, 1966, at Forbes Field.
The Pirates finished with a respectable 92-70 mark, but wound up in third place, 3 games behind the pennant-winning Dodgers. Thus, when San Francisco, at the time occupying third place, came to town for the final three contests of the campaign, one of the few key questions still to be determined was whether Matty would manage to hold off Felipe. Things did not go well for the Pirates (they lost all three games), or for Matty to start. In a Saturday twin bill, Alou achieved but one hit in nine trips, appropriately enough, a bunt single in the fifth inning of the first game off Juan Marichal to spark a three-run rally.11 As a result, his average dropped to .338. Although still ahead in the batting race by 11 points, there remained one contest for Matty to seal his status. That came on Sunday, October 2. The Pirates lost, 7-3 in extra innings, but Alou claimed his title with an impressive performance.
The contest featured a matchup between Gaylord Perry for San Francisco and Pittsburgh's Bob Veale and was witnessed by 33,827 fans. Both men had winning records that season, though the right-handed Perry was the more impressive, finishing with a 21-8 mark and an ERA of 2.99. Veale finished 16-12 with an ERA of 3.02. After Veale retired the visitors in order in the top of the first, Alou led off the Pirates' half of the frame with a single. He advanced to second on a groundout by Gene Alley, but was stranded at third after Mota grounded out and Clemente was called out on strikes. The Pirates scored first in the bottom of the second, as Donn Clendenon tripled to lead off and came home on a groundout by Bob Bailey after Bill Mazeroski struck out. In the top of the third, Jesus Alou singled with two outs and the Giants took the lead on Willie Mays's two-run home run over the scoreboard.
Alou took his second turn at bat in the bottom of the third and singled to left. He moved to third on Alley's infield single and an error by third baseman Jim Ray Hart. He then scored on an infield single by Mota and Alley advanced to third on another error by Hart. Alley scored as Clendenon hit into a double play. The inning ended on a fly out by Mazeroski After three innings, the score stood at 3-2 in the Pirates' favor. Alou singled again in the fifth. He faced Perry a final time in the seventh, and grounded out to first. There was no further scoring through the end of the eighth inning.
The Giants pushed across the tying tally in the ninth off Veale as Hart walked, was sacrificed to second by Jack Hiatt, and came home on a two-out pinch-hit single by Ozzie Virgil (after Ollie Brown had grounded out to short). Jim Davenport forced Virgil at second for the final out. In the bottom of the frame, the Pirates threatened when, with two outs, Alou bunted for a single and moved to third on a single by Alley. Mota walked to load the bases, but Clemente grounded out. There was no scoring in the 10th, although Alou came up for the final time and grounded out with the bases loaded, finishing the day 4-for-6. The Giants plated four runs in the top of the 11th to seal the victory.
Matty Alou went on to play parts of 10 more campaigns in the majors, including four more (1967-1970) with the Pirates, and then moved on to play in Japan for two-plus years. He finished his career with 1,777 hits and a .307 batting average. He came close to defending his title in 1967, averaging .338 and finishing behind Tony Gonzalez of the Philadelphia Phillies (.339) and teammate Clemente (.357).12 Alou's '66 batting title marked the third consecutive year that a Pirate had won this award, Clemente having won in 1964 and 1965.
This article appears in "Moments of Joy and Heartbreak: 66 Significant Episodes in the History of the Pittsburgh Pirates" (SABR, 2018), edited by Jorge Iber and Bill Nowlin. To read more stories from this book at the SABR Games Project, click here.
Notes
1 Jack Hernon, "Roaming Around," Pittsburgh Post-Gazette, February 16, 1966: 23.
2 John H. Ingham, "Managing Integration: Clemente, Wills, 'Harry the Hat' and the Pittsburgh Pirates' 1967 Season of Discontent," Nine: A Journal of Baseball History and Culture, Fall 2012: 69-102.
3 James Collins, "Mota Was More Than a 'Throw-In.'" Baseball Digest, November 1959: 58.
4 Les Biederman, "A Tip by The Hat, Presto! Matty's a Terror at Dish," The Sporting News, March 26, 1966: 21.
5 Les Biederman, "Alert Buccos Reap Harvest Using Bunt as Deadly Weapon," The Sporting News, May 14, 1966: 7.
6 Les Biederman, "If You Could Buy Stock in Matty and Manny, Price Would Soar," The Sporting News, June 4, 1966: 15. See also retrosheet.org/boxesetc/1966/Imotam1010051966.htm, and https://retrosheet.org/boxesetc/1966/Ialoum1010071966.htm.
7 Les Biederman, "Blue Flame Trails Each Veale Pitch," The Sporting News, July 9, 1966: 11.
8 Les Biederman, "Swat Master Matty Learns Fast: Bunt, Speed Fatten Mark," The Sporting News, July 16, 1966: 8.
9 Les Biederman, "Bucs' Matty Lifts Mark 100 Points," The Sporting News, September 24, 1966: 3 and 6. See the dates noted at: retrosheet.org/boxesetc/1966/Ialoum1010071966.htm.
10 Wayne Minshew, "Brother vs. Brother in N.L. Bat Drama: Faith Helps Felipe Alou, Tepee Star," The Sporting News, September 24, 1966: 3, 6.
11 retrosheet.org/boxesetc/1966/B10011PIT1966.htm.
12 Mark Armour, "Matty Alou." sabr.org/bioproj/person/3d8b257b.
Additional Stats
San Francisco Giants 7
Pittsburgh Pirates 3
---
Forbes Field
Pittsburgh, PA
Box Score + PBP:
Corrections? Additions?
If you can help us improve this game story, contact us.
Tags
https://sabr.org/sites/default/files/Matty%20Alou.png
600
800
admin
/wp-content/uploads/2020/02/sabr_logo.png
admin
2019-01-30 10:58:02
2020-04-17 10:23:40
October 2, 1966: Pirates' Matty Alou claims the 1966 NL batting title