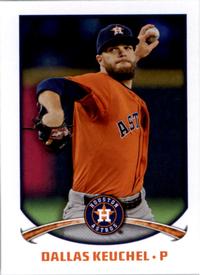 October 2, 2015: Astros set team record, score 21 runs to rout Diamondbacks
---
"It's nice just because I'm helping the team out more than I did in 2012 and 2013. It's not a good feeling to get your butt whupped. I vowed to myself I was going to get better." — Dallas Keuchel1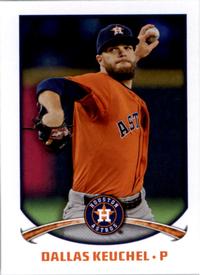 Dallas Keuchel more than helped the Astros in 2015. The eventual American League Cy Young Award winner led Houston to its first winning season in seven years. The Astros had been so bad for so many years, including three consecutive 100-plus-loss seasons (2011-2013).
Keuchel's emergence as an ace coincided with the Astros' ascension from perennial losers to World Series contenders. Just two years earlier, in 2013, Houston lost 111 games and Keuchel posted a 6-10 record with a 5.15 ERA. On this Friday night of the regular season's last weekend, Keuchel was searching for his 20th win, and the Astros' magic number to clinch a playoff berth was down to three games.
The years of losing paid great dividends for the Astros as they were able to develop a roster of exciting young players like future MVP Jose Altuve at second base, future All-Star right fielder George Springer, and rookie sensation Carlos Correa at shortstop.
The Diamondbacks were looking to play spoiler as they were never a serious contender for a 2015 National League playoff berth. The Diamondbacks were a mediocre team at best; however they featured an MVP candidate in Paul Goldschmidt at first base and All-Star center fielder A.J. Pollock.
The game got off to an inauspicious start as Diamondbacks starter Rubby De La Rosa got Altuve looking at a 1-and-2 pitch for the first out of the game. The floodgates opened after that as Springer reached first on an error by third baseman Aaron Hill and Correa followed with a line-drive single to right. With runners on first and second, Colby Rasmus's single plated Springer for the first run of the game (unearned). De La Rosa walked Luis Valbuena to load the bases with one out. Slugging first baseman Chris Carter followed with a groundball through the third-base/shortstop hole, scoring Correa and Rasmus and giving the Astros a 3-0 lead. After getting Preston Tucker to ground out for the second out, De La Rosa intentionally walked Jason Castro to face Keuchel, who struck out with the bases loaded.
While Keuchel's "stuff" wasn't overpowering, he was very tough to hit. The scouting report on Keuchel was that he "blends an 89 mph fastball with an 87 mph cutter and a slider that sliced in at 80. His AL-leading numbers: 232 innings, a .573 OPS, 1.02 WHIP and 7.1 WAR. He's also second in BAA (.217) and ERA, while becoming the first Astro since Roy Oswalt in 2005 to reach 20 victories, which also tops the league."2
After surrendering a leadoff single to Pollock, Keuchel shut down the next three Diamondbacks, including a strikeout of Goldschmidt.
The carnage continued in the top of the second inning as Springer crushed an offering by De La Rosa to deep center field, giving Houston a 4-0 lead. After striking out Correa for the second out, De La Rosa walked Rasmus and then surrendered a run-scoring double to Valbuena down the left-field line, giving the Astros a 5-0 advantage.
Houston tacked on another run in the top of the third when Tucker led off with a single after working De La Rosa for eight pitches. Castro walked on another eight-pitch at-bat, giving the Astros runners at first and second with no outs. Keuchel's sacrifice moved both runners into scoring position and Tucker scored on Altuve's sacrifice fly, extending Houston's lead to 6-0.
That was all for De La Rosa, pulled after three tough innings in which he gave up the six runs (four earned) on six hits and four walks. Since he was going to lead off the bottom of the third, De La Rosa was replaced by pinch-hitter Jamie Romak, who smacked a leadoff double to deep right field. Bad luck intervened as a line drive by Pollock was snared by Altuve, who stepped on second base for an unassisted double play. Keuchel then hit Philip Gosselin with a pitch and gave up a single to Goldschmidt to keep the Diamondbacks' inning alive. Hill then smacked a double down the left-field line, scoring Gosselin, but Goldschmidt was thrown out at home, ending the Arizona rally.
Josh Collmenter relieved De La Rosa in the top of the fourth and surrendered a leadoff home run to Correa, giving Houston a 7-1 lead.
In the bottom of the fifth, rookie Peter O'Brien, pinch-hitting for Collmenter, rocketed a Keuchel offering to deep left-center field for his first major-league home run, cutting the Astros lead to 7-2.
Allen Webster retired the first two Houston batters he faced in the sixth, then walked Correa and surrendered back-to-back home runs by Rasmus and Valbuena, putting the Astros ahead 10-2.
In the top of the seventh, the Astros really punished the Diamondbacks. Matt Stites replaced Webster and was immediately snake-bitten when second baseman Gosselin's throwing error allowed leadoff hitter Tucker to reach first base. Jake Marisnick ran for Tucker and remained in the game at left field. Castro singled, and Jon Singleton, pinch-hitting for Keuchel, worked an eight-pitch walk to load the bases. Altuve's sacrifice fly scored Tucker, giving the Astros an 11-2 lead. Springer's single loaded the bases again and set the stage for Correa's bases-clearing triple, boosting the Houston lead to 14-2. After Rasmus walked, Valbuena ripped a double that scored Correa and sent Rasmus to third. Stites was replaced by Enrique Burgos who unleashed a wild pitch with Carter at bat, plating Rasmus. After striking out Carter, Burgos gave up a single to Marisnick that scored Valbuena. It was now 17-2, Astros.
A.J. Schugel pitched the top of the eighth for the Diamondbacks and didn't fare much better than his predecessors. After a leadoff walk to Singleton, Altuve ripped a double to right. Schugel fielded Springer's grounder but threw wide of first, allowing Singleton to score from third. Jonathan Villar's double scored Marwin Gonzalez (pinch-running for Altuve) for the Astros' 19th run of the game. Runs 20 and 21 came on a single by Matt Duffy that scored Springer and Villar.
Arizona scored a run in the eighth and two in the bottom of the ninth, sealing a 21-5 Astros victory. It was both the most runs scored by the Astros in their history, and the most runs ever surrendered by the Diamondbacks. "They definitely swung the bats well," Arizona manager Chip Hale said. "And we didn't pitch well tonight. That's the way the game is. If you don't locate pitches on their hitters, they're going to hurt you, and they did."3 Arizona pitchers surrendered 19 hits, including four home runs, while the defense committed four errors.
As for the Astros historic offensive output, Houston Chronicle columnist Brian T. Smith tweeted, "The Texans haven't scored 21 points this season,"4 a reference to Houston's NFL team. Rookie phenom Carlos Correa led the Houston attack, going 3-for-4, with four runs and four RBI, and falling a double short of a cycle. Valbuena, Springer and Rasmus also combined to score 10 more runs. Keuchel's league-leading 27th quality start was not lost on Astros manager A.J. Hinch, who commented, "This guy has been as consistent as anybody which is why arguably he's the best pitcher in the American League, with no disrespect to (David) Price and some of the other starters. I'm prejudiced for our guy because I've seen it. He's been the [AL] pitcher of the month for four of the five months. He started the All-Star Game. He's pitching for the pennant race for one team."5 The Astros clinched a wild-card berth two days later when their in-state rival Texas Rangers beat the Angels.
Author's note
On September 8, 2019, just a few days before this article was published, the Houston Astros blew out the Seattle Mariners, 21-1. This became the biggest blowout win in Astros history.
Sources
In addition to the sources cited in the Notes, the author also consulted Baseball-Reference.com, Retrosheet.org, the YouTube broadcast of the game at youtube.com/watch?v=K9gklPJtwR4, and the following:
https://www.baseball-reference.com/boxes/ARI/ARI201510020.shtml
http://www.retrosheet.org/boxesetc/2015/B10020ARI2015.htm
twitter.com/ChronBrianSmith/status/650170931176849408
bleacherreport.com/articles/2575073-astros-score-21-runs-vs-diamondbacks-stats-highlights-and-reaction
backtobaseball.com/playballregularseason.php?page=86&IDindex=ARI201510020&date=October+2%2C+2015
Notes
1 Brian T. Smith, "As Longtime Fans Can Attest, Keuchel Something to See," Houston Chronicle, October 3, 2015.
2 Ibid.
3 Nick Piecoro, "Astros Score Record 21 Runs in Rout of Diamondbacks," Arizona Republic (Phoenis), October 3, 2015.
4 Smith.
5 Bob Nightengale, "Dallas Keuchel Leads Astros in Rout of Diamondbacks, Close in on Playoffs," USA Today, October 3, 2015.
Additional Stats
Houston Astros 21
Arizona Diamondbacks 5
---
Chase Field
Phoenix, AZ
Box Score + PBP:
Corrections? Additions?
If you can help us improve this game story, contact us.
Tags
https://sabr.org/sites/default/files/KeuchelDallas-2015.jpg
600
800
admin
/wp-content/uploads/2020/02/sabr_logo.png
admin
2019-09-11 14:48:27
2020-04-17 10:22:34
October 2, 2015: Astros set team record, score 21 runs to rout Diamondbacks