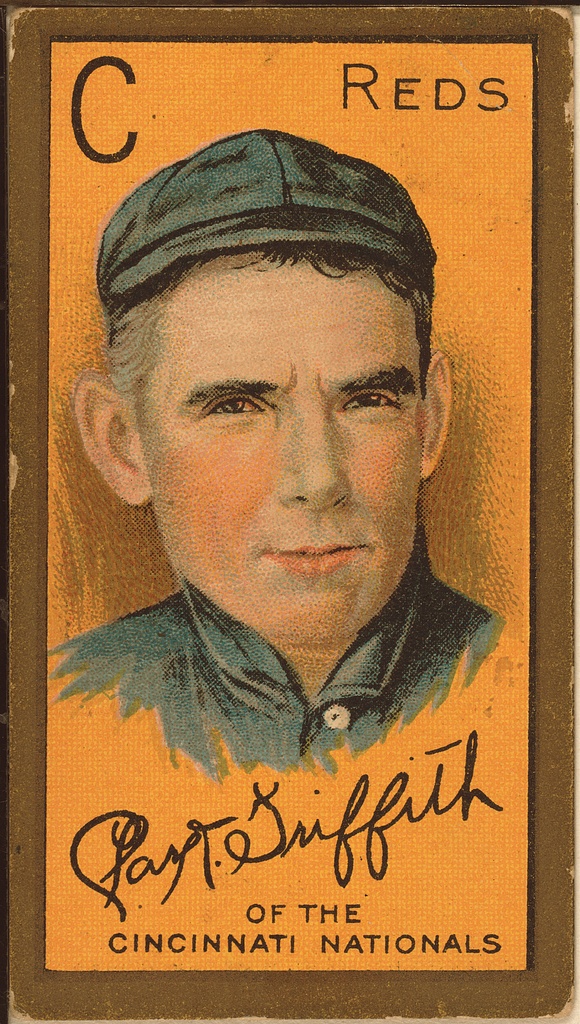 October 3, 1909: The Old Fox auditions a passel of youngsters
---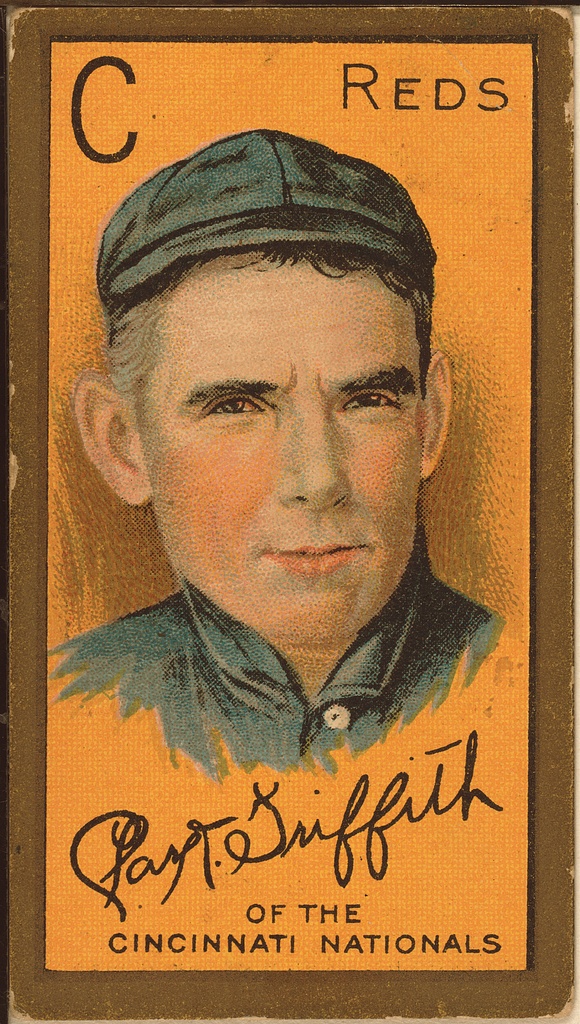 On October 3, 1909, when the Cincinnati Reds took the first game of a doubleheader from St. Louis, they were assured of both a winning season (their first since 1905) and a first-division finish (their first since 1904). Manager Clark Griffith celebrated by giving his regulars the rest of the day off.
Griffith had been looking for an opportunity to conduct a little experiment and now, with no more goals to shoot for and only one more playing date on the schedule, he did it. For the second game of the doubleheader, he drew up a lineup composed almost entirely of rookies. Of the eight position players, four were in their first season of professional baseball. Two were making their major league debuts. Four others had been in the majors less than a month; two of them were still seeking their first major-league hit. The "veteran" of the group was second baseman Ray "Chappy"Charles, a second-year man recently acquired in a trade. Aside from Charles, the entire group had logged barely a dozen games in the big leagues.
Only a few years earlier, the Reds had done the lion's share of their scouting within 100 miles of Cincinnati, but in 1909 they launched a nationwide talent search. During Griffith's first season in charge he employed 45 players, 19 of them appearing in the major leagues for the first time.1 Griffith's experimental lineup on October 3 included players plucked from seven different (mostly low) minor leagues,2 four from clubs more than 400 miles from Cincinnati. The seven rookies were:
Looking over this assortment of prospects and suspects, Griffith did a noble thing: Rather than subject one of his regular hurlers to the ordeal that was likely to ensue, he penciled himself in to pitch. He might have wavered on this at the last minute,12 but word had gotten out that he planned to pitch and he didn't want to disappoint the Sunday crowd at Cincinnati's League Park.13
Six weeks shy of his 40th birthday, Griffith had had broken into professional baseball before Mike Konnick was born, around the time Patterson and Johnston were learning to walk. The Old Fox had amassed 237 major-league victories since 1891, but he hadn't participated in an official game in two years and hadn't pitched with any regularity since 1906. The crowd "tore the heavens loose" in the first inning when Griffith struck out Jack Bliss, "conning him into reaching for a slow curve that was two feet outside."14
The Cincinnati fans didn't have much to cheer about after that. According to The Sporting News correspondent Charlie Zuber, the rookies muffed fly balls, made wild throws and "allowed base hits to scoot past them without so much as saying 'howdy.'"15 The Cardinals took the lead in the second inning on Al Shaw's two-run single and added four more runs in the third, three of them when McCabe dropped a routine fly with the bases loaded, then threw the ball over Dolan's head. The Reds managed six hits off right-hander Eddie Higgins, including three straight singles by McCabe, and got on the scoreboard in the fifth when Dolan walked, went to second on a passed ball and came home on Konnick's double.
St. Louis piled up 11 hits, stole five bases (attributable in part to some "off color" throws by Konnick16) and took advantage of an equal number of errors. When the game was mercifully halted because of darkness after only six innings, the Cardinals had an easy 8-1 victory.
Two of Griffith's youngsters survived this sink-or-swim baptism and went on to at least moderately successful careers. Johnston lasted until 1922 in the big leagues, batting .263 in 1,056 games, mostly with Cleveland. He played against his younger brother in the 1920 World Series, when Jimmy Johnston was manning third base for Brooklyn. Dolan played seven years in the majors and was a coach for John McGraw's New York Giants when his career came to a bad end: He was banned for life by Commissioner Kenesaw Mountain Landis after being accused of attempting to bribe an opposing player to throw a game in 1924.17
The rest disappeared quickly and in most cases permanently. Patterson played his final major-league game two days later and Charles, Konnick and McCabe all bowed out of the big leagues in May 1910. Of the seven rookies, only McCabe played even a dozen games for Cincinnati.18
Among the others, Ellam had another brief trial with Pittsburgh nine years later, when he was 32 years old; he played and managed in the minor leagues until 1930. Young, after playing two games for Cincinnati, got back to the majors for 92 more in the Federal League in 1914-15; he lived to see his son, also Delmer Young,19 play for the Philadelphia Phillies from 1937 to 1940. Konnick played and managed in the minors until 1929; at the time of his death in 1971, he was a scout for the Phillies.20 Clare Patterson returned to the minors where in 1912 he batted .305 to help Oakland to the Pacific Coast League pennant. He was on the verge of a second shot at the big leagues with the St. Louis Browns when he died of tuberculosis at age 25.21
Griffith made his last pitching appearance at age 44, managed until 1920 and eventually spent 67 years in professional baseball, the last 35 as president of the Washington Senators. He was inducted into the National Baseball Hall of Fame in 1946. When he died in 1955, his obituary took up three pages in The Sporting News.22
Notes
Additional Stats
St. Louis Cardinals 8
Cincinnati Reds 1
---
League Park
Cincinnati, OH
Box Score + PBP:
Corrections? Additions?
If you can help us improve this game story, contact us.
Tags
http://sabr.org/sites/default/files/GriffithClark-ATC-LOC.jpg
600
800
admin
/wp-content/uploads/2020/02/sabr_logo.png
admin
2016-06-06 12:28:31
2020-04-17 10:26:40
October 3, 1909: The Old Fox auditions a passel of youngsters