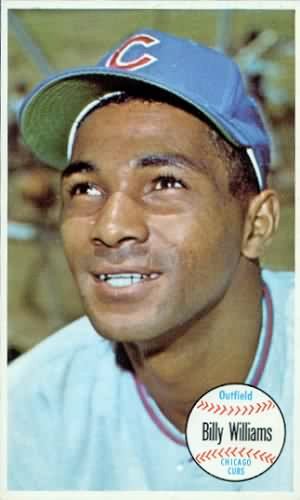 September 10, 1968: The Billy Williams Show
---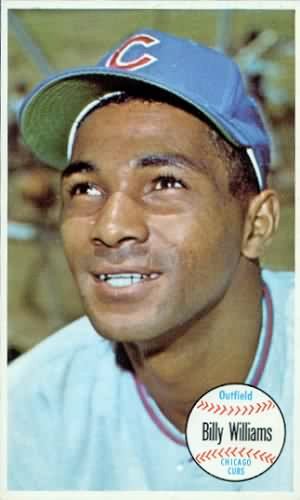 Billy Williams was on fire, the 30-year-old hammering the ball out of the park and providing one of the few reasons to make time to see the Chicago Cubs as the 1968 season wound down. The Cubs entered the game on September 10 in fourth place, decidedly mediocre at 75-71, a half-game behind Cincinnati and a half-game ahead of Atlanta, in an NL table that depicted the Cardinals marching toward a second consecutive pennant. About the Mets, it might have been said they were showing signs of life after five last-place seasons in six since the franchise started play in 1962. The Mets sat at only 65-81, but New York had already exceeded its win total from 1967.
For the 1:30 P.M. first pitch at Wrigley Field, a "select gathering"1 of 1,501 braved the cloudy, chilly weather for an otherwise meaningless game on a cold September afternoon. Cubs manager Leo Durocher sent Bill Hands to the mound. Despite a rough outing against Philadelphia in his previous start, Hands brought a 15-9 record and a 2.99 ERA into the contest. He also brought a track record of excellence against the Mets: In three starts against them this season, Hands had pitched three complete-game wins. Hands, however, started inauspiciously with a walk to Mets leadoff hitter Bud Harrelson. Ken Boswell's groundball to second baseman Glenn Beckert forced Harrelson at the keystone sack. Larry Stahl singled to right field, and while Boswell ended up at third, Stahl was out between first and second in a rundown. Against Cleon Jones, Hands "tried to break off a slider too hard,"2 and ball bounced into the stands for a run-scoring wild pitch that brought home Boswell. Jones ended the inning with a grounder to shortstop Don Kessinger, but the Mets claimed an early 1-0 lead.
Dick Selma took the mound for the Mets. After he started the season 6-0, Selma's record had declined to 9-8 though he maintained a strong 2.42 ERA. Similar to Hands's solid track record against the Mets, Selma could also claim four consecutive wins against the Cubs. Kessinger led off with a popup to Jones in left field for the first out. Beckert lined a single into right field, extending his hitting streak to 13 games,3 before Williams came to the plate. Williams was a student of the game who "spends most of his pregame spare time poring over movies of his hitting in the previous day's games . . . ."4 He also slugged two home runs in the Cubs' last game, on September 8 against the Phillies; against Selma, Williams slammed the ball over the 368-foot mark in right-center field for a 2-1 Cubs lead.5 After giving up the dinger, Selma recovered to strike out Ernie Banks and Ron Santo.
After the flurry of first-inning activity, the game settled down for Hands and Selma. In the Mets third, Jerry Buchek hit a leadoff single and advanced to third without scoring. Buchek and Selma hit back-to-back two-out singles in the fifth, but Harrelson's groundball to first baseman Banks ended the threat. The score remained 2-1 into the Cubs sixth, when Beckert lined the ball into left field for a leadoff single. Again, Beckert's effort served as prelude for Williams's heroics. Williams blasted another home run, this time 375 feet6 into the bleachers. The Cubs now led 4-1. Williams, however, was not impressed with his efforts. "The first two homers weren't hit that well," he said after the game, "but this is a good sign for me because I was jammed on both of them and I still stayed with the pitch."7
With none out, Chicago pressed the advantage. Banks reached first base on Buchek's error at third base. When Santo lined the ball into center field, Mets manager Gil Hodges swapped Selma for Ron Taylor. Nineteen-year-old Cubs rookie Jimmy McMath singled into left field, and Banks scored from third base for a 5-1 Cubs lead. Taylor settled in, gathering Hundley's comebacker before striking out Adolfo Phillips and Hands to end the inning. The Mets proved unable to respond in the seventh. Hands struck out Art Shamsky before Ed Kranepool's groundout to Beckert. Buchek's third single of the afternoon kept the inning alive, but pinch-hitter Mike Jorgensen's fly ball to Phillips in center field ended the Mets seventh.
For the bottom half of the inning, Nolan Ryan came in to pitch for the Mets. The 21-year-old Ryan had pitched for New York only once since late July. Kessinger singled to center field to start the inning and Beckert fouled out to first baseman Kranepool. Williams then "hammered his most vicious drive"8 off the right-field foul pole for his third home run of the game. Combined with his two home runs against Philadelphia in the Cubs' last game, Williams tied a major-league mark with five homers in two consecutive games. After the game, Durocher claimed Kessinger nudged Banks after the home run, "You'd better wake up. He's going to catch you."9 Banks seemed to take the advice to heart and hit a home run of his own, a solo shot and his 31st of the season. That blast put Banks one behind NL home-run leader Willie McCovey and kept him two ahead of Williams. Durocher complimented Banks: "That Banks is the damnedest man I've ever seen. … His reflexes should be getting slow at his age [Banks was 37] but his are speeding up."10 Hickman flied out to center for the final out, but the damage had been done. The Cubs were cruising, ahead 8-1 and six outs away from a win.
The Mets offered little over the remainder of the game. In the eighth, Harrelson and Boswell flied out and Stahl grounded out. J.C. Martin hit a one-out bunt single in the ninth, but Shamsky and Kranepool ended the game with groundouts. Hands had gone the distance for the Cubs to earn his 16th win of the season and 11th complete game.
The day was about the red-hot Billy Williams. With 21 round-trippers since the All-Star break, the Cubs left fielder had extended his season home-run tally to 29, within reach of McCovey and Banks. Williams's 94 RBIs moved him just ahead of McCovey.11 About his taking over the RBI lead, Williams said, "It's as much a surprise to me as it is to you that I'm leading the league in RBIs. … My job is to get on base along with Kessinger and Beckert so that Banks and Santo can drive us in."12 Williams was doing plenty to push runs across the plate for the Cubs. In the end, the Cubs slumped toward a .500 finish, but Williams helped to make the slide watchable.
This article appears in "Wrigley Field: The Friendly Confines at Clark and Addison" (SABR, 2019), edited by Gregory H. Wolf. To read more stories from this book online, click here.
Sources
In addition to the sources cited in the Notes, the author utilized baseball-reference.com, retrosheet.org, and SABR.org.
https://www.baseball-reference.com/boxes/CHN/CHN196809100.shtml
http://www.retrosheet.org/boxesetc/1968/B09100CHN1968.htm
Notes
1 Thomas Rogers, "Williams Equals Homer Record as Cubs Trounce Mets, 8-1," New York Times, September 11, 1968: 53.
2 George Langford, "Williams Hits 3 Homers," Chicago Tribune, September 11, 1968: 3-1.
3 "Williams Hits 3 Homers": 3-2.
4 "Williams Hits 3 Homers": 3-1.
5 Rogers.
6 Ibid.
7 "Williams Hits 3 Homers": 3-2.
8 Ibid.
9 Ibid.
10 George Langford, "Banks Making Believer Out of Leo Durocher," Chicago Tribune, September 11, 1968: 3-2.
11 In the end, McCovey led the NL in home runs and RBIs for the 1968 season.
12 "Williams Hits 3 Homers": 3-2.
Additional Stats
Chicago Cubs 8
New York Mets 1
---
Wrigley Field
Chicago, IL
Box Score + PBP:
Corrections? Additions?
If you can help us improve this game story, contact us.
Tags
https://sabr.org/sites/default/files/images/WilliamsBilly1.jpeg
600
800
admin
/wp-content/uploads/2020/02/sabr_logo.png
admin
2019-12-10 14:14:02
2020-11-23 14:35:19
September 10, 1968: The Billy Williams Show