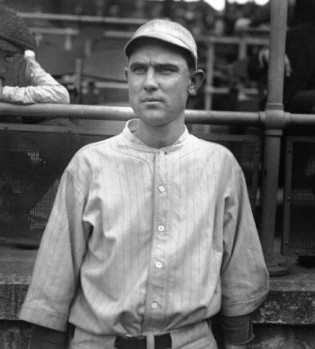 September 12, 1917: Trench warfare, Deadball style, as Senators and Red Sox tie after 16 innings
---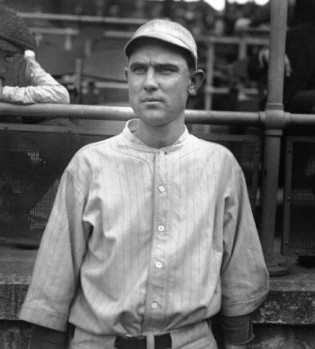 Having won the World Series in both 1915 and 1916, the Boston Red Sox, chasing the idle first-place White Sox, needed to beat Washington to salvage a series split against the mediocre Senators. The game took place in front of only 928 fans in "wartime Washington … an apathetic baseball town"1 despite a compelling matchup on paper between the two pitchers of record from a memorable game that had occurred only a few months earlier in the 1917 campaign. The reality of a tightly-matched pitching duel greatly exceeded any reasonable expectations.
On June 23 Babe Ruth had started in Boston against the visiting Senators. "After walking the leadoff man, second baseman Ray Morgan, Ruth began jawing with the umpire, Brick Owens."2  The arbiter ejected Ruth, and Ernie Shore came on in relief. Morgan went out stealing second; Shore retired the next 26 Senators in a 4-0 win over Washington. Doc Ayers took the loss.
More than a century later, Shore's legacy faintly persists due to his connections to Ruth (Shore had also come to the Red Sox in the same transaction in which Boston had secured Ruth from Baltimore of the International League). In 1917, his last of four straight stellar seasons as a stalwart in the Red Sox rotation, Shore would finish with a 13-10 record and a 2.22 ERA. Relying nearly exclusively on a natural sinker and mixing in a few changeups and curveballs, Shore long after his career blamed overwork in the 1917 season for a shoulder injury that essentially ended the effective part of his career.3
But even hard-core baseball fans have likely never heard of Ayers in spite of his distinguishing characteristic. According to his SABR biographer, "Among the 17 spitball pitchers exempted when the pitch was banned, Doc Ayers was unique. He was the only one who hurled with an underhand motion."4 
Only six pitchers started games for Washington in 1917. Walter Johnson led the way with 34, and Ayers brought up the rear with just 15. Besides Johnson, the team featured one other Hall of Famer in the prime of his career, the 27-year-old Sam Rice. For each team, baseball-reference.com ranks players by the retroactively calculated Wins Above Replacement, often abbreviated as WAR. Surprisingly, sixth starter Doc Ayers ranks second in WAR at 4.0 for the 1917 Senators, far behind the sublime Johnson (8.0) but a bit ahead of the much more renowned Rice (3.7).
Ayers would have a sparkling 2.17 ERA in 1917 yet finish with a record of only 11-10. He had a better ERA but a worse winning percentage than Shore because Washington provided its spitballer with insufficient support at the plate and in the field. On August 26, just a few weeks before his re-engagement with Shore, Ayers yielded only one earned run but dropped a 2-1 decision in a game captured by Jim Bagby of Cleveland. According to The Sporting News, "Ayers outpitched Bagby … but lost, because Bagby got faultless support, while two errors of commission and one of omission gave Cleveland its two runs."5
In contrast to the June 23 game, both Ayers and Shore would start and star in the September 12 contest. A game report in the Boston Globe praised Ayers, who "never had shown any better form than that which he displayed today. Although his slants were touched for 13 safe clouts he was master of the situation at all times and time and again pulled himself out of what looked to be ticklish positions."6
Neither team scored a run until the bottom of the fifth inning. Shore walked Eddie Foster. Morgan hit a groundball to Boston shortstop Everett Scott, who "stood inanimate … thus losing a fine chance for a double [play.]"7  Morgan reached on the fielder's choice. Trying to advance the runners, Joe Leonard beat out a bunt to load the bases with none out. Eddie Ainsmith drove in Foster on a fly ball to Harry Hooper to give the Senators a 1-0 lead. Hooper must have made a fine catch as he not only threw out Morgan at second for a double play but almost contributed to a rare 9-4-2 triple play.8 Alas for the Red Sox, Jack Barry's relay nearly nipped but did not quite get Morgan at the plate as he scored the lone Washington run.
The Red Sox rapidly responded in the top of the sixth thanks to a big hit from a most unlikely source. Playing in only his 14th game of the season, Hick Cady doubled for his first extra-base hit of 1917 and his first two-bagger since August 24, 1916. Shore singled his batterymate to third. Playing key roles in the two runs scored in the game, Hooper singled in Cady to tie the score and snap a career-best 27-inning scoreless streak by Ayers.
Boston looked poised to take the lead with runners on the corners and none out before Washington catcher Ainsmith "made a fine throw to Foster to catch Shore off third. …  Had he not been put out of the way the pitcher could have scored on [Dick] Hoblitzell's fly to [Sam] Rice."9 
"In the seventh inning each side filled the bases with one out, but neither could score."10 Before darkness descended, the game would conclude with 10 straight scoreless innings, a slight but not severe surprise given the lack of punch of both teams. (The Red Sox hit 14 home runs in 1917, a titanic total compared with the four struck by Washington, which finished last in the AL in home runs, slugging percentage, and total bases.) 
The Senators did threaten in the 15th with a walk, a stolen base, and an intentional walk to get to the pitcher's spot. Given the rally, the amount that Ayers had already pitched, and the lateness of the hour, one might have expected a pinch-hitter, but Ayers went to the plate before futilely "fouling out to Cady."11 Both Ayers and Shore finished the final inning and both set career marks for innings pitched in a game. 
Washington's second 16-inning tie of the season12 meant little for the Senators, but the failure of the Red Sox to win more than a single game in a four-game set against Washington lengthened the already long odds against a third consecutive pennant in 1917. The game represented some measure of revenge for Ayers  After losing to Shore and bottoming out at 1-6 after June 23, Ayers as part of a season-closing run that saw him take 10 of his last 14 decisions, matched the more heralded Shore frame-for-frame in this game.
Sources
In addition to the sources cited in the Notes, the author accessed Retrosheet.org, Baseball-Reference.com, SABR.org, and The Sporting News archive via Paper of Record.
Notes
1 Shirley Povich, The Washington Senators (Kent, Ohio: Kent State University Press, 2010), 94.  Washington would draw a franchise-low 89,682 fans in 1917.
2 Michael Clair, "Ernie Shore Once Threw a Quasi-Perfect Game … After Babe Ruth Punched an Umpire," mlb.com/cut4/ernie-shore-threw-quasi-perfect-game-after-babe-ruth-ejection/c-132245176, June 23, 2015 (accessed August 13, 2018).
3 Roger Birtwell, "Ernie Shore's Greatest Thrill Not Perfect Game," Boston Globe, December 13, 1959: 187. From 1914 to 1917, Shore went 58-33 with a 2.12 ERA for the Red Sox. After serving in the Navy in 1918, Shore pitched two more seasons for the Yankees and went 7-10 with a 4.39 ERA. He last appeared in a game in the majors at the age of 29.
4 Charles F. Faber, "Doc Ayers," sabr.org/bioproj/person/95ee682f (accessed August 13, 2018).
5 "Rain Halts Griffith on His Upward Way," The Sporting News, September 6, 1917: 3.
6 "Red Sox Play a 16-Inning Tie," Boston Globe, September 13, 1917: 9.
7 "Notes of Red Sox Game," Boston Globe, September 13, 1917: 9. Another reporter thought that Scott (and his Washington counterpart Howie Shanks) played well defensively in this game: "Both teams gave a fine fielding exhibition, the works of Shanks and Scott, the opposing shortstops, standing out prominently." The Sporting News, September 20, 1917: 6.
8 Hooper in 1917 finished second in the American League in assists by a right fielder with 20 and holds the career mark (for players since 1908) for right fielders by a comfortable margin with 332 baserunner kills.
9 "Ayers and Shore Pitch Superbly When in Trouble in Contest Ended by Darkness," Washington Post, September 13, 1917: 8.
10 Paul W. Eaton, "Griffmen Making a Belated Splurge," The Sporting News, September 20, 1917: 3.
11 J.V. Fitz Gerald, "Nationals and Red Sox in a 16-Inning 1-1 Tie Game," Washington Post, September 13, 1917: 8.
12 The Washington Post reported that the Senators tied 2-2 on June 11, but baseball-reference.com lists that game as taking place on June 12. "Second 16-Inning Game This Year for Griffs," Washington Post, September 13, 1917: 8.
Additional Stats
Washington Senators 1
Boston Red Sox 1
16 innings
---
Griffith Stadium 
Washington, DC
Box Score + PBP:
Corrections? Additions?
If you can help us improve this game story, contact us.
Tags
http://bioproj.sabr.org/bp_ftp/images4/ShoreErnie.jpg
600
800
Lorenzo Serrato
/wp-content/uploads/2020/02/sabr_logo.png
Lorenzo Serrato
2022-03-15 15:09:20
2022-03-16 17:00:31
September 12, 1917: Trench warfare, Deadball style, as Senators and Red Sox tie after 16 innings