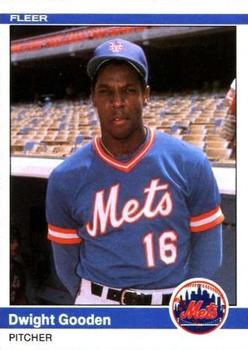 September 12, 1984: Mets' Dwight Gooden becomes new rookie strikeout rajah
---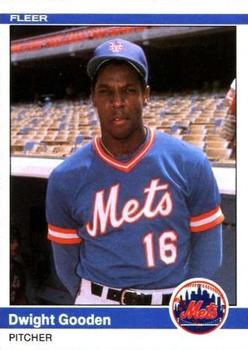 The New York Mets defense had about as much to do on September 12, 1984, as the Maytag Repairman. According to their advertisements, Maytag machines require minimal attention, if any. Thus, television commercials portrayed him as bored. And so, the same thing happened when Dwight Gooden handled the Pittsburgh Pirates with 16 strikeouts. The most exercise that his teammates got was when they headed to their respective positions.
But Gooden's 2-0, five-hit shutout has a distinction beyond exemplary pitching. The Mets' ace right-hander broke the record for rookie strikeouts in a season — 245 — previously held by Herb Score of the 1955 Cleveland Indians. Pirates center fielder Marvell Wynne was the 246th K. "I'm a fastball hitter and 90 percent of what Gooden throws are fastballs," said Wynne. "But the guy throws it so hard it doesn't make a difference. All you can do is be patient and try to make contact."1 The record-setting strikeout prompted the monitors of Shea Stadium's "K Korner" to position an oversized "K" placard marking the occasion.
Age and experience mattered not to Gooden, a 19-year-old fireballer who spent 1983 with the Mets' Class A team in Lynchburg (Virginia) and the postseason with the Triple-A Tidewater Tides. Not since 20-year-old Bob Feller went 24-9 and led the majors in strikeouts (246) in 1939 had a young pitcher dominated with such intensity.
The Pirates came into the game with a 5-11 record so far against the Mets in 1984; the teams split the previous two series (2-2 and 1-1). This two-game series was also split — the day after Gooden's outstanding performance, the Pirates pounded the blue-and-orange gang 14-4 in an afternoon game.
Gooden began his strikeout tally in the top of the second by striking out Tony Peña, and Jim Morrison, followed by another pair of K's in the third with Doug Frobel and Denny Gonzalez whiffing. John Tudor, Gooden's pitching counterpart, tagged the rookie for the first Pittsburgh hit with a single; Wynne's fly ball to Mookie Wilson in center field ended the inning.
The Mets threatened in the bottom of the third when Gooden's batterymate, Mike Fitzgerald, and Gooden himself hit back-to-back singles with one out. Wilson got on base when third baseman Morrison fielded a grounder for a putout of Fitzgerald; Kelvin Chapman singled to right, but Frobel nailed Gooden at home plate for the third out.
The Pirates got their second hit of the night when Johnny Ray banged a one-out single in the top of the fourth after Lee Lacy whiffed. Jason Thompson flied out to Darryl Strawberry in right field and Peña struck out for the second time in the game.
Hubie Brooks hit a two-run homer in the fourth with Keith Hernandez on base after a single, giving the Mets their two runs of the game.
Lacy doubled in the sixth with two outs but was stranded when Johnny Ray flied to George Foster. In the eighth inning, Pirates skipper Chuck Tanner sent Joe Orsulak to pinch-hit for Tudor, then hopes rose in Steel City when Orsulak singled and stole second — one of his three stolen bases in 1984. But Gooden struck out Wynne for his 16th K of the evening. Pittsburgh's last hit came with Thompson's single in the ninth.
Gooden's decimation of the Pittsburgh lineup sent Peña, Morrison, Frobel, and Gonzalez down on strikes three times each. Wynne fanned twice; Lacy once; Tudor once. Only Ray and Thompson avoided a K in the scorecard. "Our guys weren't saying anything at all in the dugout," said Tanner. "They didn't have time. They were striking out so fast, they had to run back on the field."2 The number of K's may have overshadowed another indicator of control — Gooden did not walk any Pirates.
The 1984 season had begun with the Mets saying goodbye to a legend: Tom Seaver left the team. His trade to the Reds in 1977 for Pat Zachry, Dan Norman, Steve Henderson, and Doug Flynn broke the hearts of Mets fans. His return in 1983 prompted sentimentality among fans remembering the 1969 Miracle Mets, three Cy Young Awards, and Seaver leading the National League in strikeouts five times. But Seaver — known to Mets fans as "The Franchise" — was fodder for the White Sox, who chose him as compensation when free-agent right-hander Dennis Lamp went to the Blue Jays. An outcome of the 1981 players strike, the compensation pool aimed to counter depletion caused by premium free agents leaving teams. Seaver was vulnerable because the Mets did not place him on a protected list.
And so the ball was passed to Gooden, representative of a new generation of Mets in the 1980s, some who ascended through the farm system (Strawberry, Wilson, Brooks) and veterans imported from other teams (Hernandez, Ray Knight). The team chemistry was undeniable, culminating with a World Series championship in 1986 and the National League pennant in 1988.
Known and respected for being taciturn in the face of success, Gooden confided, "Sometimes I think to myself before I go to bed, 'Is this a dream? Am I really having all this success? I've come to have confidence in myself now; that's the most important thing. I go out there and try to intimidate hitters."3
And so he did.
Gooden finished the 1984 season with 276 strikeouts, a rookie record that still stood in 2020. He went 17-9, won the National League Rookie of the Year Award, and finished second in the voting for the Most Valuable Player Award.
In his 1984 re-election campaign, President Ronald Reagan used a television commercial titled "Morning in America" to emphasize national optimism after years of economic malaise and emotional anxiety. For the Mets, it was also "Morning in America." Dwight Gooden's rookie performance was a cornerstone of the team's ascent. Tom Seaver's trade to the Reds in 1977 set off a period of subpar performances, plummeting attendance, and pessimism in Mets Nation. Gooden breaking the rookie strikeout record was an indicator that better days were ahead and Shea Stadium would once again be a place of joy.
Sources
The author used Baseball-Reference and retrosheet.org for box scores and play-by-play information:
retrosheet.org/boxesetc/1984/B09120NYN1984.htm

baseball-reference.com/boxes/NYN/NYN198409120.shtml

Notes
1 Bob Klapisch, "King of the Hill," New York Post, September 13, 1984.
2 Joseph Durso, "Gooden Fans 16 and Sets Rookie Mark of 251," New York Times, September 13, 1984.
3 Klapisch.
Additional Stats
New York Mets 2
Pittsburgh Pirates 0
---
Shea Stadium
New York, NY
Box Score + PBP:
Corrections? Additions?
If you can help us improve this game story, contact us.
Tags
https://sabr.org/sites/default/files/Gooden-Dwight-1984.jpg
600
800
sabr
/wp-content/uploads/2020/02/sabr_logo.png
sabr
2020-04-19 15:58:33
2020-06-22 16:54:29
September 12, 1984: Mets' Dwight Gooden becomes new rookie strikeout rajah