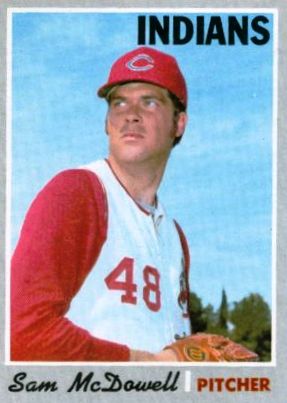 September 14, 1969: Cleveland's Sam McDowell gets tossed, then tosses ball into upper deck
---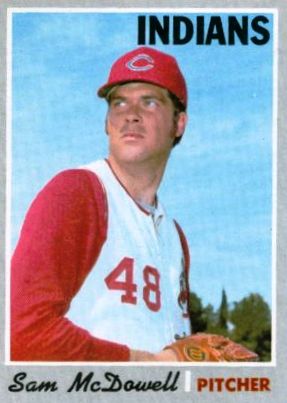 Sudden Sam McDowell's search for his 17th victory of the season appeared easier than it otherwise would have been on a mid-September afternoon in Baltimore's Memorial Stadium. The Orioles had clinched the American League East Division crown the day before against McDowell's Indians, and manager Earl Weaver was resting his entire starting infield of Brooks Robinson, Mark Belanger, Dave Johnson, and Boog Powell, as well as right fielder Frank Robinson. All but Belanger were All-Stars that season, as was McDowell.
The Indians jumped out to a 1-0 lead in the top of the second, but the left-handed McDowell surrendered three runs in the third to fall behind 3-1. Second baseman Bobby Floyd doubled to lead off the inning and was advanced to third on a Mike Cuellar bunt single. Floyd scored on a Don Buford base knock, and Paul Blair's single loaded the bases. Cleanup hitter Andy Etchebarren followed with a two-run single scoring Cuellar and Buford. Ken Harrelson tied the game with a two-run homer in the top of the sixth off southpaw Mike Cuellar, which set the stage for one of the more unusual events in Memorial Stadium history.
Left fielder Merv Rettenmund led off the bottom of the sixth with a walk, only McDowell's second in the game. McDowell, however, had been incensed with plate umpire Larry Barnett's strike zone all afternoon, and when Rettenmund scored on Chico Salmon's single and a two-base error by left fielder Frank Baker, McDowell unloaded on Barnett. The Associated Press reported that "teammates restrained McDowell during a heated argument," and noted that Cleveland manager Alvin Dark was also ejected.
"Then, on his way to the dugout, McDowell fired the ball toward the 109-foot-high stadium roof. It landed four rows from the top in the upper deck," according to the AP report.1 (Memorial Stadium had no roof, of course. The writer meant that McDowell came within three rows of throwing the ball over the upper deck and out of the park.)
Juan Pizarro replaced McDowell and gave up a sacrifice fly to Terry Crowley, scoring Salmon. The Orioles tacked on two more runs in the eighth inning for a 7-3 victory, their eighth in a row and 102nd of the season. Cuellar's complete-game effort improved his record to 22-10, en route to a 23-11 season in which he would share the AL's Cy Young Award honors with Denny McLain.
One could argue that McDowell was actually pitching a good game; after all, he struck out 10 Bird batters in his 5+ innings, a feat not at all unusual for Sudden Sam. He was in the middle of a three-year stretch of leading the majors in strikeouts, and would total 279 for the year. He also led the AL in strikeouts in 1965 and 1966, and is one of only nine lefthanders since 1900 to record 300 or more K's in a single season.2 Indeed, issuing only two walks was unusual for McDowell who would also lead the majors in bases on balls in four out of five seasons beginning in 1967. The only year he failed to do so was in 1969 when he issued 102 free passes to finish tied for sixth in the league.
McDowell's record fell to 16-14, but he would win twice more before the season ended, including a complete game, 3-1 victory over the Orioles in Cleveland nine days later. His final 18-14 mark was more than respectable considering that the Indians finished 46½ games behind the front-running Orioles.
Cuellar and McDowell became friends and golfing buddies in Florida long after both had retired3 and remained so until the former's death in 2010.4
McDowell finished his career with a 141-134 record and notched 14 saves in his 15 big league seasons, but it was the saves he accumulated after he retired from the game that have been the most important. McDowell, who once described himself as "the most hopeless and most violent drunk in baseball," is a professional counselor.5 It's not hard to imagine that his alcoholic temperament fueled his tirade against Barnett in Baltimore.
Even with the argument and ejections, the game took only 2:26 to play, and the 9,434 in attendance witnessed one of the great tosses in Memorial Stadium's history. On the eve of Camden Yards' opening, 23 years later, Baltimore Evening Sun columnist Phil Jackman penned a piece about odd events in old ballparks, and included this:
"Over the years, many fine throws were made during games at Memorial Stadium — John Unitas and Bert Jones come to mind immediately — but the best had to be the one Cleveland Indians pitcher Sam McDowell turned in one day. Having a terrible time with the plate umpire, Sudden Sam got the heave-ho and, as he crossed the first baseline, he attempted to throw the ball over the second deck. Almost made it, too, missing by just three rows.6
Sources
In addition to the sources cited in the Notes. the author used the box score at Baseball-Reference.com for September 13, 1969.
baseball-reference.com/boxes/BAL/BAL196909140.shtml
retrosheet.org/boxesetc/1969/B09140BAL1969.htm
Notes
1 "Sky Is Limit When McDowell Throws Fit," Associated Press, September 15, 1969.
2 Besides McDowell, the list includes Vida Blue, Steve Carlton, Randy Johnson, Clayton Kershaw, Sandy Koufax, Mickey Lolich, Chris Sale, and Rube Waddell.
3 George Diaz, "Bitter but Proud," Orlando Sentinel, June 15, 2004. orlandosentinel.com/news/os-xpm-2004-06-15-0406150216-story.html. Accessed August 6, 2019.
4 George Diaz, "After Cuellar's Death, an Outpouring of Good Will," Baltimore Sun, April 12, 2010. baltimoresun.com/sports/orioles/bs-xpm-2010-04-12-bs-sp-mike-cuellar-0413-20100412-story.html. Accessed August 6, 2019.
5 Shirley Povich, "McDowell: 'I Was Biggest, Most Hopeless . . . Drunk in Baseball'," Washington Post, March 24, 1985. https://www.latimes.com/archives/la-xpm-1985-03-24-sp-30287-story.html Accessed August 23, 2019.
6 Phil Jackman, "As Major League Park, OPACY Has Storied Tradition to Uphold," Baltimore Evening Sun, April 1, 1992. Accessed via nydailynews.com/bs-xpm-1992-04-01-1992092208-story.html, August 6, 2019.
Additional Stats
Baltimore Orioles 7
Cleveland Indians 3
---
Memorial Stadium
Baltimore, MD
Box Score + PBP:
Corrections? Additions?
If you can help us improve this game story, contact us.
Tags
http://bioproj.sabr.org/bp_ftp/images3/McDowellSam.jpg
600
800
admin
/wp-content/uploads/2020/02/sabr_logo.png
admin
2019-09-05 17:32:24
2020-04-17 10:22:34
September 14, 1969: Cleveland's Sam McDowell gets tossed, then tosses ball into upper deck