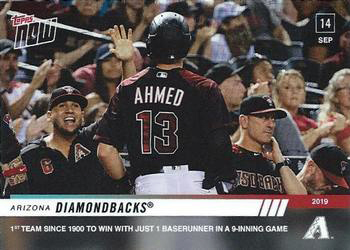 September 14, 2019: Diamondbacks win game with only one baserunner
---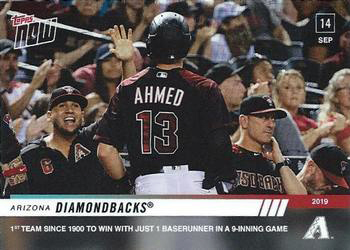 The Arizona Diamondbacks (75-73) were clinging to their postseason hopes, five games behind the Chicago Cubs for the second National League wild card slot. They had lost their last six games being outscored 34-10. The Cincinnati Reds (69-79) were fourth in the NL Central, 14 1/2 games back of the St. Louis Cardinals. The uniforms reflected the old and new of major league baseball: The Diamondbacks were wearing "Los Dbacks" jerseys for Hispanic Heritage night while the Reds were wearing their 150th anniversary patch. The crowd of 35,151 was treated to Hispanic-themed music and promotions.
Merrill Kelly (10-14, 4.68 ERA), a 30-year-old rookie, took the mound for the Diamondbacks. He was a local kid: high school in Scottsdale, college in Prescott and Tempe. After Josh VanMeter flied out to center Joey Votto hit a broken-bat single to center. Eugenio Suárez followed with a base hit to left. A fly out by Aristides Aquino advanced Votto to third but he was left there when Tucker Barnhart grounded out. Aquino had been named NL Player of the Month and Rookie of the Month1 for August (14 home runs in one's first full month of work will do that). But since September 1, he'd only had one home run and his batting average had slipped from .320 to .270.
Anthony DeSclafani (9-8, 4.06 ERA) needed only 10 pitches for his first inning of work, inducing two groundouts and a fly out. DeSclafani covered first on Ketel Marte's groundout, upholding his perfect fielding percentage.2
Freddy Galvis opened the second by walking. With José Peraza batting, Galvis tried to steal second but was picked off. Peraza lined out to second. That brought up Michael Lorenzen, who had pitched two innings the night before and then played center field for one inning. For this game he was starting in center field. He flied out to warning track. DeSclafani worked another 1-2-3 inning including two strikeouts looking, taking all of 13 pitches.
DeSclafani, who hadn't had a hit since August 6, struck out swinging to start the third. After VanMeter flied out to center Votto bounced one over the mound, but shortstop Nick Ahmed managed an in-time throw to first for the out.
Ahmed got the Diamondbacks' only hit in the bottom of the third. Suárez was playing in, apparently against a possible bunt. Ahmed bounced his hit over Suárez's head into the left field corner, then VanMeter had trouble handling the ball. Ahmed recognized the opportunity and turned on the speed around second making it to third just beating the throw. His time to third was 11.57 seconds, a personal best. Originally he was credited with a triple, but it was changed to a double and an error twelve days later. Either way, Ahmed was safe on third. He scored on Jarrod Dyson's sacrifice fly to center. Kelly and Ildemaro Vargas both grounded out to end the inning with the score 1-0, Diamondbacks.
The Reds went 1-2-3 in the top of the fourth. In the bottom, Marte, who at that point was leading National League in hits,3 rolled one into the shift near first for the first out. Eduardo Escobar's fly out and Christian Walker's groundout finished another 13-pitch inning for DeSclafani.
Galvis opened the fifth by walking again. He didn't need to try to steal second: with Peraza batting, Kelly threw wildly on a pickoff attempt, so Galvis took second. He never advanced: Peraza popped out, Lorenzen grounded out, and DeSclafani struck out again. DeSclafani worked a quick bottom of the fifth thanks to his shortstop Galvis. After Josh Rojas and Carson Kelly grounded out Ahmed bounced one off DeSclafani, but Galvis was able to corral the ball and get the out at first.
The sixth was a 1-2-3 inning for both pitchers on a total of 23 pitches.
Aquino started the seventh with a base hit into center. Barnhart, who was 4-for-26 in September, grounded into 3-6-1 double play to erase the Reds' first hit since the first inning. Kelly fielded his position well, getting to the first base bag in time to catch the return throw. Galvis swung at a change-up and twisted as he came down on his left knee. He winced, then walked back to the dugout without assistance.4 Alex Blandino, a September call-up who had 147 plate appearances for Cincinnati in 2018, came in to finish the at-bat with a 2-2 count: He struck out looking. In the bottom of the seventh DeSclafani worked another 1-2-3 inning: again on 13 pitches. That finished his outing: seven innings, 78 pitches, one hit allowed, no walks—and in line for the loss.
Kevin Ginkel replaced Kelly in the top of the eighth. Any fan who left his or her seat would have missed Ginkel's outing: only seven pitches for a Peraza lineout, a Lorenzen groundout, and a strikeout of pinch-hitter Brian O'Grady.
Joel Kuhnel pitched the bottom of the eighth. He, too, had a quick inning: a fly out, a groundout, and a strikeout.
The Reds' last chance in the top of the ninth was the top of their lineup: VanMeter, Votto, and Suárez facing Diamondbacks closer Archie Bradley. VanMeter gave the ball a ride, but it was caught on the warning track. Votto battled, but went down swinging. Suárez, second in the league in home runs and strikeouts,5 flied out to left to give the Diamondbacks a welcome 1-0 win.
In two hours and 15 minutes the Diamondbacks accomplished something they had only done once before in their existence: win a game on only one hit. May 14, 2011, was their only previous one-hit win, and in that game they'd had three baserunners (two walks). But it wasn't just Diamondbacks history that was made in the 2019 game: it was baseball history. According to Elias Sports Bureau, this was the first time since 1900 that a team had won a nine-inning game with only one baserunner.6
The win kept the Diamondbacks within 4½ games of the Cubs, who also won, for the Wild Card. But they missed the postseason, ending the year at 85-77 (four games back of Milwaukee, who got the Wild Card spot) and 21 games back of the Dodgers winners of the NL West. For their part, the Reds finished at 75-87, 16 games back of St. Louis in the NL Central Division.
Sources
https://baseball-reference.com/boxes/ARI/ARI201909140.shtml
https://retrosheet.org/boxesetc/2019/B09140ARI2019.htm
Recorded game at MLB.com.
Notes
1 He had one at-bat in August 2018.
2 DeSclafani was one of a dozen pitchers to finish 2019 with a 1.000 fielding percentage.
3 Marte ended the year with 187 hits, second to Ozzie Albies with 189.
4 Although a subsequent MRI showed no serious damage, he did not return in 2019. Bobby Nightengale, "Votto scratched, Red promote IF Colón," Cincinnati Enquirer, September 17, 2019, 4C.
5 He finished the year second in home runs with 49, but first in strikeouts with 189.
6 Steve Gilbert, "D-backs manage 1 baserunner — and win," MLB.com, September 15, 2019. mlb.com/news/merrill-kelly-d-backs-beat-reds-with-one-hit. Accessed January 15, 2020. There had been a five-inning game with one baserunner for the winner: The Orioles beat the Royals 1-0 on July 30, 1971. Bobby Nightengale, "One baserunner, one run and one loss," Cincinnati Enquirer, September 16, 2019, 9C.
Additional Stats
Arizona Diamondbacks 1
Cincinnati Reds 0
---
Chase Field
Phoenix, AZ
Box Score + PBP:
Corrections? Additions?
If you can help us improve this game story, contact us.
Tags
https://sabr.org/sites/default/files/AhmedNick-2019.jpg
600
800
admin
/wp-content/uploads/2020/02/sabr_logo.png
admin
2020-01-22 16:23:15
2020-04-17 10:22:19
September 14, 2019: Diamondbacks win game with only one baserunner