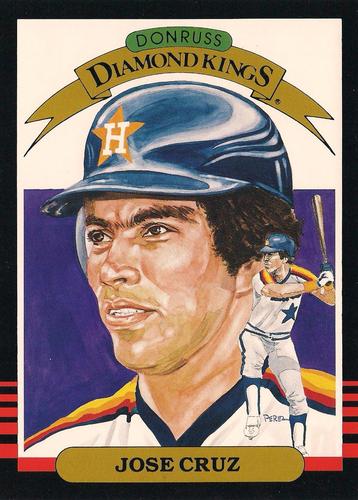 September 15, 1985: José Cruz collects his 2,000th hit
---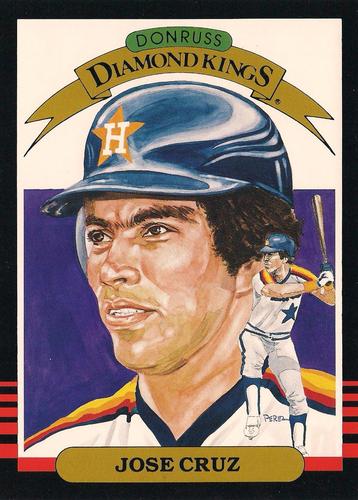 On Opening Night 1974 in St. Louis, Arnold "Bake" McBride, a 37th-round draft pick of the hometown Cardinals in the 1970 amateur draft, started in center field for St. Louis. In the bottom of the 10th inning, the Cardinals' José Cruz, for the previous two years St. Louis's starter at that position, entered the game as a pinch-hitter. For all intents, that evening marked the beginning of the end of Cruz's tenure as a Cardinals player.
Cruz was the eldest and most talented of a trio of baseball-playing brothers from Arroyo, Puerto Rico, all of whom were signed by and played for the Cardinals. From the time he signed with the team in 1966, it was clear Cruz had major-league potential. After four minor-league seasons, he made a brief showing as a September call-up in 1970, and then he arrived for good the following summer. By all appearances, the Cardinals had found the player who would anchor their outfield for many years to come.
Alas, it was not to be. As an outfield starter the bulk of 1972 and '73, Cruz struggled mightily at the plate, failing to lift his average out of the .230s. At the conclusion of each season he went to the winter leagues to hone his stroke, and found much success there (indeed, reported the press, Cruz "burned up"1 his league), yet back in the States he couldn't duplicate his winter performance. By the time McBride arrived in St. Louis, the Cardinals were "losing patience"2 with Cruz, and when José was relegated to fourth-outfielder status in that 1974 season, the demotion only reinforced the perception that his days in St. Louis were numbered. That perception became reality in October 1974, when the Cardinals sold Cruz to the Houston Astros. Little could St. Louis have imagined the player José Cruz would become.
If St. Louis was willing to part ways with Cruz, Houston manager Preston Gomez was glad to have him. In November Gomez planned to tour Puerto Rico, and he wanted to personally welcome Cruz to the team.
"This boy hasn't played much the last two or three years," Gomez explained. "I will be making a trip around Puerto Rico and I will go see José play for Ponce in the Puerto Rican Winter League. I will have a chance to talk to him personally and explain our plans for him this coming season."3
Those plans included making Cruz the Astros' starting right fielder. In 1974 Houston had discovered an outfield gem in Greg Gross, who as the Astros' right fielder batted .314 and finished second to McBride for the National League Rookie of the Year Award. In describing his newest acquisition, though, Gomez said, "This boy Cruz is better than anybody we had on the ballclub last year. He can hit with power, has better-than-average speed, and he has a good arm.
"What I will try to do in spring training is play him in right field and move Gross over. José's arm would be stronger than Greg's, but Gross would give us a good, accurate arm in left field."4
Together, Gross and Cruz would flank the Astros' perennial All-Star and three-time reigning Gold Glove center fielder, Cesar Cedeño. With that alignment, Gomez envisioned an outfield that would be a significant improvement defensively from the previous year.
"We've had too many balls drop in the outfield, and too many opposition runners take the extra base," the manager said. "We'd be able to cut off a lot of balls hit into the gap with an outfield of Gross, Cedeño, and, say, Cruz."5
The trio remained intact for the next two seasons. Eventually, Cedeño and Gross moved on from Houston. Other outfield personnel came and went, but Cruz remained, and finally realized the potential the Cardinals had seen in him so many years before.
All told, Cruz spent 13 seasons in Houston, and became an Astros institution. Many years after his arrival in the Astrodome, when he was in the twilight of his career, The Sporting News offered this preseason synopsis of Cruz's skills:
"Cruz is the all-time captain on the all-underrated team. There's no telling how much acclaim he would have received if he had ever been afforded the opportunity to play regularly in a hitter's park instead of spending the last 11 years inside the vast confines of the Astrodome.

"To his credit, the Houston outfielder adapted to what the Astrodome has to offer instead of worrying himself into premature retirement.

"Cruz drives the ball in all directions, occasionally uncorking a home run when a pitcher makes a mistake, but knowing better than to look for the long ball. At 38, Cruz seems to be as good, if not better, than ever. He's hit .300 or better each of the last three years and his 79 RBIs last year led the Astros. Cruz was fifth in the N.L. in runs produced (139) and still can run. He has 310 big league stolen bases, including 281 in 11 years with the Astros and 68 the last three seasons."6
That was high praise for a player who was approaching 40, and it came just seven months after one of the singular nights of Cruz's illustrious career. On September 15, 1985, the San Diego Padres were in Houston for the final game of a three-game series. Opposing each other on the mound were veteran right-handers LaMarr Hoyt for the Padres and Nolan Ryan for the Astros. On this night, when runs would be at a premium, the Padres struck first, and quickly, scoring a run in classic fashion in the top of the first on a leadoff single, stolen base, sacrifice bunt, and sacrifice fly. That run held until the bottom of the fourth, when Cruz, who had entered the game with 1,999 career hits, made his second plate appearance of the evening. It would be a memorable at-bat.
The left-handed-hitting Cruz had always had success against Hoyt (he finished his career 8-for-16 against him, with a home run and two doubles). Leading off the bottom of the second, however, Cruz had grounded out to the second baseman. Now, with Denny Walling at second courtesy of a passed ball by Padres catcher Terry Kennedy, Cruz had a chance to tie the game. Hoyt chose fastball and Cruz swung, driving a single to straightaway center field and scoring Walling to tie the score at 1-1. It was a momentous stroke, one that gained the admiration of an opponent who knew something about big hits.
The previous week, Padres pitcher Eric Show had allowed Pete Rose's 4,192nd hit, which moved Rose past Ty Cobb as baseball's all-time hit leader. Speaking of Cruz after the game, Show offered, "He's a great hitter, and I'm someone who's given up a few famous hits.
"What makes him so great is he's unpredictable. I never know what he's going to hit."7
Afterward, Cruz expressed his satisfaction, saying, "It was a good feeling to get [number] 2,000, even though a hundred other guys may have that many. That last hit is the only hit I remember."8 It wouldn't be his last. Cruz finished his career with 2,251 hits.
For the record, rookie Glenn Davis won the game for the Astros, 2-1, in the bottom of the eighth inning when he set a Houston rookie home-run record with his 15th of the season, a solo shot that landed two rows from the top of the left-field stands and broke the Astros' rookie mark set by Joe Morgan. Yet it was Cruz's night, a great capstone to a fine Astros career.
Cruz played two more seasons in Houston, but his skills were finally eroding. In February 1988 he signed as a free agent with the New York Yankees, but he was unceremoniously released in July with a batting average of .200. Thus ended a stellar 19-year major-league career.
At the conclusion of the 2015 season Cruz remained in the top 10 of virtually all Astros offensive categories. Six times a .300 hitter, twice both an All-Star and a Silver Slugger winner, he was (as of 2016) the team's all-time leader in triples and, among other highlights, third in games played, at-bats, hits, and stolen bases.
The Astros retired José Cruz's number 25 jersey in 1992.
This article appears in "Dome Sweet Dome: History and Highlights from 35 Years of the Houston Astrodome" (SABR, 2017), edited by Gregory H. Wolf. To read more articles from this book at the SABR Games Project, click here.
Notes
1 The Sporting News, November 30, 1974: 49.
2 Ibid.
3 The Sporting News, November 16, 1974: 50.
4 Ibid.
5 The Sporting News, March 8, 1975: 24.
6 The Sporting News, April 1, 1986. 13
7 Associated Press via Baytown (Texas) Sun, September 16, 1985.
8 Ibid.
Additional Stats
Houston Astros 2
San Diego Padres 1
---
Astrodome
Houston, TX
Box Score + PBP:
Corrections? Additions?
If you can help us improve this game story, contact us.
Tags
https://sabr.org/sites/default/files/CruzJose-1985-Donruss.jpg
600
800
admin
/wp-content/uploads/2020/02/sabr_logo.png
admin
2018-10-01 22:53:56
2020-04-17 10:23:54
September 15, 1985: José Cruz collects his 2,000th hit