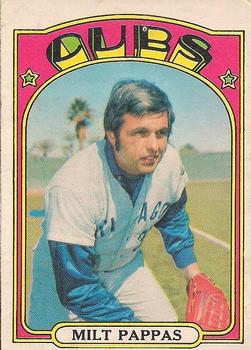 September 2, 1972: A strike away from a perfect game, Cubs' Milt Pappas settles for no-hitter
---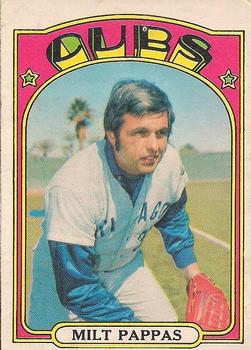 He was a two-time All-Star, won 209 games, and tossed 43 shutouts in his 17-year career but is best remembered for a walk. Milt Pappas "came so dramatically close to perfection," opined sportswriter George Langford of the Chicago Tribune, that "even the rare distinction of what he did achieve — pitching a no-hit game — almost seemed anti-climactic."1 For the rest of his life, Pappas could not escape the haunting feeling that he had been robbed and dealt an injustice.
Pappas didn't really feel like pitching against the lowly San Diego Padres (46-79), heading to their fourth consecutive last-place finish in the NL West, on a cool, autumnal-like Saturday afternoon in the Windy City. The Chicago Cubs' 33-year-old hurler awoke with a head cold and only his wife's encouragement finally persuaded him to take the mound. It had been a self-described "depressing" campaign, his 16th, for the Detroit native who began his career as an 18-year-old with the Baltimore Orioles in 1957.2In spring training the right-hander broke a finger, then sat idle for 3½ weeks. "My arm was not strong and my elbow started hurting me," said Pappas about starting the season, delayed 13 days because of the first players' strike in league history. "I've had 30 shots of cortisone in my elbow already this season."3 He had turned his season around in August, winning five consecutive decisions to improve his record to 11-7 (3.18 ERA) and push his career slate to 196-152.
The friendly confines of Wrigley Field were packed with 11,144 faithful spectators, undeterred by the ominous dark skies, temperatures hovering around 60 degrees, and a vicious, swirling northeasterly wind blowing off Lake Michigan toward home plate. Skipper Whitey Lockman's Cubs were in second place (68-58) in the NL East, but sat 11 games behind the Pittsburgh Pirates and needed a collapse even more profound than their notorious one in 1969 to reach the postseason for the first time since 1945.
After Pappas began the game by setting down the Padres in order in the first, the Cubs had luck on their side facing left-hander Mike Caldwell (6-7, 3.31 ERA), in his first full big-league season. Leadoff hitter Don Kessinger reached on a two-base error by shortstop Enzo Hernandez and scored on Jose Cardenal's single. Billy Williams followed with another single. Two batters later, Jim Hickman hit what appeared to be a routine inning-ending double-play grounder, but the ball struck second-base umpire Stan Landes. It was ruled a hit and filled the bases. Carmen Fanzone's groundout plated Cardenal for the Cubs' second unearned run, which proved to be more than enough on this damp afternoon.
The Cubs added six more insurance runs. Two came in the third on Hickman's RBI single driving in Williams, and Ron Santo, who had been hit by a pitch, scored on Fanzone's twin-killing groundout. Caldwell eventually found his groove, yielding just two hits from the fourth inning through the seventh inning, but came undone in the eighth. With the bases jammed, Bill North hit a one-out single to drive in Hickman. Kessinger landed the coup de grâce with a two-out, bases-clearing double, giving the Cubs an 8-0 lead.
Despite the Cubs' offensive explosion (they had trounced the Padres, 14-3, the previous day), this game was about Pappas. Relying on his trademark hard slider, Pappas kept the Padres off balance all afternoon. Through eight innings, the lowest-scoring team in the league had only three legitimate chances for a hit. Speedy Enzo Hernandez led off the fourth with what the Chicago Tribune described as a "perfect bunt" surprising third sacker Ron Santo, who "had no choice but to watch the ball roll and hope it trickled foul."4 It did after 50 feet, and on the next pitch Pappas fanned Hernandez. In the following inning, Kessinger, who had earned his fifth straight berth as shortstop on the NL All-Star squad in '72, made the defensive stop of the game when he "raced behind third and 10 feet in the wet outfield grass," according to the Tribune, to snare Nate Colbert's sharp grounder and throw him out by a split-second.5 Pappas himself displayed his athleticism in the eighth, in what he considered the "the biggest scare" of the game.6 With two outs, fleet-footed Derrel Thomas smashed a hard liner that hit Pappas's glove. The hurler quickly whirled around, fielded the ball, and threw wildly to first but beat the runner.
Pappas took the mound in the ninth just three out away from the 10th perfect game in major-league history. Eight years earlier to the day, Pappas, then with the Orioles, had flirted with a no-hitter against the Minnesota Twins. Zoilo Versalles singled with two outs in the eighth and Pappas settled for what proved to be his only career one-hitter.
The Padres' Johnny Jeter led off the final frame with a routine fly to left-center field. It was just the fourth — and final — Padres' hit to the outfield all afternoon. To the horror of the Wrigley Field crowd standing on its feet since the inning commenced, center fielder Bill North slipped and fell to the ground, but left fielder Billy Williams swooped in to make the catch. "I had lost the ball completely in the sun," said North. "I was just trying to run in the general direction of the ball."7 After Fred Kendall was retired on a grounder to short, pinch-hitter Larry Stahl, batting just .232, dug in. Pappas got ahead in the count, 1-and-2, then missed with two sliders, for a full count.
Cubs legendary broadcaster Jack Brickhouse made the call on WGN: "Now here comes one of the most fateful pitches of the year. Ball three, strike two, two outs, perfect game on the line, no-hitter on the line. Watch it. It's a ball. And Pappas is enraged. Ball four. There goes the perfect game. The no-hitter is still intact. Milt Pappas doing a burn."8
Pappas pounded his glove in disbelief and screamed at the home-plate umpire, 32-year-old Bruce Froemming. Regaining his composure, Pappas retired pinch-hitter Garry Jestadt on a popup to second to complete the no-hitter in 2 hours and 3 minutes.
The celebratory mood in the Cubs' clubhouse was tempered as Froemming's call, and not Pappas's game of his life, was the focus of attention. "This is the first time in my life I felt a letdown with a no-hitter," said Santo. "[Pappas] came so close to a perfect game."9 Sportswriters peppered Pappas, who finished with six strikeouts, with questions about losing the perfecto. "I got away with several hanging sliders and I had three or four scares," he said, trying to deflect their queries.10 He described his last three pitches to Stahl as "balls … borderline balls," and also congratulated Froemming for calling a "good game."11 But Pappas was seething, and everyone knew it. "I was just hoping that Froemming might sympathize with me since it was a perfect game," he said.12
Froemming, in his second season of an eventual 37-year career as a big-league umpire, rejected any sentimental view of calling balls and strikes. Pappas's perfect game "never entered my mind," he said. He claimed the hurler's final three pitches to Stahl "weren't borderline at all. They were what we call shoeshinners, well below the knees."13
Pappas's no-hitter was part of one of the best stretches in his career. He won his final 11 starts of the '72 campaign (posting a 1.86 ERA in 82⅓ innings) to finish with a 17-7 record, matching his career high in victories, set a season earlier, and reached two milestones. He became the first pitcher to record 200 victories without having won at least 20 in a season, and surpassed 3,000 innings pitched.14
Pappas retired after the 1973 season and his bitterness over Froemming's call seemed to grow over time. "I still to this day don't understand what Bruce Froemming was going through in his mind at that time," Pappas told ESPN in 2007. "Why didn't he throw up that right hand like the umpire did in the perfect game with Don Larsen?" [The New York Yankees hurler's final pitch in his perfect game against the Los Angeles Dodgers in Game Five of the 1956 World Series was well off the plate].15
Pappas argued that the gravity and historical significance of the situation demanded a different approach from Froemming. "It's a home game in Wrigley Field. I'm pitching for the Chicago Cubs. The score is 8-0 in favor of the Cubs. What does he have to lose by not calling the last pitch a strike to call a perfect game? If it's a blatant pitch that anybody can see it's a ball, then he should've called it a ball. But it wasn't."16
This article appears in "Wrigley Field: The Friendly Confines at Clark and Addison" (SABR, 2019), edited by Gregory H. Wolf. To read more stories from this book online, click here.
Sources
In addition to the sources cited in the Notes, the author also accessed Retrosheet.org, Baseball-Reference.com, and SABR.org.
https://www.baseball-reference.com/boxes/CHN/CHN197209020.shtml
http://www.retrosheet.org/boxesetc/1972/B09020CHN1972.htm
Notes
1 George Langford, "Pappas Pitches No-Hitter; Perfection Bid Ends on Walk," Chicago Tribune, September 3, 1972: D1.
2 Ibid.
3 Ibid.
4 Ibid.
5 Ibid.
6 Ibid.
7 Ibid.
8 Clip of Pappas facing the final two Padres batters on YouTube, courtesy of ESPN. https://espn.com/espn/print?id=3019597
9 Langford.
10 Ibid.
11 Ibid.
12 Ibid.
13 Ibid.
14 Jack Quinn won 247 games in his 23-year big-league career. He won only 20+ games in a season only once, posting 26 victories in 1914 for the Baltimore Terrapins in the Federal League.
15 See Vin Scully's call of the final pitch on YouTube: https://www.youtube.com/watch?v=roZUjcYj95k. And also Louis Jacobson, "George Will says final pitch from Don Larson in 1956 was foot-and-a-half from strike zone," PolitiFact, June 11, 2011, http://www.politifact.com/truth-o-meter/statements/2010/jun/11/george-will/george-will-says-final-pitch-don-larsen-1956-was-f/
16 William Weinbaum, "Froemming draws Pappas' ire, 35 Years later," ESPN.com, September 20, 2007, http://www.espn.com/espn/print?id=3019597
Additional Stats
Chicago Cubs 8
San Diego Padres 0
---
Wrigley Field
Chicago, IL
Box Score + PBP:
Corrections? Additions?
If you can help us improve this game story, contact us.
Tags
https://sabr.org/sites/default/files/PappasMilt-CHC.jpg
600
800
admin
/wp-content/uploads/2020/02/sabr_logo.png
admin
2019-12-16 14:02:41
2020-04-17 10:22:22
September 2, 1972: A strike away from a perfect game, Cubs' Milt Pappas settles for no-hitter