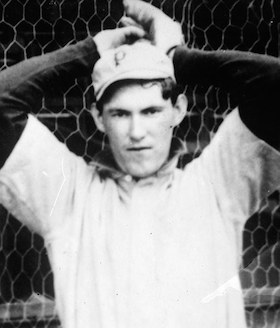 September 20, 1907: Nick Maddox tosses first no-hitter in Pirates' history
---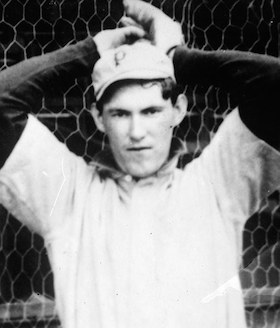 From Pittsburgh's inaugural season in the National League, 1887, when the club was known as the Alleghenys, to 1971, only one pitcher tossed a no-hitter in the Smoky City. Rookie right-hander Nick Maddox, a stout 6-foot 20-year-old, just about three months shy of his 21st birthday, turned the trick on September 20, 1907, in what the Pittsburgh Press hailed as "one of the most remarkable games ever played" in the city.1 Not only did Maddox became the first Pirate in franchise history to throw no-hitter, he remains, as of 2017, the second youngest big-league hurler to author a no-no, trailing only Amos "The Hoosier Thunderbolt" Rusie (about a month younger), who accomplished the feat on July 31, 1891.
Few, if any, pitchers in Pirates history have begun their career with such a dominant stretch as Maddox. Widely considered one of the hardest-throwing pitchers in baseball, Maddox tossed an overpowering five-hit shutout, striking out 11, to beat the St. Louis Cardinals, 4-0, in his major-league debut on Friday, September 13, 1907, at Exposition Park in Pittsburgh.2 As SABR member Bill Lamb discussed in his biography of the player on the BioProject, the Pirates had owned the rights to Maddox since September 1 of the previous year, and had farmed him to the Wheeling (West Virginia) Stogies of the Class-B Central League, where he had pitched for most of the season and fired two no-hitters.3 Three days later, Maddox notched his second straight complete-game victory over the Cardinals, 4-2, in St. Louis.4
After just two starts, local papers touted him as a star. "His coolness at all times is capital and his generalship is the sort that conquers the most dangerous diamond foes," gushed Edward F. Balinger in the Pittsburgh Post.5 In an era when baseball players were often seen as uncouth or unsavory, hard-drinking characters, Balinger praised Maddox's temperament (indeed temperance): "He is said to be steady in his habits, which virtue is lacking among many slabmen."6 In Maddox's third start in eight days, he made history.
With just 18 games left to play, the Pirates, led by player-manager Fred Clarke since 1900, had no chance of capturing their first pennant since the last of three consecutive in 1903. Despite a stellar 82-54 record, they were in second place, a whopping 15½ games behind the streaking Chicago Cubs. The previous afternoon, on September 19, they kicked off their last homestand (14 games) of the campaign by defeating the fifth-place Brooklyn Superbas on Tommy Leach's dramatic ninth-inning walk-off single for a 4-3 victory.7 Maddox was expected to contribute to the momentum, both his own and the team's, against Brooklyn's Elmer Stricklett, regarded by many historians as one of the originators of the spitball. The 5-foot-6, 30-year-old right-hander was in the last of his four big-league seasons during which he went 35-51 before jumping to an "outlaw" league in California, and was subsequently blacklisted from the majors by the National Commission.8
A ferocious early afternoon rainstorm threatened a Friday afternoon of baseball, but by 3:30 the skies had cleared and the sun was bright. A crowd of about 2,380, according to the Pittsburgh Post, packed Exposition Park, located on the north side of the Allegheny River, several blocks south of where PNC Park would be inaugurated in 2001.9 This geographical area had been an independent municipality called Allegheny City until it was annexed by Pittsburgh earlier that year, and became known as Pittsburgh's North Side.
The fast-paced contest quickly revealed itself as a pitchers' duel. Both hurlers held their opponents hitless through three frames, while Maddox walked two and Stricklett one. With two outs in the fourth, Pittsburgh flinched first. Maddox fielded Emil Batch's chopper back to the mound and threw high to first baseman Harry Swacina, who could not hold onto the ball, enabling Batch to scamper to second. Maddox remained "perfectly cool," opined the Pittsburgh Post, "and behaved himself like a veteran."10 Al Burch followed with a routine grounder to shortstop Honus Wagner, whose high throw caromed off Swacina's glove and rolled into right field, allowing Batch to score easily. "I didn't hold that against Honus," said Maddox decades later. "He saved my no-hitter in the ninth."11
The Pirates' Clarke collected the game's first hit in the fourth by ripping a one-out double over Batch's head in left-center, but was left stranded at the keystone sack. His teammates finally got on the board the next inning owing to Swacina's "daring baserunning."12 On first via walk, Swacina took off when Alan Storke executed a sacrifice bunt to third base. By the time first baseman Tim Jordan caught Doc Casey's throw, Swacina had rounded second. According to the Brooklyn Daily Eagle, catcher Bill Bergen darted to third base to take Jordan's throw, which sailed high, permitting Swacina to race home and tie the score.13
"[T]he game was speedy in every way," opined the Pittsburgh Press.14 While Maddox overpowered the Superbas with his fastball, with an occasional slowball tossed in, Stricklett's "moist slants" and their corresponding dances to the plate deceived the Pirates.15
Skipper Patsy Donovan's Superbas threatened in the seventh when Burch led off with a walk, and moved up two stations on a sacrifice and a groundout. With poor-hitting Stricklett at the plate, the speedy Burch attempted an audacious steal of home, but was tagged out by catcher George "Moon" Gibson.
With mounting tension, Honus Wagner led off the Pirates seventh with a walk. Ed Abbaticchio followed with a tailor-made double-play grounder which Jordan fielded cleanly, but threw wildly to second base to force Wagner, who easily reached third when the ball rolled into left field. After Storke drew a one-out walk to load the bases, Gibson drove in Wagner on a grounder forcing Storke at second. Stricklett retired Maddox to keep the pressure on his mound mate.
While Stricklett yielded his second hit of the game, a two-out single by Clark in the eighth, Maddox mowed down all six batters he faced in the eighth and ninth innings. Honus Wagner recorded the final out when he fielded Billy Maloney's chopper over Maddox's head and rifled a bullet to Swacina to end the game in 1 hour and 30 minutes. "The ball seemed to hang in the air," recalled the Hall of Famer. "When it finally came down, I let fly to first base without even looking for the bag. The throw just beat the runner."16
In fashioning the Pirates' maiden no-hitter, Maddox fanned five, walked three, and hit a batter. The Pittsburgh Post reported that the Superbas did not manage a "semblance" of a hit.17 The "boy behaves as though he had been working in major league company for ten years instead of ten days," wrote Balinger enthusiastically of Maddox.18 A tough-luck loser, Stricklett walked four; however, newspaper accounts considered it noteworthy that he did not register a strikeout considering the effectiveness of his spitter, which the Pirates chopped into the grass all afternoon.
Prior to Maddox's gem, there had been three no-hitters in Pittsburgh, each of which occurred when the Alleghenys were members of the American Association. Guy Hecker of the Louisville Colonels tossed the first on September 19, 1882. Ed Morris of the Columbus Buckeyes fashioned the second, on May 29, 1884. Both of those took place at the first incarnation of Exposition Park. On October 7, 1886, Matt Kilroy of the Baltimore Orioles held the Alleghenys hitless in front of 600 spectators at Recreation Park, situated several blocks north of where Exposition Park had been built around 1880. At that time, pitchers threw from a box 50 feet from home plate; the pitcher's box was removed in 1893 and was replaced by a pitcher's plate, located 60 feet 6 inches from home plate.
Two days after Maddox's historic performance, team owner Barney Dreyfuss and the Pirates traveled by Pullman coach to Wheeling to play an exhibition game with the Stogies on what the Pittsburgh Press called "Nick Maddox Day."19 While Stogies fans clamored for the Pirates' new favorite son to start the game, manager Clarke kept his wits, but sent Maddox to the mound for only the first three innings in the Pirates eventual 5-3 victory in 11 innings.20
Maddox continued his hot pitching in his fourth start with a distance-going six-hit victory, 14-1, against the New York Giants in Pittsburgh on September 25. Impressively, he extended his hitless streak to 13 innings.21 The next Pirates hurler to win his first four big-league starts was Gerrit Cole in 2013. Maddox completed all six of his starts in 1907, winning five of them, and permitting just five earned runs in 54 innings (0.83 ERA). After winning 23 games in 1908, and helping the Pirates to their first World Series championship in 1909, Maddox developed arm problems in 1910 and was sold to the Kansas City Blues in the American Association, never to return to the big stage. In four years with the Pirates he posted a 43-20 record.
This article appears in "Moments of Joy and Heartbreak: 66 Significant Episodes in the History of the Pittsburgh Pirates" (SABR, 2018), edited by Jorge Iber and Bill Nowlin. To read more stories from this book at the SABR Games Project, click here.
Sources
In addition to the sources cited in the Notes, the author also accessed Retrosheet.org, Baseball-Reference.com, the SABR Minor Leagues Database, accessed online at Baseball-Reference.com, SABR.org, and The Sporting News archive via Paper of Record.
https://www.retrosheet.org/boxesetc/1907/B09200PIT1907.htm
Notes
1 "Pirates Win a Great Game," Pittsburgh Press, September 21, 1907: 8.
2 "Won Fine Game From St. Louis," Pittsburgh Press, September 14, 1907: 5.
3 Bill Lamb, "Nick Maddox, SABR BioProject, https://sabr.org/bioproj/person/1ee85e7c.
4 "Pirates Got an Even Break," Pittsburgh Press, September 17, 1907: 10.
5 Edward F. Balinger, "Review of Sports During the Week," Pittsburgh Post, September 22, 1907: 16.
6 Ibid.
7 "Fine Finish by Pirates, "Pittsburgh Press, September 20, 1907: 22.
8 Stephen V. Rice, "Elmer Stricklett," SABR BioProject, https://sabr.org/bioproj/person/e350a2d2.
9 "Maddox Proves Bright Star in Sensational Slab Battle," Pittsburgh Post, September 21, 1907: 7.
10 Ibid.
11 Paul Meyers, "September 20, 1907: Nick Maddox pitched the first no-hitter in Pirates franchise history," Pittsburgh-Post-Gazette, September 20, 2007, https://post-gazette.com/sports/2007/09/20/September-20-1907-Nick-Maddox-pitched-the-first-no-hitter-in-Pirates-franchise-history/stories/200709200425/.
12 "Superbas Fail to Make a Hit, Yet Nearly Win the Game," Brooklyn Daily Eagle, September 21, 1907: 12.
13 Ibid.
14 "Pirates Win a Great Game," Pittsburgh Press.
15 "Maddox Proves Bright Star in Sensational Slab Battle," Pittsburgh Post.
16 Meyers.
17 Maddox Proves Bright Star in Sensational Slab Battle," Pittsburgh Post.
18 Balinger.
19 "New Man to Help Locals," Pittsburgh Press, September 22, 1907: 18.
20 "Wheeling Is Beaten in Bitter Struggle," Pittsburgh Post, September 23, 1907: 7.
21 Nick Maddox Invincible," Pittsburgh Press, September 26, 1907: 14.
Additional Stats
Pittsburgh Pirates 2
Brooklyn Superbas 1
---
Exposition Park
Pittsburgh, PA
Box Score + PBP:
Corrections? Additions?
If you can help us improve this game story, contact us.
Tags
https://sabr.org/sites/default/files/MaddoxNick.jpg
600
800
admin
/wp-content/uploads/2020/02/sabr_logo.png
admin
2019-02-13 09:58:42
2020-04-17 10:23:39
September 20, 1907: Nick Maddox tosses first no-hitter in Pirates' history