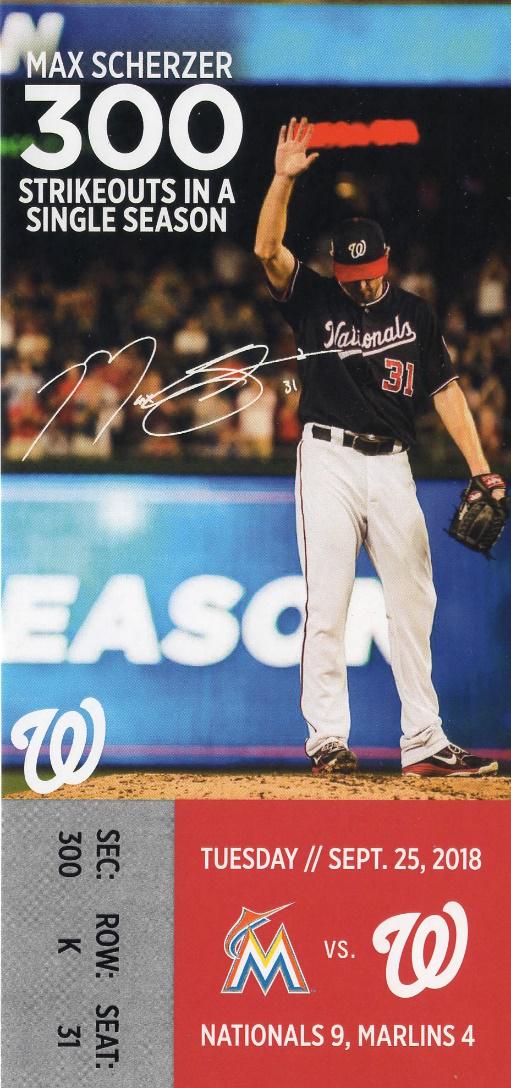 September 25, 2018: Max Scherzer reaches the 300-strikeout milestone for first time
---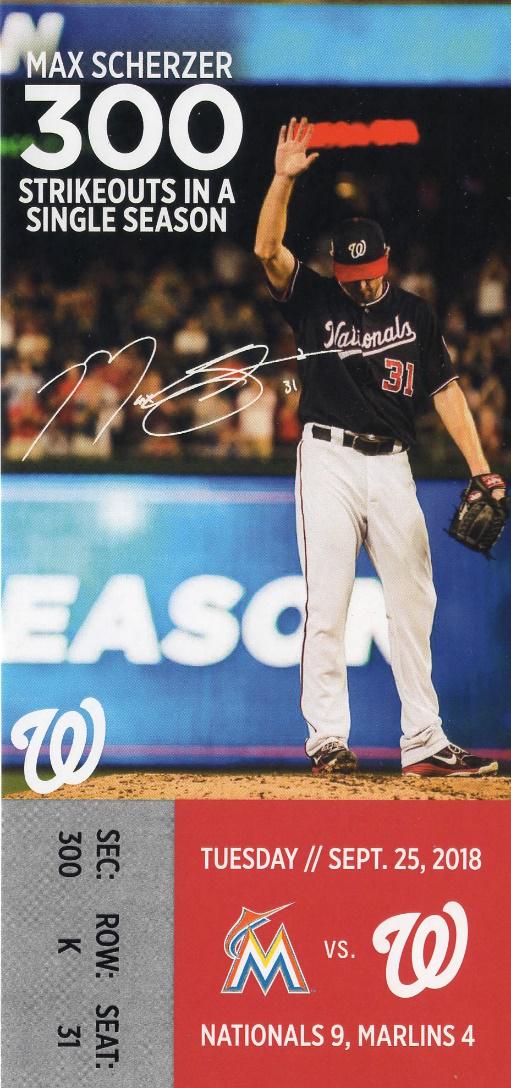 It was the last week of the regular season and the last night to enjoy a ballgame at Nationals Park. The grind of the 2018 season was about to reach an ending that no one, team and fans alike, expected to see. The Nationals had been the odds-on favorite to win the National League East Division title. With a 79-78 record and five games remaining, there was no assurance of even a .500 record. There would be no playoff baseball in October in this city.
Tonight was the penultimate game at Nationals Park for Bryce Harper before he became a free agent. Washington Post columnist Barry Svrluga reminded us how consuming this story had become, dominating local and even national baseball talk, all season long.1
But there was another story and a different, even hopeful, mood tonight as the author's pregame conversations in Section 209 focused on Max Scherzer. Five days earlier, on September 20, Scherzer struck out 13 New York Mets in seven innings to reach 290 and break his own Nationals record (284), set in 2016. There was good reason to be hopeful that tonight might be the night for the hometown fans to witness a major baseball milestone, a 300-strikeout season. After all, Scherzer had struck out 10 or more batters in 17 of his 32 starts this season. He was well aware of the possibility. "It was on my mind. With enough guys talking about it, understanding what the milestone is," Scherzer said. "And I definitely wanted to do it here at home."2
It did not take long for the crowd to get into the game in anticipation that something special could be happening. Scherzer fanned the first batter he faced, Miami Marlins shortstop J.T. Riddle, on three pitches for strikeout 291 and retired the side in order. Marlins pitcher Jeff Brigham was not so fortunate in the bottom of the first inning. Brigham was less than one month removed from his major-league debut and had yet to win his first game in the major leagues.
Adam Eaton led off the first inning with a walk and stole second with one out and Bryce Harper at the plate. Harper walked on a full count, setting the stage for Anthony Rendon's 24th home run and a quick 3-0 lead for the Nationals. Scherzer responded accordingly in the second inning by again retiring the side in order and getting both Peter O'Brien and Lewis Brinson on swinging strikeouts. Strikeout 294 ended the third inning when Scherzer caught Riddle looking.
Meanwhile, the Nationals could not take advantage of scoring opportunities in the second and third. In fact, in both innings, they put the first two batters on base with no outs, but could not score. The Marlins narrowed their deficit in the fourth inning to 3-1 when Brian Anderson's two-out, line-drive double down the left-field line scored Miguel Rojas, who had singled to open the inning. But the futility continued for both O'Brien and Brinson when Scherzer got them swinging for strikeouts 295 and 296. Scherzer struck out Austin Dean swinging in the fifth inning and J.T. Realmuto swinging in the sixth for strikeouts 297 and 298. He walked off the mound after the sixth inning having thrown 84 pitches. Was there any chance that Nationals manager Dave Martinez would take the ball from Scherzer before strikeout 300? No. "I value my life," Martinez said.3
The top of the seventh inning started with Brinson swinging at a 97-mph fastball and striking out for the third consecutive time. The strikeout count stood at 299. Scherzer stalked around the mound as the Nationals customarily threw the ball around the infield. The crowd was whipping itself into a frenzy as Austin Dean came to the plate. Those in the Nationals dugout moved to the front railing and the bullpen moved to their great-view seats just above the right-field fence.
Scherzer pitching to Dean was a classic pitcher-versus-batter confrontation. With a full count, Dean fouled off four consecutive pitches before missing a slider on the 10th pitch for strikeout 300. Scherzer circled the mound as a replacement baseball was tossed around the infield. When he returned to the mound, he waved to the crowd and acknowledged the applause coming from the dugout and bullpen.4
Scherzer became the 17th pitcher since 1900 and the sixth since 1990 to record 300 strikeouts in a season. He was the first to do so while pitching in Washington, DC, since Walter Johnson accomplished the feat in 1912.5
There was still a game to be won and the Nationals' bats seemed to come alive on the occasion. Adam Eaton led off the seventh inning with a double to right off Marlins relief pitcher Tyler Kinley. With one out, Eaton advanced to third on a wild pitch and Bryce Harper was intentionally walked (his third walk of the game). Anthony Rendon continued his hot hitting with an RBI double and finished the night with three hits, four runs batted in and a .312 batting average. After Juan Soto was intentionally walked to load the bases, Ryan Zimmerman singled to center for two more runs. Nick Wittgren replaced Kinley on the mound, but that didn't help the Marlins. Matt Wieters singled to left, scoring Soto. With two outs, Andrew Stevenson batted for Scherzer and walked. Eaton came up again, this time with the bases loaded. He singled to center, knocking in the final two runs of the inning for a 9-1 Nationals lead.
The bullpen trio of Tim Collins, Austen Williams, and Jimmy Cordero took over for the final two innings to preserve Scherzer's 18th win of the season. The latter two were rookies and none of the three pitchers were on the Nationals 25-man Opening Day roster. Riddle opened the eighth with a single off Collins, who retired the next two batters before yielding the mound to Williams. Peter O'Brien promptly hit a two-run homer down the left-field line before Williams struck out Brian Anderson to end the inning. Cordero pitched the ninth inning. Brinson opened with a single, advancing to second on Cordero's throwing error. Chris Bostick, a former National, singled to short left, scoring Brinson, before Isaac Galloway grounded out to end the game.
Max Scherzer's 2018 season was punctuated by outstanding pitching performances and strikeout records. In May he became the first major-league pitcher to strike out 15 while recording the first 19 outs or fewer.6 Two weeks later, Scherzer struck out 13 Dodgers and became the fastest pitcher in the modern era to reach 100 strikeouts in a season. It took him 63 innings to accomplish the feat. Kerry Wood achieved that mark in 2001 in 65⅔ innings.7
This night marked the last of Scherzer's 33 starts for the 2018 season. With October baseball out of reach for the Nationals, there was only one remaining question regarding his season's worth of work. Would Scherzer win a third consecutive National League Cy Young Award or would the honor go to the Mets' Jacob deGrom? DeGrom pitched to only a 10-9 record for the season, but his 1.70 ERA was the sixth lowest for a starter since 1969. Scherzer finished the season with an 18-7 record and a 2.53 ERA, but he had yielded 23 home runs compared with 10 off deGrom in a comparable number of innings.8 Two weeks before the end of the season, in the visitors' clubhouse in Miami, Scherzer commented when the subject turned to the Cy Young race, "DeGrom has it."9 He was correct.
Regarding Scherzer and the Cy Young award, Washington Post beat reporter Chelsea Janes wrote, "[H]e appreciates it, he said, but doesn't pitch for it. He cares about it but doesn't use it as motivation."10 It was fitting that she also noted that Scherzer considered 2018 to be the best season of his professional career.11 Fans leaving Nationals Park on this night had every reason to agree.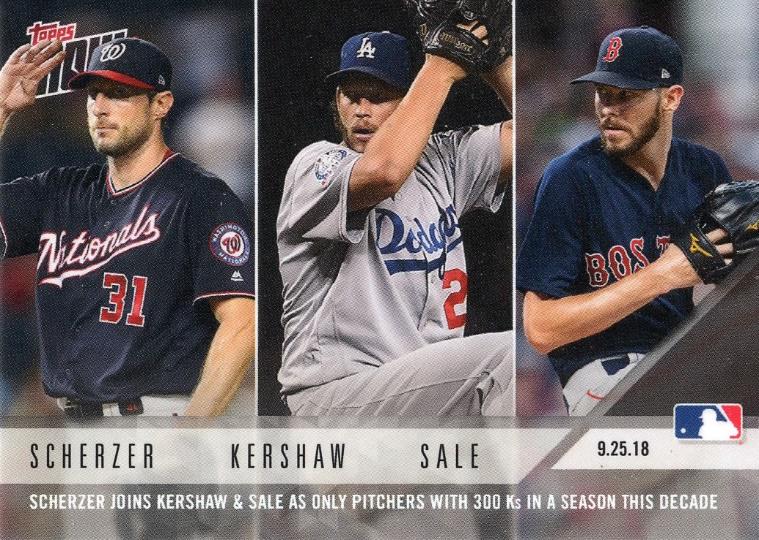 Author's note
Every baseball season is marked by memorable events and moments of great accomplishment. Great pitching performances, walk-off victories, diving catches are well recognized by even the casual fan. When these moments are upon us in the last week of a disappointing season, there is only one thing to do: look forward to the 2019 season.
Sources
The author accessed Baseball-Reference.com for box scores/play-by-play information (baseball-reference.com/boxes/WAS/WAS201809250.shtml) and other data, as well as Retrosheet.org (retrosheet.org/boxesetc/2018/B09250WAS2018.htm). The ticket commemorating Max Scherzer's feat was purchased to support the Washington Nationals Dream Foundation. The baseball card was purchased by the author from the Topps Company.
Notes
1 Barry Svrluga, "Am I in the Plans?" Washington Post, September 26, 2018: D1.
2 Chelsea Janes, "Strike 300: Scherzer Hits Mark," Washington Post, September 26, 2018: D1.
3 Janes: D3.
4 "Must C: Scherzer gets 300th K," MLB.com, September 25, 2018, mlb.com/video/must-c-scherzer-gets-300th-k/c-2504311483.
5 Janes: D1. Since 1990, pitchers Pedro Martinez, Curt Schilling, Randy Johnson, Clayton Kershaw, and Chris Sale have struck out at least 300 batters in a single season.
6 Steven C. Weiner, "May 6, 2018: Max Scherzer sets another strikeout record, Wilmer Difo singles for walk-off win," SABR Baseball Games Project.
7 Michael Bradburn, "Scherzer Strikes Out 13, Sets Record as Fastest to 100 Ks in Season," MSN.com, May 20, 2018, accessed August 21, 2018, msn.com/en-us/sports/mlb/scherzer-strikes-out-13-sets-record-as-fastest-to-100-ks-in-season/ar-AAxxc3f.
8 In 2018 Scherzer pitched 220⅔ innings yielding 0.9 HR9 (= 9xHR/IP); deGrom pitched 217 innings yielding 0.4 HR9 to lead the major leagues.
9 Chelsea Janes, "Mets' Jacob deGrom Denies Max Scherzer a Third Straight Cy Young; Rays' Blake Snell Wins in AL," Washington Post, November 15, 2018, D3.
10 Ibid.
11 Ibid. In 2018, Max Scherzer led the National League in wins (18), strikeouts/walks (5.88) and HBP (12). He led the major leagues in innings pitched (220⅔) and strikeouts (300) and tied for the lead in complete games (2) and shutouts (1).
Additional Stats
Washington Nationals 9
Miami Marlins 4
---
Nationals Park
Washington, DC
Box Score + PBP:
Corrections? Additions?
If you can help us improve this game story, contact us.
Tags
https://sabr.org/sites/default/files/Scherzer-Max-300K-2018.jpg
600
800
admin
/wp-content/uploads/2020/02/sabr_logo.png
admin
2018-12-20 15:15:43
2020-04-17 10:23:43
September 25, 2018: Max Scherzer reaches the 300-strikeout milestone for first time