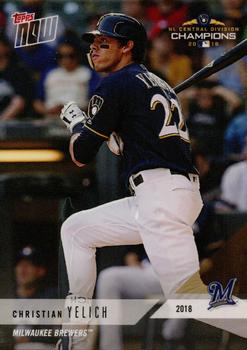 September 26, 2018: Milwaukee Brewers clinch postseason berth as Yelich sets record
---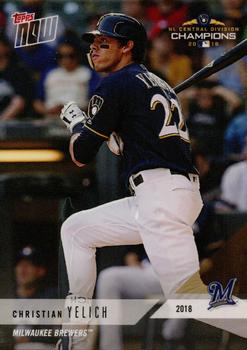 There are late-September games between two teams looking up at their division leader that rate between ho-hum and footnote. This was not one of them. Yes, the Cubs were leading the NL Central Division but only by a half-game over the Brewers (91-67). The Cardinals (87-71) were clinging to postseason hopes, 4½ games back of the Cubs.1 The Brewers, having won the first two games of the series, were hoping for a sweep: A win would guarantee them a postseason berth as a wild card, allowing them to celebrate on "enemy territory." A Brewers win would also guarantee the Cubs a postseason berth.
John Gant (7-6, 3.53 ERA) was pitching for the Cards. He had been pulled in the third inning of his last start after allowing a double and then walking three consecutive batters. Lorenzo Cain opened with a base hit to right. With Christian Yelich and his.321 league-leading BA at the plate, Cain took second on a wild pitch. He could have stayed put as Yelich worked the count full and walked on a ball in the dirt. But Gant settled in, striking out Jesús Aguilar, inducing a fly out of Travis Shaw, and getting Ryan Braun to ground out.
Jhoulys Chacín (14-8, 3.61 ERA) took the mound for the Brewers. His first inning went more smoothly than Gant's: He induced a groundout, a fly out, and a lineout to dispose of the top of the Cardinals' order on 12 pitches.
Gant's second inning was less eventful than the first. After getting Mike Moustakas to fly out and Erik Kratz to ground out, he allowed a bloop single to Orlando Arcia. Chacín worked the count full, fouled off three pitches, but eventually flied out to left.
Chacín got a scare in the bottom of the second. Marcell Ozuna's comebacker headed right at his face, but he got his glove up in time. It didn't seem to faze him: He got Jedd Gyorko to ground out and Yadier Molina to fly out to end the inning.
Cain flied out to right to start the third. Perhaps mindful of Yelich's 11 RBIs on this road trip, Gant pitched him mostly outside and walked him again. When Aguilar lined into left for a base hit, Yelich ran hard for third. Yelich scored on Shaw's single, but Aguilar was thrown out at third. José Martínez made a good throw from right, and although Aguilar tried to avoid the tag, he couldn't scramble back to the bag before the tag by Gyorko. Braun grounded out again to end the half-inning with the score 1-0, Brewers.
Chacín continued his efficient and effective outing in the bottom of the third. He needed only 10 pitches to get Kolten Wong and Harrison Bader to ground out and Gant looking at strike three. Nine up, nine down; and only 29 pitches. There was another scary moment when Bader hit the dirt: At first Chacín thought he'd hit him, but the ball actually hit Bader's bat. It was a called strike rather than an HBP.
Gant faced the bottom of the Brewers' order in the top of the fourth. He walked Moustakas. Kratz was out at first thanks to a diving stop and great throw by Wong, although Moustakas made it safely to second. Arcia then grounded to third: Moustakas got himself into a rundown between second and third long enough for Arcia to make it to second. So the Brewers still had a runner in scoring position, but Chacín struck out swinging to leave him there.
In the bottom of the fourth Chacín faced the Cardinals the second time through the order. He was not as successful as the first time around. He started by walking Matt Carpenter, giving the Cardinals their first baserunner. Martínez was out swinging at a pitch almost in the dirt, but Paul DeJong doubled into the left-field corner when Moustakas couldn't handle an odd hop on a groundball, moving Carpenter to third. Ozuna walked to load the bases. Gyorko's fly to left tied the game, 1-1. The Brewers catcher went out for a mound visit: Whatever he said worked: Chacín got Molina to ground to third, where a diving play by Moustakas ended the inning.
Gant faced only one batter in the top of the fifth: Cain grounded out. Even though he'd only thrown 86 pitches, with September expanded rosters available and the Cardinals' postseason hopes hanging by a thread, manager Mike Shildt brought in lefty Chasen Shreve to face Yelich. There didn't seem to be an advantage there: Yelich was batting.321 against righties and.322 against lefties. Shreve pitched carefully to Yelich and walked him on five pitches. Shildt then double-switched in rookie reliever Dakota Hudson. Hudson got Aguilar to ground out, but that advanced Yelich into scoring position. Shaw singled again, scoring Yelich again. That brought Yelich's total runs scored to 112, second only to Charlie Blackmon's 114.2 The Brewers threatened again when Yairo Muñoz double-bobbled Braun's grounder to put runners on first and second, but Moustakas grounded right to DeJong for the force at second to end the half-inning with the score 2-1, Brewers.
The bottom of the fifth was another efficient (six-pitch) inning for Chacín, who was now in line for the win. Yelich caught Wong's liner on the warning track, Bader struck out on a not-quite-checked swing, and Muñoz popped out.
Hudson was more effective in the top of the sixth: Although he walked pinch-hitter Domingo Santana, he got two strikeouts and a groundout in his full inning of work.
Brewers manager Craig Counsell called on lefty Xavier Cedeño to face Carpenter. The plan worked: Cedeño's seventh pitch was called strike three. Corbin Burnes, another rookie, was the next pitcher in from the revolving bullpen door. His outing did not start out well, as Martínez ended up on second when a routine fly ball popped out of Braun's glove. Burnes then grazed DeJong with a pitch. However, Burnes escaped the inning with no damage when Ozuna lined out to second: That turned into a double play because Martínez had left early for third.
Yelich opened the seventh by collecting his fourth walk, this time off Jordan Hicks. Hicks's arsenal included pitches over 100 MPH but not enough of them were in the zone. Yelich was erased when Aguilar grounded into a double play, then Shaw grounded out to end the half-inning.
Burnes got two quick outs in the bottom of the seventh. Counsell then brought in his set-up man and occasional closer, Josh Hader, to face Wong, who struck out swinging.
The Cardinals' usual closer, Carlos Martínez, took the hill for the eighth. Braun continued his bad day at the ballpark by striking out swinging at a diving changeup. Moustakas and Kratz also struck out swinging.
Hader got two quick outs in the bottom of the eighth: Bader struck out swinging and Muñoz was out on a foul pop near first. Carpenter, though, fought off several pitches and drew a walk on the ninth pitch. He was replaced at first by pinch-runner Adolis García.3 Despite having thrown only 19 pitches, Hader was replaced by Brewers closer Jeremy Jeffress. Jeffress needed only one pitch to get out of the inning. Martínez hit a grounder to third but Moustakas's throw to first was wild, caroming off the tarp (it was ruled a single). Garcia took off for home and probably would have scored if he hadn't fallen after rounding third. Kratz bobbled the ball on the catch but he still had time to tag García before he got to the plate.
Martínez continued pitching the top of the ninth. Arcia quickly lined out to second. Hernán Pérez drew a walk. Cain grounded to third, avoiding a double play by hustling to first; Pérez was out at second. Yelich drew his career-high fifth walk of the game, putting Cain into scoring position. With Keon Broxton batting, Cain stole third, but Broxton struck out to end the Brewers' chances for an insurance run.
Jeffress had no trouble closing out the bottom of the ninth. DeJong lined right to second, and Ozuna and pinch-hitter Tyler O'Neill struck out. The victory sent the Brewers to the postseason for just the fifth time in franchise history. Although they had only clinched a wild-card berth, there was plenty of celebrating.4
Besides drawing five non-intentional walks, Christian Yelich5 did something that hadn't previously happened in the Retrosheet era (post-1907): There is no other player who had zero official at-bats in a game yet still scored multiple runs and scored every run for his team.
Sources
baseball-reference.com/boxes/SLN/SLN201809260.shtml.
retrosheet.org/boxesetc/2018/B09260SLN2018.htm.
Game video: mlb.com/tv/g531778/vca3e9ae6-70f1-41a6-b97a-0ecbf5d1a0b0#game=531778,tfs=20180926_231000,game_state=live.
Notes
1 The Cardinals finished third in the NL Central, and missed the postseason.
2 Yelich finished the season with 118, one behind Blackmon's league-leading 119.
3 This was García's sixth pinch-running appearance since his August 8 call-up.
4 Tom Haudricourt, "Brewers 2, Cardinals 1, First Playoff Berth Since 2011 Assured," Milwaukee Journal Sentinel, jsonline.com/story/sports/mlb/brewers/2018/09/26/brewers-2-cardinals-1-first-playoff-berth-since-2011-assured/1426167002/,retrieved December 9, 2018. The Brewers were not done celebrating. They finished the regular season with a seven-game winning streak, tied at 95-67 with the Chicago Cubs. They beat the Cubs 3-1 in Game 163 to win the NL Central. They swept the Rockies to win the Division Series but lost 3-4 to the Dodgers in the Championship Series.
5 He did a lot of other things well, too: He was the 2018 National League MVP with 29 of the 30 first-place votes.
Additional Stats
Milwaukee Brewers 2
St. Louis Cardinals 1
---
Busch Stadium
St. Louis, MO
Box Score + PBP:
Corrections? Additions?
If you can help us improve this game story, contact us.
Tags
https://sabr.org/sites/default/files/Yelich-Christian-2018.jpg
600
800
admin
/wp-content/uploads/2020/02/sabr_logo.png
admin
2019-03-01 10:56:05
2020-04-17 10:23:38
September 26, 2018: Milwaukee Brewers clinch postseason berth as Yelich sets record