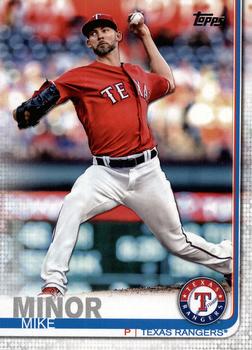 September 26, 2019: Mike Minor reaches 200 strikeouts as dropped foul popup leads to controversy
---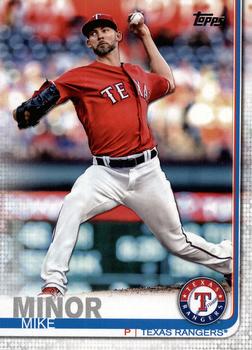 "We play the game the right way" is a phrase commonly bandied about in baseball. But baseball players are judged and rewarded based on their personal performances. What happens when these two sometimes disparate philosophies collide? Such was the case on September 26, 2019, at Globe Life Park, where the Texas Rangers beat the Boston Red Sox, 7-5. With one out in the ninth inning and Rangers pitcher Mike Minor one strikeout away from reaching the 200 innings pitched/200 strikeouts mark for the season, Red Sox shortstop Chris Owings hit an easily catchable foul popup between home plate and first base. Instead of securing the second out, Rangers first baseman Ronald Guzman intentionally let the ball drop for the second strike in order to give Minor another chance at the strikeout.
This Thursday afternoon featured two teams out of playoff contention playing the last game in the next to last series at Globe Life Park, soon to be replaced by a new ballpark for the Texas Rangers located across the street. The Rangers finished the season at 78-84 (third place in the American League West, 29 games behind the division-winning Houston Astros) and the Red Sox finished at 84-78 (third place in the AL East, 19 games behind the division-winning New York Yankees).
Although it was the end of September, the heat and humidity had not yet broken in Texas as temperatures reached the low 90s under a sunny sky. The pitching matchup featured rookie Boston right-hander Travis Lakins and Texas left-hander Mike Minor, who had been selected as an American League All-Star in July. Minor entered the game needing nine strikeouts to reach 200 for the season.
With periodic highlights on the videoboard showcasing memorable players and plays in the history of Globe Life Park, the first three innings of the game passed quietly for the announced crowd of 24,612. Lakins pitched only two innings, the first of eight Red Sox pitchers in the game. In the top of the fourth, Minor struggled, giving up five hits and three runs to put the Red Sox ahead 3-0. An RBI double in the bottom of the fourth by Rangers designated hitter Nick Solak gave Texas a run and the Rangers broke through in the bottom of the fifth against the fourth Red Sox pitcher, right-hander Mike Shawaryn.
After Rangers third baseman Isiah Kiner-Falefa singled and stole second, shortstop Elvis Andrus singled to right, moving Kiner-Falefa to third. With left fielder Willie Calhoun batting, Andrus, the Rangers all-time leader in stolen bases, stole number 300. Calhoun walked, bringing up center fielder Danny Santana with the bases loaded. On a 1-and-1 pitch, Santana hit a 445-foot grand slam off the facing of the upper deck in right-center field to give the Rangers a 5-3 lead.
Although he gave up two singles in the top of the sixth, Minor got a double-play groundball off the bat of Red Sox left fielder Sam Travis and entered the top of the seventh inning leading 5-3. The ball flew out of ballpark in the seventh as four home runs traveled an estimated distance of 1,633 feet. In the top of the inning, Red Sox center fielder Jackie Bradley and shortstop Chris Owings hit solo home runs to tie the game at 5-5. In the bottom of the seventh, Calhoun and Rangers second baseman Rougned Odor hit solo shots off Red Sox right-hander Ryan Weber to give the Rangers a lead they would not relinquish at 7-5.
With the temperature and humidity climbing and Minor at 117 pitches after the top of the seventh, one might think he'd be done for the day, with his team giving him the lead en route to his 14th win of the season. But he was back on the mound in the eighth seeking one more strikeout. On three pitches, the Red Sox batters were retired in order and, after the Rangers went down in order in the bottom of the eighth, Minor was back on the mound for the top of the ninth needing one strikeout to reach 200.
With one out and a 1-and-1 count, Owings hit a foul popup between home plate and first base, an easily catchable ball for either first baseman Ronald Guzman or catcher Jose Trevino. Out number two, right? After initially charging the ball, Guzman allowed it to land safely in foul territory for the second strike on Owings.
"I don't read the game notes so I wasn't aware of Minor going for that milestone early in the game," said Greg Porzucek, the official scorer for the game. "But late in the game you do expect them to turn it over to the bullpen and someone mentioned in the eighth that Minor was still in because he was going for 200 strikeouts on the season. When I saw that ball drop in the ninth my first thought was, 'Oh, geez.' So I started running through the rules for such a play. There is a rule about not charging an error if there is a runner on third so as to not let them score but that didn't apply in this situation. You don't charge an error for a fielder's mental mistake — could that apply in this situation? I initially called it 'no play' and told the Gameday stringer that I would be looking at that after the game."1
With new life, Minor got Owings on a called third strike on the next pitch to reach strikeout 200. Rangers manager Chris Woodward then brought in relief pitcher Jose LeClerc, who retired second baseman Marco Hernandez for the last out. "Shortly after the game ended, I heard one of the Red Sox broadcasters asking who the official scorer was for this game. I told him I was and he said he was disturbed that a play like that would be allowed to happen," said Porzucek.2
"I reviewed that play and reached out to our contact at Elias to ask if there was any reason I couldn't call an error. They said no so I went ahead and changed it to an E-3. I didn't hear anything about it from anyone with the Rangers. But I sent this to our boss at MLB so we could take a look at this play at our official scorers meeting in New York. It worked out fine in this scenario but it was still close at that point — the Red Sox had the top of the order coming up so it could have gone differently. What do you say if something like that causes you to lose the game?"3
Game stories focused mainly on this controversy and, as one might expect, reactions were mixed. "It got gut-wrenching as a manager," Woodward said of continuing with Minor. "I didn't love the idea that we dropped a popup at the end, but on the other side of that, they swung at three pitches in a row in the eighth inning down by two. So if they have any beef with that, obviously, I'm pretty sure [Boston manager Alex] Cora did. They chose not to try to win the game as well, they were trying to keep him from striking a guy out."4
When asked about that allegation, "Cora said that the team wasn't aware Minor was pursuing 200 strikeouts when it started attacking first pitches. Instead, it saw the chance to attack a pitcher whose pitch count had escalated. 'We hit two home runs in the seventh on first pitches,' noted Cora. … 'So maybe it was just our approach.'"5
"I looked over at Trevi, he looked at me, we looked at where the ball was going to land," Minor said. "I knew it was going to be a two-strike count if he dropped it. So I yelled at Guzie to drop it."6 "He deserves it more than anyone else on the team," Guzman said. "Honestly, on that play I was going for it. I wasn't exactly sure if it was gonna be fair or foul. And when I got close to it, I heard like the whole stadium telling me to drop it, so I just couldn't do anything else."7
According to the Boston Globe, the reaction was a little different: "When Guzman didn't make the play, the players in the Rangers dugout clapped. The fan reaction was mixed. Some clapped. Some booed."8
"I don't know," Cora said when asked what he thought of the play, or in this case the nonplay. "I'm just happy our guys are playing the right way."9
"I wanted it really, really badly and I don't understand what's wrong with that," Minor said. "Everybody cites stats whenever they talk to me, but the one time a stat matters to me, it's a big deal? We are playing to win, but we weren't playing for a playoff spot. And this [threshold] is a motivation I've had for a long time."10
Although often described as a cerebral game, passions often run high in baseball when situations like this occur.
Author's note
Visiting Dallas from her home in Minnesota, the author of this article happened to be a fan in the stands at this game and, unaware of the situation unfolding, was initially very confused by this turn of events. Proving once again, no matter where you are, if you attend a baseball game you may see something you've never seen before. She would like to thank official scorer Greg Porzucek for taking the time to talk with her about this memorable game.
Sources
retrosheet.org/boxesetc/2019/B09260TEX2019.htm
baseball-reference.com/boxes/TEX/TEX201909260.shtml
Notes
1 Greg Porzucek, telephone interview with the author, January 19, 2020.
2 Porzucek.
3 Porzucek.
4 Sam Blum, "Mike Minor Records First Career 200/200 Season Amid Controversy in Rangers' Win over Red Sox," Dallas Morning News, dallasnews.com/sports/rangers/2019/09/26/mike-minor-records-first-career-200-200-season-amid-controversy-in-rangers-win-over-red-sox/, accessed January 10, 2020.
5 Peter Abraham and Alex Speier, "Red Sox Notebook: Minor the Subject," Boston Globe, September 28, 2019: C3.
6 T.R. Sullivan, "Dropped Popup a Big Topic amid Minor's 200th K," MLB.com, mlb.com/news/mike-minor-rangers-200-strikeouts, accessed January 10, 2020.
7 Sullivan.
8 Julian McWilliams, "Latest Defeat Doesn't Sit Well with Cora, Sox," Boston Globe, September 27, 2019: C2.
9 McWilliams.
10 Evan Grant, "Reconciling the Optics Around Mike Minor's Milestone, Rangers' Championship Expectations under Chris Woodward," Dallas Morning News, September 27, 2019, dallasnews.com/sports/rangers/2019/09/27/reconciling-the-optics-around-mike-minor-s-milestone-rangers-championship-expectations-under-chris-woodward/, accessed January 10, 2020.
Additional Stats
Texas Rangers 7
Boston Red Sox 5
---
Globe Life Park
Arlington, TX
Box Score + PBP:
Corrections? Additions?
If you can help us improve this game story, contact us.
Tags
https://sabr.org/sites/default/files/Minor-Mike.jpg
600
800
admin
/wp-content/uploads/2020/02/sabr_logo.png
admin
2020-05-05 15:34:04
2020-05-28 15:34:44
September 26, 2019: Mike Minor reaches 200 strikeouts as dropped foul popup leads to controversy