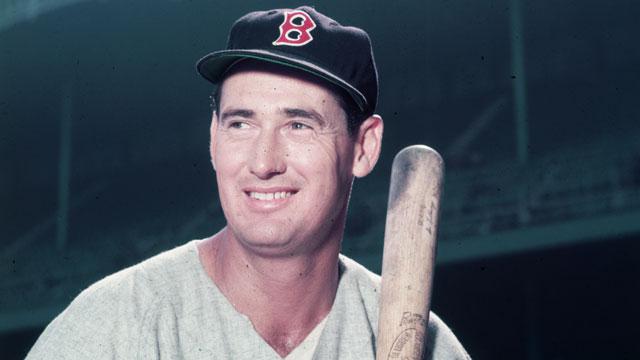 September 28, 1960: Ted Williams bids adieu to Boston fans with 521st home run
---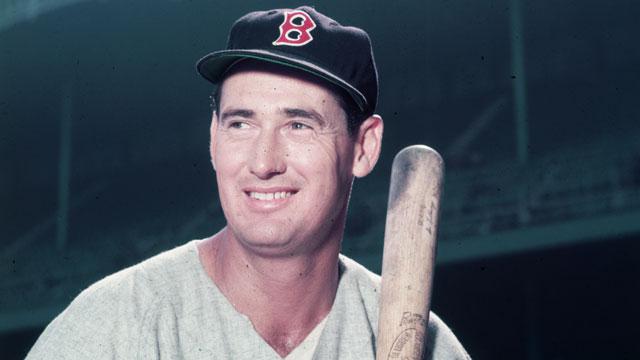 It was meant to happen. At least, it seemed that way.
Triggering a standing ovation from a Fenway Park crowd slightly exceeding 10,000, Theodore Samuel Williams, as he had done 519 times before, smacked a ball into the outfield seats (he also hit an inside-the-park home run in 1946.) It was the Red Sox slugger's last at-bat in the major leagues. Not quite a storybook ending because it happened in a meaningless victory toward the end of a 65-89 season, the eighth-inning blast in an Orioles-Red Sox contest on September 28, 1960, punctuated a career of incredible achievement labeling Williams, in some circles, the best batter in the history of the game.
Williams nearly hit a home run in the fifth inning, only to see the ball end up in the glove of Orioles outfielder Al Pilarcik. "I thought that was gone," revealed Williams. "When it didn't go out, I was disappointed. I never hit a ball any better. So I had to try again. I was happy to do it. Baseball has given me everything I wanted."1
Relations between Ted Williams and Red Sox Nation were, at times, thorny. Wounds healed, though not completely — just four years prior to Williams's last game, for example, the slugger spit as he approached the dugout to reflect his disgust at fans booing him after he flubbed a Mickey Mantle fly ball.2 In silent response to these eruptions, Williams never tipped his cap, not even after crossing home plate for the last time.
Williams's home run inched the Red Sox closer to the Orioles, making the score 4-3. In the ninth inning, the Red Sox loaded the bases when Marlan Coughtry singled, pinch-hitter Vic Wertz doubled, and Pumpsie Green walked. Green's debut in 1959 marked the Red Sox as the last major-league team to integrate, 12 years after Jackie Robinson's first game with the Brooklyn Dodgers. With one out, a possible game-ending double play detoured into a two-run throwing error by O's second baseman Billy Klaus; Pumpsie Green "managed to give Klaus a good belt as he slid into second,"3 forcing an errant throw past first base and allowing the crucial runs. Williams sat out the next three games, which concluded the team's 1960 season — all losses to the New York Yankees.
Three weeks after Williams's career-capping blast, The New Yorker published John Updike's chronicle, ranked among the greatest — if not labeled as the greatest — literary recounting of the national pastime. Noting the pregame ceremonies honoring Williams, Updike underscored the constant push-and-pull relationship between the lanky San Diego native and the press by quoting the honoree: "In spite of all the terrible things that have been said about me by the [knights] of the keyboard up there and they were terrible things, I'd like to forget them, but I can't. I want to say that my years in Boston have been the greatest thing in my life."4
Though fractured, Williams's relationship with the press healed, if only for a moment, during the Baseball Hall of Fame induction in 1966. "I received two hundred and eighty-odd votes from the writers. I know I didn't have two hundred and eighty-odd close friends among the writers. I know they voted for me because they felt in their minds, and some in their hearts, that I rated it, and I want to say to them: Thank you from the bottom of my heart."5
Updike's description of the crowd's response to Williams ambling toward home plate for the last time evokes pathos and promise for a man who brought joy to New England's baseball fans. Applause rather than shouts gave Williams sonic respect, mournful because Fenway Park would never see his batting prowess again and hopeful because there was one last chance that he would do something memorable. "It was a sombre and considered tumult," wrote Updike. "There was not a boo in it. It seemed to renew itself out of a shifting set of memories as the kid, the Marine, the veteran of feuds and failures and injuries, the friend of children, and the enduring old pro evolved down the bright tunnel of twenty-one summers toward this moment."6
Boston has its share of heroes in lore, history, and fiction. Paul Revere warned colonists of a British invasion; John F. Kennedy, a naval hero during World War II, became president after 12 years on Capitol Hill; and snobby, aristocratic, Beacon Street native Charles Emerson Winchester III, an Army surgeon, patched up wounded soldiers at the M*A*S*H #4077 in the Korean War. When Williams homered off Baltimore's Jack Fisher — a 12-11 pitcher in 1960 — on an overcast autumn afternoon, he reminded the institution of baseball, one last time, of his place in the heroes' pantheon.
Nicknamed the Splendid Splinter for his grace, athleticism, and consistency, Ted Williams began his career in 1939 and ended it as a template for excellence, including two Triple Crown Awards; leading the major leagues in batting average twice and the American League six times; leading the major leagues in on-base percentage 12 times (seven times consecutively and three times consecutively); leading the major leagues in RBIs three times, including his rookie season; two American League MVP Awards; and being the last player to hit .400.
It is one of the great argument starters among sabermetricians, scholars, and New England baseball fans to ponder the impact of Williams's true heroism on his baseball career — the possible home-run total had he not served in World War II and the Korean War as a Marine fighter pilot.
Sources
Box scores for this game can be found at Baseball-Reference.com and Retrosheet.org:

https://www.baseball-reference.com/boxes/BOS/BOS196009280.shtml
http://www.retrosheet.org/boxesetc/1960/B09280BOS1960.htm
Notes
1 Hy Hurwitz, "G'Bye With a Bang, … That's Our Ted," Boston Globe, September 29, 1960.
2 Larry Schwartz, "I Was Right and I'd Spit Again," ESPN Classic, Special to ESPN.com, August 7, 1956.
3 Ed Brandt, "Ted Blasts Homer in Last At Bat," Baltimore Sun, September 29, 1960.
4 John Updike, "Hub Fans Bid Kid Adieu," The New Yorker, October 22, 1960.
5 Ted Williams, Baseball Hall of Fame induction speech, July 25, 1966.
6 Ibid.
Additional Stats
Boston Red Sox 5
Baltimore Orioles 4
---
Fenway Park
Boston, MA
Box Score + PBP:
Corrections? Additions?
If you can help us improve this game story, contact us.
Tags
https://sabr.org/sites/default/files/WilliamsTed-1957.jpg
600
800
admin
/wp-content/uploads/2020/02/sabr_logo.png
admin
2018-01-30 15:41:09
2020-04-17 10:24:57
September 28, 1960: Ted Williams bids adieu to Boston fans with 521st home run