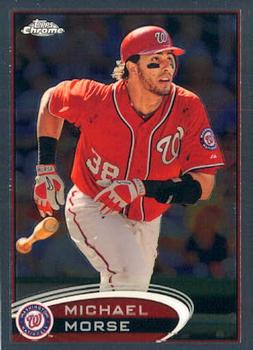 September 29, 2012: Michael Morse pantomimes his grand slam
---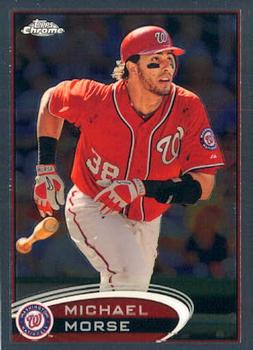 The St. Louis Cardinals (85-72) were 10 games back of the Cincinnati Reds, who were leading the National League Central division. The Cards were holding onto a wild-card berth with no chance of catching the Reds.1
The visiting Washington Nationals (95-62) would be scoreboard-watching during the game: If they won, and the New York Mets beat the Braves in Atlanta, they would clinch the National League East title for the first time. This Friday night game would not be memorable for a clinching celebration (that happened after the Nationals returned home from their road trip2), but instead for a single play that was voted the Oddity of the Year.3
Kyle Lohse (16-3, 2.77 ERA) took the mound for the Cardinals. After a strikeout of Jayson Werth, Bryce Harper singled, then Ryan Zimmerman drove a double to left that allowed Harper to go to third. Next up was Adam LaRoche. He worked an eight-pitch walk to load the bases.
That brought up Michael Morse, starting a sequence of events never seen before in the annals of baseball.4 He knocked Lohse's first pitch just over the right-field wall. It hit an advertising sign and bounced back onto the field, where it was thrown in by Carlos Beltran. Umpire Chris Guccione called the ball in play: Harper scored easily from third, but neither Zimmerman nor LaRoche was running particularly fast (they apparently thought the ball was out). Morse, thinking he had at least a double, was almost to second before he realized that the base was still occupied by LaRoche. He dashed back to first, pursued by second baseman Skip Schumaker who tagged him out before he reached the base.
Davey Johnson, the Nationals' manager, immediately popped out of the dugout to call for a review.5 Morse did not return to the dugout: He paced nervously around the infield while the umpiring crew headed in to check the replay monitor. When they returned, they made no immediate signal, but stopped in the Nationals' dugout to confer with Johnson. Some Nationals started clapping, indicating that the ruling was favorable. Morse had started to run the rest of the bases – he was almost to third, catching up with LaRoche, when the umpires signaled to him to go back. So, he ran the bases in reverse, stopping at first base. Much to his puzzlement, the umpires motioned him all the way back to home plate. Egged on by his teammates, and even Cardinals catcher Yadier Molina,6 Morse took a phantom swing; and then he, Harper, LaRoche, and Zimmerman re-ran the bases. Meanwhile, the TV and radio broadcasters took advantage of the reenactment to give their home-run calls: All of them described it as the oddest baseball event they'd ever witnessed. Morse's teammates, including Harper (who had to come out of the dugout for the reenactment), stood at home plate for the usual post-homer high-fives. Why not just have Morse trot on home once the replay concluded? The umpires were concerned that in the scramble at second someone might have missed a base, so a reenactment was needed to be sure each base had been touched by every runner, and in the correct order.7 After all this stagecraft, the score was 4-0, Nationals.
The game then returned to normal play as Lohse struck out Ian Desmond and Danny Espinosa to end the top of the first. In the bottom, Nationals' pitcher Jordan Zimmermann (12-8, 2.90 ERA) worked a 1-2-3 inning with a strikeout, a groundout, and a lineout.
In the top of the second, Lohse surrendered only a single to Werth. It wasn't surprising that Werth was the National who got the hit: Entering the game he was batting .389 against Lohse.8 In the bottom of the second, Zimmermann was equally efficient, allowing only a single to Molina.
In the third, like the second, each pitcher faced four batters and allowed nothing but a single.
In the top of the fourth, Espinosa singled and Zimmermann bunted him to second, but he was left there when Werth grounded out to end the half-inning. In the Cardinals' half, Zimmermann walked Matt Holliday and allowed a single to Allen Craig. Holliday made it as far as third on a Beltran groundout, but was left there when Schumaker struck out.
The top of the fifth was another four-batter inning for Lohse: He allowed a two-out single to LaRoche but struck out the other three Nationals he faced. In the bottom, Zimmermann was even more efficient: Although he gave up a single to Pete Kozma, he struck out Lohse and got Jon Jay to ground into a double play.
The sixth was yet another four-batter inning for Lohse: He again allowed a two-out single, this time to Kurt Suzuki, but needed only 11 pitches to retire Washington. Zimmermann responded with his own 11-pitch, 1-2-3 inning.
Edward Mujica took the mound for the Cardinals in the seventh. After Werth flied out, Harper singled. Zimmerman struck out, but LaRoche singled to advance Harper to third. Morse could not repeat his earlier performance, though: He struck out, leaving Harper at third.
Zimmermann, starting the seventh at only 93 pitches, ran into trouble. After Molina flied out, Beltran and Schumaker touched Zimmermann for singles. Kozma doubled, scoring both Beltran and Schumaker. When Zimmermann walked pinch-hitter David Freese on five pitches, Johnson replaced him with Sean Burnett. Burnett immediately surrendered a single to Jay, scoring Kozma. He did manage to get Carpenter to fly out, but Johnson changed pitchers again, bringing in Ryan Mattheus to face Holliday. He flied out to short right field to end the inning, but the Cardinals had closed the score to 4-3, Nationals.
In the eighth, Cardinals reliever Mitchell Boggs made quick work of the Nationals, needing only 11 pitches to retire the three batters. In the bottom of the frame, the Nationals' usual set-up man (and former closer) Tyler Clippard got a popout, gave up a walk, but then nullified it on a double play. The Nationals held their 4-3 advantage into the ninth inning.
Jason Motte, pitching for the Cardinals, worked an effective top of the ninth: He allowed a two-out double to Harper, but nothing else. Washington called on its closer, Drew Storen, to hold the one-run lead. He was not successful. He began well enough with a lineout of Schumaker, but then gave up singles to Kozma and Daniel Descalso, pinch-hitting for Motte.9 With Kozma on third after the Descalso single, Jon Jay hit a fly ball deep enough into center to score Kozma on a sacrifice fly, tying the game, 4-4. Storen fanned Carpenter to end the inning. It was Storen's first blown save of the year, although he earned a win as the pitcher of record when the Nationals took the lead.
The Cardinals started the 10th inning with Sam Freeman on the mound. He walked LaRoche on four pitches, then Roger Bernadina, who had replaced Morse in left, bunted LaRoche to second. Freeman was replaced by Fernando Salas, who got the second out on a flyout by Desmond. The Cardinals chose to intentionally walk Espinosa to pitch to Suzuki, the Nationals' backup catcher but a starter in this game. The third pitch of the at-bat was a passed ball, allowing Espinosa and LaRoche to advance to second and third, respectively. Pitching to Suzuki may have been a tactical error.10 He doubled into the left-center-field gap, scoring both runners on base, bringing the score to 6-4, Nationals. Steve Lombardozzi worked a single, moving Suzuki to third, but they were left on base when Werth grounded out.
Johnson turned to Craig Stammen for the bottom of the 10th and he earned his first save: Holliday singled, but Stammen erased him by inducing Craig to ground into a classic 6-4-3 double play. A strikeout of Molina ended the game.
With the win, the Nationals reduced their magic number to one, but since the Braves beat the Mets, the division-clinching celebration would have to be deferred. They did, however, get to witness or participate in a unique baseball event, one that will always be attached to Michael Morse.11
Sources
Mlb.tv recording, 107.7 radio recording.
baseball-reference.com/boxes/SLN/SLN201209290.shtml.
retrosheet.org/boxesetc/2012/B09290SLN2012.htm.
Notes
1 Wild-card standings as of October 29, 2012, MLB.com, mlb.com/mlb/standings/wildcard.jsp?ymd=20121003#20120929.
2 Dan Kolko, "Nationals Are NL East Champions," masnsports.com, October 1, 2012, masnsports.com/nationals-pastime/2012/10/nationals-are-nl-east-champions.html.
3 Gibby Award Winners, mlb.com, .mlb.com/mlb/awards/y2012/gibbys/index.jsp?category=oddity, retrieved March 4, 2018.
4 Video of the play: youtube.com/watch?v=ZiN9K7lMOd4, retrieved March 4, 2018; Dan Kolko, "The Most Bizarre Grand Slam in the History of Major League Baseball, September 29, 2012," masnsports.com, masnsports.com/nationals-pastime/2012/09/the-most-bizarre-grand-slam-in-the-history-of-major-league-baseball.html.
5 In 2012, home runs were one of the few plays that could be reviewed. Reviews were on-site, not remote, so the umpires would leave the field to consult videos inside the stadium.
6 Dan Kolko, "Morse on His Grand Slam and Fake Swing," masnsports.com, September 30, 2012, masnsports.com/nationals-pastime/2012/09/morse-on-his-grand-slam-and-fake-swing-it-was-just-such-a-crazy-moment.html.
7 "Morse on His Grand Slam."
8 Dan Kolko, "An Intriguing Pitching Matchup Tonight," masnsports.com, Sept. 29, 2012, masnsports.com/nationals-pastime/2012/09/an-intriguing-pitching-matchup-tonight.html.
9 Descalso remained in the game at second base, replacing Shumaker.
10 Suzuki's pedestrian .234 BA concealed a recent hot streak: He was batting .318 over his last 26 games. Dan Kolko, "The Suzuki Trade Keeps Looking Better and Better," masnsports.com, masnsports.com/nationals-pastime/2012/09/the-suzuki-trade-keeps-looking-better-and-better.html.
11 Michael Morse, Wikipedia.org, //en.wikipedia.org/wiki/Michael_Morse, retrieved March 4, 2018.
Additional Stats
Washington Nationals 6
St. Louis Cardinals 4
---
Busch Stadium
St. Louis, MO
Box Score + PBP:
Corrections? Additions?
If you can help us improve this game story, contact us.
Tags
https://sabr.org/sites/default/files/MorseMike-2012.jpg
600
800
admin
/wp-content/uploads/2020/02/sabr_logo.png
admin
2018-04-12 14:51:52
2020-04-17 10:24:49
September 29, 2012: Michael Morse pantomimes his grand slam