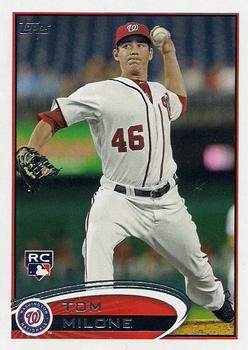 September 3, 2011: Tommy Milone blasts three-run homer in pitching debut for Nationals
---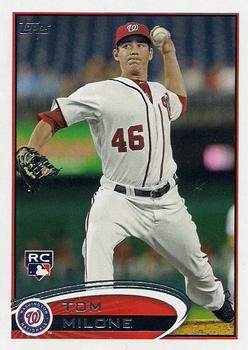 It was a beautiful late-summer evening for a meeting between two teams that would not reach the postseason. The Nationals, losers of nine of their last ten games, sat at 63-73, 26 games behind division-leading Philadelphia. The Mets were not much better, 22 games out of first at 67-69. Perhaps attracted by the weather or the postgame concert, 34,821 were in attendance.
Tommy Milone1 was making his major-league pitching debut. Having Jesús Flores behind the plate may have helped steady his nerves: They had worked together in the minors. José Reyes stepped in to face Milone, and grounded the third pitch to Ryan Zimmerman at third. A quick throw across the infield and Milone had his first out. Two fly outs completed Milone's 1-2-3 first inning of work. In the bottom of the inning Dillon Gee (12-5, 4.24 ERA)2 took the mound for the Mets. Ian Desmond knocked Gee's 2-and-2 offering into the left-field seats to give the Nationals a quick 1-0 lead. Roger Bernadina (recalled the day before after spending a month at Triple-A Syracuse) grounded out to first. After Zimmerman singled up the middle, Michael Morse struck out, waving at a pitch well outside. With Jayson Werth batting, Zimmerman was caught stealing: He was tagged on the sleeve by the second baseman as he slid by. Zimmerman thought he had the base stolen, making faces while lying flat in the dirt touching the bag. There were no replay challenges in 2011, but the video showed that he was indeed tagged.
In the top of the second David Wright popped out to short right. Ángel Pagán was Milone's first strikeout: Pagán swung at a pitch well above the zone. Jason Bay flied out to left to give Milone his second 1-2-3 inning. Werth's at-bat continued in the bottom of the third: He struck out. Espinosa tried to bunt, and was hit on his back leg.3 Chris Marrero singled: His bat exploded over the infield, with the ball squirting past a diving Justin Turner. Jesús Flores singled, scoring Espinosa from third. That brought Milone to the plate for his first at-bat. He hit Gee's first pitch into the Nationals' bullpen for a three-run homer, bringing the score to 5-0, Nationals.4 The relievers were jumping and cheering in the bullpen. One grabbed the historic ball so it could join his first pitch and first strikeout balls.5 The crowd demanded a curtain call. A grinning Milone made his way back through the dugout, crowded with September call-ups, to salute the crowd from the dugout steps. Desmond blooped one into right, where it fell in between three Mets defenders. The Nationals threatened to break the game open, but Bernadina grounded into a 4-6-3 double play to end the inning.
In the third Ronny Paulino got the first hit against Milone (a single past a diving Zimmerman), then advanced to second on a bunt, but got no further. The Nationals were out 1-2-3.
In the top of the fourth, Justin Turner blooped a single into center. After Lucas Duda lined out to Desmond, Wright bounced one that first hit near the third-base line, then bounced into the stands and back out. The umpires did not call fan interference, since the ball was already in the stands when the first fan touched it, so it was a ground-rule double advancing Turner to third. Pagán then singled into the right-field gap, scoring two for the Mets. With Bay at the plate, Milone tried a pickoff at first: It was close so manager Davey Johnson came out to argue.6 Pagán managed to time Milone and steal second. He could have stayed on first for all it mattered: After Bay grounded out to third, Nick Evans hit a two-run homer over the visitors bullpen. A Paulino groundout finished the Mets' half of the fourth with the score 5-4, Nationals. In the bottom of the fourth, Danny Espinosa drew a walk. After Marrero was out on a fielder's choice, Flores hit a foul pop near third. There was almost a three-way collision between Bay, Wright, and Reyes, although Bay did manage to catch the ball while falling. Espinosa tagged up and ran to third. Wright, realizing what was going on, grabbed the ball from Bay's glove and threw it in to keep Espinosa from scoring. Milone bounced to short to end the inning.
Gee opened the fifth with a fly out to center. Reyes then hit Milone's first pitch into center for a single. Turner came up to bat, but Johnson pulled Milone after he had made two pickoff throws to first (but had thrown no pitches). Milone exited to great applause. Given that he had thrown only 74 pitches and could not qualify for the win yet,7 fans and commentators were surprised that Johnson pulled him that early. Tom Gorzelanny took over on the mound against Turner and induced two groundouts to first to retire the side. The bottom of the fifth was two strikeouts and a groundout punctuated by Bernadina's solo homer into the visitors bullpen, bringing the score to 6-4, Nationals.
After Wright grounded out to open the sixth, Pagan bounced a single into left. Bay hit his 10th homer of the year into the Red Porch seats in center, tying the game, 6-6. Gorzelanny managed to avoid any more damage with a strikeout and a groundout. Pedro Beato took the mound for the Mets. Espinosa grounded back to Beato, who tried to throw to first from his backside – but Espinosa beat the throw. Marrero grounded to the shortstop: Espinosa did a take-out slide into Turner to avoid the double play. A Flores single off the Mets' new pitcher, Danny Herrera, advanced Marrero to third, but pinch-hitter Iván "Pudge" Rodríguez8 grounded into a 5-4-3 double play to end the inning.
In the seventh, Tyler Clippard took the mound. The Mets took a 7-6 lead on Duda's sacrifice fly scoring Willie Harris. Manny Acosta pitched a 1-2-3 bottom of the seventh for the Mets.
Johnson called on hard-throwing Henry Rodríguez to pitch the eighth. He struck out the three Mets he faced: Bay, Evans, and Paulino, and left to a standing ovation. More than half his pitches were 100-mph or better. Acosta continued pitching for the Mets. After Morse struck out, Werth walked and Espinosa struck out. With Marrero batting, Werth stole second and took third on a throwing error, but was left there when Marrero looked at strike three.
Sean Burnett took the mound for the Nationals in the top of the ninth: A groundout, a fly out, and a strikeout held the deficit at one run. In the bottom of the ninth, Bobby Parnell came in for the Mets for the save. Flores opened with a single to left.9 Johnson put in Brian Bixler to run for Flores. With Jonny Gomes batting, a wild pitch allowed Bixler to take second; Gomes ended up walking. Desmond tried to bunt: On his third try, he succeeded in moving the runners over. Parnell intentionally walked Bernadina so the bases were loaded with one out for Zimmerman, known as "Mr. Walk-off."10 The crowd roared as Zimmerman came to the plate, and he rewarded the fans with a broken-bat bloop hit into right field: Duda dove for the ball but couldn't reach it, so two runs scored for the walk-off win.
Sources
baseball-reference.com/boxes/WAS/WAS201109030.shtml
retrosheet.org/boxesetc/2011/B09030WAS2011.htm
Video of game: youtube.com/watch?v=F825YA4ch1c.
Game summary video: youtube.com/watch?v=jBQSdXWHgVk.
Milone debut highlights: youtube.com/watch?v=DNNwpzEuEzU.
Author's note
We were in attendance that day. Given the Nationals' relatively mediocre performance to that point in their existence, any memorable event was worth celebrating. Even without knowing the historic background, everyone in the ballpark knew that a first-pitch homer was a rare occurrence.
Notes
1 Milone had been a 10th-round pick of the Nationals in 2008.
2 Gee's ERA had been as low as 2.86 in mid-June with a 7-0 record, but his performance went downhill steadily after that.
3 Espinosa was second in MLB in HBP with 17, behind only Carlos Quentin, who had 23.
4 Milone was batting .346 in the minors in 2011. His only extra-base hit was a double. As of 2018, he hadn't hit another home run.
5 The TV broadcast displayed a chart showing that Milone was the eighth major-league pitcher to hit a home run on the first pitch he saw. mlb.com/news/mlb-rare-feats-home-run-on-1st-career-pitch/c-265964496. Accessed August 19, 2018.
6 In 2011 only home runs were eligible for replay review, so all Davey could do was argue.
7 Milone earned his first win 12 days later, also against the Mets. Because the Nationals traded him to Oakland over the winter, he didn't earn his second win as a National until August 1, 2018 … and yes, it was against the Mets. In the meantime, he had pitched for Oakland, Minneapolis, Milwaukee, and the Mets.
8 This was Pudge's first game back after a six-day rehab assignment.
9 This was Flores' only three-hit game of the season.
10 Dan Steinberg, "How Ryan Zimmerman Got His "Mr. Walk-Off" Nickname," Washington Post, May 20, 2015, washingtonpost.com/news/dc-sports-bog/wp/2015/05/20/how-ryan-zimmerman-got-his-mr-walk-off-nickname/?utm_term=.f0029ebf521b. Accessed August 19, 2018.
Additional Stats
Washington Nationals 8
New York Mets 7
---
Nationals Park
Washington, DC
Box Score + PBP:
Corrections? Additions?
If you can help us improve this game story, contact us.
Tags
https://sabr.org/sites/default/files/MiloneTommy.jpg
600
800
admin
/wp-content/uploads/2020/02/sabr_logo.png
admin
2018-10-02 13:17:29
2020-04-17 10:23:54
September 3, 2011: Tommy Milone blasts three-run homer in pitching debut for Nationals