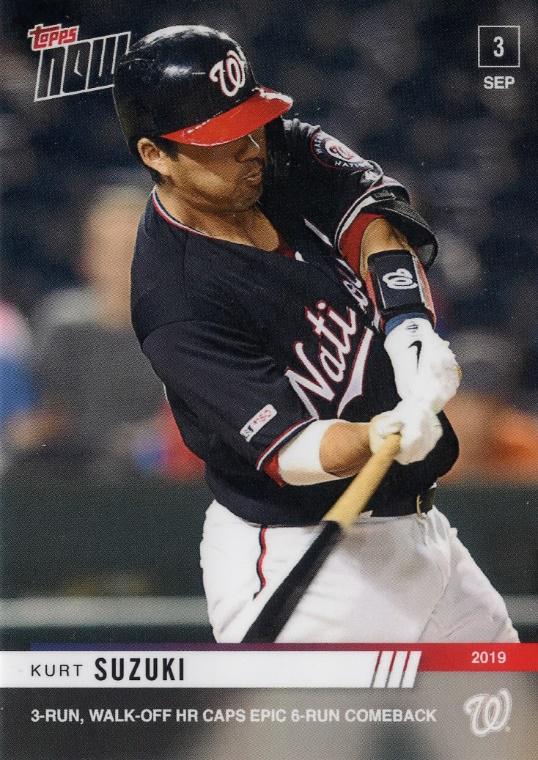 September 3, 2019: Down by six in ninth inning, Kurt Suzuki's walk-off homer caps Nationals comeback
---
"National Disgrace! Worst. Loss. Ever!" — Headlines on the back pages of the New York Daily News and New York Post on September 4, 2019.1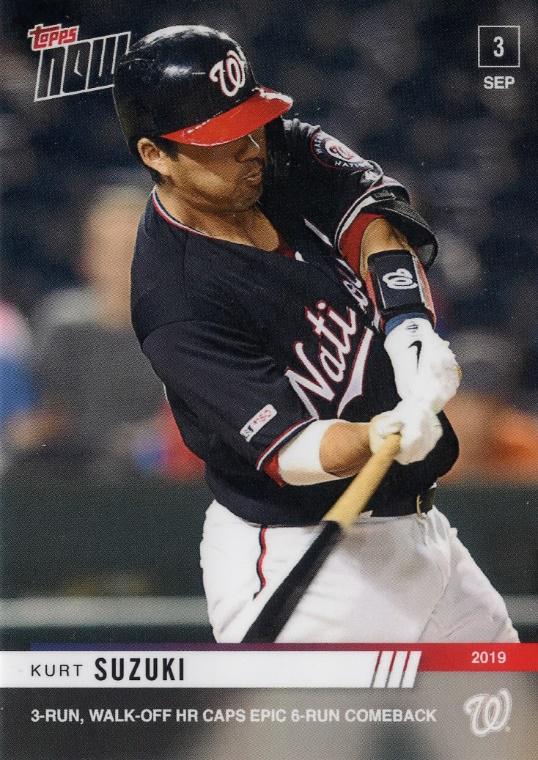 Who won the ballgame last night? In the 1950s, that question was often answered by New Yorkers after a quick stop at one of the 1,500 newsstands that dotted New York City street corners and subway stations.2 For years, piles of morning newspapers with jolting headlines and photos, front and back, have awaited an awakening city. Declining newspaper sales, changing business models, and growth in electronic news media have dramatically reduced New York's newsstands to approximately 300, mostly in Manhattan. But the dramatic flair of newspaper headline writers is alive and well, just as these bold pages suggested for the baseball drama of the previous night! What happened?
Many anticipated that the pitching matchup of the Mets' Jacob deGrom (8-8, 2.66 ERA) vs. the Nationals' Max Scherzer (9-5, 2.46 ERA) would reprise their Opening Day performances. After all, they owned the last three National League Cy Young Awards.3 Five months earlier, Scherzer struck out 12 and yielded only two hits in 7⅔ innings, but one of those was Robinson Cano's first-inning solo home run, which would be enough for the Mets. DeGrom countered with six strong innings and 10 strikeouts in a 2-0 Mets victory with Edwin Diaz recording the first save of the new season.
For both the Nationals and Max Scherzer, the season as a whole had its own share of highs and lows and injuries to overcome. For the Nationals, the low point was reached as they left New York in late May after having been swept in four games by the Mets. In that series, Diaz recorded two saves and a victory. Remember that name!
The Nationals came home with a record of 19-31, a fourth-place position in the National League East and barely ahead of the last-place Miami Marlins. Fast-forward to this three-game home series against the Mets commencing on Labor Day and the Nationals have won 58 of their last 85 games to sit 5½ games behind the first-place Atlanta Braves. September promised to be a race for a postseason berth one way or another and they would need a healthy Max Scherzer, who was sent to the injured list twice in the second half of the season with back and muscle strains.
In his third start since leaving the injured list, Scherzer's pitch count was most assuredly going to be watched carefully. His first trip through the Mets batting order over three innings was outstanding — no hits, one walk, and five swinging strikeouts. Meanwhile, a two-out double to right-center by Juan Soto gave the Nationals a 1-0 first-inning lead, scoring Asdrúbal Cabrera, who had doubled earlier.
In the top of the fourth inning, the game changed because the Mets changed their batting approach. Pete Alonso, Michael Conforto, and Wilson Ramos were all first-pitch-swinging at a variety of Scherzer's pitches — slider, cutter, fastball.4 Their two singles and a double scored the first Mets run to tie the game and Brandon Nimmo's sacrifice fly to deep center scored Conforto to give the Mets a 2-1 lead. Joe Panik came to bat and hit Scherzer's first-pitch cutter into the first row of seats in right-center field; now the Mets led 4-1.5 Luis Guillorme's double with two outs was of little consequence and Scherzer was able to complete six innings of work by retiring the side in the next two innings. At 90 pitches, his evening was done, characterized simply by Washington Post beat writer Jesse Dougherty: "The early and late results were encouraging. The middle was not."6
Meanwhile, deGrom was in firm control. He yielded a run in the bottom of the sixth inning. With one out, he hit Soto with a pitch and Matt Adams singled to right to send Soto to second base. Soto scored on Kurt Suzuki's single to center. DeGrom ended an inning that could have been much worse by inducing Gerardo Parra to ground into a double play, and the Mets led 4-2.
The teams traded home runs in the eighth inning. In the top half, Jeff McNeil hit a solo home run off Nationals reliever Roenis Elías to lead off the inning. In the bottom half, deGrom yielded an infield single to Anthony Rendon before Juan Soto clubbed his 32nd home run of the season on deGrom's 100th and last pitch of the night. Seth Lugo retired the side for the Mets, who still led 5-4. But nothing that had transpired through eight innings could portend what was about to occur in the ninth inning.
Brandon Nimmo homered to deep right-center on Elias's first pitch in the ninth inning for a 6-4 lead. When Panik singled to left, Elias's evening was done; he was replaced by Daniel Hudson. (Elias and Hudson had become part of the reconstructed Nationals bullpen at the July trade deadline.7) Hudson got off to a shaky start. With Todd Frazier batting, Juan Lagares advanced to second on a wild pitch. Frazier got a reprieve when Matt Adams failed to catch a foul pop fly. Hudson walked Frazier but retired Luis Guillorme for the first out of the inning on a lineout to left. When Tomas Nido hit a routine grounder and a certain double-play ball to Trea Turner at shortstop, it looked as if Hudson would escape the inning. Unfortunately for the Nats, Turner thought there were two outs and threw to first, retiring Nido but advancing both Lagares and Frazier. Misfortune struck again. Jeff McNeil's single and rookie Pete Alonso's 44th home run of the season followed to add four unearned runs.
An insurmountable 10-4 Mets lead? After all, during this season, teams leading by six or more runs entering the bottom of the ninth inning had a 274-0 record.8 In fact, in their history book, the Mets had a record of 806-0 when leading by six runs in the ninth inning or later.9 Similarly, the Nationals had an 0-775 record when trailing under the same circumstances.
Paul Sewald took the mound for the Mets in the bottom of the ninth. Víctor Robles opened with an infield single, scoring on Trea Turner's one-out double to right-center. 10-5, Mets. Cabrera singled Turner to third, from which he scored on Anthony Rendon's single to left-center. 10-6, Mets. Lefty Luis Avilán came in to pitch to Soto, whose single to right loaded the bases and brought another pitching change for the Mets.
Mets closer Edwin Diaz came in to pitch to Ryan Zimmerman. Diaz had a spectacular 2018 season in Seattle, for whom he led the majors with 57 saves while pitching to a 1.96 ERA. A 5.29 ERA suggested a rougher road for Diaz in 2019, but he had already saved five games against the Nationals this season. On an 0-and-1 count, Zimmerman doubled to the scoreboard in right-center, scoring both Cabrera and Rendon. 10-8, Mets. Michael A. Taylor entered the game to run for Zimmerman as the tying run. Running would become unnecessary when Kurt Suzuki hit a three-run home run into the left-field seats.10 11-10, Nationals, game over! One team gathers around home plate to celebrate, the other team walks off in total disbelief.
Nationals fans and Mets fans alike were stunned by what had just happened in the ninth inning and that sentiment was shared by Ryan Zimmerman in a postgame interview. "I don't know. I blacked out, and then we won."11 Jamal Collier, Nationals beat writer for MLB.com, reminded readers about the T-shirts created early in the season with the slogan "Stay in the Fight." He noted that it was "their reminder to play out each game, inning, and season until the final outs have been recorded."12 That admonition would resound for players and fans alike all the way to the end of October and a World Series title. When there was time to reflect back, this game in early September stood out as one of those highlights-of-the-season moments that portends good things to come.13
Author's note
With the Nationals down 10-4 in the middle of the ninth inning, it was time for this fan to move from Section 208 to the plaza beyond Section 103 in left-center field. After all, a quick escape to the Metro on this night seemed in order. As the ball sailed off Suzuki's bat into the left-field seats to my right, Charlie Slowes, Nationals play-by-play radio voice, began admonishing listening fans who had left the ballpark minutes earlier: "If you walked out of this ballpark when the Mets scored five runs in the top of the ninth inning, YOU BLEW IT! A Curly W's in the books!"14 Now it was time for this fan to go home as the Nationals celebrated an improbable victory on the field and the New York morning newspapers prepared their headline stories.
Sources
The author accessed Baseball-Reference.com for box scores/play-by-play information (baseball-reference.com/boxes/WAS/WAS201909030.shtml) and other data, as well as Retrosheet.org (retrosheet.org/boxesetc/2019/B09030WAS2019.htm).
Notes
1 Photos of the front and back pages of these New York daily newspapers can be accessed at nydailynews.com/sports/nydn-new-york-daily-news-back-pages-from-july-to-december-2019-20190701-photogallery.html and nypost.com/cover/covers-for-wednesday-september-4-2019/, respectively.
2 Hannah Howard, "How New Yorkers Are Fighting to Save the City's Struggling Newsstands," Thrillist.com, May 12, 2017, accessed October 14, 2019, thrillist.com/lifestyle/new-york/how-new-yorkers-are-fighting-to-save-the-citys-struggling-newsstands.
3 Max Scherzer won the NL Cy Young Award in 2016 and 2017. Jacob deGrom won the award in 2018. On November 13, 2019, the Baseball Writers' Association of America (BBWAA) named deGrom the winner of the 2019 NL Cy Young Award.
4 Jesse Dougherty, "Suzuki's Homer Caps Historic Comeback," Washington Post, September 4, 2019: D3.
5 Dougherty.
6 Dougherty.
7 The Nationals acquired Elias and pitcher Hunter Strickland from the Seattle Mariners for three minor leaguers: Elvis Alvarado, Aaron Fletcher, and Taylor Guilbeau. Hudson was acquired from the Toronto Blue Jays for minor leaguer Kyle Johnston.
8 Mike Puma, "Mets May Be Wrecked After This Heartbreaking Loss," NYPost.com, September 3, 2019, accessed November 2, 2019, nypost.com/2019/09/03/mets-may-be-wrecked-after-this-heartbreaking-loss/.
9 Puma.
10 "Suzuki's unbelievable walk-off HR," MLB.com, September 3, 2019, accessed November 4, 2019, mlb.com/video/edwin-diaz-in-play-run-s-to-kurt-suzuki.
11 Scott Allen, "The Top 12 Moments of One Wild Season," Washington Post, October 30, 2019: Q3.
12 Jamal Collier, "Down 6 in 9th, Nats Pull Off 'The Craziest' Walk-Off," MLB.com, September 4, 2019, accessed November 4, 2019, mlb.com/news/nationals-score-seven-in-9th-to-walk-off-on-mets.
13 Matt Martell, "Made You Say Wow," Sports Illustrated, World Series Commemorative Special Issue, November 7, 2019: 46. Note: Several other references discuss and illustrate the significance of this game on the season's outcome ("World Series Game 7, October 30, 2019," Nation's Finest, November 2019: 26; Scott Allen, "The Top 12 Moments of One Wild Season," Washington Post, October 30, 2019: Q3).
14 Scott Allen, "Fight to the Finish," (Chicago: Triumph Books/Washington Post, 2019), 110.
Additional Stats
Washington Nationals 11
New York Mets 10
---
Nationals Park
Washington, DC
Box Score + PBP:
Corrections? Additions?
If you can help us improve this game story, contact us.
Tags
https://sabr.org/sites/default/files/SuzukiKurt-2019.jpg
600
800
admin
/wp-content/uploads/2020/02/sabr_logo.png
admin
2019-12-23 14:04:09
2020-04-17 10:22:20
September 3, 2019: Down by six in ninth inning, Kurt Suzuki's walk-off homer caps Nationals comeback