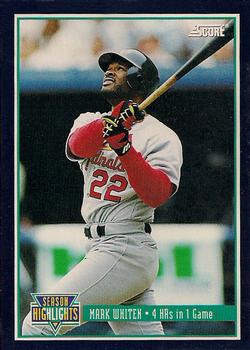 September 7, 1993: Hard-hittin' Mark Whiten hits four home runs for Cardinals
---
"Do you think Dibble will come after him? Do you think Dibble will let him swing the bat?… Runner at first, one out. Here's the pitch. Swing and a long one. Looks like he did it! Four home runs for Mark Whiten. He powered one over the center-field fence, and the Cardinals lead 15 to 2, 12 runs batted in in the game. Man, what a blast that was. What a blast this is.… Nice going. Wow! Excuse my while I applaud. … Wasn't that something? Man oh man, what a thrill that is!" — Jack Buck, Cardinals Broadcaster, KMOX radio.1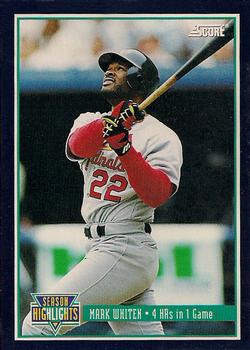 On March 22, 1993, a tragedy of epic proportions struck the Cleveland Indians. Three members of the Tribe's pitching staff were involved in a boating accident on Little Lake Nellie, near the team's spring-training headquarters in Winter Haven, Florida.
Pitcher Steve Olin was killed instantly, while Tim Crews died the next day. The third pitcher, Bob Ojeda, was badly injured and sat out the majority of the season. When the emotions of the next several days started to clear, the Indians realized they needed pitching help. And they needed it fast. General manager John Hart had inquired about St, Louis's young right-hander Mark Clark during the winter meetings. Now, the necessity for arms restarted the conversation between Hart and his counterpart in St. Louis, general manager Dal Maxvill.
"I said we still had interest in improving our speed and our bench," said Maxvill. "He said, 'We really need pitching now.' I said, 'Which one of our pitchers are you interested in?' And he said 'Anybody really."2
The Indians did not want to part with their starting right fielder from 1992, Mark Whiten. But as the adage goes, "You have to give up something to get something." Whiten had led the AL with 321 outfield putouts in 1992. He had a rifle for an arm from his right field position and shared the league lead in assists (14) with Seattle's Jay Buhner.
Whiten's offensive game was another matter. He had not shown much power and struck out a good number of times more than he walked. Over the last two seasons with Toronto and Cleveland, Whiten had struck out 187 times while totaling 102 walks and batting .249.
St. Louis added minor-league infielder Juan Andujar and Mark Clark to the pot and thus the trade was complete on March 31. Cardinals manager Joe Torre penciled in Whiten as the starting right fielder on Opening Day.
The trade paid dividends to the Cardinals as Whiten showed some pop with the bat. Through August, he smacked 18 home runs and drove in 72 runs. Both numbers were career highs and there was still a month to be played in the season.
As a team, the Cardinals could not keep up with the Philadelphia Phillies. St. Louis turned in a fine 20-7 record in June to push its record to 45-31. Still the Cardinals found themselves 6½ games in back of the streaking Phils (52-25) in the National League East. By September the Phillies had a firm grasp on the division lead.
On September 7 the Cardinals were at Riverfront Stadium for a doubleheader as part of a three-game set with Cincinnati. The Reds, like the Cardinals, were looking toward greener pastures in 1994, because there would be no postseason in the Queen City in 1993.
The opener of the twin bill was a slugfest, won by Cincinnati, 14-13. Fifteen pitchers toiled as the teams pounded out 36 hits. All the runs were earned; there were no errors. The scoring could have increased: The Cardinals left 10 runners on base and Cincinnati stranded nine.
The nightcap featured a pitching matchup of the Cardinals' Bob Tewksbury (15-8, 3.78 ERA) and Larry Luebbers (2-3, 4.72 ERA) for the Reds. Tewksbury was the ace of the Cardinals' staff and had had his best year in 1992 (16-5, 2.16 ERA). Although not a power pitcher, Tewksbury had excellent control, many times striking out three times as many as he walked. Luebbers, a rookie hurler, split the 1993 season between Triple-A Indianapolis (American Association), where he posted a 4-7 record and the Indians.
In the top of the first inning, Whiten smashed a grand slam with two out and the Cardinals were up 4-0. The fans may have thought they were going to see a replay of the opener when the Reds answered with two runs of their own in the bottom of the frame.
The Cardinals added a run in the top of the fifth inning without the benefit of a hit. Luebbers walked Tewksbury leading off and a wild pitch, a sacrifice bunt, and a fly out plated plated him. St. Louis led 5-2.
Mike Anderson was the new Reds pitcher in the sixth inning. Making his major-league debut, Anderson walked Todd Zeile and Gerald Perry. Whiten followed with his second home run of the game and the Cardinals' lead ballooned to 8-2.
Anderson ran into more trouble in the seventh, surrendering consecutive singles to Bernard Gilkey, Zeile, and Perry. Again, Whiten came up two runners aboard and smacked another homer to make it a 12-2 laugher.
The Cardinals' Gerónimo Peña hit a solo shot off Rob Dibble in the eighth for his third round-tripper of the year. The fans' attention turned to the ninth, when the man with the hot bat was due up. Was it possible that he could tie the major-league record with four home runs?
With one down, Perry singled to center field for his third hit of the game. Up stepped Whiten, and with one swing of the bat, history was made. Whiten homered, giving him four home runs and 12 RBIs as the Cardinals won 15-2.
Whiten became the 13th major-leaguer to hit four home runs in a nine-inning game. The last person before him to accomplish the feat was Bob Horner of Atlanta, on July 6, 1986. As of 2019, Whiten was the only player in St. Louis baseball history (Cardinals or Browns) to hit four home runs in a game. He tied another major-league record with 12 RBIs, tying former Cardinal Jim Bottomley (September 16, 1924).
"When you get locked in like that, you're beyond the point of getting excitable because you're always locked in, if that makes sense," said Tewksbury, whose record went to 16-8. "What I saw in his face was complete emptiness — in a good sense. There was no emotion. No highs. No lows. He was just existing.
"Nothing permeates that zone."3
"I didn't want to get too emotional," said Whiten. "Maybe if it had been a World Series, I would have gotten a little emotional.
"The mental part of the game I've got to work on. The physical part is all here. I think I have the swing. But if you don't have the mental approach to this game, you're lost."4
St. Louis hitting coach Chris Chambliss had some advice for Whiten. "The main thing Mark has to understand is to have a game plan when he goes up to bat. Sometimes, you go up there and you're not really watching what the pitcher is doing to you or what to look for. But he may be catching on."5
St. Louis ended the season in third place with an 87-75 record, 10 games behind the Phillies. The Reds finished the season in fifth place in the NL West with a record of 73-89, 31 games behind Atlanta.
Whiten finished the season with a .253 batting average, 25 homers, and 99 RBIs.
Sources   
  The author accessed Baseball-Reference (baseball-reference.com/boxes/CIN/CIN199309072.shtml) for box scores/play-by-play information and other data, as well as retrosheet (retrosheet.org/boxesetc/1993/B09072CIN1993.htm).
Notes
1 Dan Caesar, "Over the Airwaves: Play-By-Play of Whiten's 4 Blasts," St. Louis Post-Dispatch, September 9, 1993: 3D.
2 Rick Hummel, "Accident Prompted Cards to Call Indians," St. Louis Post-Dispatch, April 1, 1993: 4D.
3 Rick Hummel, "Heroic Game 'Kind of a Blur': Whiten Low-Keys 4-HR, 12-RBI Effort," St. Louis Post Dispatch, September 9, 1993: 3D.
4 Ibid.
5 Ibid.
Additional Stats
St. Louis Cardinals 15
Cincinnati Reds 2
---
Riverfront Stadium
Cincinnati, OH
Box Score + PBP:
Corrections? Additions?
If you can help us improve this game story, contact us.
Tags
https://sabr.org/sites/default/files/Whiten-Mark-1993.jpg
600
800
admin
/wp-content/uploads/2020/02/sabr_logo.png
admin
2019-03-01 10:45:15
2021-05-28 11:59:08
September 7, 1993: Hard-hittin' Mark Whiten hits four home runs for Cardinals