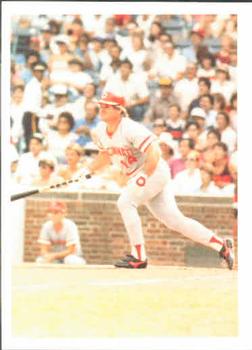 September 8, 1985: Reds' Pete Rose unknowingly breaks Ty Cobb's hit record
---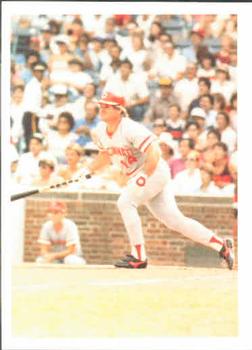 This Sunday-afternoon game in Chicago has a Shakespearean plot. Its twists and turns began 75 years prior and they continue today as a trivial footnote. It reads like a game from the Deadball Era: "Player/manager goes 2-for-5 — game suspended due to darkness." It's something young fans would be puzzled by today, along with myriad wacky anecdotes surrounding one of the most iconic and controversial characters in the game.
Pete Rose entered the weekend series with 4,187 hits, five away from breaking the career hits record, a culmination of a lifelong pursuit to become the game's Hit King. Reaching 4,192 was his life's purpose. Chasing the ghost of Ty Cobb at age 44, Rose was now the Reds' player-manager. His hitting was diminished, with a batting average of just .265 facing only right-handed pitchers. The Reds were holding on to a small pennant chance at 8½ games back and Wrigley Field had no lights yet. By the end of the weekend, with a few unexpected events, Rose tied Cobb and even attempted to break the record at twilight. This shocked Reds ownership, the sports world, players, and maybe himself.
In the series' first game, Rose connected for two hits: a rare wind-driven home run and a single for (number 4,189). The crowd showed Rose overwhelming admiration. At a postgame press conference he said he wanted to get the record hit in his hometown, Cincinnati.1 On Saturday Rose went 0-for-4. With left-hander Steve Trout expected to start Sunday, Rose would be sitting out. The Reds were going home after Sunday's game for a homestand and Rose could get his hit there in grand fashion. Reds owner Marge Schott had already planned the festivities. A large press entourage and Rose's wife, Carol, children, Tyler and Fawn, and agent Reuven Katz left Chicago Saturday.
At 10:30 Sunday morning Steve Trout arrived at Wrigley Field. He fell off his bicycle Saturday night, hurt his left elbow and shoulder, and still had gravel in his hand. Trout was having a problematic year already, so Cubs pitching coach Billy Connors and manager Jim Frey scratched him for right-hander Reggie Patterson. Patterson was in the minor leagues five days earlier, recovering from surgery in June for bullet wounds sustained in a mugging. Patterson had given up hit 4,189 to Rose on Friday in a relief outing. Smelling blood, Rose inserted himself into the lineup at first base, batting second.
Rose sent Patterson's first pitch to left-center for hit number 4,190. Marge Schott was at Riverfront Stadium in Cincinnati for the Bengals-Seahawks football game. The news that Rose was playing spread through the ballpark just before halftime. Ears turned to portable radios. Sportswriters in Cincinnati and Chicago were scrambling to cover the game. A Cincinnati scribe who had traveled home for the Bengals game returned to the airport. Writers at Chicago's Soldier Field made their way to Wrigley. Schott fretted about attendance losses if Rose kept hitting.2
Back at Wrigley, Rose grounded out in the third. Perhaps the unease among the sports world lay in the fact that Rose symbolized tough-minded, aggressive competition as the era's greatest hitter and his ability to get three hits in a game. Schott hastily called Reds GM Bill Bergesch and the club's publicity director, saying she didn't want Rose to play. "Wouldn't somebody please be sweet enough to go tell this to Pete?" she said.3 There was no response from Wrigley Field. It was fourth and 10 with 42 seconds remaining in the game at Riverfront when the announcement appeared on the scoreboard: "Pete Rose has tied Ty Cobb's all-time hit record."4 The 51,000 attendees responded with an ovation and chants of "Pete, Pete, Pete!" Back at Wrigley Field, Rose walked and scored on Buddy Bell's home run. It was Cubs 5, Reds 4 in the fifth.
The historic hit, a single to right, came off a Patterson screwball and Rose received a "thunderous" 3½-minute ovation from 28,269 attendees.5 He never took his foot off the bag, to avoid the pickoff, and Leon Durham stood close to get the TV exposure. The ball was on its way to Cooperstown. Dave Parker, who had tried to persuade Rose not to hit, was on deck at the time. He reflected, "I just stood there and applauded the fact that it happened."6
Rose's next at-bat was in the seventh and the entire country had found a radio or TV. With a light rain beginning to fall, Rose took the count to 2-and-2 and grounded out to shortstop Shawon Dunston. Black clouds, lightning, thunder, and rain overtook Wrigley Field and sent the crowd for cover. Some wondered if Cobb's spirit had somehow been disturbed.7 The game, after moving swiftly, went into a 2-hour 4-minute rain delay.8 Just 10,000 fans remained when it resumed and most did not believe the game would continue or that Rose would play.9 The rest wanted to see history. Rose spent the delay in the locker room, watching football and tennis. 
In the top of the ninth, with fireballer Lee Smith on the mound and the Cubs leading 5-4, Rose was due up fourth. Ron Oester and Max Venable both singled to get runners on first and second with Eddie Milner at the plate and Rose in the on-deck circle. On the dugout rail, Parker and Rose discussed the possibilities of bunts and intentional walks. Cubs broadcasters Harry Caray and Steve Stone were calling the game nationally with nightfall setting in. Milner singled to tie the game. Rose walked back to the dugout, leading Caray to exclaim "Rose will not hit!"10 After a quick chat with coach George Scherger, he walked to the plate with a bat in hand, sending the remaining crowd into a frenzy. He would try to break the record!
Cubs fans abandoned their allegiances and chanted, "Let's Go Pete!" as the camera panned to a young Pete Rose Jr. in the dugout. It was just after 6 P.M. and darkening. Swinging aggressively, Rose struck out. Caray and Stone were surprised that "he was going for it" and Caray exclaimed, "It will wait for another day!"11 In the dugout, the young Pete Rose asked his dad if it was tough to see. He replied, "Well it sounded like a strike, so I swung."12 Smith would strike out the next two and the Cubs went 1-2-3 in the dark before the game was suspended, tied 5-5. One of the most historic games at Wrigley Field would not have a winner.
In 1910, during the famous American League batting title chase, Ty Cobb was mistakenly credited with two extra hits. Except for pioneer baseball statistician Pete Palmer, who brought this error to the attention of Major League Baseball in 1981, few knew what had just happened: Rose had broken Cobb's record. Cobb's total is now mostly accepted at 4,189. But this was no time to quibble. Rose said in a postgame interview, "I am trying to please 30,000 yelling for me and one lady back in Cincinnati who, every time I get a hit, she's kicking her dog." Cubs manager Jim Frey, who attended the same high school Rose said, "Rose showed his honesty" in remaining in the game. Frey did not send a left-hander into the game, admitting, "I wanted to see Pete get the record here."13
Umpires first said the game was suspended but the National League later announced the game officially ended as a tie and would resume only if essential to the NL West pennant race. Some wondered about the hit number if Rose hit in a resumed game. However, it was stated clearly that the stats in this game counted. Schott said, "I'm hysterical. I've never spent a day like this in my life. No one bothered to inform me that Pete was going to play. If I find out that pitcher Trout doesn't have a bicycle. …"14
To sports fans this was the final touch in a triumph of durability. Rose, in his 23rd season, fulfilled a lifelong mission, proof of relentless tenacity, focus, and health. His bat was imprinted: PR — 4192 and he had recently named his son Tyler.15 "Charlie Hustle" never held back in his career and his all-out style was legendary. Besides, he still thought the Reds were going to win the pennant and he could have won the game in the ninth with a knock. Chicago columnist Bob Verdi wrote, "Sunday's least surprising development was that Pete Rose decided to play and play hard. The Cincinnati Kid never needed much of a cue to give all, then let the hits and the theatrics fall as they may."16
Author's Note
 The author was 8 years old at the time and was attending a church picnic with his family that Sunday. He heard the WGN radio call in between storms among a group gathering around the radio each at-bat.
Sources
baseball-reference.com/boxes/CHN/CHN198509080.shtml
retrosheet.org/boxesetc/1985/B09080CHN1985.htm
Notes
1 Fred Mitchell, "Rose's 2 Hits Help Topple Cubs," Chicago Tribune, September 7, 1985: 19.
2 George Blake, "Drama Lasted All Day," Cincinnati Enquirer, September 9, 1985: 1.
3 Blake.                                                                                                                                                                     ,
4 Mike Dodd, Jim Montgomery, and Tom Groeschen, "Sports Tidbits" Cincinnati Enquirer, September 9, 1985: 21.
5 Fred Mitchell, "A Tie for Rose, Reds, Cubs," Chicago Tribune, September 9, 1985: 29.
6 Craig Neff, "Cutting a Hit Record," Sports Illustrated, September 16, 1985: 18-21.
7 Neff.
8 Mike Downey, "With a Pencil, Bat, and Two Hits, Rose Finally Ties Cobb," Los Angeles Times, September 9, 1985: 23.
9 Kevin Klose, "Rose Gets Two Hits to Tie Cobb's Record," Washington Post, September 9, 1985.
10 "Pete Rose — 4191 Hits — 1985 WGN-TV Chicago Cubs Broadcast — Harry Caray," YouTube, uploaded by Head First Videos, July 8, 2014, youtube.com/watch?v=mo7inyxb-Bo, accessed December 13, 2019.
11 "Pete Rose — 4191 Hits."
12 Neff.
13 Downey.
14 Terry Flynn, "Schott Steams Listening to Rose on Radio" Cincinnati Enquirer, September 9, 1985: 17.
15 Paul Attner, "The Record and Rose," The Sporting News, September 16, 1985: 2-3.
16 Bob Verdi, "No Surprise — Rose Gave it his all," Chicago Tribune, September 9, 1985: 29.
Additional Stats
Cincinnati Reds 5
Chicago Cubs 5
---
Wrigley Field
Chicago, IL
Box Score + PBP:
Corrections? Additions?
If you can help us improve this game story, contact us.
Tags
https://sabr.org/sites/default/files/Rose-Pete-1985.jpg
600
800
sabr
/wp-content/uploads/2020/02/sabr_logo.png
sabr
2020-04-20 01:00:18
2020-09-08 04:05:06
September 8, 1985: Reds' Pete Rose unknowingly breaks Ty Cobb's hit record